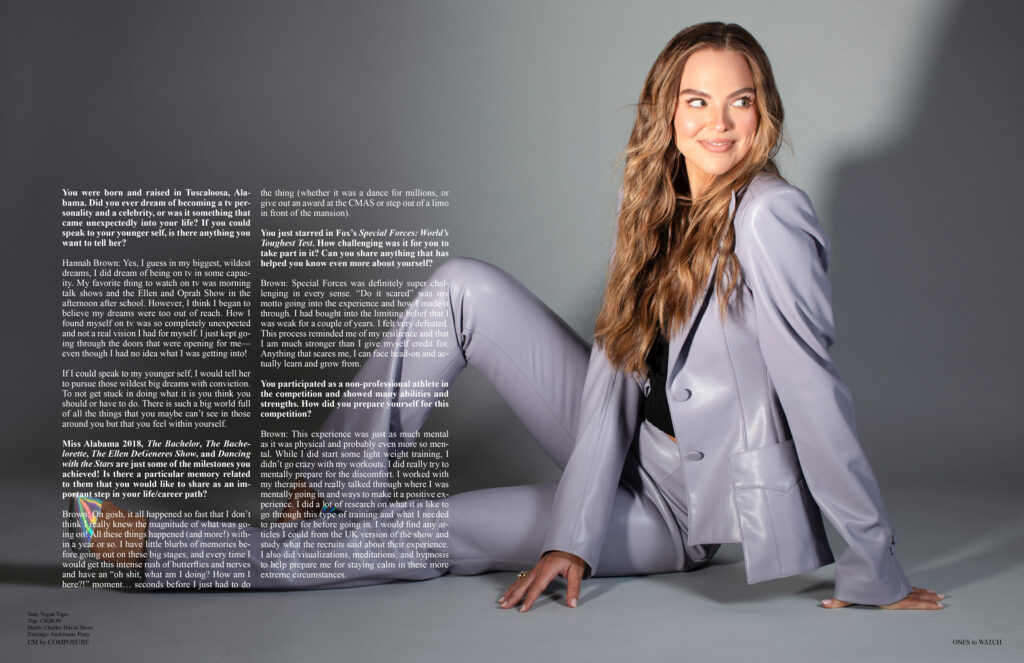 Hannah Brown and the life empowerment
Empowerment.
/ɛmˈpaʊəm(ə)nt/
noun
The process of becoming stronger and more confident, especially in controlling one's life and claiming one's rights.
Empowerment is a deep growth process involving strength, self-determination, pain, and love.
Incorrectly, people often think that everything we need in order to grow is outside of ourselves and that what happens to us is caused by our surroundings and the people around us. Everything we actually need is already within us; our job is to become aware of it, take responsibility, don't be afraid to make mistakes because mistakes are nothing more than lessons to learn to improve and try to go beyond the limits that our mind imposes on us.
If I have to give the word Empowerment a human shape, it would be Hannah Brown.
Hannah is an American television celebrity renowned for taking part in The Bachelor, The Bachelorette, and for winning Dancing with the Stars. Not only television, but Brown is also a lifestyle expert and New York Times Best Selling author with God Bless This Mess and is starring on FOX's Special Forces: World's Toughest Test. Followed by millions of people, Brown has always used her platforms to advocate for mental health awareness, voicing her own experience of battling depression and anxiety during her teenage years, and her book tackled the pressures of fame and how her faith helped her navigate her new life.
You were born and raised in Tuscaloosa, Alabama. Did you ever dream of becoming a tv personality and a celebrity, or was it something that came unexpectedly into your life? If you could speak to your younger self, is there anything you want to tell her?
Yes, I guess in my biggest, wildest dreams, I did dream of being on tv in some capacity. My favorite thing to watch on tv was morning talk shows and the Ellen and Oprah Show in the afternoon after school. However, I think I began to believe my dreams were too out of reach. How I found myself on tv was so completely unexpected and not a real vision I had for myself. I just kept going through the doors that were opening for me—even though I had no idea what I was getting into!
If I could speak to my younger self, I would tell her to pursue those wildest big dreams with conviction. To not get stuck in doing what it is you think you should or have to do. There is such a big world full of all the things that you maybe can't see in those around you but that you feel within yourself.
Miss Alabama 2018, The Bachelor, The Bachelorette, The Ellen DeGeneres Show, and Dancing with the Stars are just some of the milestones you achieved! Is there a particular memory related to them that you would like to share as an important step in your life/career path?
Oh gosh, it all happened so fast that I don't think I really knew the magnitude of what was going on! All these things happened (and more!) within a year or so. I have little blurbs of memories before going out on these big stages, and every time I would get this intense rush of butterflies and nerves and have an "oh shit, what am I doing? How am I here?!" moment… seconds before I just had to do the thing (whether it was a dance for millions, or give out an award at the CMAS or step out of a limo in front of the mansion).
You just starred in Fox's Special Forces: World's Toughest Test. How challenging was it for you to take part in it? Can you share anything that has helped you know even more about yourself?
Special Forces was definitely super challenging in every sense. "Do it scared" was my motto going into the experience and how I made it through. I had bought into the limiting belief that I was weak for a couple of years. I felt very defeated. This process reminded me of my resilience and that I am much stronger than I give myself credit for. Anything that scares me, I can face head-on and actually learn and grow from.
You participated as a non-professional athlete in the competition and showed many abilities and strengths. How did you prepare yourself for this competition?
This experience was just as much mental as it was physical and probably even more so mental. While I did start some light weight training, I didn't go crazy with my workouts. I did really try to mentally prepare for the discomfort. I worked with my therapist and really talked through where I was mentally going in and ways to make it a positive experience. I did a lot of research on what it is like to go through this type of training and what I needed to prepare for before going in. I would find any articles I could from the UK version of the show and study what the recruits said about their experience. I also did visualizations, meditations, and hypnosis to help prepare me for staying calm in these more extreme circumstances.
What was it like to be one of the last people standing in the competition and fully completing the course?
I was very proud of myself. This was a competition that wasn't against anyone but me. I was honored to be surrounded by other people who chose to embrace the discomfort and push past the pain to grow as an individual. That I was able to complete the course proved to me that I don't have to let the doubt and fear win and that it is possible to shut out the noise and prevail through grit and grace.
As a famous and successful personality, you are under pressure from the media and social networks. What helps you to maintain an inner balance and to come out from your down moments?
I take breaks away from it all in an attempt to find a groundedness and establish what is true/what is reality. I am still trying to find my balance with it because I feel like I can be extreme and completely shut everyone out in an effort to self-preserve. This is truly one of my biggest struggles that I finally feel ready to tackle.
With God Bless This Mess, you became a best-selling author as it became an instant New York Times Best Seller. You were very honest about the pressure of fame and how you navigate it. How important is it for you to spread awareness about mental health and self-love?
I think my experiences made me more of a public figure, just putting a magnifying glass and extreme pressure on the struggles I was already dealing with but that I didn't have any tools to overcome. I didn't know how to help myself. I think my biggest learning lessons and opportunities to grow have happened in the last several years. While it has been challenging feeling like I have an audience sometimes while I am trying to figure it all out, it also has given me the ability to have others join in on the journey to mental wellness and self-love. I am grateful that I can hopefully continue to foster opportunities for a community to be brave and vulnerable as we navigate through life, just trying to be a little bit better.
In life, you have to take a certain amount of risk to reach high levels. However, many people are blocked by fear—fear of failure, fear of not reaching the goal, fear of too many "what if it goes wrong?" and they don't take the next step. Life is really fragile and unpredictable, and living in the dark side of fear can really preclude reaching the light. What advice would you give to those who find themselves in the balance between "I want to try" and "I'm afraid it will go wrong?"
Oh, bless. I have lived most of my life here; I have let fear win in the past in so many ways. However, I have found that the moments that I pushed past the fear, and took the risk, have been the moments to live for and the times I've surprised myself the most. You just have to start, even if that means doing it scared first. And you know, in some things, you will fail, but failing is better than not trying. Be courageous. I think anything worth doing takes a bit of courage. A sweet quick poem I like to remind myself of is, "There is freedom waiting for you, on the breezes of the sky, and you ask, "What if I fall?" Oh, but my darling, what if you fly?"- Erin Hanson
How important was it for your career to step out of your comfort zone to achieve your dreams?
Well, it's the only reason I have a career. I had a series of failure after failure for a season of life. Everything I thought my life would be, everything I wanted wasn't happening. One, I think it was because I had become small and made my dreams smaller. And two, I was looking around at everyone else trying to fit into that mold. I cared more about what others thought instead of caring for myself, and in the end, I let everyone (including me) down and did come up short.
For my career to start, it took it all, failing first. I took a step back, stripped down all the bullshit, and stopped caring as much and trying so hard. I remember thinking, "What do I have to lose?" I knew what it felt like to lose, though I didn't like it, and I survived. I stopped trying to achieve in a way I saw others around me "winning," and I just started being myself. If it worked, it worked, and if it didn't, it wasn't for me.
I wish I could say I learned this lesson, and it stuck, but it seems I like to learn and re-learn lessons. It's a hard thing to learn to surrender, be yourself, and go for it. But y'all, let's just keep going for it and see what happens!
Can you reveal to us any future projects? Maybe just some little juicy spoiler.
Exciting things are to come. I am excited to explore new ways to facilitate authentic conversations with others and create a space to really connect with my community. I also have some other creative projects that I have been working on that I think will entertain and people will really enjoy!
The journey to be a better version of yourself starts by never giving up on yourself and by giving enough love to nurture and heal every part of the soul. By forgiving yourself and by pulling down the walls of the cage you imprison yourself, you can bloom and shine. The importance of taking a step ahead, a small step, and challenging your own self above the fear are the moments where you really begin to live—existing is merely trying to stay alive while living is enjoying life to the fullest. Always remember that our gut already knows the answers, so it is important to listen to all opinions but then go straight on what you feel because people speak based on their thoughts and experiences, but life teaches us that every single existence is different from one another. And Hannah Brown reminds us of these lessons every day.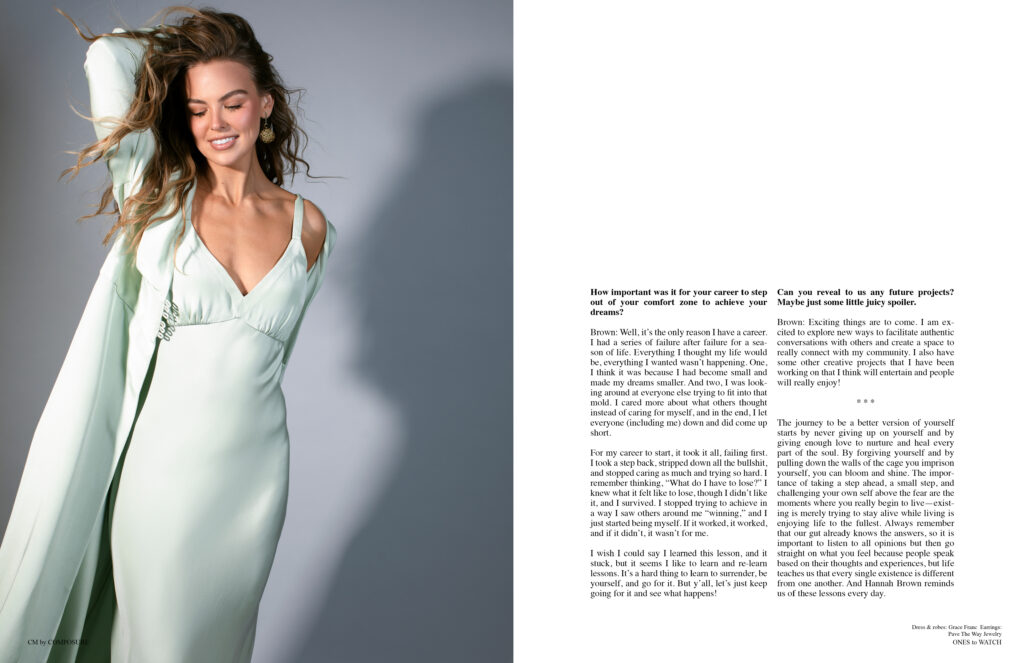 Share your thoughts...