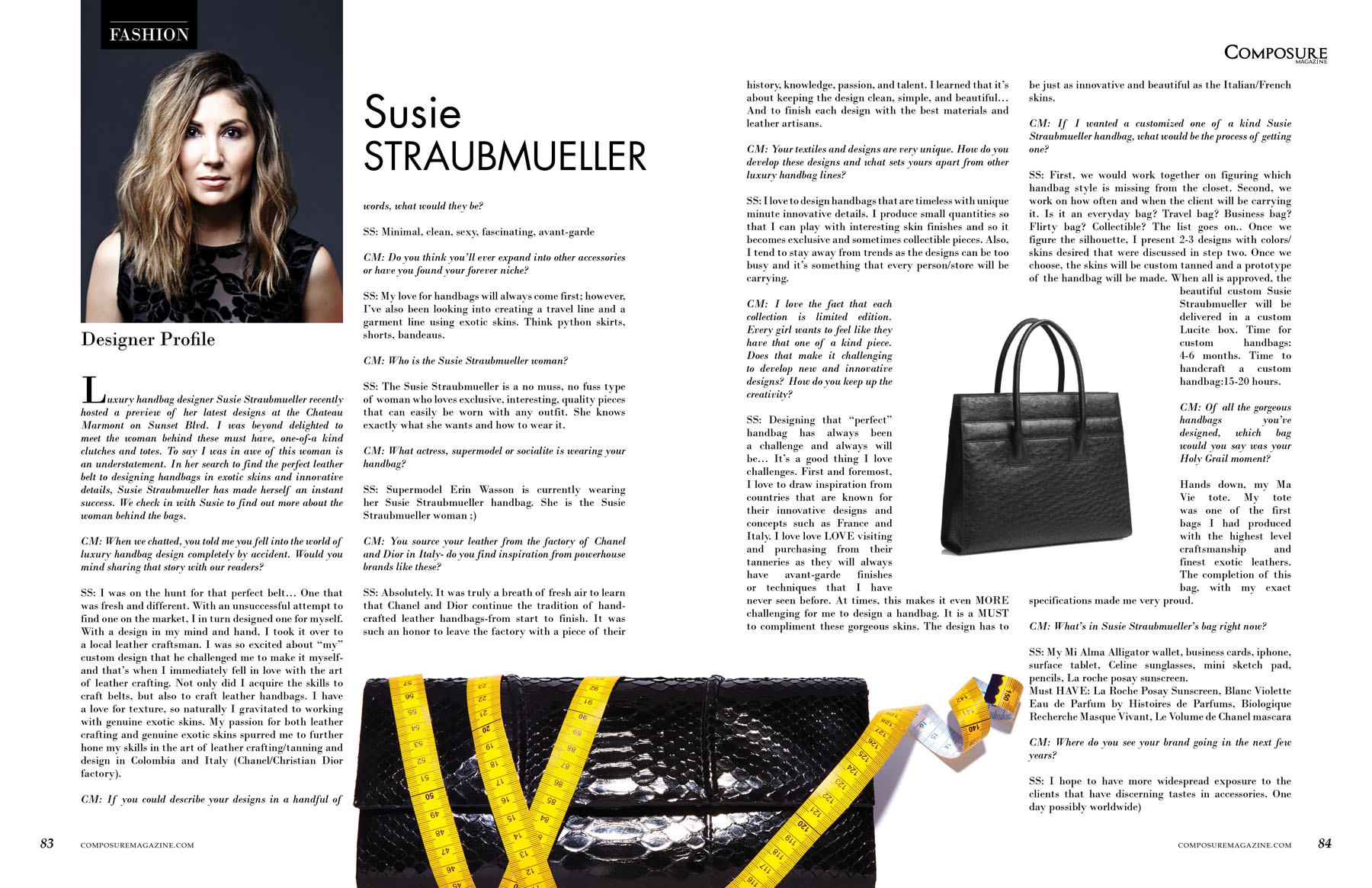 Luxury handbag designer Susie Straubmueller recently hosted a preview of her latest designs at the Chateau Marmont on Sunset Blvd. I was beyond delighted to meet the woman behind these must have, one-of-a kind clutches and totes. To say I was in awe of this woman is an understatement. In her search to find the perfect leather belt to designing handbags in exotic skins and innovative details, Susie Straubmueller has made herself an instant success. We check in with Susie to find out more about the woman behind the bags.
CM: When we chatted, you told me you fell into the world of luxury handbag design completely by accident. Would you mind sharing that story with our readers?
SS: I was on the hunt for that perfect belt… One that was fresh and different. With an unsuccessful attempt to find one on the market, I in turn designed one for myself. With a design in my mind and hand, I took it over to a local leather craftsman. I was so excited about "my" custom design that he challenged me to make it myself- and that's when I immediately fell in love with the art of leather crafting. Not only did I acquire the skills to craft belts, but also to craft leather handbags. I have a love for texture, so naturally I gravitated to working with genuine exotic skins. My passion for both leather crafting and genuine exotic skins spurred me to further hone my skills in the art of leather crafting/tanning and design in Colombia and Italy (Chanel/Christian Dior factory).
CM: If you could describe your designs in a handful of words, what would they be?
SS: Minimal, clean, sexy, fascinating, avant-garde
CM: Do you think you'll ever expand into other accessories or have you found your forever niche?
SS: My love for handbags will always come first; however, I've also been looking into creating a travel line and a garment line using exotic skins. Think python skirts, shorts, bandeaus.
CM: Who is the Susie Straubmueller woman?
SS: The Susie Straubmueller is a no muss, no fuss type of woman who loves exclusive, interesting, quality pieces that can easily be worn with any outfit. She knows exactly what she wants and how to wear it.
CM: What actress, supermodel or socialite is wearing your handbag?
SS: Supermodel Erin Wasson is currently wearing her Susie Straubmueller handbag. She is the Susie Straubmueller woman 😉
CM: You source your leather from the factory of Chanel and Dior in Italy- do you find inspiration from powerhouse brands like these?
SS: Absolutely. It was truly a breath of fresh air to learn that Chanel and Dior continue the tradition of hand-crafted leather handbags-from start to finish. It was such an honor to leave the factory with a piece of their history, knowledge, passion, and talent. I learned that it's about keeping the design clean, simple, and beautiful… And to finish each design with the best materials and leather artisans.
CM: Your textiles and designs are very unique. How do you develop these designs and what sets yours apart from other luxury handbag lines?
SS: I love to design handbags that are timeless with unique minute innovative details. I produce small quantities so that I can play with interesting skin finishes and so it becomes exclusive and sometimes collectible pieces. Also, I tend to stay away from trends as the designs can be too busy and it's something that every person/store will be carrying.
CM: I love the fact that each collection is limited edition. Every girl wants to feel like they have that one of a kind piece. Does that make it challenging to develop new and innovative designs? How do you keep up the creativity?
SS: Designing that "perfect" handbag has always been a challenge and always will be… It's a good thing I love challenges. First and foremost, I love to draw inspiration from countries that are known for their innovative designs and concepts such as France and Italy. I love love LOVE visiting and purchasing from their tanneries as they will always have avant-garde finishes or techniques that I have never seen before. At times, this makes it even MORE challenging for me to design a handbag. It is a MUST to compliment these gorgeous skins. The design has to be just as innovative and beautiful as the Italian/French skins.
CM: If I wanted a customized one of a kind Susie Straubmueller handbag, what would be the process of getting one?
SS: First, we would work together on figuring which handbag style is missing from the closet. Second, we work on how often and when the client will be carrying it. Is it an everyday bag? Travel bag? Business bag? Flirty bag? Collectible? The list goes on.. Once we figure the silhouette, I present 2-3 designs with colors/skins desired that were discussed in step two. Once we choose, the skins will be custom tanned and a prototype of the handbag will be made. When all is approved, the beautiful custom Susie Straubmueller will be delivered in a custom Lucite box. Time for custom handbags: 4-6 months. Time to handcraft a custom handbag:15-20 hours.
CM: Of all the gorgeous handbags you've designed, which bag would you say was your Holy Grail moment?
Hands down, my Ma Vie tote. My tote was one of the first bags I had produced with the highest level craftsmanship and finest exotic leathers. The completion of this bag, with my exact specifications made me very proud.
CM: What's in Susie Straubmueller's bag right now?
SS: My Mi Alma Alligator wallet, business cards, iphone, surface tablet, Celine sunglasses, mini sketch pad, pencils, La roche posay sunscreen.
Must HAVE: La Roche Posay Sunscreen, Blanc Violette Eau de Parfum by Histoires de Parfums, Biologique Recherche Masque Vivant, Le Volume de Chanel mascara
CM: Where do you see your brand going in the next few years?
SS: I hope to have more widespread exposure to the clients that have discerning tastes in accessories. One day possibly worldwide)
Share your thoughts...