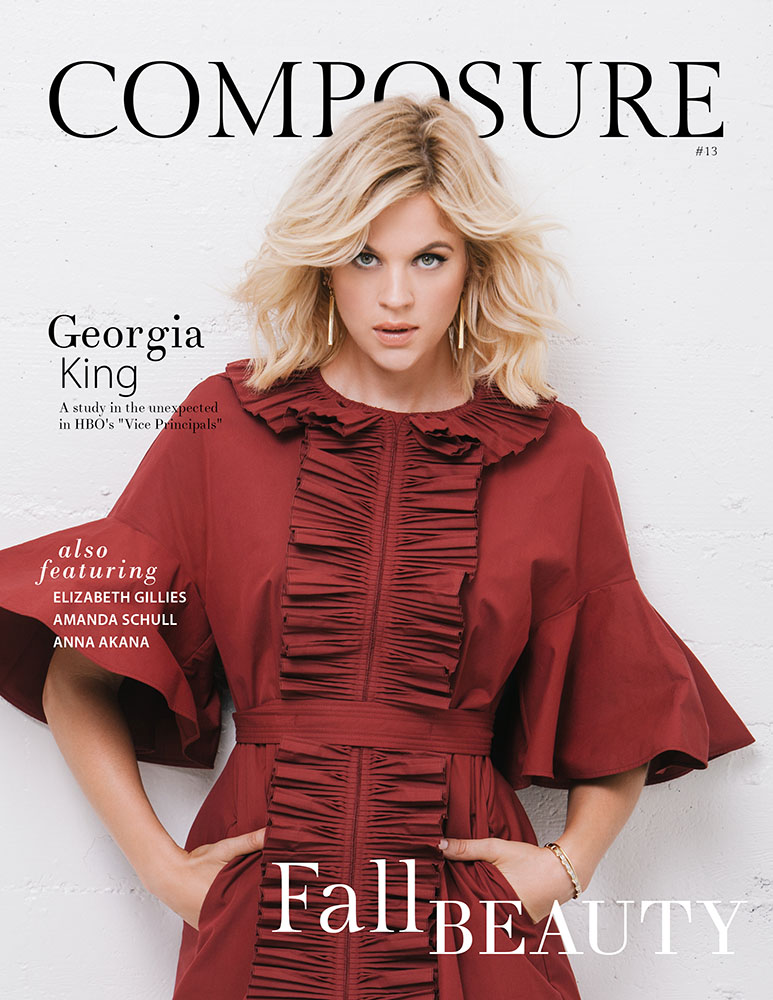 She writes, she directs, she stars in HBO's "Vice Principals" — how comedy's newest darling plans to take over Hollywood.
On this typically sunny Los Angeles afternoon, Georgia King reflects on a day not too long ago, when she was driving home from a shoot day on "The New Normal," the 2012 NBC series that got her to move out west. It was the kind of workday that lingered over you long after the cameras were down. Driving through the city, she remembers seeing giant billboards for the show, her face prominently featured on them. It was a surreal new reality for this U.K. native. She pulled the little secondhand car she had bought with an advance from her agent into a gas station — only to find that she had insufficient funds. "I literally didn't have $5 I could put in my car," King says, laughing. "I remember the strange feeling of driving past these billboards of 'The New Normal,' not knowing if I would make it home because I didn't have any gas in my car." How's that for irony?
Turns out Los Angeles has been good to this British transplant. King's much-anticipated dark comedy series "Vice Principals" had its debut on HBO earlier this summer. In it, she plays Amanda Snodgrass, a modest and idealistic young teacher who is new to the high school where Danny McBride's character, Neal Gamby, reigns as vice principal. The role is a triumphant get for a girl who hadn't intended to fall into comedy but has begun to emerge as a force majeure.
Let's go back a bit. Growing up in Devon (for those of you, like me, who had to look it up, it's in the southwest of England, next to Cornwall), King and her sister sought entertainment in all things curious and artistic. "We ran around in fields, made stuff, and lived a very fun childhood," she says. The child of two great artists, actor Jonathan Hyde and opera singer Isobel Buchanan, King says she was always interested in storytelling from a young age, especially comedic stories. She has tried her hand at directing with a couple of short films, most recently "Your Hands," a dramedy she also wrote. "I'm really interested in connection and disconnection in storytelling," she says. "I seem to come back to that for some reason. ['Your Hands'] is a story about a woman who is disconnected and figures out how to be OK with that." King funded the film fully through a Kickstarter campaign, and it eventually screened at several film festivals.
As for her inspiration, King explains her process: "I'll find something interesting that will be a tiny seed that will stick in my brain, and then it will snowball and things will attach to it. It could be a simple concept for a story, or it could be some kind of a statement that I want to make." King considers herself to be new to writing, and much of what she'd written in the past was created with the intention of directing. Nowadays she finds herself exploring new mediums and even stepping outside of writing scripts to dabble in short stories. She's gravitating towards complex characters over intricate plots. "I'm fascinated by people's minds and psychology and why people do the things they do," she says. "Also, how intensely we can feel certain things. The extremes in us and also the control we have and the lack of control at times. I definitely like exploring people." This curiosity and penchant for observation extend to comedy as well. "In doing comedy, I found it the most gratifying because I feel like I get to experience a lot of real feelings, but at the same time, I get to explore often very painful scenarios and strange scenarios that we all face. But I get to approach them in the brightest way."
Surprisingly, comedy wasn't always in her purview. While taking a gap year after high school, she explored modeling and acting after being scouted by agencies for both, all while working at a cheese shop. "I wasn't sure I would enjoy modeling but was really keen to try it and find out," she says. "It turns out I didn't like it." That's when she decided to pursue acting full-time. ("I ate lots of food again," she jokes.) After a few period dramas, Georgia made her first foray into comedy with her role as a villain in the 2008 romantic comedy film "Wild Child." She recalls that role as the one that started it all. "It was honestly life-changing getting that film. It lighted something up in me that I didn't know was there," she says.
"The New Normal" was her introduction into the world of American sitcoms. In it, King plays Goldie, a woman who had recently moved to California and finds herself as a surrogate mother to a gay couple. She recalls her initial shock at the resistance the show had gotten — it was a bizarre concept for someone who grew up in a liberal household. For this and many other reasons, the role was very important to King. "It felt really good to play Goldie," she says. "She's a good human being. She was a ray of sunshine. It was really an uplifting, encouraging experience." It was also the first time her knack for comedy had become evident on a major American platform.
She recalls she was back in London when she got the call to read for Amanda Snodgrass on "Vice Principals." "I said, 'I will definitely read for that,'" she says, laughing. "Definitely my favorite character name of all time." It didn't hurt that she would be working alongside Danny McBride, of whom she speaks with the highest praise. The scripts she was sent before her audition were some of the best comedic scripts she had ever read, and after McBride had offered her the role, she promptly responded with "You had me at Snodgrass."
As for her character, King explains, "She might have her sh—t together in the beginning and probably is one of the characters that's more straightforward and, dare I say, good. And then as the show progresses, you see a full spectrum of characteristics and qualities and traits and vulnerabilities. Unexpected things. I think that's what I like about the show. We all have things that are unexpected about us. She's definitely a more complex character than an audience might first think." On the show, King navigates these character nuances with ease. She tackles vulnerability and uneasiness with the same effortless stride as she does sternness and confrontation. In her hands, Amanda becomes a dynamic, vibrant and multilayered personality.
King's aim is to avoid taking the same type of role twice as she tries to step outside of her comfort zone with each project. Similarly, she is adamant about not being pigeonholed as an actress, a director, or a writer — to have to pick one over the other two would be like asking her whether she loves her mom or her dad more, she explains.
For all her talents, King is painfully shy when complimented. When told that she brings a fresh perspective to comedy, she admits to blushing and staring at the floor, rather speechless. "I can be quite a grandma," she confesses, laughing, about how she spends her downtime. In truth, King is a film fanatic and spends a lot of her time watching movies. Like any writer, she's curious about everything around her and loves going to shows, as well as exploring the city. She has a dog and keeps active with long hikes, and when she has a free night, she's cooking dinner with friends at her place.
What King is not reticent about is her skill as a baker, as she proudly offers me the recipe to her three layer chocolate cake with peanut frosting and chocolate ganache. "It's filthy," she promises.
The season one finale of "Vice Principals" airs September 18 on HBO. Season two premieres in 2017.
Share your thoughts...