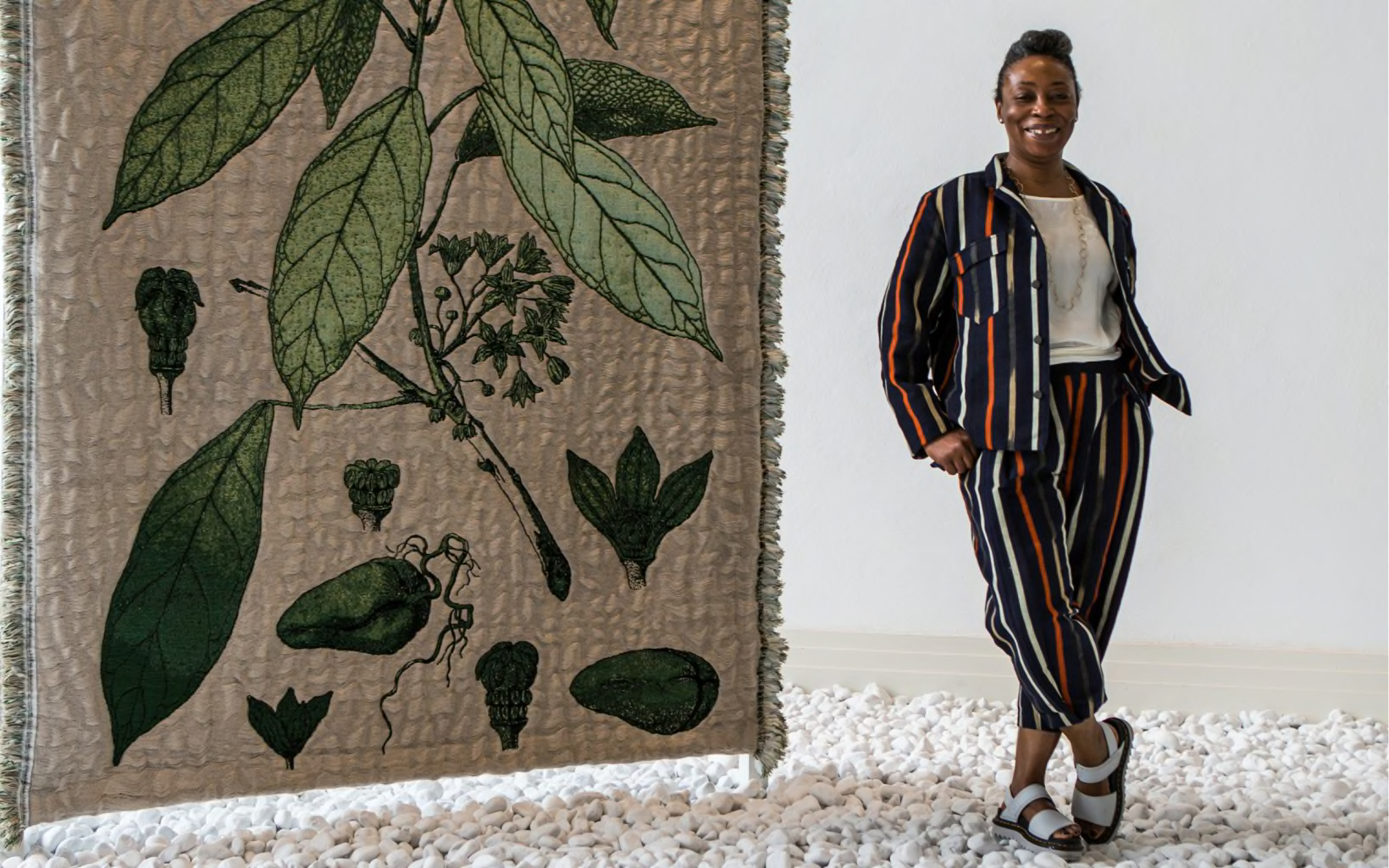 Coming off an emotionally high weekend, we wanted to keep strong rhetoric going with a glimpse into the world of artist Otobong Nkanga. A powerful visionary, who we hope you will take the time to look into the meaning behind all of her works.
Art Basel has a broad spectrum of artists and groups worldwide, and it's easy to get lost in all the work being exhibited both in galleries and online. However, we think back to a moment in 2018 when the Museum of Contemporary Art in Chicago featured a Nigerian-born artist whose stunning tapestries, while shimmering and alluring at first look, spoke of a much more violent time during colonialism and the extraction and exploitation of natural resources, particularly from Africa to the West.
The pieces prompted us to research out her older works, specifically The Weight of Scars (2015). This expansive textile piece consisting of four panels reflects Nkanga's time spent in Namibia's now-abandoned Tsumeb mine. The way the land had been torn apart by dynamite to procure minerals, the destructiveness of technology to the earth, and the harsh lives of the people who dug in those mines weighed heavily on Nkanga's mind. These abandoned tunnels serve as a reminder of how the promise of riches can end with emptiness and "scars."
"It was quite emotional and quite hard to look at it. I wasn't just looking at the holes, but thinking how many people had been digging these. I entered into the tunnels, and the heat in that tunnel you can't imagine. You're imagining the kinds of scars, the mental scars, the emotional scars, the scars of the landscape, and these were the thoughts that I had when I was making the textile work. These were mines that were dug by local people," Nkanga explained in an interview with the TATE United Kingdom. " I understood the difference between how technology changes the way we extract. It made me realize the kinds of tools we are using, and how we've accelerated that process of destruction, scarification, of wounding, then we can imagine what has happened in places that have been colonized. People coming into a place and changing completely that structure of things, and that repercussion is still happening today."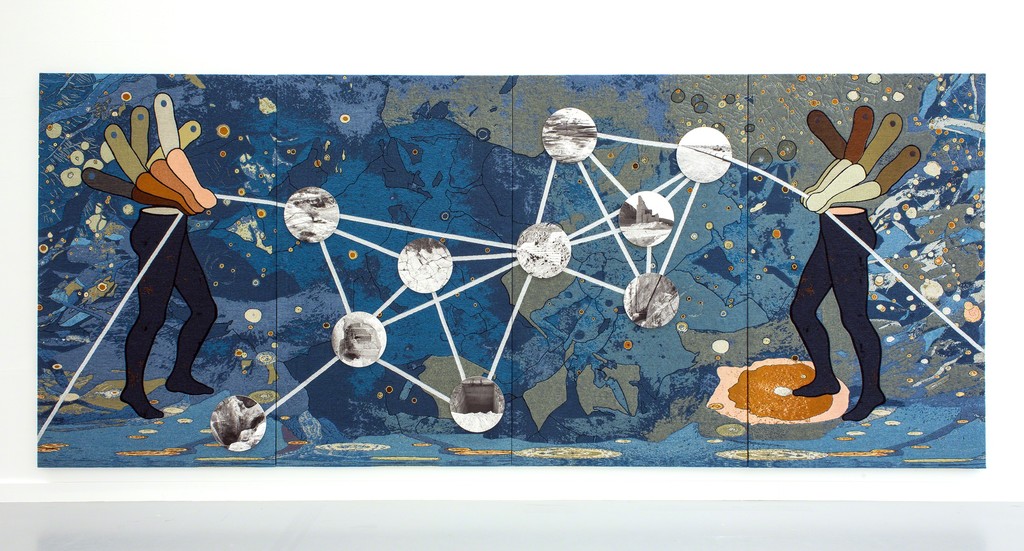 Works such as Nkanga's make you stop and think and then carry those thoughts with you through the years.
Fast forward a bit to 2020, and art critic and curator Hans Ulrich Obrist spoke with Nkanga on Art Basel's project with her in 2014, 14 Rooms, and its relevancy for now, and how the world has changed with the growing pandemic. When questioned about her performance art and looking at how we all find ourselves facing a new era of Zoom, Facetime, and social distancing, Nkanga echoed sentiments we're all familiar with. "With the lockdown, I've been thinking a lot about how one continues performing, how one brings the body into a space where everyone is worried about this invisible element that goes through nostrils," Nkanga explained to Obrist. "During 14 Rooms, we never thought about one person standing next to another – one could easily enter Marina Abramović's performance, Luminosity [1997/2014], which had a naked performer breathing and sweating in a room [while sitting on an elevated bicycle seat fixed to a wall]. But now, for example, I'm showing Diaspore at Gropius Bau in Berlin, and I had to rethink how to show it – how to create distance between the performers and to be more aware of the visitors coming in and out."
Diaspore speaks to not only humans and their relationship to the land around them, but again the effects of capitalism, the greed, and the change brought about by it. Covid-19 showed us just how deeply interconnected these things are: the waters clearing in Venice, Italy's polluted canals, the massive increase in the air quality around the world as countries locked down, but people need to return to work, to make ends meet again, lockdown never had any permanency. We just hope you'll look at Nkanga and see how she uses her art to ask that we, as humans, understand that one can't overlook what is going on around us and the resources we consume heavily—this world cannot exist without them.
With the pandemic, the political and social unrest that keeps the globe in turmoil, and a feeling of complete instability, people like Nkanga with voices and visions cannot be silenced. They keep trudging forward, sharing their immeasurable gifts with the rest of us to offer hope and give the young a prominent person to be influenced by.


Photos Courtesy of Art Basel
Share your thoughts...