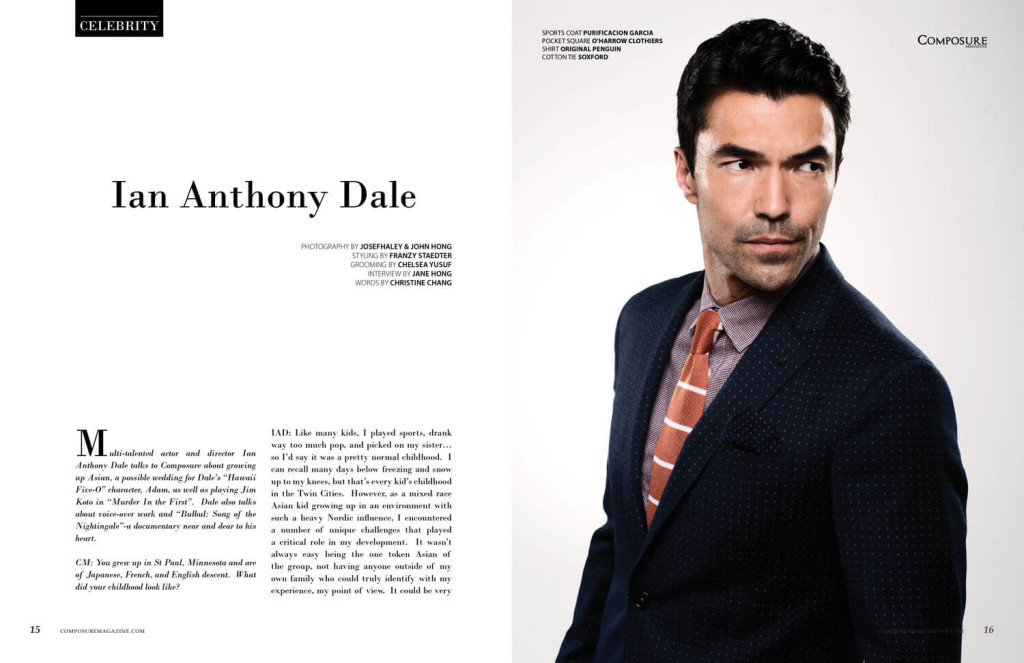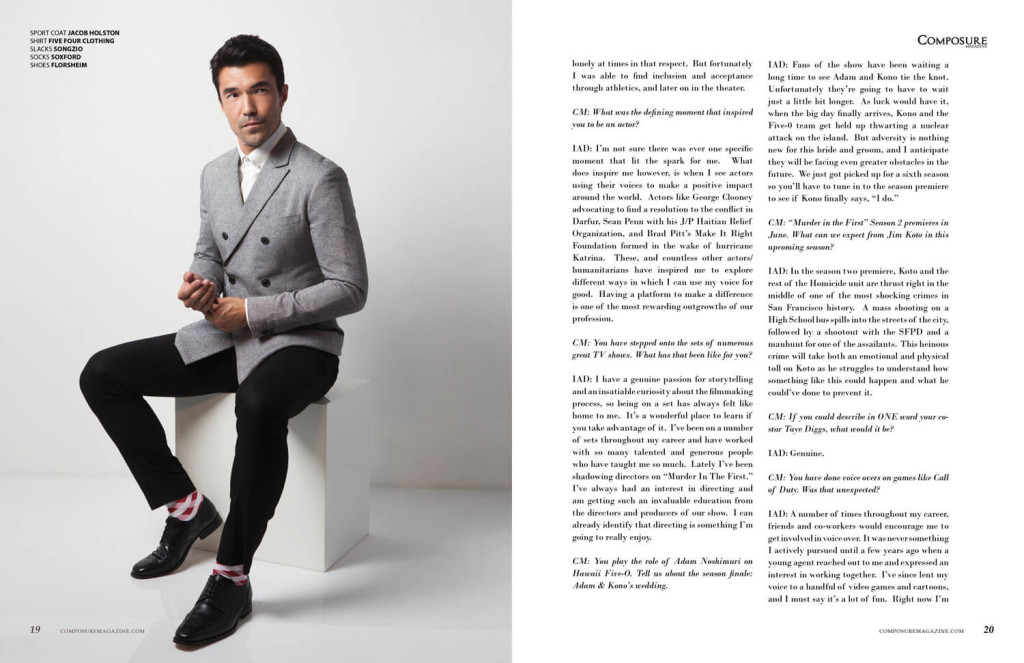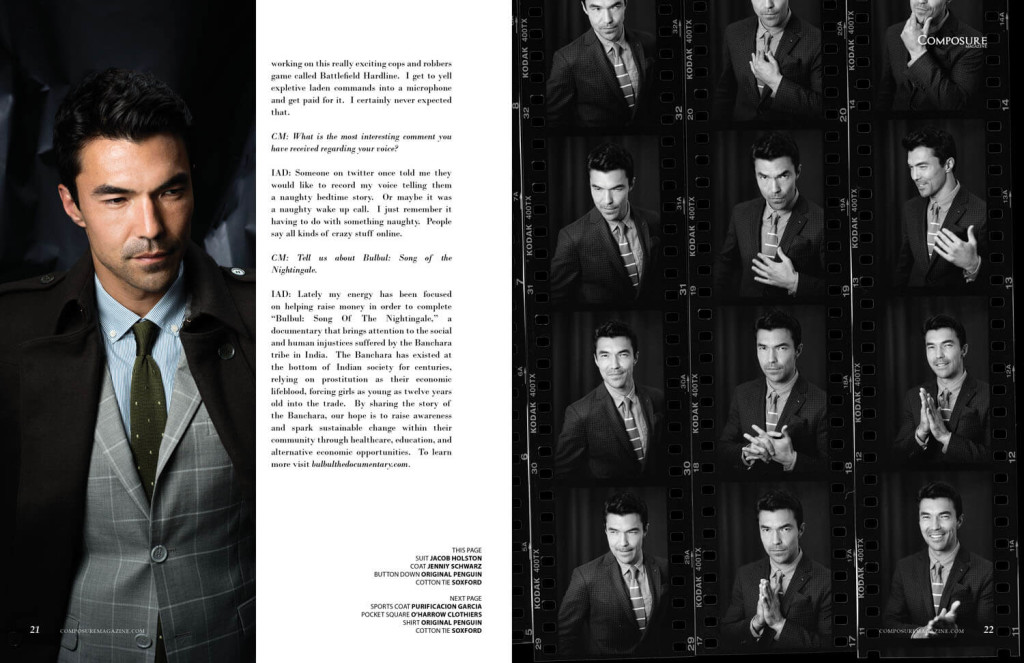 Multi-talented actor and director Ian Anthony Dale talks to Composure about growing up Asian, a possible wedding for Dale's "Hawaii Five-O" character, Adam, as well as playing Jim Koto in "Murder In the First". Dale also talks about voice-over work and "Bulbul: Song of the Nightingale"-a documentary near and dear to his heart.
CM: You grew up in St Paul, Minnesota and are of Japanese, French, and English descent. What did your childhood look like?
Ian Anthony Dale: Like many kids, I played sports, drank way too much pop, and picked on my sister… so I'd say it was a pretty normal childhood. I can recall many days below freezing and snow up to my knees, but that's every kid's childhood in the Twin Cities. However, as a mixed race Asian kid growing up in an environment with such a heavy Nordic influence, I encountered a number of unique challenges that played a critical role in my development. It wasn't always easy being the one token Asian of the group, not having anyone outside of my own family who could truly identify with my experience, my point of view. It could be very lonely at times in that respect. But fortunately I was able to find inclusion and acceptance through athletics, and later on in the theater.
CM: What was the defining moment that inspired you to be an actor?
Ian Anthony Dale: I'm not sure there was ever one specific moment that lit the spark for me. What does inspire me however, is when I see actors using their voices to make a positive impact around the world. Actors like George Clooney advocating to find a resolution to the conflict in Darfur, Sean Penn with his J/P Haitian Relief Organization, and Brad Pitt's Make It Right Foundation formed in the wake of hurricane Katrina. These, and countless other actors/humanitarians have inspired me to explore different ways in which I can use my voice for good. Having a platform to make a difference is one of the most rewarding outgrowths of our profession.
CM: You have stepped onto the sets of numerous great TV shows. What has that been like for you?
Ian Anthony Dale: I have a genuine passion for storytelling and an insatiable curiosity about the filmmaking process, so being on a set has always felt like home to me. It's a wonderful place to learn if you take advantage of it. I've been on a number of sets throughout my career and have worked with so many talented and generous people who have taught me so much. Lately I've been shadowing directors on "Murder In The First." I've always had an interest in directing and am getting such an invaluable education from the directors and producers of our show. I can already identify that directing is something I'm going to really enjoy.
CM: You play the role of Adam Noshimuri on Hawaii Five-O. Tell us about the season finale: Adam & Kono's wedding.
Ian Anthony Dale: Fans of the show have been waiting a long time to see Adam and Kono tie the knot. Unfortunately they're going to have to wait just a little bit longer. As luck would have it, when the big day finally arrives, Kono and the Five-0 team get held up thwarting a nuclear attack on the island. But adversity is nothing new for this bride and groom, and I anticipate they will be facing even greater obstacles in the future. We just got picked up for a sixth season so you'll have to tune in to the season premiere to see if Kono finally says, "I do."
CM: "Murder in the First" Season 2 premieres in June. What can we expect from Jim Koto in this upcoming season?
Ian Anthony Dale: In the season two premiere, Koto and the rest of the Homicide unit are thrust right in the middle of one of the most shocking crimes in San Francisco history. A mass shooting on a High School bus spills into the streets of the city, followed by a shootout with the SFPD and a manhunt for one of the assailants. This heinous crime will take both an emotional and physical toll on Koto as he struggles to understand how something like this could happen and what he could've done to prevent it.
CM: If you could describe in ONE word your co-star Taye Diggs, what would it be?
Ian Anthony Dale: Genuine.
CM: You have done voice overs on games like Call of Duty. Was that unexpected?
Ian Anthony Dale: A number of times throughout my career, friends and co-workers would encourage me to get involved in voice over. It was never something I actively pursued until a few years ago when a young agent reached out to me and expressed an interest in working together. I've since lent my voice to a handful of video games and cartoons, and I must say it's a lot of fun. Right now I'm working on this really exciting cops and robbers game called Battlefield Hardline. I get to yell expletive laden commands into a microphone and get paid for it. I certainly never expected that.
CM: What is the most interesting comment you have received regarding your voice?
Ian Anthony Dale: Someone on twitter once told me they would like to record my voice telling them a naughty bedtime story. Or maybe it was a naughty wake up call. I just remember it having to do with something naughty. People say all kinds of crazy stuff online.
CM: Tell us about Bulbul: Song of the Nightingale.
Ian Anthony Dale: Lately my energy has been focused on helping raise money in order to complete "Bulbul: Song Of The Nightingale," a documentary that brings attention to the social and human injustices suffered by the Banchara tribe in India. The Banchara has existed at the bottom of Indian society for centuries, relying on prostitution as their economic lifeblood, forcing girls as young as twelve years old into the trade. By sharing the story of the Banchara, our hope is to raise awareness and spark sustainable change within their community through healthcare, education, and alternative economic opportunities. To learn more visit bulbulthedocumentary.com.
PHOTOGRAPHY BY JOSEFHALEY & JOHN HONG
STYLING BY FRANZY STAEDTER
GROOMING BY CHELSEA YUSUF
INTERVIEW BY JANE HONG
WORDS BY CHRISTINE CHANG
Share your thoughts...