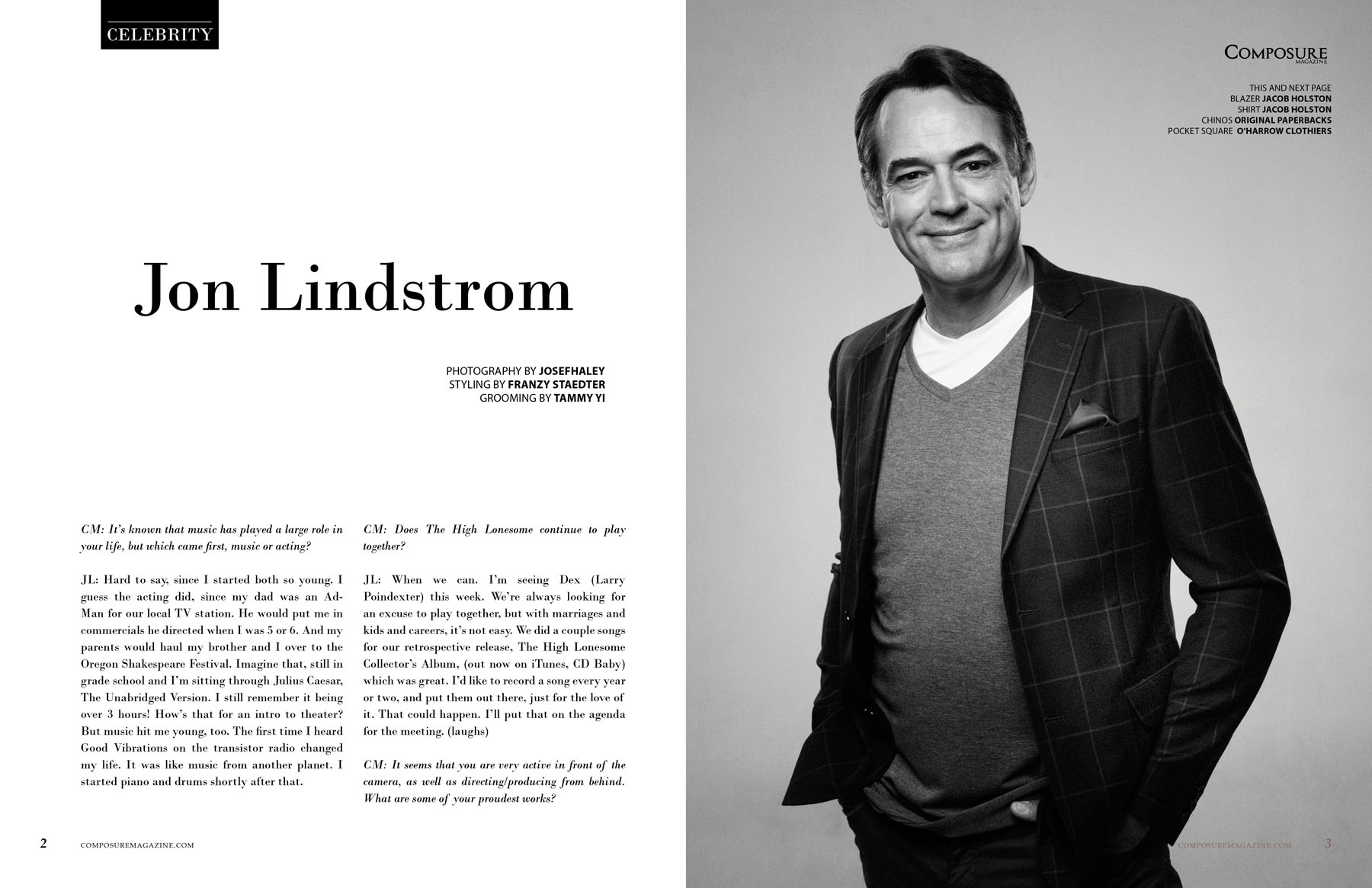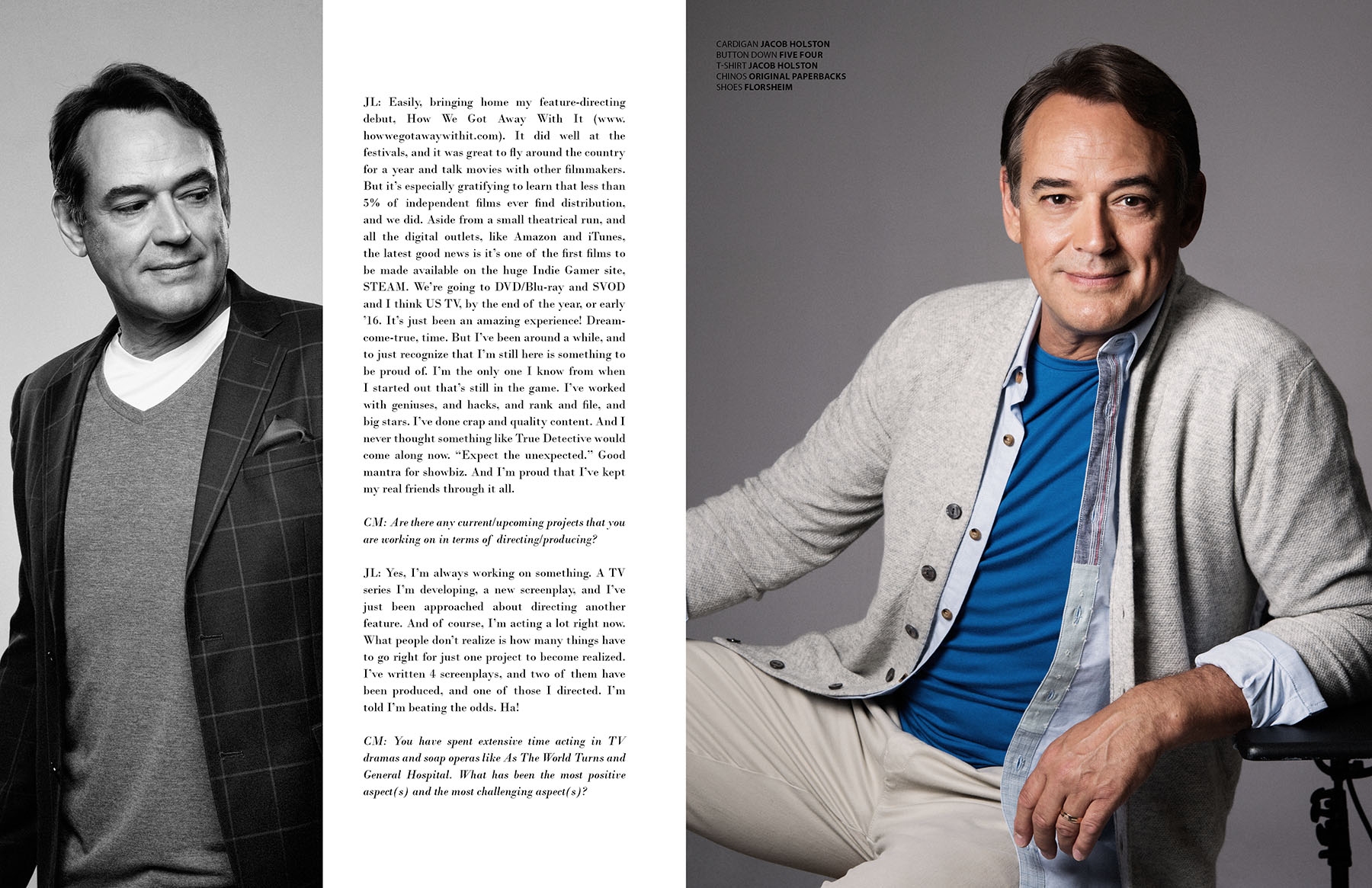 Actor Jon Lindstrom
CM: It's known that music has played a large role in your life, but which came first, music or acting?
JL: Hard to say, since I started both so young. I guess the acting did, since my dad was an Ad-Man for our local TV station. He would put me in commercials he directed when I was 5 or 6. And my parents would haul my brother and I over to the Oregon Shakespeare Festival. Imagine that, still in grade school and I'm sitting through Julius Caesar, The Unabridged Version. I still remember it being over 3 hours! How's that for an intro to theater? But music hit me young, too. The first time I heard Good Vibrations on the transistor radio changed my life. It was like music from another planet. I started piano and drums shortly after that.
CM: Does The High Lonesome continue to play together?
JL: When we can. I'm seeing Dex (Larry Poindexter) this week. We're always looking for an excuse to play together, but with marriages and kids and careers, it's not easy. We did a couple songs for our retrospective release, The High Lonesome Collector's Album, (out now on iTunes, CD Baby) which was great. I'd like to record a song every year or two, and put them out there, just for the love of it. That could happen. I'll put that on the agenda for the meeting. (laughs)
CM: It seems that you are very active in front of the camera, as well as directing/producing from behind. What are some of your proudest works?
JL: Easily, bringing home my feature-directing debut, How We Got Away With It. It did well at the festivals, and it was great to fly around the country for a year and talk movies with other filmmakers. But it's especially gratifying to learn that less than 5% of independent films ever find distribution, and we did. Aside from a small theatrical run, and all the digital outlets, like Amazon and iTunes, the latest good news is it's one of the first films to be made available on the huge Indie Gamer site, STEAM. We're going to DVD/Blu-ray and SVOD and I think US TV, by the end of the year, or early '16. It's just been an amazing experience! Dream-come-true, time. But I've been around a while, and to just recognize that I'm still here is something to be proud of. I'm the only one I know from when I started out that's still in the game. I've worked with geniuses, and hacks, and rank and file, and big stars. I've done crap and quality content. And I never thought something like True Detective would come along now. "Expect the unexpected." Good mantra for showbiz. And I'm proud that I've kept my real friends through it all.
CM: Are there any current/upcoming projects that you are working on in terms of directing/producing?
JL: Yes, I'm always working on something. A TV series I'm developing, a new screenplay, and I've just been approached about directing another feature. And of course, I'm acting a lot right now. What people don't realize is how many things have to go right for just one project to become realized. I've written 4 screenplays, and two of them have been produced, and one of those I directed. I'm told I'm beating the odds. Ha!
CM: You have spent extensive time acting in TV dramas and soap operas like As The World Turns and General Hospital. What has been the most positive aspect(s) and the most challenging aspect(s)?
JL: In other words, I've done a lot of television. (laughs) I'm one of those guys who actually likes working in TV. I mean, I just love working, period. And TV has been very good to me, so there is no downside. Getting an Emmy nomination for As The World Turns, was terrific. Not as good as winning, but since my wife (Cady McClain) has two statues on our mantle, I can always look at hers and pretend they're mine.  You know, I'd have a hard time coming up with any negatives. Anything that gives an actor visibility and opens more doors for you is good. Most of the challenges are more endemic to the medium. Soaps move very fast, usually shooting around 80 pages a day. Features and nighttime TV shoot far less content daily, but you have to do it multiple times to get all the coverage, so you work just as hard in either one. One great benefit of Daytime is developing the instinct to know when we "got it," that we didn't need another take. That was huge when directing a small feature with serious time and money limitations. I suppose breaking people's expectations has been challenging. I think Vince Vaughn's work in Detective is terrific, but he's taken some heat because now he's known for those broad studio comedies. Critics have forgotten he co-wrote and starred in Swingers, which, along with Reservoir Dogs and Slacker, practically invented modern independent cinema. I've had a bit of the same since I'm "best known" for soaps, and there are still people who will automatically disregard you because of it. Thankfully, that's going away now, and I'm happy for the chance to change people's preconceptions. Maybe the biggest positive I can take for the future is because my background has been so varied, and my skills were honed in the pressure-cooker of TV, there's no place I can't work. The wall coming down between TV and film is a good thing. Quality is everywhere.  
CM: The TV series True Detective is now showing for its second season – can you tell us about your character Jacob McCandless? What kind of relationship/dynamic does he have with the other characters?
JL: McCandless is mysterious, certainly, but the fact that he has no reservations about going toe-to-toe with a known violent gangster like Frank Semyon (Vince Vaughn) tells you he's actually a very powerful man. There's obviously a lot of money at stake, and any time that's the case, it's always made at someone else's expense. Semyon is pretty desperate to go legit, and now that Caspere is dead and Frank's money has gone missing, McCandless is that conduit to legitimacy for him. I think McCandless likes to play off people's desperation, and that what he's doing to Frank right now.
CM: Can you tell us about Recovery Road/ God's Not Dead?
JL: RR is based on a YA novel about a teenage girl's recovery from addiction while in a treatment center. I play the head of a competing, high-end treatment facility. I read the book when I got the job, and it's very good. The show veers from it somewhat, but it's still very much about the challenges of recovery. I don't know how many episodes I'll be doing, but I'll be watching when it airs next year. Terrific young cast on it. GND2 is the next film from the people who made the very successful, "God's Not Dead." Like True Detective it's not a continuation, but a new story with new characters. I'm a school system superintendent who railroads a teacher for "injecting" religion into the classroom. It's a great premise, and they are lovely people to work with. I'm looking forward to seeing it. I consider myself more spiritual then religious, and it's the only time I've ever started the workday with a group prayer. It was nice.  
Learn more about Jon at www.jonlindstrom.com and twitter
PHOTOGRAPHY BY JOSEFHALEY & JOHN HONG
STYLING BY FRANZY STAEDTER
GROOMING BY TAMMY YI
INTERVIEW BY JANE HONG
Share your thoughts...