A new life is being given to Ann Demeulemeester since its acquisition by Claudio Antonioli. We look back to the early beginnings when Demeulemeester herself was part of the Antwerp Six, a group of graduates from the Royal Academy of Fine Arts in the early 80s consisting of Dries Van Noten, Ann Demeulemeester, Dirk Van Saene, Walter Van Beirendock, Dirk Bikkembergs, and Marina Yee, who had such a distinctive yet collective style between them they made waves during London Fashion Week solidifying them in a cutthroat industry.
Demeulemeester debuted her namesake line in 1985, creating quite the cult following, which eventually led to her clothing being sold on a global scale. To this day, it remains one of the fashion world's most beloved Maisons. She departed the Maison in 2013, leaving it under the care of Sébastien Meunier up through 2020 before Antonioli stepped into the picture. While awaiting new creative direction, Antonioli has been working to bring back the beloved Maison with the reopening of its flagship in Antwerp to reveal recent renovations. He hopes to bring Ann Demeulemeester "back to the cult status it has acquired over the past four decades."
"I am honored to be able to reopen this iconic flagship," Antonioli shares. "Since the beginning of this project, my mission has been to preserve the brand's ethos, of which the store is a big part. Antwerp is a city that has always fascinated me, and I'm happy to bring back a place that is the epicenter of the Ann Demeulemeester universe."
Patrick Robyn, Demeulemeester's husband, has transformed the historical 1880s Beaux Arts flagship. He explains, "The question that we wanted to answer was, what do we expect from a shop today when fashion is everywhere, and everything can be bought online. The task was to differentiate ourselves while staying true to the brand's DNA." Take a look through the photos, and you'll see the refurbished painter's canvas, canvas over the shop windows to create "a chiaroscuro effect in daytime" causing all sorts of shadow play and lighting to emphasize the clothing. The deep black floors provide a rather inviting warmth, along with oversized mirrors and a lovely courtyard. "Shopping is a very intimate, even vulnerable moment," Robyn says. "We wanted to make sure our store was as welcoming as possible. I hope that when our customers get home after buying something in this shop, their clothes will remain loaded with memories, emotion, and meaning. I want the people to remember the day that they bought it."
Seeing the flagship completed and knowing how much love Claudio Antonioli and Patrick Robyn have put into the 520-square-meter space, it was wonderful to learn that Deemeulemeester felt "the renewed flagship store in Antwerp celebrates the renaissance of the brand under Claudio's wings." We cheer for the future of one of our most favorite Maisons.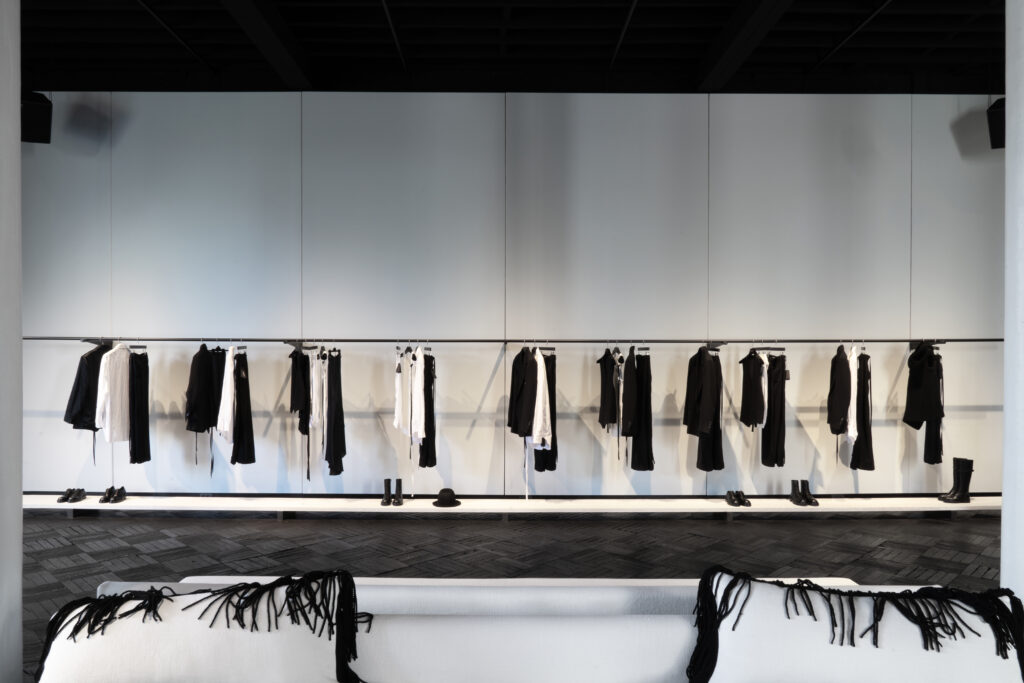 Share your thoughts...