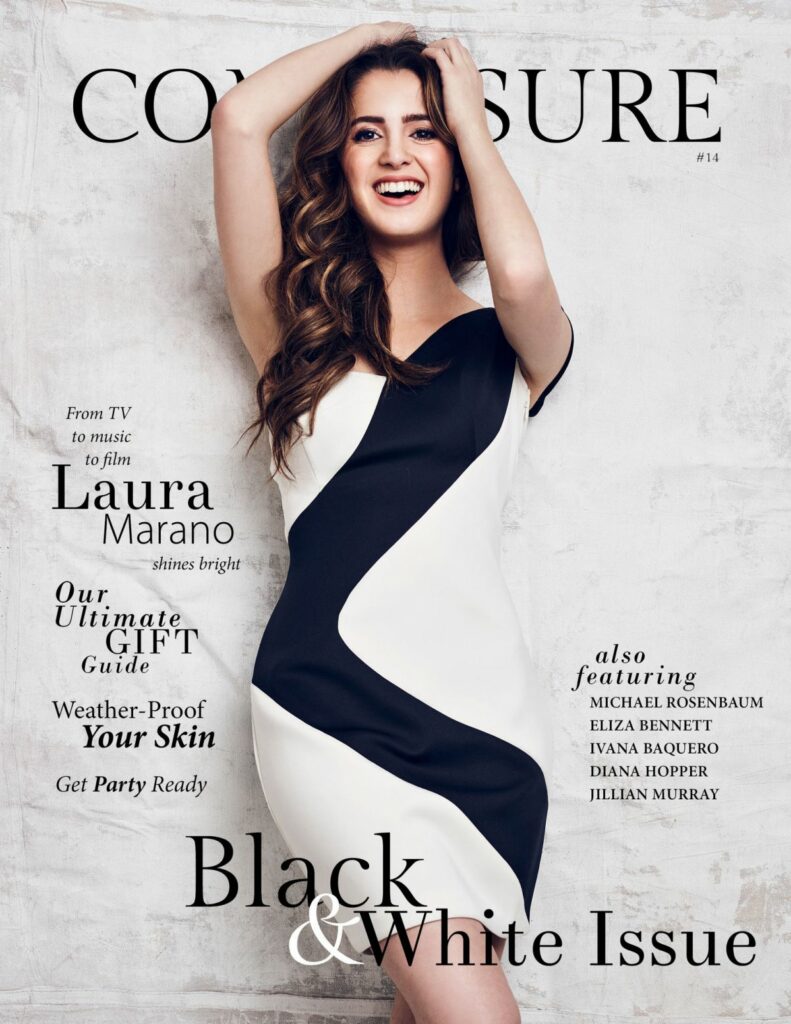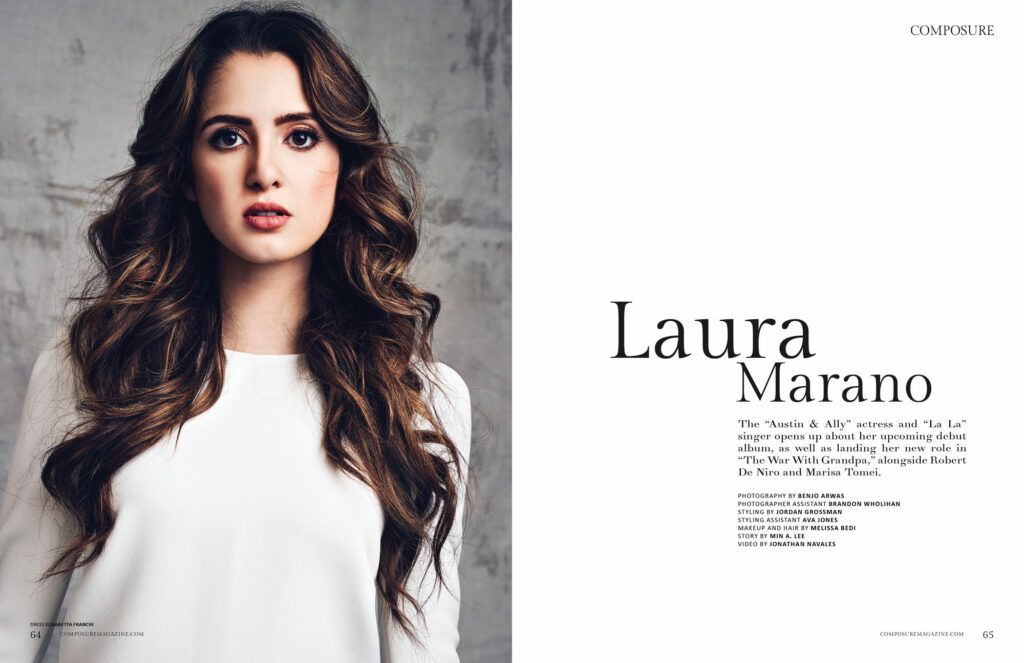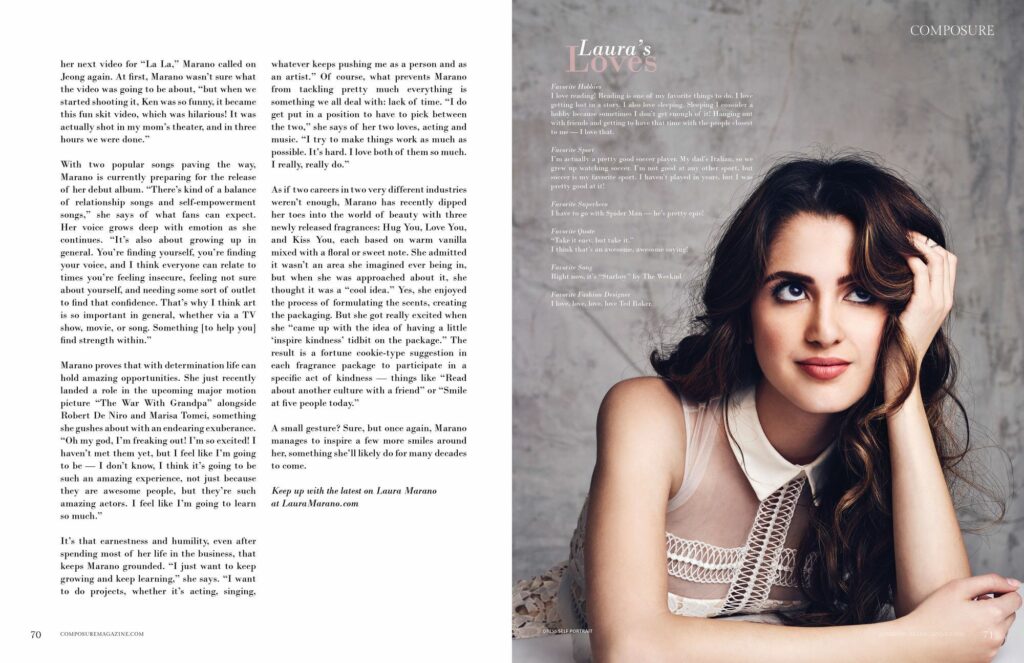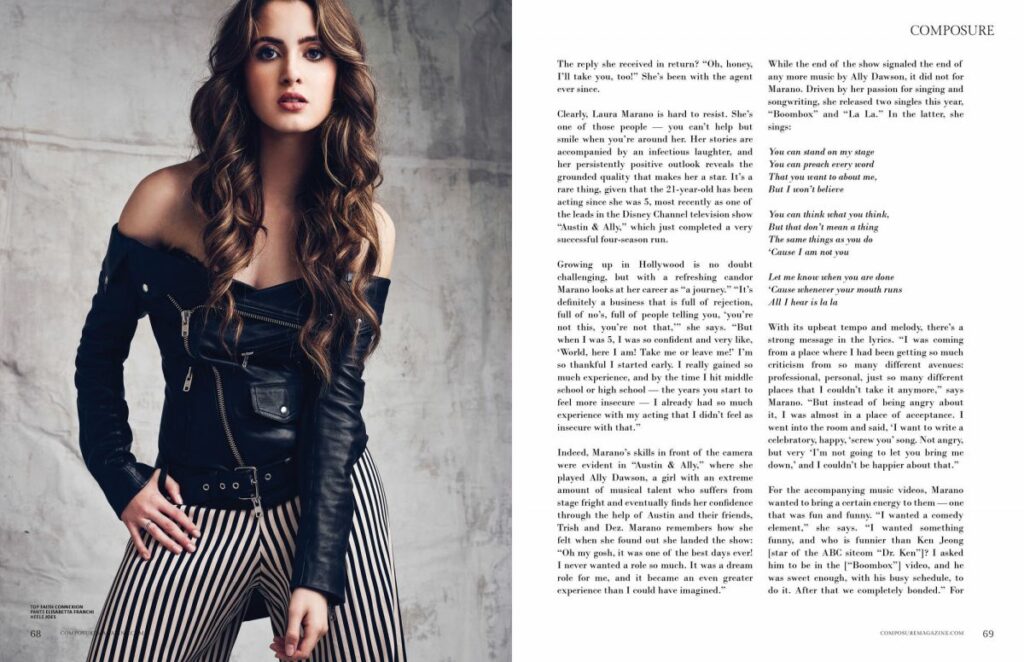 The "Austin & Ally" actress and "La La" singer opens up about her upcoming debut album, as well as landing her new role in "The War With Grandpa," alongside Robert De Niro and Marisa Tomei.
When Laura Marano's mother finally gave in to her daughters and brought Marano and her sister Vanessa to a talent agent — one who was notorious for rejecting most young hopefuls — Marano wasn't going to let anything stop her. She remembers being "crazy and outgoing, singing to everyone and making up songs" in the meeting. After all, she had grown up performing in the children's theater run by her mother, and though her mother didn't want her daughters to go into acting, Marano, even then, knew what she wanted.
"The agent says, 'We want to take Vanessa,'" Marano recalls. "And I say in the cutest voice possible, 'Well, I don't have an agent.'"
The reply she received in return? "Oh, honey, I'll take you, too!" She's been with the agent ever since.
Clearly, Laura Marano is hard to resist. She's one of those people — you can't help but smile when you're around her. Her stories are accompanied by an infectious laughter, and her persistently positive outlook reveals the grounded quality that makes her a star. It's a rare thing, given that the 21-year-old has been acting since she was 5, most recently as one of the leads in the Disney Channel television show "Austin & Ally," which just completed a very successful four-season run.
Growing up in Hollywood is no doubt challenging, but with a refreshing candor Marano looks at her career as "a journey." "It's definitely a business that is full of rejection, full of no's, full of people telling you, 'you're not this, you're not that,'" she says. "But when I was 5, I was so confident and very like, 'World, here I am! Take me or leave me!' I'm so thankful I started early. I really gained so much experience, and by the time I hit middle school or high school — the years you start to feel more insecure — I already had so much experience with my acting that I didn't feel as insecure with that."
Indeed, Marano's skills in front of the camera were evident in "Austin & Ally," where she played Ally Dawson, a girl with an extreme amount of musical talent who suffers from stage fright and eventually finds her confidence through the help of Austin and their friends, Trish and Dez. Marano remembers how she felt when she found out she landed the show: "Oh my gosh, it was one of the best days ever! I never wanted a role so much. It was a dream role for me, and it became an even greater experience than I could have imagined."
While the end of the show signaled the end of any more music by Ally Dawson, it did not for Marano. Driven by her passion for singing and songwriting, she released two singles this year, "Boombox" and "La La." In the latter, she sings:
You can stand on my stage
You can preach every word
That you want to about me,
But I won't believe
You can think what you think,
But that don't mean a thing
The same things as you do
'Cause I am not you
Let me know when you are done
'Cause whenever your mouth runs
All I hear is la la
With its upbeat tempo and melody, there's a strong message in the lyrics. "I was coming from a place where I had been getting so much criticism from so many different avenues: professional, personal, just so many different places that I couldn't take it anymore," says Marano. "But instead of being angry about it, I was almost in a place of acceptance. I went into the room and said, 'I want to write a celebratory, happy, 'screw you' song. Not angry, but very 'I'm not going to let you bring me down,' and I couldn't be happier about that."
For the accompanying music videos, Marano wanted to bring a certain energy to them — one that was fun and funny. "I wanted a comedy element," she says. "I wanted something funny, and who is funnier than Ken Jeong [star of the ABC sitcom "Dr. Ken"]? I asked him to be in the ["Boombox"] video, and he was sweet enough, with his busy schedule, to do it. After that we completely bonded." For her next video for "La La," Marano called on Jeong again. At first, Marano wasn't sure what the video was going to be about, "but when we started shooting it, Ken was so funny, it became this fun skit video, which was hilarious! It was actually shot in my mom's theater, and in three hours we were done."
With two popular songs paving the way, Marano is currently preparing for the release of her debut album. "There's kind of a balance of relationship songs and self-empowerment songs," she says of what fans can expect. Her voice grows deep with emotion as she continues. "It's also about growing up in general. You're finding yourself, you're finding your voice, and I think everyone can relate to times you're feeling insecure, feeling not sure about yourself, and needing some sort of outlet to find that confidence. That's why I think art is so important in general, whether via a TV show, movie, or song. Something [to help you] find strength within."
Marano proves that with determination life can hold amazing opportunities. She just recently landed a role in the upcoming major motion picture "The War With Grandpa" alongside Robert De Niro and Marisa Tomei, something she gushes about with an endearing exuberance. "Oh my god, I'm freaking out! I'm so excited! I haven't met them yet, but I feel like I'm going to be — I don't know, I think it's going to be such an amazing experience, not just because they are awesome people, but they're such amazing actors. I feel like I'm going to learn so much."
It's that earnestness and humility, even after spending most of her life in the business, that keeps Marano grounded. "I just want to keep growing and keep learning," she says. "I want to do projects, whether it's acting, singing, whatever keeps pushing me as a person and as an artist." Of course, what prevents Marano from tackling pretty much everything is something we all deal with: lack of time. "I do get put in a position to have to pick between the two," she says of her two loves, acting and music. "I try to make things work as much as possible. It's hard. I love both of them so much. I really, really do."
As if two careers in two very different industries weren't enough, Marano has recently dipped her toes into the world of beauty with three newly released fragrances: Hug You, Love You, and Kiss You, each based on warm vanilla mixed with a floral or sweet note. She admitted it wasn't an area she imagined ever being in, but when she was approached about it, she thought it was a "cool idea." Yes, she enjoyed the process of formulating the scents, creating the packaging. But she got really excited when she "came up with the idea of having a little 'inspire kindness' tidbit on the package." The result is a fortune cookie-type suggestion in each fragrance package to participate in a specific act of kindness — things like "Read about another culture with a friend" or "Smile at five people today."
A small gesture? Sure, but once again, Marano manages to inspire a few more smiles around her, something she'll likely do for many decades to come.
Keep up with the latest on Laura Marano at LauraMarano.com
Share your thoughts...