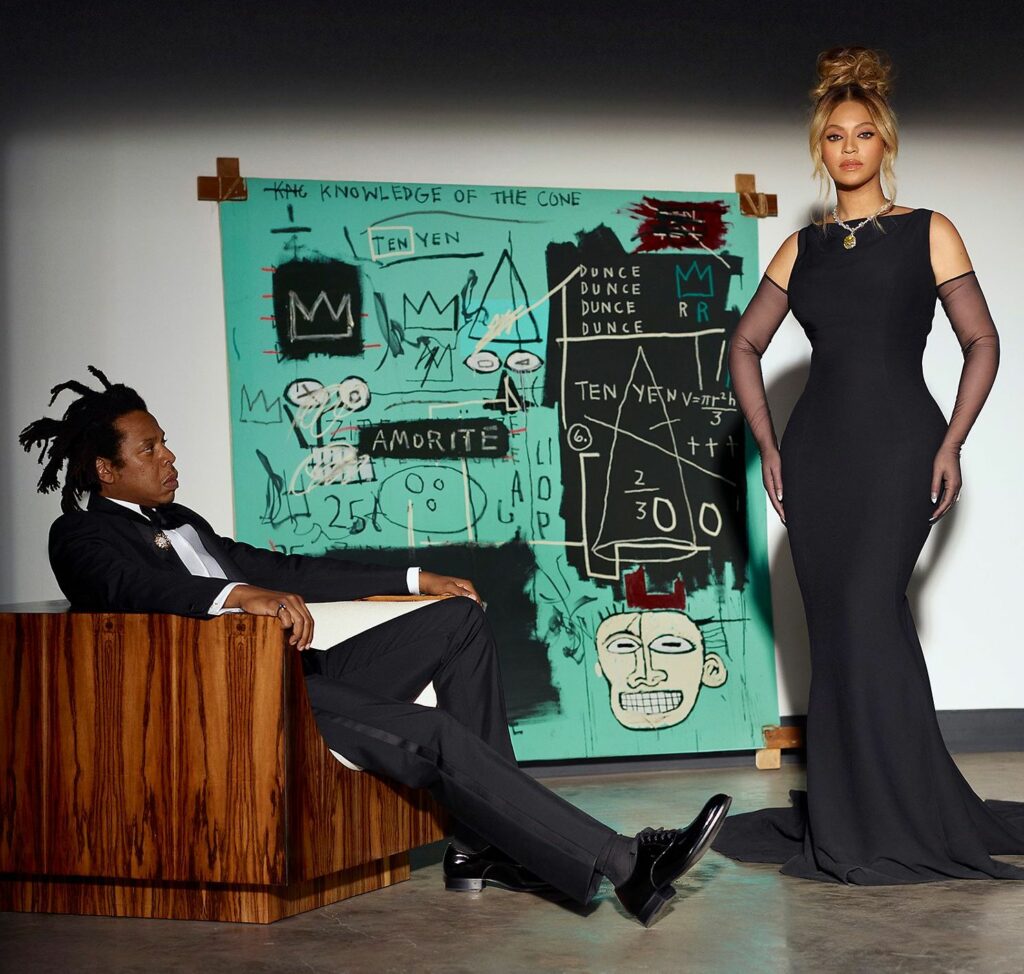 "Love is the diamond that the jewelry and art decorate." — The Carters.
Tiffany continues their storied campaigns—this time with three of the world's most known and celebrated names Beyoncé, JAY-Z, and Jean-Michel Basquiat.
"Beyoncé and JAY-Z are the epitome of the modern love story," shares Alexandre Arnault, Executive Vice President of Product and Communications. "As a brand that has always stood for love, strength, and self-expression, we could not think of a more iconic couple that better represents Tiffany's values. We are honored to have the Carters as part of the Tiffany family."
Set against one of Basquiat's earlier works Equals Pi (1982), this is the first time the piece is being made public. Tiffany passionately puts forward creatives and hopes to continue observing that heritage. Equals Pi was procured from a private collector, so it remains unknown whether he genuinely painted it with Tiffany in mind. We can easily speculate given the symbolic coloring, but we leave that one for the viewer to decide.
In another first, the 128.54-carat diamond worn by Beyoncé sees its debut campaign appearance. From the Kimberley Mines in South Africa in 1877, the Tiffany Diamond helped strengthen the jewelry House's reputation. We can't deny the sordid history of the mines (and if you aren't sure of the history of it, it's worth reading up on), celebrating JAY-Z and Beyoncé's artistry and love through thick and thin can't be overlooked. Photographed in Los Angeles's Orum House, "a film by acclaimed director Emmanuel Adjei has also been created and features a musical performance of the classic song "Moon River" (Breakfast at Tiffany's)…reimagined with the vocals of Beyoncé." 
Tiffany and the Carters donated a $2 million pledge for Historically Black Colleges and Universities (HBCUs) to support underrepresented communities to highlight that as luxurious as the photos and films look, the main goal is to encourage and give back. More on the scholarship and internship opportunities from the donation will be available soon. Giving back should always remain at the root and for Tiffany and Co., we look forward to seeing what scholarships are brought forward.
Share your thoughts...