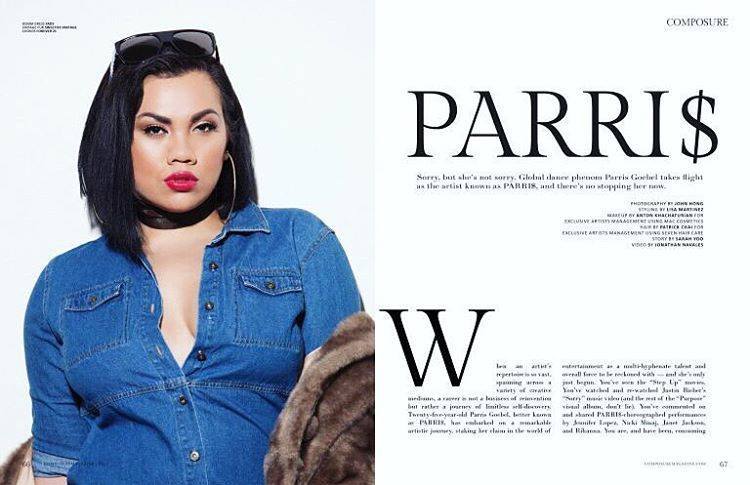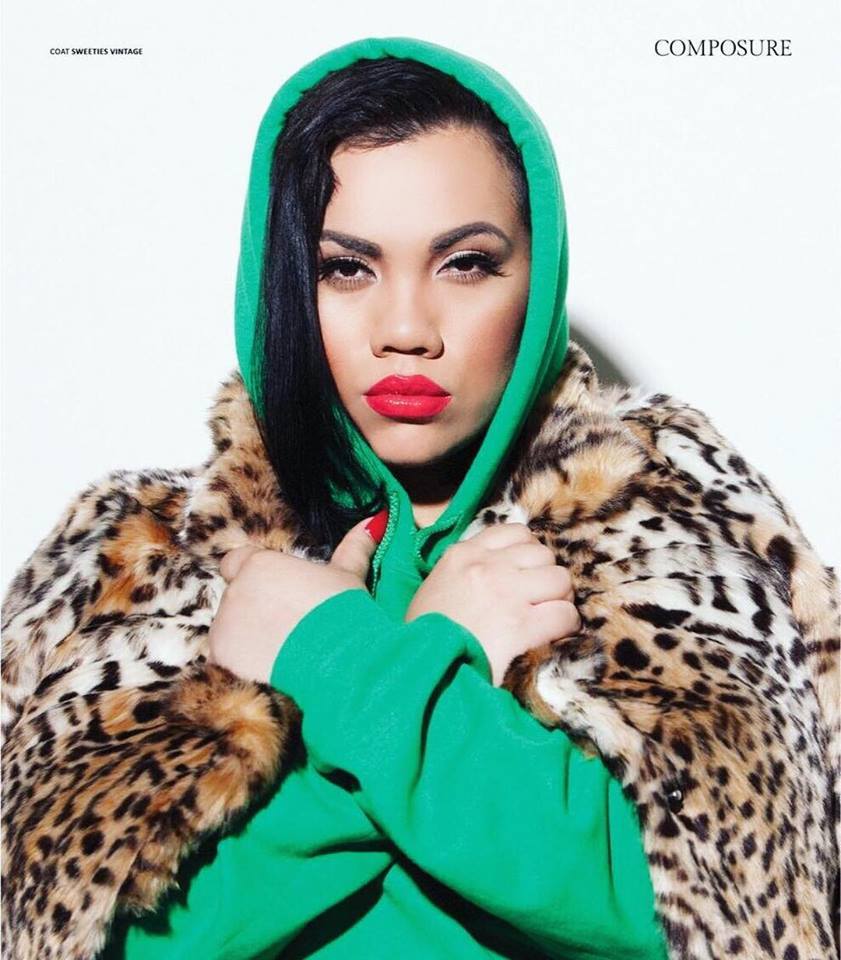 Sorry, but she's not sorry. Global dance phenom Parris Goebel takes flight as the artist known as PARRI$, and there's no stopping her now.
When an artist's repertoire is so vast, spanning across a variety of creative mediums, a career is not a business of reinvention but rather a journey of limitless self-discovery. Twenty-five-year-old Parris Goebel, better known as PARRI$, has embarked on a remarkable artistic journey, staking her claim in the world of entertainment as a multi-hyphenate talent and overall force to be reckoned with — and she's only just begun. You've seen the "Step Up" movies. You've watched and re-watched Justin Bieber's "Sorry" music video (and the rest of the "Purpose" visual album, don't lie). You've commented on and shared PARRI$-choreographed performances by Jennifer Lopez, Nicki Minaj, Janet Jackson, and Rihanna. You are, and have been, consuming PARRI$'s "polyswagg" style movement in music pop culture, and whether you realize it or not, you love it.
Goebel has amassed a captive audience primarily as her onstage, on-screen professional alter ego that is PARRI$. PARRI$ is larger-than-life, unabashedly in-your-face in the best kind of way. She's a dancer, choreographer, producer, director, actor, and singer, and she commands every world stage upon which she stands. Her "take it or leave it" attitude is an undeniable force. PARRI$ admits that she is not intended to be a role model. She doesn't embody an agenda. She isn't looking for a platform. PARRI$ was, and continues to be, a means to do what she does best — to create. Inevitably, however, PARRI$ has become a voice for the underrepresented female community in music and dance, and she's proud to embrace her rapidly growing role as a leader, grateful that people, women in particular, are responding to each phase of her artistic self-discovery and finding empowerment in what she's putting out there. PARRI$ is breaking molds among the iGen generation, not only as an artist but as a fashion icon and social media influencer, free and confident in the woman that she is and wants to be. And if that weren't enough, she dropped her debut EP "Vicious" late last year, gearing up for an explosive 2017. Success is but a matter of fact for the young star, who has already achieved so much. She's redefining cool and sexy on her own terms, and sorry, but she's not sorry.
Ladies and gentlemen, it's PARRI$'s world, and we're all just living in it. Buckle up, and brace yourselves for one helluva ride. She's fierce. She's fiyah. She's nasty.
Composure Magazine: PARRI$, you are blowing up! What do you make of all the success?
PARRI$: I've been lucky enough to work with some amazing artists that really care about the artistry and care about what gets put out there, so I've experienced some really cool jobs and collaborations with artists. I haven't had a bad experience yet, so it's only been good fun. But it's fun and quite challenging at the same time. … I just feel really blessed, and obviously to be able to do what you want to do is just really cool. Not many people get to do that. I do feel a slight responsibility to kind of pave the way. I've been lucky enough to not only do dance but to branch out into other types of creativity, and I think that's what speaks to other dancers — to not limit yourself in what you think you can do. Whatever you're passionate about, you should be able to go out and do it.
CM: How do you feel about taking on that responsibility, especially as a voice for women in the entertainment community, which you've clearly become?
PARRI$: You know, I get asked this a lot. It kind of makes me a little bit nervous because I'm not perfect, and I've never really seen myself as a role model. So to be put in the light is a little hard sometimes, but I guess the best thing I can do is just be myself and try and be who I want to be and not who anyone else wants me to be, and in doing that, hopefully I'll inspire other people to be who they want to be as well. In general, I'm all about woman empowerment. It's something that's important for me to really try and embrace. It's such a big challenge for us as women every day. It's a journey I'm still going through, and it's about going through it with other women and wanting to celebrate each other instead of putting each other down because we're all going through the same thing, know what I mean? It only makes sense for us to unite instead of compete. It makes our lives a lot easier if we do that along the way. It's a give and take, you know? If I support [other women] and they support me, we'll only help each other.
CM: What does your creative process look like? How does all this genius come to be?
PARRI$: Most of the time, I let the music do the talking. I try to let the music speak to me and inspire me. I'm a very visual person, so as soon I feel or hear something, I see something within my head. If I have something in my head, it's a lot easier for me to bring it to life because I can see it so clearly. I let my creativity take over, and I just visualize it and put the movement into my body, but with music it's a different part of your body, using your voice. It's a really different focus. It's a whole different world, know what I mean? Dance is so physical, and you don't talk. With music, it's the opposite.
CM: Do you ever look back on your work and critique yourself? Are you hard on yourself when you watch or listen to what you've done?
PARRI$: I'm definitely always hard on myself, but more so in the moment. I'm pretty good about watching old things in the sense that I don't live in the past. I kind of just take it for what it is, and if it's funny, it's funny, if it's good then I just embrace it, but when it comes to old things, I'm pretty good with it.
CM: Do you see the growth in yourself over the years?
PARRI$: I'm someone who looks more toward the future rather than looks back, so it's not really often that I look back at things. It's something I should do more often, actually.
CM: You are also starting to be recognized as an icon, not just creatively but in your fashion sense. How does that make you feel? Is it something you actively think about putting out there?
PARRI$: I love clothes, and I love style, so it's cool to think that people are really embracing it and seeing it as a trademark for me. I hope in the future to get way more into fashion because I love it. I love putting clothes together, and I guess it goes hand in hand with dance and film. It all plays such a big part. It's like the icing on the cake for whatever's being presented or put together, so I really, really care about it. It's another way to creatively express myself.
CM: As if you haven't done enough, you're now venturing into music, which is actually something you've been working on for a while. What was the main inspiration for you to create your own music? Why now?
PARRI$: I feel like it was a calling that happened to me about a year ago. I feel like a switch kind of went off, and I was just like "why don't I do music?" I started playing around with it and really enjoyed it, so it just kind of worked out. I kind of fell into it, and here we are! I'm just really excited. I'm not really nervous at all. I just love being creative, I really do. I get excited that I can combine everything I'm passionate about together and do something special. I feel like I've tapped into everything else creatively, and this was the only thing left, I guess.
CM: What's been the biggest challenge working on your EP?
PARRI$: I think getting comfortable in front of other people, using my voice. That's always the most challenging thing, you know, singing or riffing and getting comfortable in front of other people more. But it's so cool having people respond to what I'm doing, I love it! I love seeing what people love about it. I like that with any of my work. Anytime I can see people's reactions, it keeps me going. [The music's] definitely got a specific groove to it. I wouldn't know what to call it. Once you hear it, you'll see that it's definitely its own thing. Each track has its own thing going on.
CM: What new side of yourself as an artist do you want to show?
PARRI$: I think it's mostly the combination of it all. Being able to create your own music, choreography — not many females do it, so I feel like there's something really cool in there. That's what I'm more so excited about, being able to do all of it put together.
CM: Is this the direction you're hoping to go? Is the focus on music now?
PARRI$: Music definitely is my main focus as of now, which is kind of crazy. But I'm thinking about film as well. I'm thinking about maybe a movie this year. And I still haven't worked with Beyoncé or Missy Elliott, and those are two really big artists that I'd love to work with. There are so many things I want to do. I guess we'll just have to see! For now, I'm just really excited about the music and to see where it goes. It's still really fun for me to just create.
Keep up with the latest on PARRI$ at www.parrisgoebel.com.
Share your thoughts...