Abandon bold, kitschy chokers and pop art accessories for a bit of romance with Etoile's swoon-worthy collection of lace-inspired jewelry designed by Isabella Kim.
Story by Min A. Lee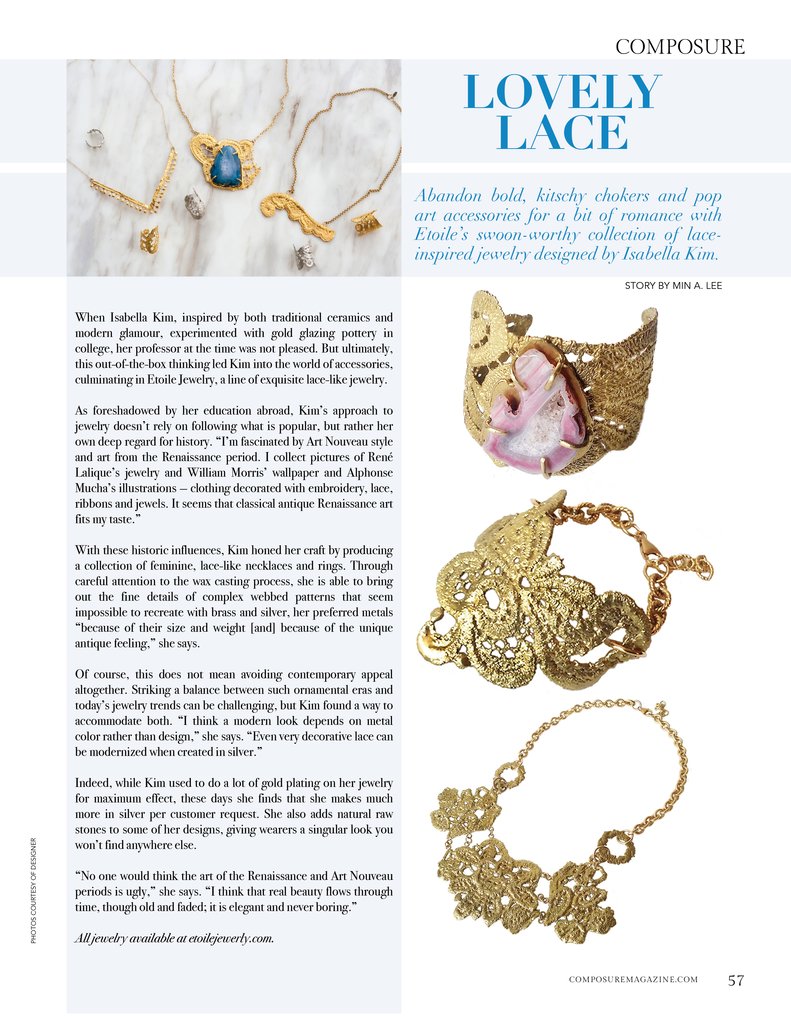 When Isabella Kim, inspired by both traditional ceramics and modern glamour, experimented with gold glazing pottery in college, her professor at the time was not pleased. But ultimately, this out-of-the-box thinking led Kim into the world of accessories, culminating in Etoile Jewelry, a line of exquisite lace-like jewelry. As foreshadowed by her education abroad, Kim's approach to jewelry doesn't rely on following what is popular, but rather her own deep regard for history. "I'm fascinated by Art Nouveau style and art from the Renaissance period. I collect pictures of René Lalique's jewelry and William Morris' wallpaper and Alphonse Mucha's illustrations — clothing decorated with embroidery, lace, ribbons and jewels. It seems that classical antique Renaissance art fits my taste."
With these historic influences, Kim honed her craft by producing a collection of feminine, lace-like necklaces and rings. Through careful attention to the wax casting process, she is able to bring out the fine details of complex webbed patterns that seem impossible to recreate with brass and silver, her preferred metals "because of their size and weight [and] because of the unique antique feeling," she says.
Of course, this does not mean avoiding contemporary appeal altogether. Striking a balance between such ornamental eras and today's jewelry trends can be challenging, but Kim found a way to accommodate both. "I think a modern look depends on metal color rather than design," she says. "Even very decorative lace can be modernized when created in silver."
Indeed, while Kim used to do a lot of gold plating on her jewelry for maximum effect, these days she finds that she makes much more in silver per customer request. She also adds natural raw stones to some of her designs, giving wearers a singular look you won't find anywhere else.
"No one would think the art of the Renaissance and Art Nouveau periods is ugly," she says. "I think that real beauty flows through time, though old and faded; it is elegant and never boring."
All jewelry available at etoilejewerly.com
Share your thoughts...