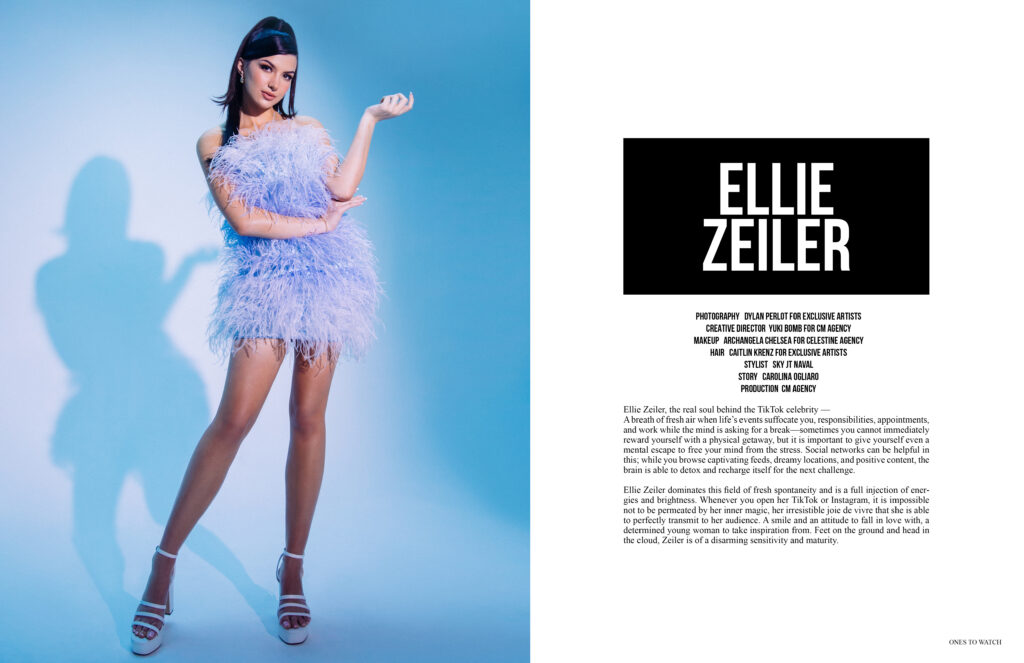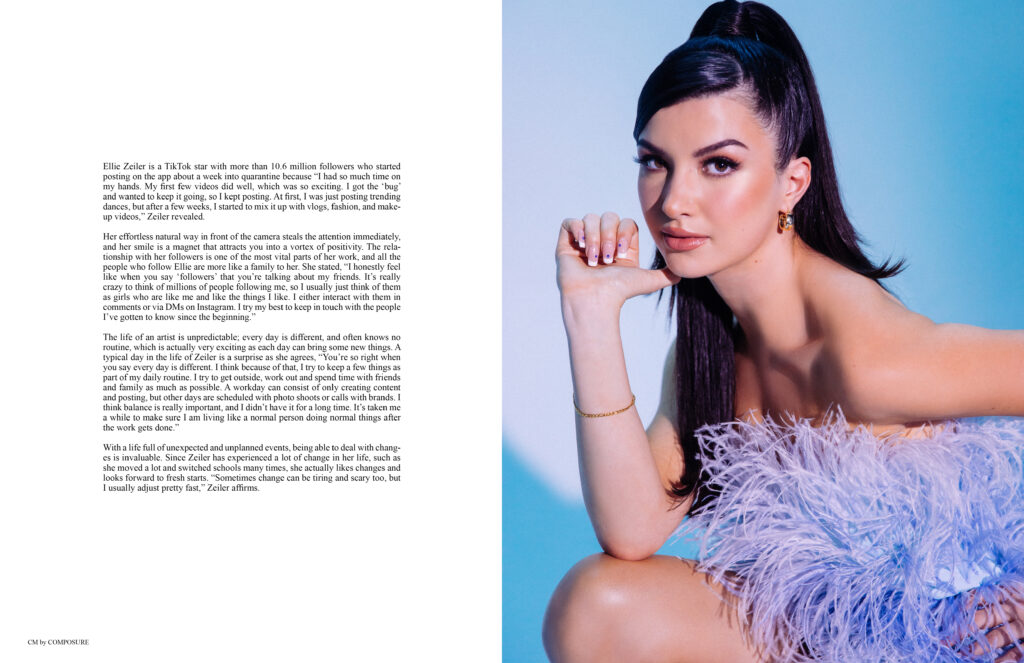 Ellie Zeiler, the real soul behind the TikTok celebrity —
A breath of fresh air when life's events suffocate you, responsibilities, appointments, and work while the mind is asking for a break—sometimes you cannot immediately reward yourself with a physical getaway, but it is important to give yourself even a mental escape to free your mind from the stress. Social networks can be helpful in this; while you browse captivating feeds, dreamy locations, and positive content, the brain is able to detox and recharge itself for the next challenge.
Ellie Zeiler dominates this field of fresh spontaneity and is a full injection of energies and brightness. Whenever you open her TikTok or Instagram, it is impossible not to be permeated by her inner magic, her irresistible joie de vivre that she is able to perfectly transmit to her audience. A smile and an attitude to fall in love with, a determined young woman to take inspiration from. Feet on the ground and head in the cloud, Zeiler is of a disarming sensitivity and maturity.
Ellie Zeiler is a TikTok star with more than 10.6 million followers who started posting on the app about a week into quarantine because "I had so much time on my hands. My first few videos did well, which was so exciting. I got the 'bug' and wanted to keep it going, so I kept posting. At first, I was just posting trending dances, but after a few weeks, I started to mix it up with vlogs, fashion, and makeup videos," Zeiler revealed.
Her effortless natural way in front of the camera steals the attention immediately, and her smile is a magnet that attracts you into a vortex of positivity. The relationship with her followers is one of the most vital parts of her work, and all the people who follow Ellie are more like a family to her. She stated, "I honestly feel like when you say 'followers' that you're talking about my friends. It's really crazy to think of millions of people following me, so I usually just think of them as girls who are like me and like the things I like. I either interact with them in comments or via DMs on Instagram. I try my best to keep in touch with the people I've gotten to know since the beginning."
The life of an artist is unpredictable; every day is different, and often knows no routine, which is actually very exciting as each day can bring some new things. A typical day in the life of Zeiler is a surprise as she agrees, "You're so right when you say every day is different. I think because of that, I try to keep a few things as part of my daily routine. I try to get outside, work out and spend time with friends and family as much as possible. A workday can consist of only creating content and posting, but other days are scheduled with photo shoots or calls with brands. I think balance is really important, and I didn't have it for a long time. It's taken me a while to make sure I am living like a normal person doing normal things after the work gets done."
With a life full of unexpected and unplanned events, being able to deal with changes is invaluable. Since Zeiler has experienced a lot of change in her life, such as she moved a lot and switched schools many times, she actually likes changes and looks forward to fresh starts. "Sometimes change can be tiring and scary too, but I usually adjust pretty fast," Zeiler affirms.
Zeiler is a young woman with an impressive amount of important partnerships with some of the most renowned. Achieving these milestones at a very young age is a source of pride and, above all, inspiration. As she candidly admitted, "Stepping out of your comfort zone happens in working on social media even when you don't plan for it. Creators are always forced to try new things, and basically performing for total strangers behind a screen never feels comfortable for me. Now that I'm finished with high school, moving on to college, and working more as an adult, I think there are a lot of new opportunities to step into. Besides just sticking with it on social media, which is not as easy as it looks, I'm most proud of the partnerships I've built. From truly iconic brands like Levi's and Lancôme to working with the White House to help share vaccine information. I feel like I pinch myself almost every day because I truly can't believe the life I'm living because of TikTok and my platform."
As an actress and digital creator, it is easy to be under pressure from the media and social networks. Maintaining an inner balance is mandatory to not get caught down the rabbit hole. Zeiler finds the best help by being surrounded by the love of her family. "If I'm having a few bad days in a row or I'm struggling with feeling sad or scared, spending time at home with my parents and brothers always helps me remember who I am and that I'm supported unconditionally."
Social networks should be safe places for people to express themselves and their talents freely, but sometimes what are supposed to be fields of no judgments become fertile ground for hate. Also, in this case, Ellie shows great maturity and a sense of responsibility "It takes a lot of time and work to get over the hate people put on the internet. I had some really tough days when I first started working in social media. As far as where it stems from, the only thing I can think of is that people leaving mean comments or sending cruel DMs to me are in pain and feeling really bad about whatever is going on in their lives. When someone says something mean in my comments, at first it hurts, but I've learned to remember that anyone who would do that must be hurting themselves."
For Zeiler, mental health is an important topic with a broad young audience, she is an example for a lot of people, and she wants to stand out in helping the new generations but also every kind of person who is having troubles related to the health of the mind. "First, I would tell them that whatever the bad stuff is will pass quickly. When things seem terrible and tragic and like the world is saying mean things about you, try to remind yourself that people will move on soon and stop talking about it. The other part is to remember that you're human, and every single human makes mistakes. But the most important thing is that social media is not always your real life! When you feel too overwhelmed, try to turn off the phone and connect with the people who actually love you in real life."
Words precious as pure gold.
Shining actress in Crown Lake, this teen mystery series has achieved a lot of attention and success! For Zeiler, this was the first time she worked in a series before, and was super nervous, but "After the first few days, things got so fun. I loved working with the crew, memorizing lines, and bonding with the other actors. I feel like we became a little family by the time we finished filming." Is the Hollywood firmament about to open up to a new star? We have this feeling!
If the past and present Ellie Zeiler were so bright, we could say the same about the future "I'm definitely continuing to pursue acting and have some possibilities in the works! Besides that, I am working on a really exciting product line, but I can't say much more than that yet!" Some juicy details that will keep Zeiler on our radars.
The light of Ellie Zeiler's soul is very profound and shines bright; the energy of this young woman is a real force of nature. It keeps you motivated, gives you inspiration, and is always able to capture you and transport you through a mental getaway of serenity.
Share your thoughts...