Trends and palettes to look forward to this coming winter!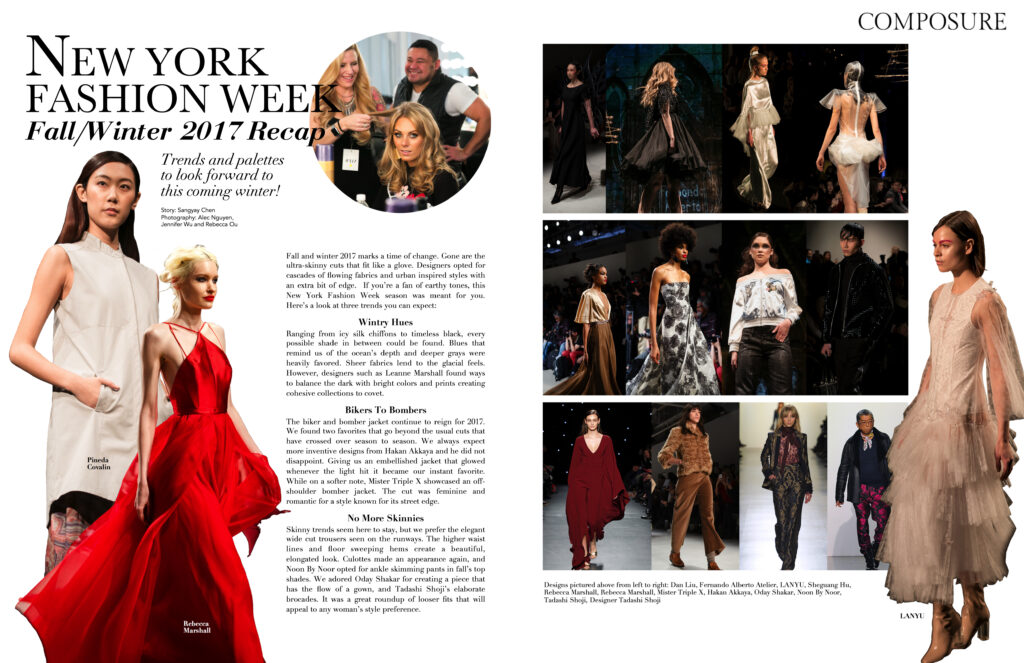 Fall and winter 2017 marks a time of change. Gone are the ultra-skinny cuts that fit like a glove. Designers opted for cascades of flowing fabrics and urban inspired styles with an extra bit of edge. If you're a fan of earthy tones, this New York Fashion Week season was meant for you. Here's a look at three trends you can expect:
Wintry Hues
Ranging from icy silk chiffons to timeless black, every possible shade in between could be found. Blues that remind us of the ocean's depth and deeper grays were heavily favored. Sheer fabrics lend to the glacial feels. However, designers such as Leanne Marshall found ways to balance the dark with bright colors and prints creating cohesive collections to covet.
Bikers to Bombers
The biker and bomber jacket continue to reign for 2017. We found two favorites that go beyond the usual cuts that have crossed over season to season. We always expect more inventive designs from Hakan Akkaya and he did not disappoint. Giving us an embellished jacket that glowed whenever the light hit it became our instant favorite. While on a softer note, Mister Triple X showcased an off-shoulder bomber jacket. It was feminine and quite romantic for a piece that's meant to have street edge.
No More Skinnies
Skinny trends seem here to stay, but there's something elegant about the wider cut trousers found all over the runways. The higher waist lines and floor sweeping hems create a beautiful, elongated look. Culottes made an appearance again, and Noon By Noor opted for ankle skimming pants in multiple shades. We adored Oday Shakar for creating a piece that has the flow of a gown, and Tadashi Shoji's elaborate brocades. It was a great roundup of looser fits that will appeal to any woman's style preference.
Share your thoughts...