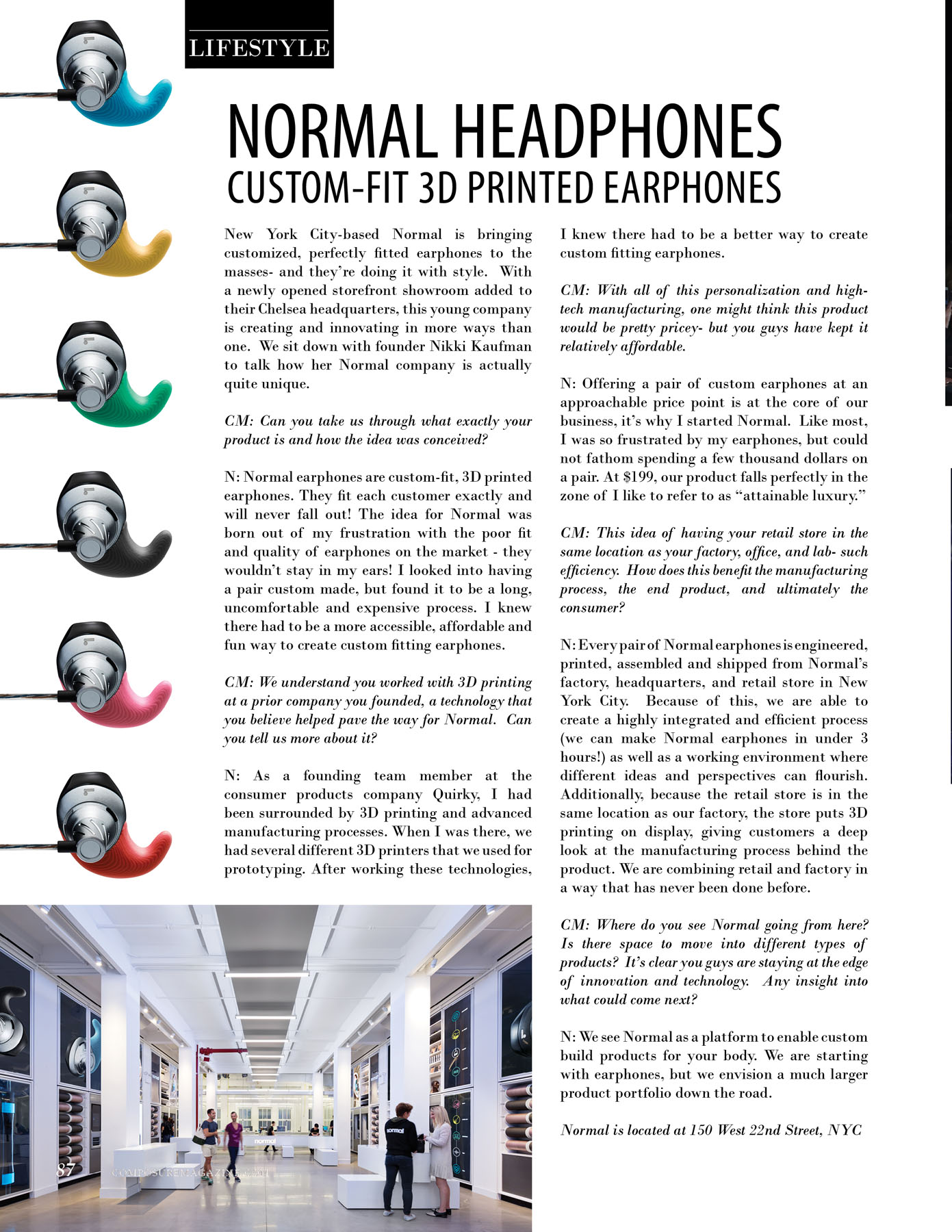 NORMAL HEADPHONES: CUSTOM-FIT 3D-PRINTED EARPHONES
New York City-based Normal is bringing customized, perfectly fitted earphones to the masses- and they're doing it with style. With a newly opened storefront showroom added to their Chelsea headquarters, this young company is creating and innovating in more ways than one. We sit down with founder Nikki Kaufman to talk how her Normal company is actually quite unique.
CM: Can you take us through what exactly your product is and how the idea was conceived?
N: Normal earphones are custom-fit, 3D printed earphones. They fit each customer exactly and will never fall out! The idea for Normal was born out of my frustration with the poor fit and quality of earphones on the market – they wouldn't stay in my ears! I looked into having a pair custom made, but found it to be a long, uncomfortable and expensive process. I knew there had to be a more accessible, affordable and fun way to create custom fitting earphones.
CM: We understand you worked with 3D printing at a prior company you founded, a technology that you believe helped pave the way for Normal. Can you tell us more about it?
N: As a founding team member at the consumer products company Quirky, I had been surrounded by 3D printing and advanced manufacturing processes. When I was there, we had several different 3D printers that we used for prototyping. After working these technologies, I knew there had to be a better way to create custom fitting earphones.
CM: With all of this personalization and high-tech manufacturing, one might think this product would be pretty pricey- but you guys have kept it relatively affordable.
N: Offering a pair of custom earphones at an approachable price point is at the core of our business, it's why I started Normal. Like most, I was so frustrated by my earphones, but could not fathom spending a few thousand dollars on a pair. At $199, our product falls perfectly in the zone of I like to refer to as "attainable luxury."
CM: This idea of having your retail store in the same location as your factory, office, and lab- such efficiency. How does this benefit the manufacturing process, the end product, and ultimately the consumer?
N: Every pair of Normal earphones is engineered, printed, assembled and shipped from Normal's factory, headquarters, and retail store in New York City. Because of this, we are able to create a highly integrated and efficient process (we can make Normal earphones in under 3 hours!) as well as a working environment where different ideas and perspectives can flourish. Additionally, because the retail store is in the same location as our factory, the store puts 3D printing on display, giving customers a deep look at the manufacturing process behind the product. We are combining retail and factory in a way that has never been done before.
CM: Where do you see Normal going from here? Is there space to move into different types of products? It's clear you guys are staying at the edge of innovation and technology. Any insight into what could come next?
N: We see Normal as a platform to enable custom build products for your body. We are starting with earphones, but we envision a much larger product portfolio down the road.
Normal is located at 150 West 22nd Street, NYC
Share your thoughts...