"Instant."
Anthony turns to look at Josephine, and she nods in agreement. A pause as they attempt to further describe their undeniable, very palpable chemistry. They share a knowing look, as if reading each other's minds, deciding that there is no better way to put it.
"It was instant."
"Yeah, it was weird."
From the moment Anthony West and Josephine Vander Gucht were first brought together by mutual friends, the pair realized a raw, genuine connection, rooted in their shared passion for music and manifest in the deep sincerity of their freshman album as indie-pop duo Oh Wonder. The self-titled album began as a writing exercise, a creative challenge to release one song per month for a whole year so as not to risk overthinking their music and letting it grow "stiff." From there, the marriage of Josephine's classical music training to Anthony's producing genius immediately proved to be artistic gold.
Anthony shares, "It always starts with the piano. Josephine is a piano player, and …"
"Pianists, they're called," Josephine interjects jokingly, as they do.
As if their natural English charm weren't likable enough, the two engage with one another and those around them with an easy playfulness and comfortable sense of familiarity. At many points in the conversation, we take moments to laugh, share random stories and insights. Yet regardless of where the conversation strays, it always circles it back to the music. First and foremost, always, comes the music.
Anthony continues, "We would always sit at the piano, and Josephine would come up with initial chords, which would then trigger melodies and ideas, which would then develop into lyrics. We tend not to spend more than twenty minutes writing a song. A song should always be in the moment and what you're thinking at that point."
The duo wrote, performed, and produced the entirety of the album, which offers a mellow, sophisticated simplicity. The album plays like a collection of musical short stories, à la soft electronic synth vibes and perfectly harmonious vocals. As most songwriters do, the duo have embraced their songwriting as a vehicle for comfort and emotional release, but when it comes to this particular album, they've decided to expand the scope of their storytelling to serve as a voice for the stories of others rather than themselves, inspired by the myriad of interesting people in the world, across the street and across the world.
"We get loads of inspiration from people — people are so interesting — and take little stories and characters or something we see and kind of develop our own world for these particular people and imagine what it would be like [to live in such a world]. We get such kicks out of putting ourselves in a different universe and inhabiting that for twenty minutes and writing a song about it," muses Josephine.
Anthony adds, "And I think that's probably why we write quickly, because we're not thinking too much about ourselves."
It was always the innocent hope, and never the expectation, that their music would resonate so deeply with an ever-growing online community listening and responding to their relatable stories, and that their little creative writing exercise would lead to a nine-month long, nearly sold-out world tour where they'd be able to put faces to the countless usernames that have supported their craft. "We are constantly, and I think will forever be, surprised and confused," gushes Josephine, "and grateful." One of the many points on which the two agree is the approach to their music as an ongoing journey. As Josephine says, it's much like a Van Gogh painting that has been painted over, reworked, restarted. The beauty of art is that it's "never actually done." Art is always a process, and going from their home studio with just the two of them, to performing live for thousands of people is now part of that exciting process.
Josephine begins, "We've started as songwriters …"
"… and our task now is to be performers," finishes Anthony, "The energy that we had when we wrote [our songs] — to channel that into a live setting is a totally different ball game, and we've been progressing with every show we play. We want to keep it exciting for people. Everyone leaves feeling great, and we leave feeling great. Everyone in the room is energized, and that's what we want for our shows."
And let us tell you — they deliver! There is certainly no shortage of energy at an Oh Wonder show. Their usual two-person ensemble is expanded to include bass and drums, and Anthony brings out the guitar for select songs (a big crowd pleaser!). Their soothing sound is reinterpreted for their live audiences, infused with an interactive dynamic and a tangible inspiration. The neon "OW" lights up, and as their two shadows emerge from backstage amidst the colorful glow, the crowd begins to chant, cheer, shout song requests — some even cry. At their places at side-by-side keyboards, the duo locks eyes, sharing an incredibly endearing, incredulous moment of "I can't believe this is happening!" There seems to emerge a quirky sense of camaraderie throughout the room, emanating right from the stage. "It's a two-way conversation, our live show, definitely. We respond and react to audiences, and different audiences will bring out different things."
This particular night at the El Rey Theatre in Los Angeles brought out a dance party of the ages, a mash-up of "Body Gold" and "The Morning" by The Weeknd, an announcement of their performance on "Conan" on TBS, and an elated, almost giddy band in awe of yet another sold-out show. Anthony and Josephine reflect back on their earliest moments performing live, looking out onto a "canvas of people" for the very first time and watching fans react literally, directly to their music. "It's very strange seeing how the songs we've written have affected people. For example, there's this one song called Landslide — you can see people are really singing their hearts out. It's like, whoa, this song actually means something to you, and it's nuts!" This brings them back to the very heart of their album — the curious fascination with the people around them. Bravo, Oh Wonder! Encore!
If you think you love Oh Wonder now, check out a live show on their world tour, going on now. You'll be pleasantly surprised how much more deeply you can fall in love with Anthony and Josephine, Oh Wonder.
More exclusive images from Oh Wonder's concert in Los Angeles, CA: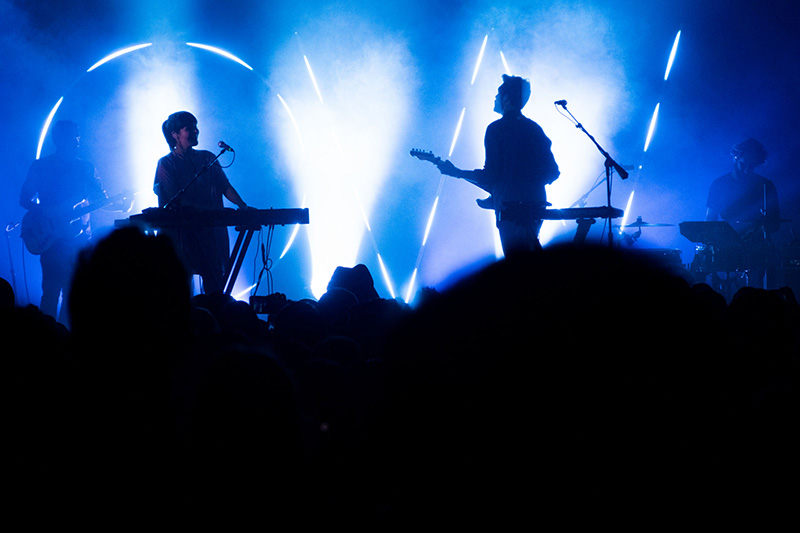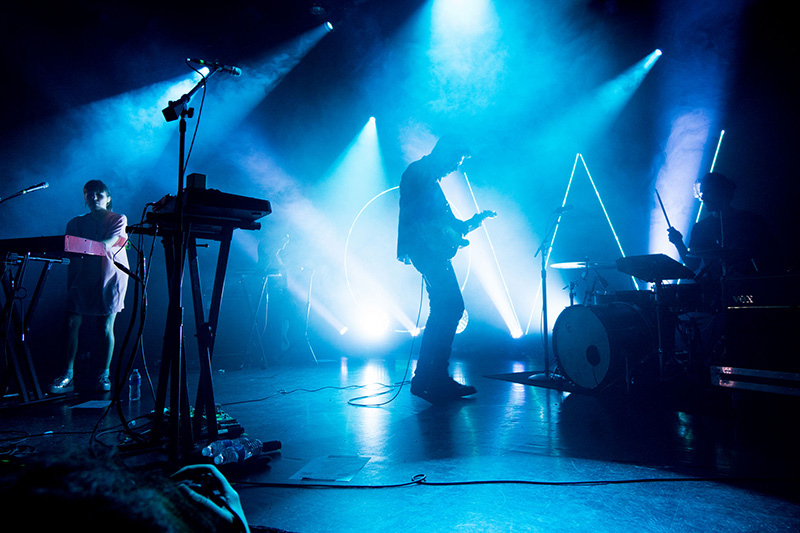 For tour dates and all things Oh Wonder, visit ohwondermusic.com.
Portrait by Josefhaley and Concert Photographs by Andy Heiser
Written by Sarah Yoo
Share your thoughts...