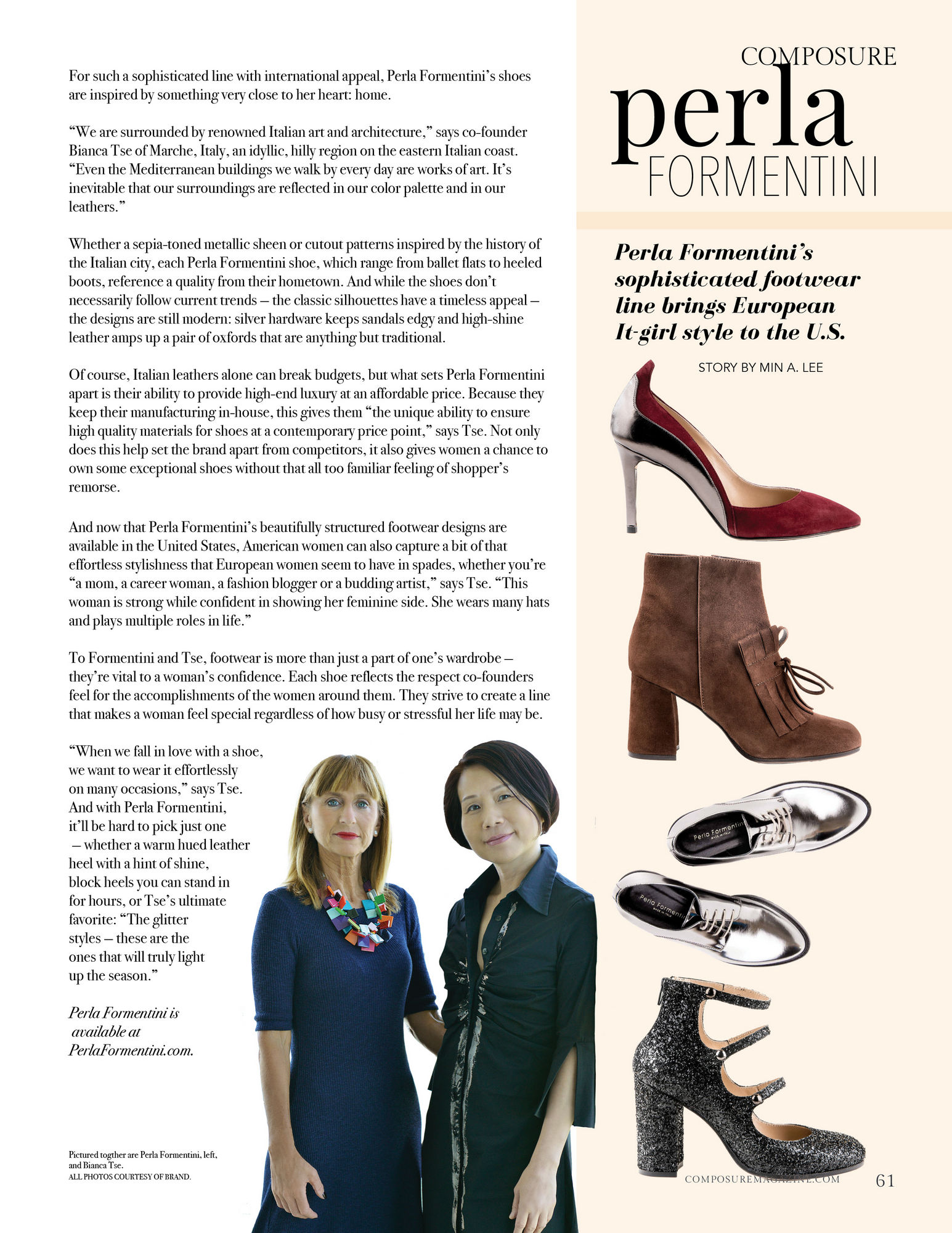 Perla Formentini's sophisticated footwear line brings European It-girl style to the U.S.
For such a sophisticated line with international appeal, Perla Formentini's shoes are inspired by something very close to her heart: home.
"We are surrounded by renowned Italian art and architecture," says co-founder Bianca Tse of Marche, Italy, an idyllic, hilly region on the eastern Italian coast. "Even the Mediterranean buildings we walk by every day are works of art. It's inevitable that our surroundings are reflected in our color palette and in our leathers."
Whether a sepia-toned metallic sheen or cutout patterns inspired by the history of the Italian city, each Perla Formentini shoe, which range from ballet flats to heeled boots, reference a quality from their hometown. And while the shoes don't necessarily follow current trends — the classic silhouettes have a timeless appeal — the designs are still modern: silver hardware keeps sandals edgy and high-shine leather amps up a pair of oxfords that are anything but traditional.
Of course, Italian leathers alone can break budgets, but what sets Perla Formentini apart is their ability to provide high-end luxury at an affordable price. Because they keep their manufacturing in-house, this gives them "the unique ability to ensure high quality materials for shoes at a contemporary price point," says Tse. Not only does this help set the brand apart from competitors, it also gives women a chance to own some exceptional shoes without that all too familiar feeling of shopper's remorse.
And now that Perla Formentini's beautifully structured footwear designs are available in the United States, American women can also capture a bit of that effortless stylishness that European women seem to have in spades, whether you're "a mom, a career woman, a fashion blogger or a budding artist," says Tse. "This woman is strong while confident in showing her feminine side. She wears many hats and plays multiple roles in life."
To Formentini and Tse, footwear is more than just a part of one's wardrobe — they're vital to a woman's confidence. Each shoe reflects the respect co-founders feel for the accomplishments of the women around them. They strive to create a line that makes a woman feel special regardless of how busy or stressful her life may be.
"When we fall in love with a shoe, we want to wear it effortlessly on many occasions," says Tse. And with Perla Formentini, it'll be hard to pick just one — whether a warm hued leather heel with a hint of shine, block heels you can stand in for hours, or Tse's ultimate favorite: "The glitter styles — these are the ones that will truly light up the season."
Perla Formentini is available at PerlaFormentini.com.
Share your thoughts...