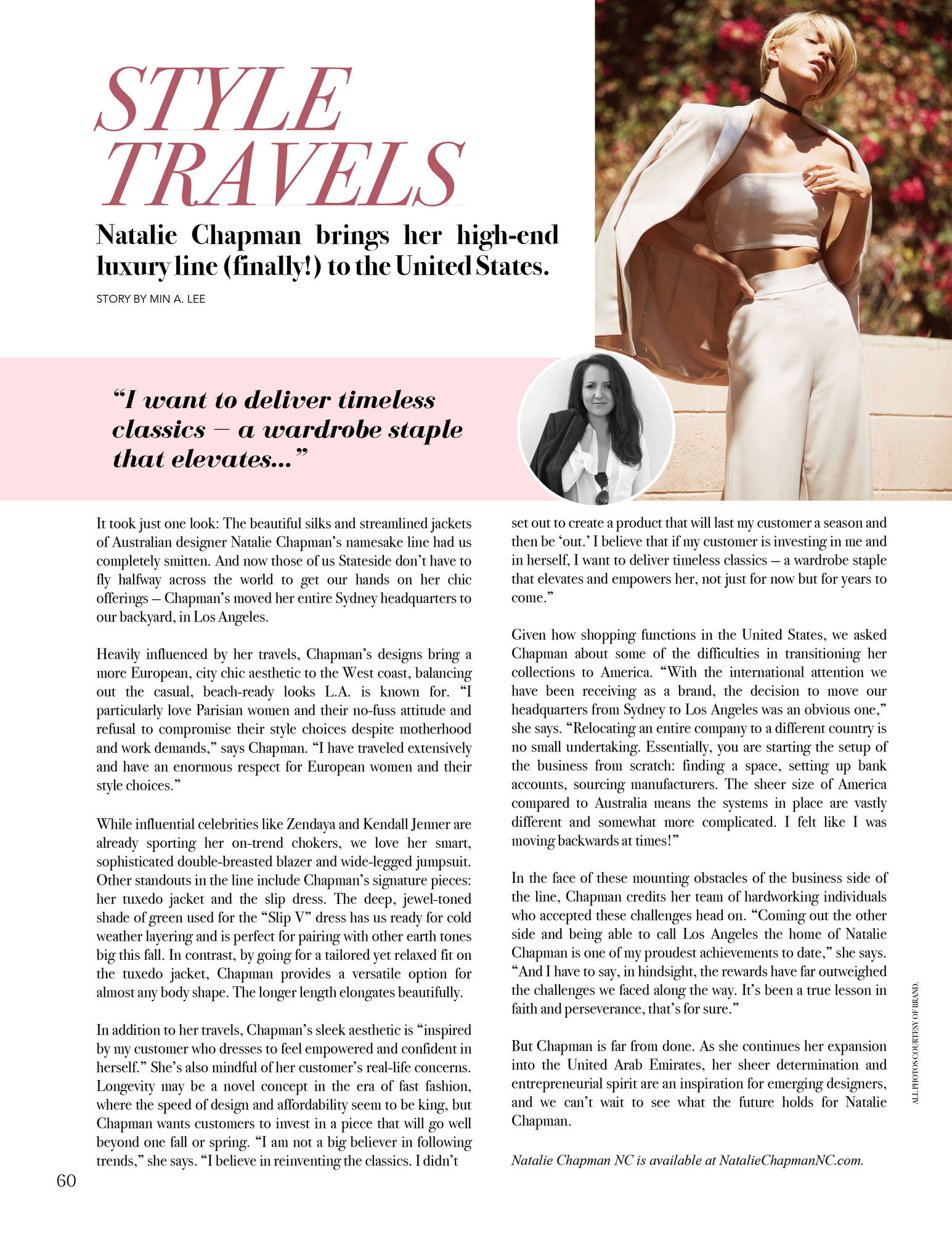 Natalie Chapman brings her high-end luxury line (finally!) to the United States.
"I want to deliver timeless classics — a wardrobe staple that elevates…"
It took just one look: The beautiful silks and streamlined jackets of Australian designer Natalie Chapman's namesake line had us completely smitten. And now those of us Stateside don't have to fly halfway across the world to get our hands on her chic offerings — Chapman's moved her entire Sydney headquarters to our backyard, in Los Angeles.
Heavily influenced by her travels, Chapman's designs bring a more European, city chic aesthetic to the West coast, balancing out the casual, beach-ready looks L.A. is known for. "I particularly love Parisian women and their no-fuss attitude and refusal to compromise their style choices despite motherhood and work demands," says Chapman. "I have traveled extensively and have an enormous respect for European women and their style choices."
While influential celebrities like Zendaya and Kendall Jenner are already sporting her on-trend chokers, we love her smart, sophisticated double-breasted blazer and wide-legged jumpsuit. Other standouts in the line include Chapman's signature pieces: her tuxedo jacket and the slip dress. The deep, jewel-toned shade of green used for the "Slip V" dress has us ready for cold weather layering and is perfect for pairing with other earth tones
big this fall. In contrast, by going for a tailored yet relaxed fit on the tuxedo jacket, Chapman provides a versatile option for almost any body shape. The longer length elongates beautifully.
In addition to her travels, Chapman's sleek aesthetic is "inspired by my customer who dresses to feel empowered and confident in herself." She's also mindful of her customer's real-life concerns. Longevity may be a novel concept in the era of fast fashion, where the speed of design and affordability seem to be king, but Chapman wants customers to invest in a piece that will go well beyond one fall or spring. "I am not a big believer in following trends," she says. "I believe in reinventing the classics. I didn't set out to create a product that will last my customer a season and then be 'out.' I believe that if my customer is investing in me and in herself, I want to deliver timeless classics — a wardrobe staple that elevates and empowers her, not just for now but for years to come."
Given how shopping functions in the United States, we asked Chapman about some of the difficulties in transitioning her collections to America. "With the international attention we have been receiving as a brand, the decision to move our headquarters from Sydney to Los Angeles was an obvious one," she says. "Relocating an entire company to a different country is no small undertaking. Essentially, you are starting the setup of the business from scratch: finding a space, setting up bank accounts, sourcing manufacturers. The sheer size of America compared to Australia means the systems in place are vastly different and somewhat more complicated. I felt like I was moving backwards at times!"
In the face of these mounting obstacles of the business side of the line, Chapman credits her team of hardworking individuals who accepted these challenges head on. "Coming out the other side and being able to call Los Angeles the home of Natalie Chapman is one of my proudest achievements to date," she says. "And I have to say, in hindsight, the rewards have far outweighed the challenges we faced along the way. It's been a true lesson in faith and perseverance, that's for sure."
But Chapman is far from done. As she continues her expansion into the United Arab Emirates, her sheer determination and entrepreneurial spirit are an inspiration for emerging designers, and we can't wait to see what the future holds for Natalie Chapman.
Natalie Chapman NC is available at NatalieChapmanNC.com.
Share your thoughts...