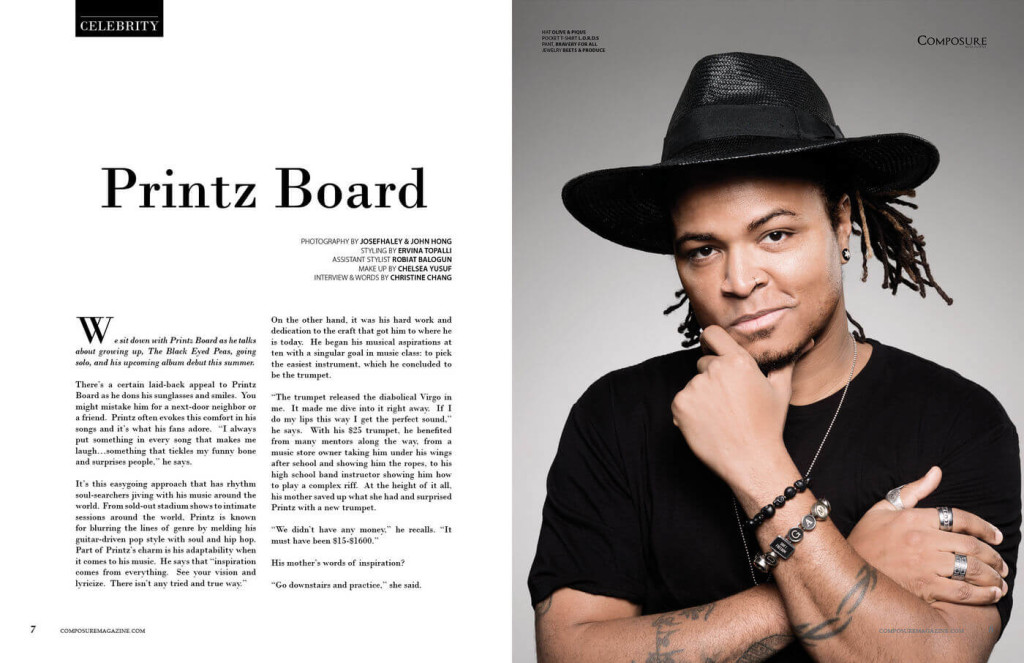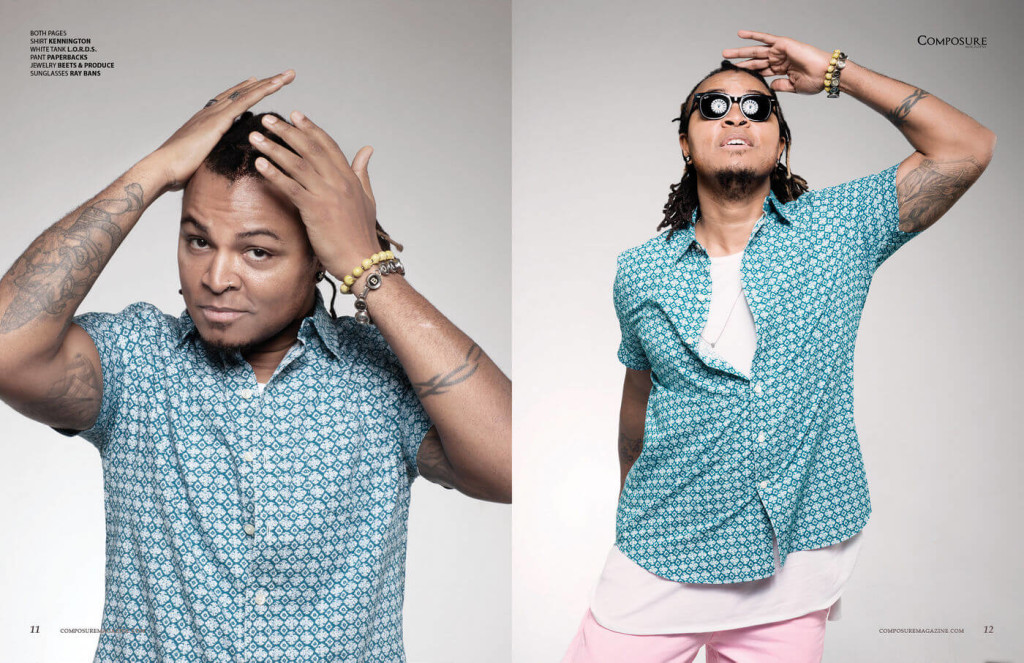 We sit down with Printz Board as he talks about growing up, The Black Eyed Peas, going solo, and his upcoming album debut this summer.
There's a certain laid-back appeal to Printz Board as he dons his sunglasses and smiles. You might mistake him for a next-door neighbor or a friend. Printz often evokes this comfort in his songs and it's what his fans adore. "I always put something in every song that makes me laugh…something that tickles my funny bone and surprises people," he says.
It's this easygoing approach that has rhythm soul-searchers jiving with his music around the world. From sold-out stadium shows to intimate sessions around the world, Printz is known for blurring the lines of genre by melding his guitar-driven pop style with soul and hip hop. Part of Printz's charm is his adaptability when it comes to his music. He says that "inspiration comes from everything. See your vision and lyricize. There isn't any tried and true way."
On the other hand, it was his hard work and dedication to the craft that got him to where he is today. He began his musical aspirations at ten with a singular goal in music class: to pick the easiest instrument, which he concluded to be the trumpet.
"The trumpet released the diabolical Virgo in me. It made me dive into it right away. If I do my lips this way I get the perfect sound," he says. With his $25 trumpet, he benefited from many mentors along the way, from a music store owner taking him under his wings after school and showing him the ropes, to his high school band instructor showing him how to play a complex riff. At the height of it all, his mother saved up what she had and surprised Printz with a new trumpet.
"We didn't have any money," he recalls. "It must have been $15-$1600."
His mother's words of inspiration?
"Go downstairs and practice," she said.
In a similar way, Printz inspires kids today who want to be like him one day. His involvement with the John Lennon Bus and with anti-bullying campaigns traces back to his mother's message of focus.
"I would say to these kids – grab my hand. I'm a real person. I've done it [a successful music career]. It's not because I'm better than you. It's because I'm focused. You have something great right now."
His down-to-earth demeanor is surprising considering his fame. With multiple Grammys writing and producing as a member of The Black Eyed Peas, Printz is currently on the fast track with his solo career. Singing with his all-female band, The Boardmemberz, Printz's first album, Board Games garnered critical praise, along with singles such as "#1" and "Hey You" topping the charts.
Doing a solo project was an easy decision for Printz. It simply brought him back to his roots. Before the Black Eyed Peas, he was in a 'small' band named Gravy where he was the front man.
"[Going solo] is a similar feeling – being in a smaller band, seeing little kids dancing, reaching out from the stage and touching my fans. It's cool. As the Peas got bigger, it became more impersonal, with a line of dancers in front of all of us. It's good to get back in the nucleus at the front," he says.
That's not to say that there weren't challenges.
"Looking back, music careers will forever have bumps. Take the Black Eyed Peas. After our second album, we weren't sure where the future was and if we were sticking it out together. The world was at this certain place. Then we wrote a batch of songs, including 'Where is the Love', which Will [will.i.am] and I sat down and wrote the base of in 15 mins. This song established the entire foundation [for our third album]. That got us to the next level."
The day was unusually hot – but this is Printz's style – he's currently splitting his time between home, touring and New Zealand, where the warm weather and the Maori culture inspire him to create, produce and collaborate. He needs New Zealand "for my sanctity, for the energy, and for the greenery."
As peace overcomes Printz in his recollection, excitement overtakes him just as fast as he describes his upcoming album, On the Boardwalk, to be released this summer. While his previous album possessed a reflective tone and shared stories about his life, his forthcoming album is an invitation for all to walk with him.
" I took you on my personal journey in the last album, and now I'm telling you you're with me 'On The Boardwalk'," he says.
Follow Printz Board Instagram & Twitter / Boardmemberz Instagram
PHOTOGRAPHY BY JOSEFHALEY & JOHN HONG
STYLING BY ERVINA TOPALLI
ASSISTANT STYLIST ROBIAT BALOGUN
MAKE UP BY CHELSEA YUSUF
INTERVIEW & WORDS BY CHRISTINE CHANG
Share your thoughts...