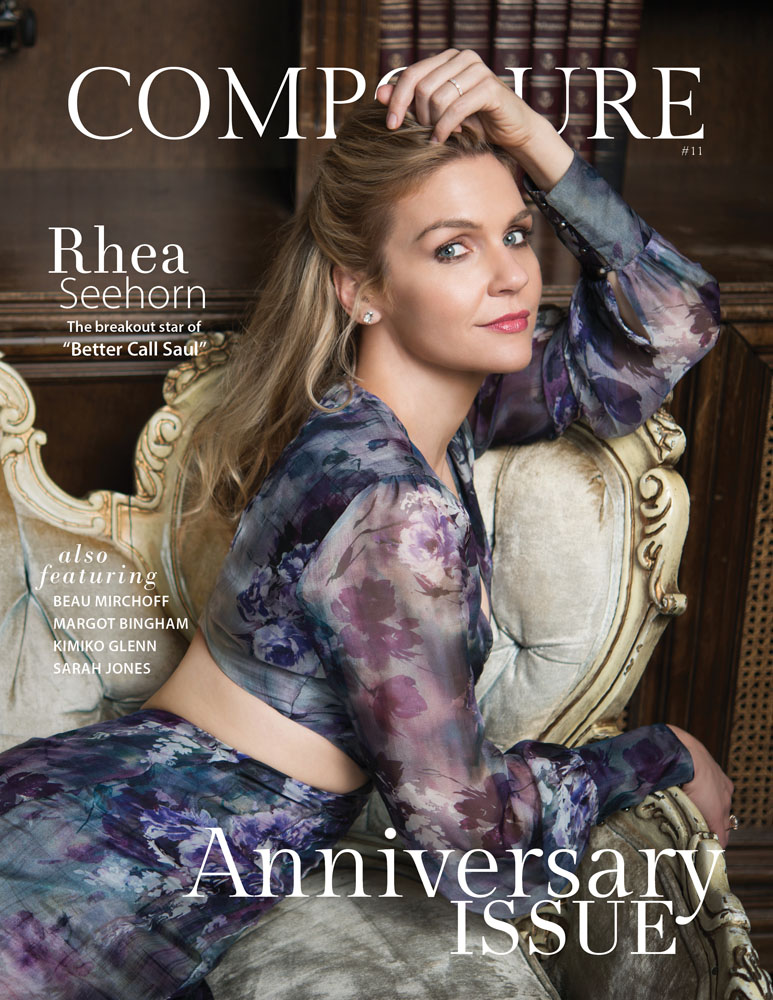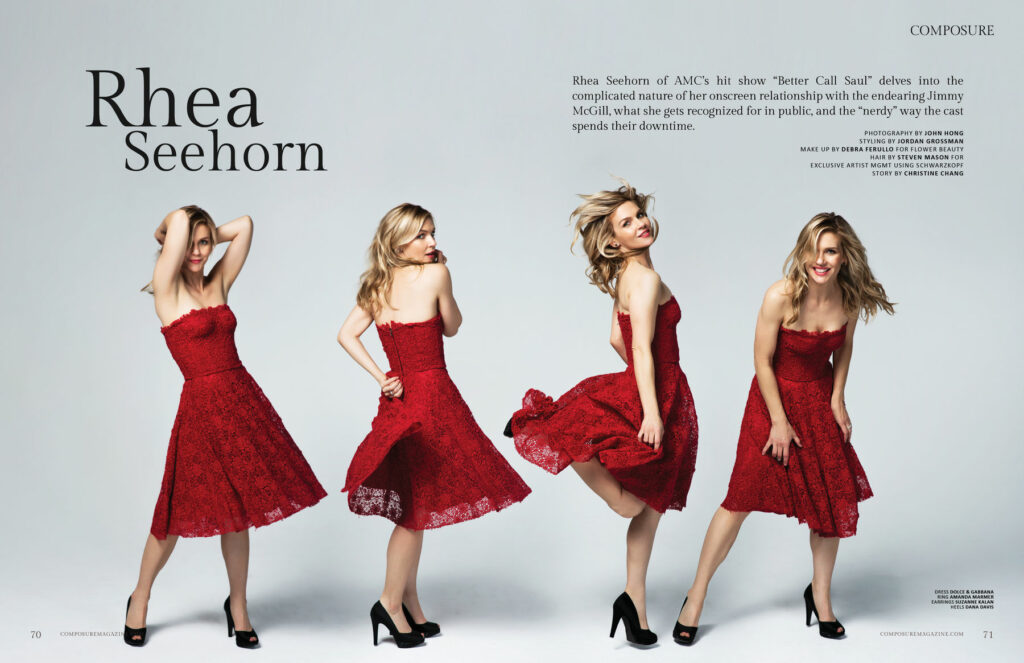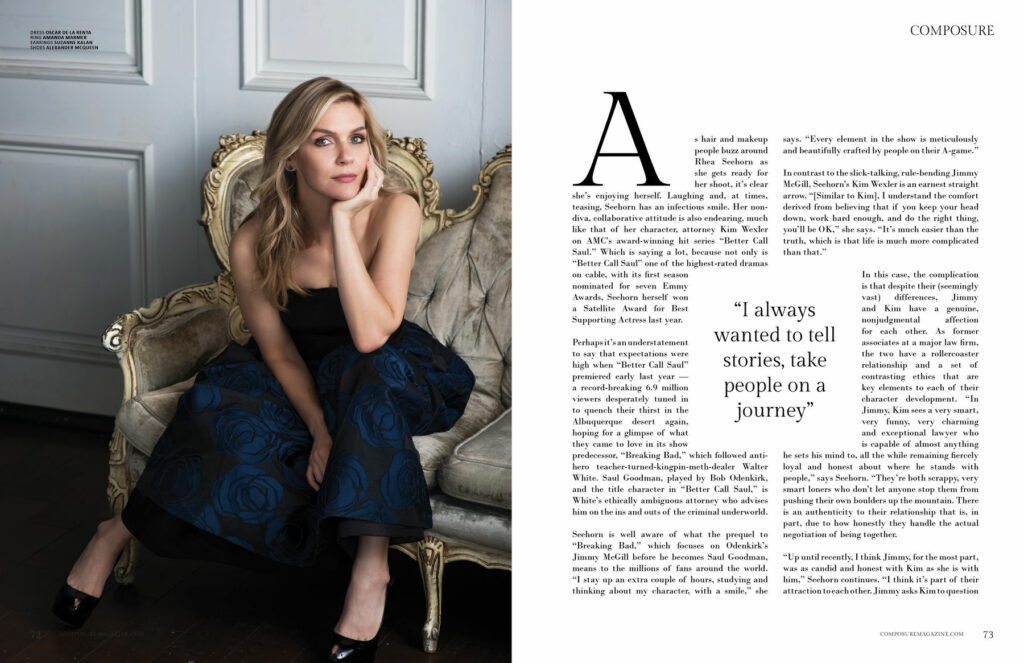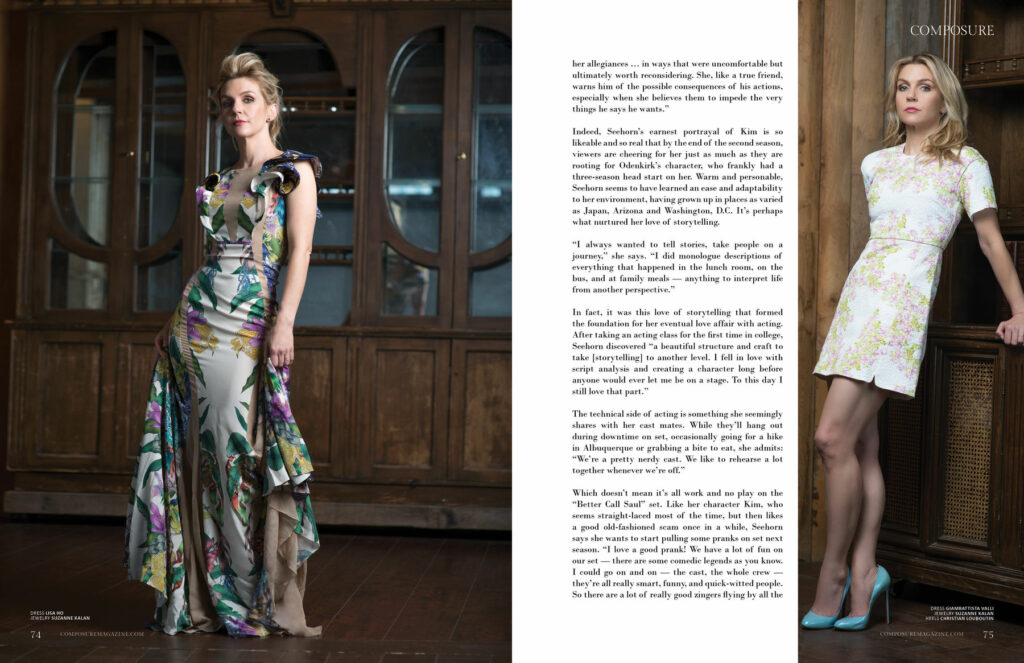 Rhea Seehorn of AMC's hit show "Better Call Saul" delves into the complicated nature of her onscreen relationship with the endearing Jimmy McGill, what she gets recognized for in public, and the "nerdy" way the cast spends their downtime.
As hair and makeup people buzz around Rhea Seehorn as she gets ready for her shoot, it's clear she's enjoying herself. Laughing and, at times, teasing, Seehorn has an infectious smile. Her non-diva, collaborative attitude is also endearing, much like that of her character, attorney Kim Wexler on AMC's award-winning hit series "Better Call Saul." Which is saying a lot, because not only is "Better Call Saul" one of the highest-rated dramas on cable, with its first season nominated for seven Emmy Awards, Seehorn herself won a Satellite Award for Best Supporting Actress last year.
Perhaps it's an understatement to say that expectations were high when "Better Call Saul" premiered early last year — a record-breaking 6.9 million viewers desperately tuned in to quench their thirst in the Albuquerque desert again, hoping for a glimpse of what they came to love in its show predecessor, "Breaking Bad," which followed anti-hero teacher-turned-kingpin-meth-dealer Walter White. Saul Goodman, played by Bob Odenkirk, and the title character in "Better Call Saul," is White's ethically ambiguous attorney who advises him on the ins and outs of the criminal underworld.
Seehorn is well aware of what the prequel to "Breaking Bad," which focuses on Odenkirk's Jimmy McGill before he becomes Saul Goodman, means to the millions of fans around the world. "I stay up an extra couple of hours, studying and thinking about my character, with a smile," she says. "Every element in the show is meticulously and beautifully crafted by people on their A-game."
In contrast to the slick-talking, rule-bending Jimmy McGill, Seehorn's Kim Wexler is an earnest straight arrow. "[Similar to Kim], I understand the comfort derived from believing that if you keep your head down, work hard enough, and do the right thing, you'll be OK," she says. "It's much easier than the truth, which is that life is much more complicated than that."
In this case, the complication is that despite their (seemingly vast) differences, Jimmy and Kim have a genuine, nonjudgmental affection for each other. As former associates at a major law firm, the two have a rollercoaster relationship and a set of contrasting ethics that are key elements to each of their character development. "In Jimmy, Kim sees a very smart, very funny, very charming and exceptional lawyer who is capable of almost anything he sets his mind to, all the while remaining fiercely loyal and honest about where he stands with people," says Seehorn. "They're both scrappy, very smart loners who don't let anyone stop them from pushing their own boulders up the mountain. There is an authenticity to their relationship that is, in part, due to how honestly they handle the actual negotiation of being together.
"Up until recently, I think Jimmy, for the most part, was as candid and honest with Kim as she is with him," Seehorn continues. "I think it's part of their attraction to each other. Jimmy asks Kim to question her allegiances … in ways that were uncomfortable but ultimately worth reconsidering. She, like a true friend, warns him of the possible consequences of his actions, especially when she believes them to impede the very things he says he wants."
Indeed, Seehorn's earnest portrayal of Kim is so likeable and so real that by the end of the second season, viewers are cheering for her just as much as they are rooting for Odenkirk's character, who frankly had a three-season head start on her. Warm and personable, Seehorn seems to have learned an ease and adaptability to her environment, having grown up in places as varied as Japan, Arizona and Washington, D.C. It's perhaps what nurtured her love of storytelling.
"I always wanted to tell stories, take people on a journey," she says. "I did monologue descriptions of everything that happened in the lunch room, on the bus, and at family meals — anything to interpret life from another perspective."
In fact, it was this love of storytelling that formed the foundation for her eventual love affair with acting. After taking an acting class for the first time in college, Seehorn discovered "a beautiful structure and craft to take [storytelling] to another level. I fell in love with script analysis and creating a character long before anyone would ever let me be on a stage. To this day I still love that part."
The technical side of acting is something she seemingly shares with her cast mates. While they'll hang out during downtime on set, occasionally going for a hike in Albuquerque or grabbing a bite to eat, she admits: "We're a pretty nerdy cast. We like to rehearse a lot together whenever we're off."
Which doesn't mean it's all work and no play on the "Better Call Saul" set. Like her character Kim, who seems straight-laced most of the time, but then likes a good old-fashioned scam once in a while, Seehorn says she wants to start pulling some pranks on set next season. "I love a good prank! We have a lot of fun on our set — there are some comedic legends as you know. I could go on and on — the cast, the whole crew — they're all really smart, funny, and quick-witted people. So there are a lot of really good zingers flying by all the time."
In addition to each day on set being a master class in your craft, another perk, at least this early in the fame game, of being on a hit television show is being recognized in public. And for Seehorn, her experience so far has been nothing but good.
"I'm approached or recognized as being Kim from 'Better Call Saul,' more often than not, only after I've spoken," says Seehorn, whose distinct voice has a quiet but resonant depth. "People will sometimes [give me] a strange, lingering glance when I'm in public, and I think they're pondering if they know me from something. Then I open my mouth to order from a waiter, and I see it click on their faces.
"The fans for this show have been overwhelmingly nice and intelligent and just lovely when they speak to me," she continues. "On social media, too. They're so interested in the story and the characters and so invested in every nuance. It's such a compliment to the work we are doing."
When Seehorn is not on set, you can count her as one of the show's biggest fans. Because of non-disclosure agreements, Seehorn can't tell anyone, even her fiancé, any details about the plotlines, so they watch the show together when it airs. "Watching my fiancé watch it every Monday night and seeing his expressions and hearing the gasps at every twist and turn, and then reading the real-time streaming texts that come in from friends and family on the East Coast and then the West Coast — it may be one of the best things ever."
The second season may now be over — the finale a nail-biting cliffhanger — but with the show renewed for a third season, to premiere on AMC early next year, it's clear Seehorn will be busy for some time to come. As for her next project, Seehorn has a little event to put together — her wedding. Not surprisingly, "we haven't had a second to plan a single thing," she says. "We're working on it!"
Watch season 2 of "Better Call Saul" on amc.com. Season 3 will premiere on AMC in early 2017.
PHOTOGRAPHY BY JOHN HONG
STYLING BY JORDAN GROSSMAN
MAKE UP BY DEBRA FERULLO FOR FLOWER BEAUTY
HAIR BY STEVEN MASON FOR EXCLUSIVE ARTIST MGMT USING SCHWARZKOPF
STORY BY CHRISTINE CHANG
Share your thoughts...