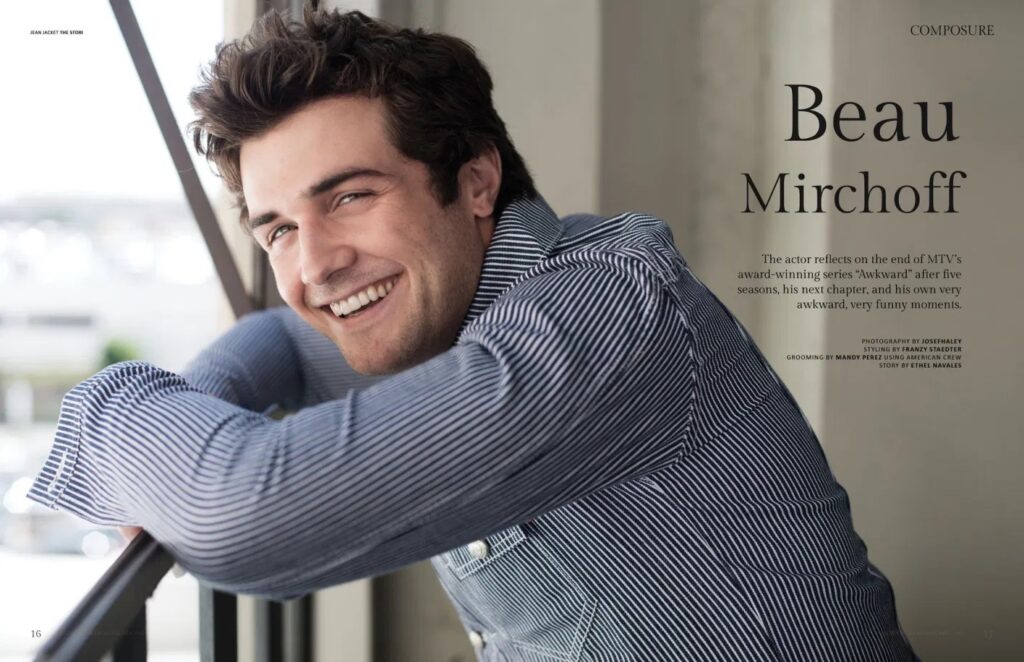 The actor reflects on the end of MTV's award-winning series "Awkward" after five seasons, his next chapter, and his own very awkward, very funny moments.
It's a beautiful, sunny day in downtown Los Angeles — at least, I think it is. Truthfully, no one is paying much attention to anything other than Beau Mirchoff, who's leaning against a loft window in a powder blue sweater and laughing at a joke with the photographer. One minute, he's giving the camera a serious smolder, and the next minute, he's dancing along to the music for some action shots. Trust me, it's hard not to get distracted by Mirchoff. At least that's what I tell myself when firefighters come to the door wondering why none of us noticed that the fire alarms were going off or all the water in the hallway from the building-wide flood. Mirchoff, who stars as Matty McKibben in MTV's award-winning series "Awkward," simply laughs it off. Apparently he's no stranger to things getting, well, awkward.
"Awkward" is a teen comedy series that follows the life of Jenna Hamilton (Ashley Rickards), who loses her virginity to (you guessed it) the popular Matty McKibben. Throughout the show's five seasons, we follow the two through every relationship complication you can think of, and soon it becomes clear that Matty is not simply the popularity-obsessed guy we all originally pegged him for. "I've been really thankful and glad to play him for so long," says Mirchoff, of his five-year run playing Matty.
Though Matty has grown up quite a bit since we first saw him as a sophomore in high school, Mirchoff can still clearly remember what attracted him to the show in the first place. "The writing felt fresh," he recalls. "A lot of teen shows are melodramatic and soap opera-esque. 'Awkward' didn't take itself too seriously. However, it dealt with real themes that high school kids deal with."
Although Mirchoff's own high school experience wasn't half as dramatic as Matty's (after all, we've seen Matty go through love triangles, fist fights, pregnancy scares and everything in between), Mirchoff admits that he's quite similar to Matty in many ways, even fitting into the jock stereotype. However, while Matty was able to focus on quintessential high school moments like prom and football games, Mirchoff had to juggle his acting career along with schoolwork. "I remember the social aspect of high school was so important to me, so I had a lot of noise about missing events in my senior year," he admits. "I missed the whole football season, which was devastating to me. I just felt bad letting my teammates down."
It may have been this bittersweet balancing act that made Mirchoff pursue medicine instead of acting after high school. But fate had other plans for him, and after just a year as a biology major, Mirchoff booked an acting job in Bulgaria that would require him to move to the European country for six weeks. Thinking he would continue in medicine, he brought his textbook along to study for an upcoming test. He didn't open the textbook once.
Mirchoff decided to jump off the deep end and fully commit to acting by moving to Hollywood. "It wasn't until I moved to Los Angeles and really started learning about technique, watching plays and seeing wonderful acting on stage that I became really inspired," he says. "I got really excited about theater and acting as a craft, and that's how I fell in love with it."
Now, years later, Mirchoff has no regrets about how things unfolded. With the series finale of "Awkward" set to air later this year, Mirchoff has spent a lot of time reflecting on what has been his longest acting journey thus far. "[The show] has been such an integral part of my life for so long that I can't really see what life is without it. It's gonna be interesting to see the next chapter, which is exciting, but it's also bittersweet."
While the cast and fans get ready to say goodbye to "Awkward" (though not entirely, because Mirchoff says that he and co-star Brett Davern are going to be "friends forever"), we can't help but be excited to see what's next for Mirchoff. When asked what he would do if he weren't an actor, Mirchoff immediately lists off a number of different careers spanning from literature professor to politician. "I don't get it when actors say they can only act," he says. "I just don't understand that because there are so many things out there in the world. I think it's limiting to say that you can only be an actor because there's a lot out there to get inspired by."
As it turns out, Mirchoff's next chapter may be behind the camera. After directing an episode of "Awkward" ("It was stressful — the most stressful thing I've ever done"), he says directing will absolutely be in his future. "I've written a couple of things already this year, and I want to shoot a short film by the end of the year as a goal."
Whether it's acting, directing, or inciting floods during photo shoots, we'll be sure to keep our eyes peeled for whatever Mirchoff has in store for his fans. Does this mean he'll ever pursue medicine again? Probably not. "I don't think you'd want me as your doctor anyway," he jokes.
The answer is yes, Beau. Of course we would.
——
Beau's "Awkward" Moments
"AWKWARD" FIRST DATE
Well, it wasn't really a date. I called a friend named Molly and asked her to meet up for drinks. I got to the place, and I ran into Molly Tarlov (his co-star on "Awkward"), who's a totally different Molly. So we were catching up for five, 10 minutes, and I said, "Alright, well I'm just meeting a friend here. I'll see you in a second." So I'm walking around, and I can't find the other Molly. I go back to Molly Tarlov, and I tell her, "I can't find my friend. It's crazy running into you, though." And she says, "You called me. You didn't mean to call me, did you? You thought I was someone else.' [Laughs] I'm so happy I called her, though."
"AWKWARD" AUDITION
So I'm not a big musical theatre person, but I've been training my voice for the last couple of years. So I auditioned for a musical, and you have to bring in the sheet music and everything. It was all new to me; I had never done this. So I started singing, and I forget the words. So I'm making stuff up. I'm hitting the notes, but I'm just not speaking or singing English. So in the last line I sang, "And I really forgot those lyrics." I got a callback actually, and I was like, "What? I thought I nailed it the first time?"
"AWKWARD" FAN INTERACTION
My flight is boarding already, but this guy runs up to me and says, "Hey man, I'm a big fan. Can I take a picture with you?" I say, "Yeah, for sure." So he gets his phone out to take a photo, and he's shaking. Sometimes people are a little nervous, but he's shaking a little more than usual, and all of a sudden, he's like, "Oh no," and he has a seizure! He falls forward, and I catch him, and he's seizing, foaming, the whole thing. I'm just supporting his head; I don't really know what to do. The paramedics come like two seconds later, and he regains consciousness, but he can barely speak. He just looks up at me and goes, "I'm sorry," and I'm like, "Noooo. It's OK." But my plane's about to leave, so I say, "Oh my god, dude, I'm so sorry, but I gotta go." So I just grab his phone and take a selfie with him and all the paramedics. [Laughs] He gives me a thumbs up, and I go on my way."
"AWKWARD" MOMENT ON "AWKWARD"
Probably when Matty and the gang decided to streak in the quad. We were all pretty much naked. We had a sock covering our genitals, and we were running around. People think it's hot in Los Angeles. It's not. Sometimes it's really cold!
"Awkward" airs Tuesdays 10 pm EST/PST on MTV .
PHOTOGRAPHY BY JOSEFHALEY
STYLING BY FRANZY STAEDTER
GROOMING BY MANDY PEREZ USING AMERICAN CREW
STORY BY ETHEL NAVALES
Share your thoughts...