Country's hottest star teams up with Grammy Foundation for a night of music celebration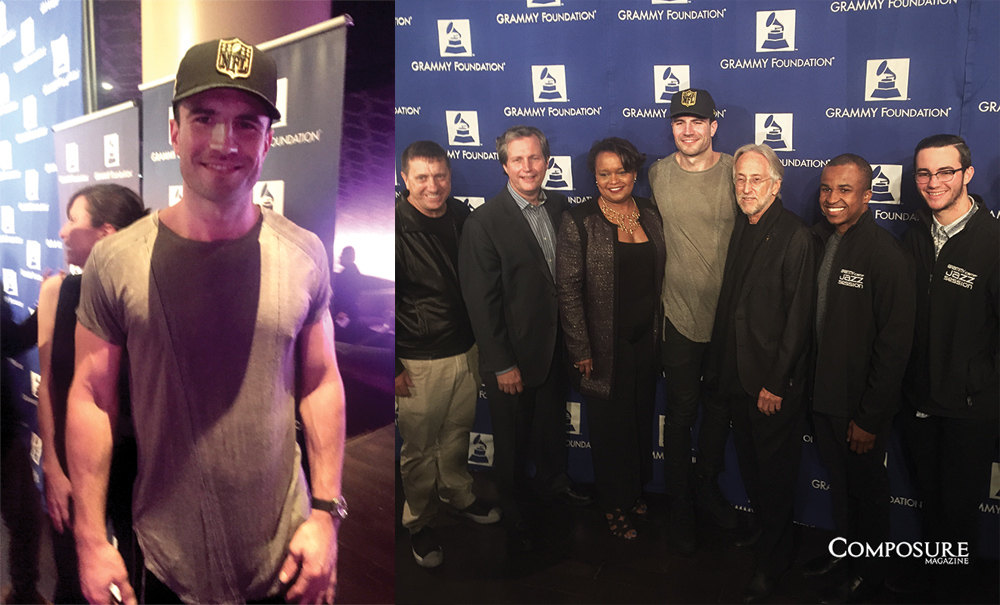 On Monday, February 15, 2016, we will all witness another year of music history as a new group of artists rises to the top of the pack to bring home one of the industry's most coveted achievements, a Grammy award. This year's group of nominees consists of old favorites and fresh newcomers, one of whom is country artist Sam Hunt. He's a double nominee this year for Best New Artist and Best Country Album, alongside industry heavyweights like Meghan Trainor, James Bay, Tori Kelly, and Courtney Barnett (Best New Artist), and Little Big Town, Ashley Monroe, Kacey Musgraves, and Chris Stapleton (Best Country Album). First starting his career as a songwriter, he exploded onto the country stage this year as an accomplished artist himself. Hunt has been shaking up country music with his unique musical style, and last night he capped off a stellar year with a very special performance.
Hunt kicked off an action-packed, music-filled weekend with an event to honor the work done by the GRAMMY Foundation to champion and support music and arts education. In downtown LA (just steps away from Monday night's big event), students from across the Los Angeles Unified School District poured into Club Nokia to participate in a once-in-a-lifetime chance to see one of music's hottest stars. Participants from the Foundation's GRAMMY Camp got the chance to take the stage with Sam Hunt, who joined them for the festivities and then took the stage to perform songs from his album, Montevallo.
Hunt stopped by the red carpet and was immediately barraged with questions from all directions. I guess that's the life of a mega music star up for two Grammys! For anyone wondering, yes, he is as charming in person as you might imagine.
---
What does it mean to you to be involved with the Grammy Foundation?
I just got a chance to meet some of the boys and girls earlier, and they are so talented. I'm here now as a fan of theirs, as much as anything. But I really appreciate what GRAMMY In The Schools is doing for these kids. I grew up in a small town where there weren't very many opportunities to discover and cultivate whatever musical talents I might have had, or a kid from my kind of town might have had. This organization does provide those opportunities and helps them pursue their potential as young musicians. They have a lot more potential than I ever did at their age. They're doing a great job cultivating those talents and becoming who they can and potentially will be, so it means a lot to be contributing in this little way.
The big night is just a few days away! What are you going to do if you win the Grammy (or two!)?
Well, if I do win then I'm going to celebrate with all the people who helped me get here. And if we don't win, then we'll still celebrate.
Also just a few days away is Valentine's Day. Which song off your album describes your current love life?
Probably either "Breakup in a Small Town" or "Single for the Summer." (Laughs)
What is the perfect Valentine's date for Sam Hunt?
I don't know… For some reason, I've found myself single on most Valentine's Days. I wish I had time this year, but I'll be busy all day…
---
Sorry, ladies – the Grammys will be keeping this country stud busy all weekend, but you can catch more of him on the live CBS telecast of The 58th Grammys, Monday, February 15th, at 8pm ET / 7pm CT / 5pm PT.
Written by Kathleen Rodgers
Share your thoughts...