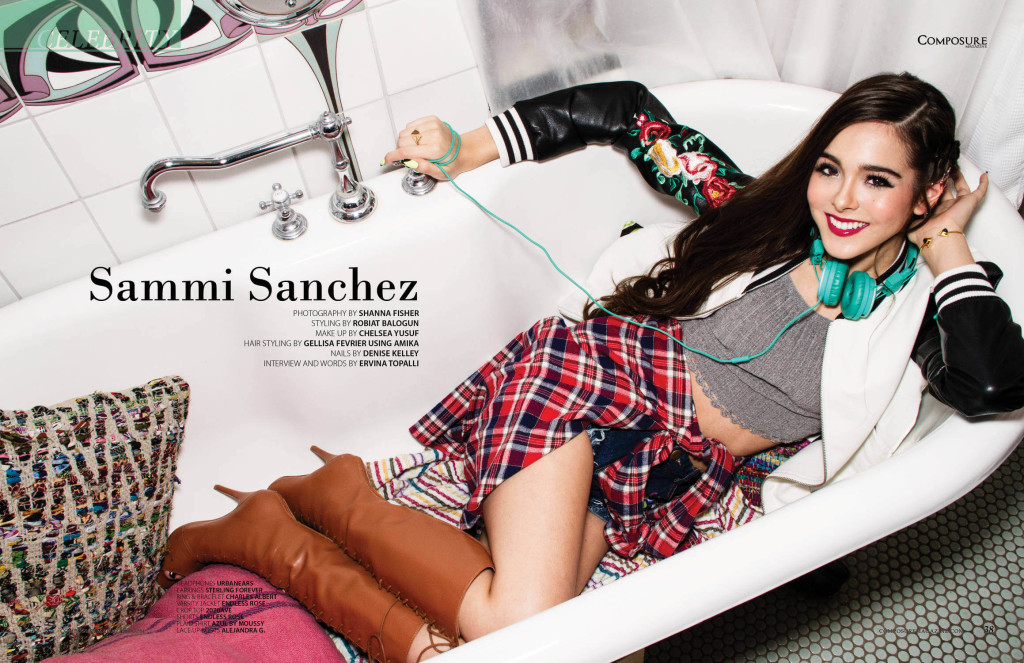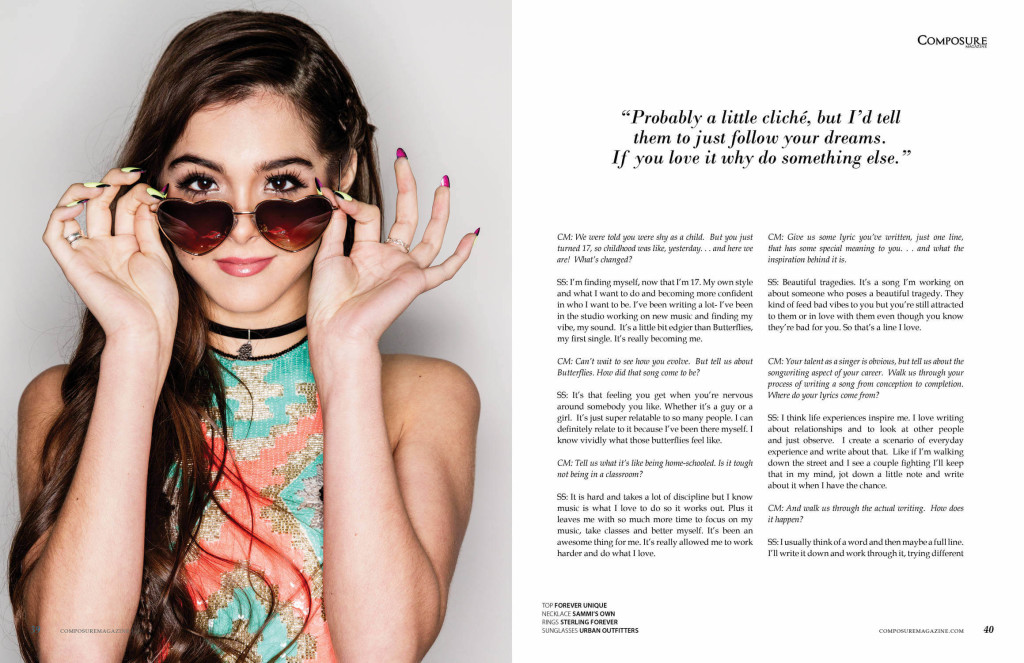 Sammi Sanchez sits with Composure Magazine for an interview to talk about songwriting and the inspirations she gets from her fans.
CM: We were told you were shy as a child. But you just turned 17, so childhood was like, yesterday. . . and here we are! What's changed?
SS: I'm finding myself, now that I'm 17. My own style and what I want to do and becoming more confident in who I want to be. I've been writing a lot- I've been in the studio working on new music and finding my vibe, my sound. It's a little bit edgier than Butterflies, my first single. It's really becoming me.
CM: Can't wait to see how you evolve. But tell us about Butterflies. How did that song come to be?
SS: It's that feeling you get when you're nervous around somebody you like. Whether it's a guy or a girl. It's just super relatable to so many people. I can definitely relate to it because I've been there myself. I know vividly what those butterflies feel like.
CM: Tell us what it's like being home-schooled. Is it tough not being in a classroom?
SS: It is hard and takes a lot of discipline but I know music is what I love to do so it works out. Plus it leaves me with so much more time to focus on my music, take classes and better myself. It's been an awesome thing for me. It's really allowed me to work harder and do what I love.
CM: Give us some lyric you've written, just one line, that has some special meaning to you. . . and what the inspiration behind it is.
SS: Beautiful tragedies. It's a song I'm working on about someone who poses a beautiful tragedy. They kind of feed bad vibes to you but you're still attracted to them or in love with them even though you know they're bad for you. So that's a line I love.
CM: Your talent as a singer is obvious, but tell us about the songwriting aspect of your career. Walk us through your process of writing a song from conception to completion. Where do your lyrics come from?
SS: I think life experiences inspire me. I love writing about relationships and to look at other people and just observe. I create a scenario of everyday experience and write about that. Like if I'm walking down the street and I see a couple fighting I'll keep that in my mind, jot down a little note and write about it when I have the chance.
CM: And walk us through the actual writing. How does it happen?
SS: I usually think of a word and then maybe a full line. I'll write it down and work through it, trying different words, and letting it unfold itself. That's kind of how I write my music. I come up with a melody, then I add few words and I kind of build it from there. I'll often take it to somebody else for outside thoughts. I often write with my manager Lucas Prata or with a producer and it becomes a collaboration.
CM: Your fans are so loyal, particularly on social media.
SS: It's very humbling that they're so supportive. I wouldn't be where I am if it weren't for them. They're the ones who have been supporting me and spreading the word about me. It's just awesome to have that connection. I love using social media to contact my fans and to talk with them. Especially Twitter. I'll tweet them all the time. I think it's super important to have a good relationship with them and to be able to talk to them. With my YouTube videos, my fans get to know what style of music I'm listening to or if I change it up a bit they can see my vibe.
CM: In your opinion, which artist today is making the biggest waves in the music industry?
SS: Demi Lovato. I love how edgy she is. She's always been real. And I love that. I grew up listening to her, as well. She acts and she does a little bit of dancing and that's the kind of career I aspire to. To take on multiple types of entertainment.
CM: What advice would you give to others pursuing a singing career?
SS: Probably a little cliché, but I'd tell them to just follow your dreams. If you love it why do something else. For me I'd rather be a struggling musician than to do something that doesn't inspire me. And I think happiness is super important. You need to love what you do and you need to be happy doing it. That's what I'd tell them. Do something you love and if it makes you happy, stick with it.
To check out more of Sammi's music, visit her website at sammisanchez.com
PHOTOGRAPHY BY SHANNA FISHER
STYLING BY ROBIAT BALOGUN
MAKE UP BY CHELSEA YUSUF
HAIR STYLING BY GELLISA FEVRIER USING AMIKA
NAILS BY DENISE KELLEY
INTERVIEW AND WORDS BY ERVINA TOPALLI
Share your thoughts...