[vc_row][vc_column][vc_column_text]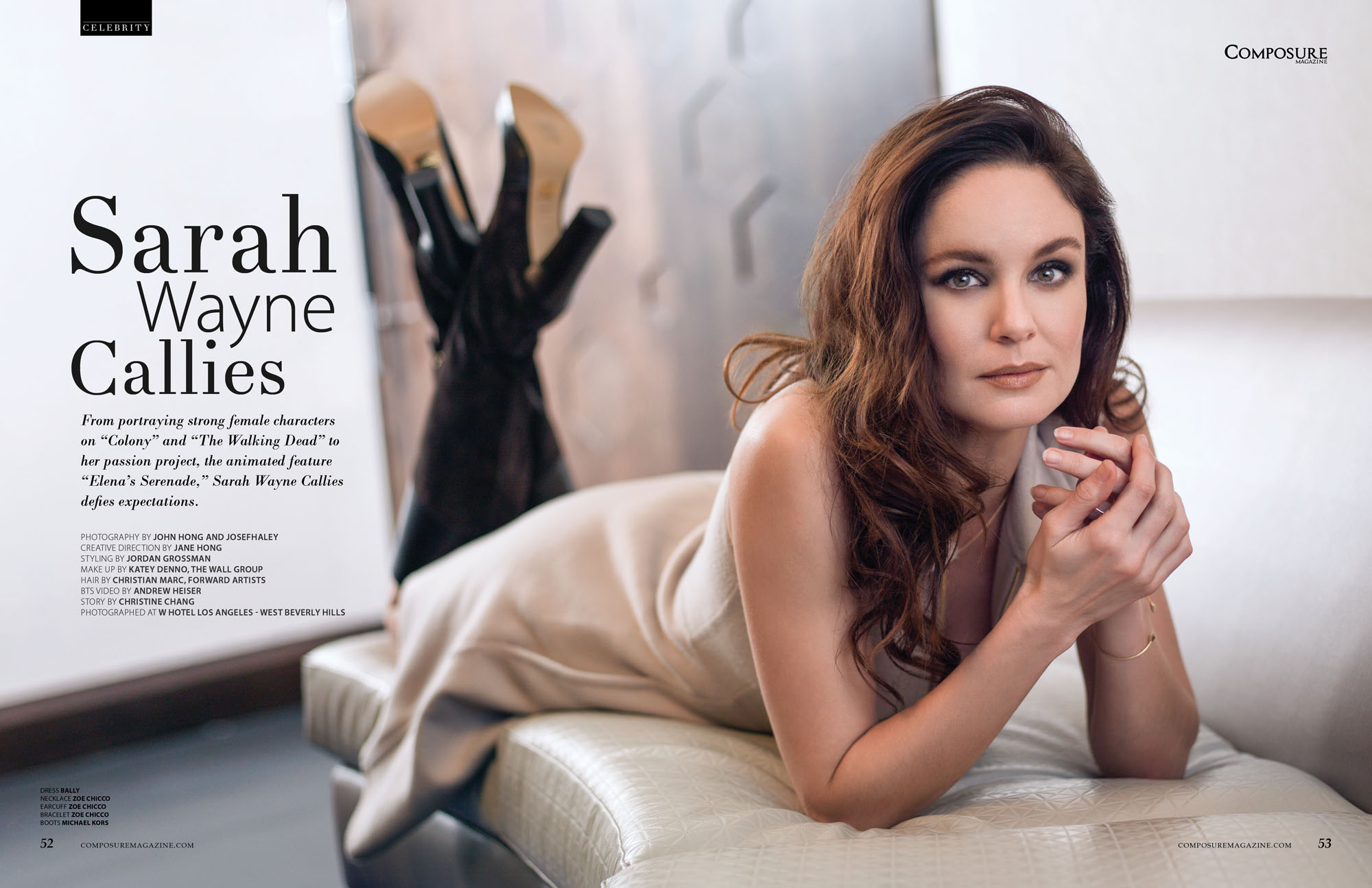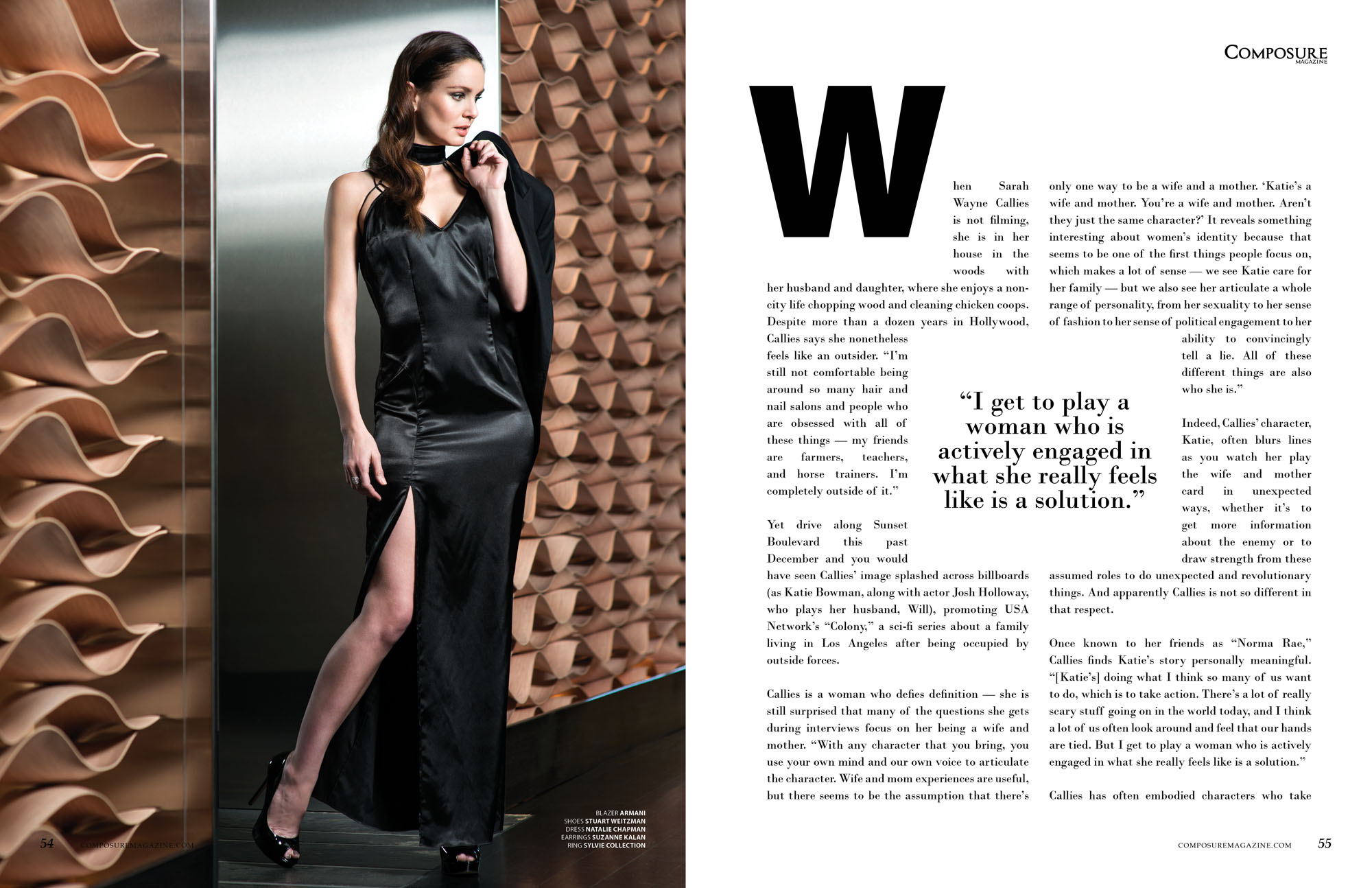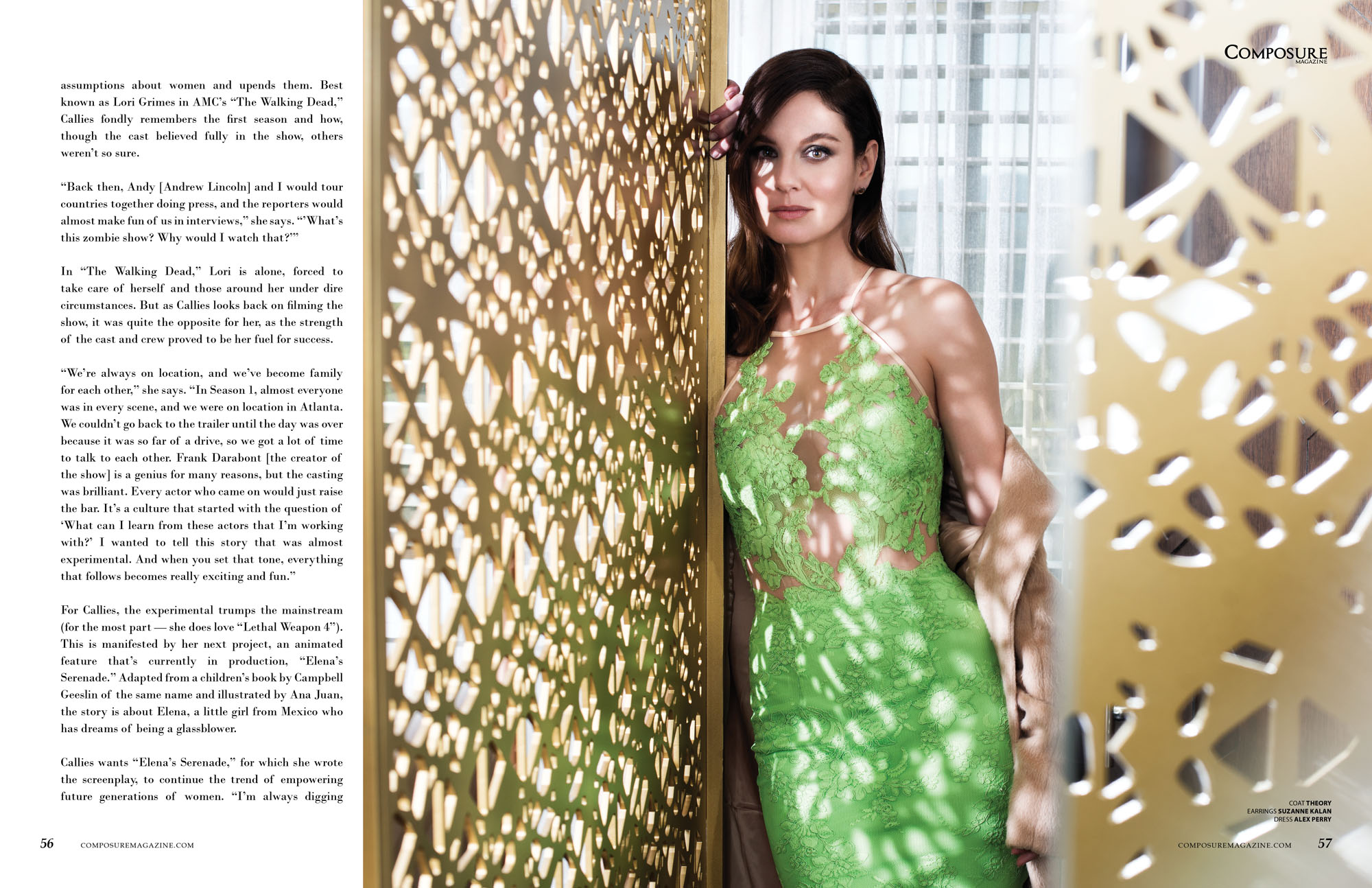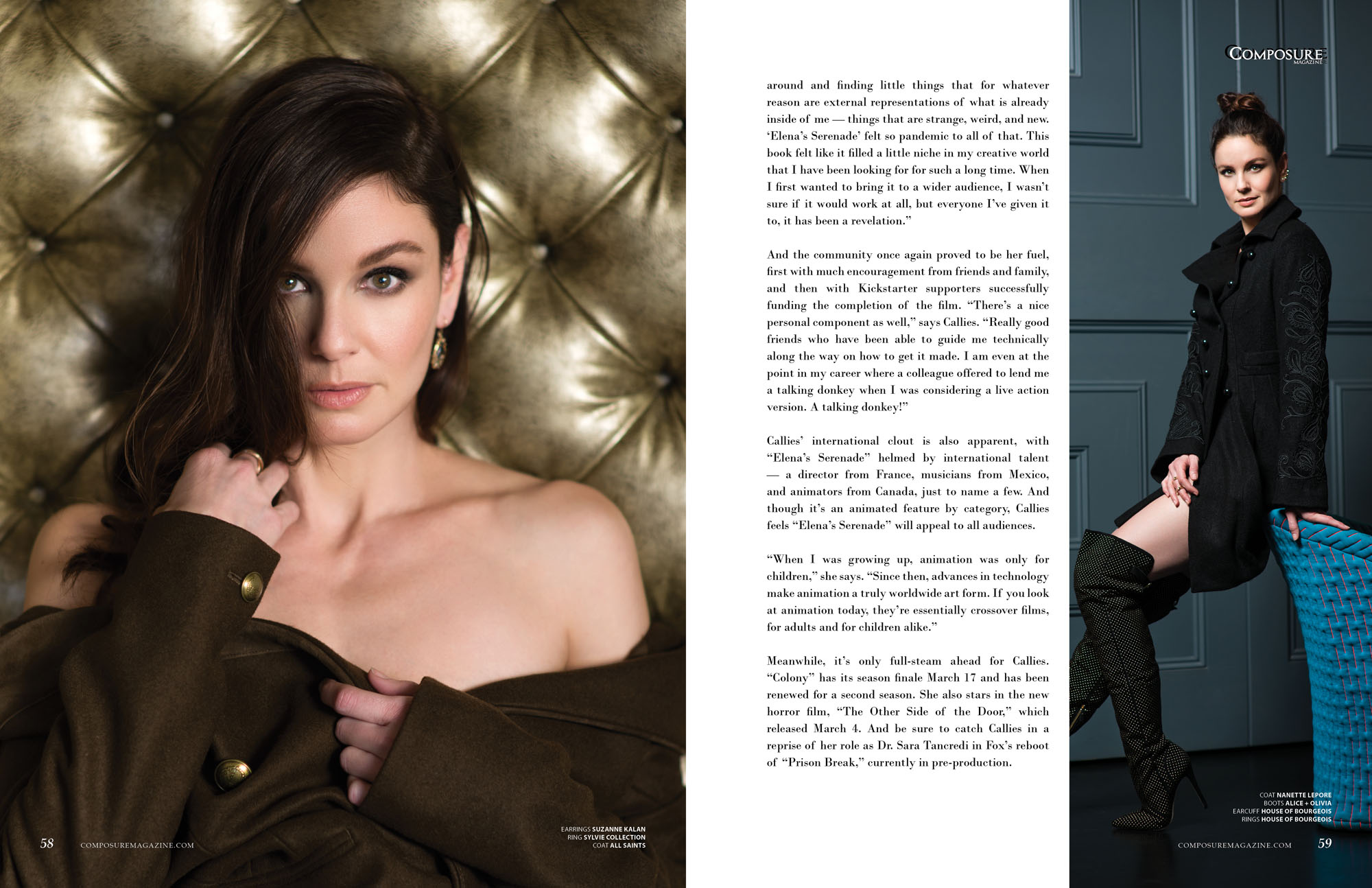 From portraying strong female characters on "Colony" and "The Walking Dead" to her passion project, the animated feature "Elena's Serenade," Sarah Wayne Callies defies expectations.
When Sarah Wayne Callies is not filming, she is in her house in the woods with her husband and daughter, where she enjoys a non-city life chopping wood and cleaning chicken coops. Despite more than a dozen years in Hollywood, Callies says she nonetheless feels like an outsider. "I'm still not comfortable being around so many hair and nail salons and people who are obsessed with all of these things — my friends are farmers, teachers, and horse trainers. I'm completely outside of it."
Yet drive along Sunset Boulevard this past December and you would have seen Callies' image splashed across billboards (as Katie Bowman, along with actor Josh Holloway, who plays her husband, Will), promoting USA Network's "Colony," a sci-fi series about a family living in Los Angeles after being occupied by outside forces.
Callies is a woman who defies definition — she is still surprised that many of the questions she gets during interviews focus on her being a wife and mother. "With any character that you bring, you use your own mind and our own voice to articulate the character. Wife and mom experiences are useful, but there seems to be the assumption that there's only one way to be a wife and a mother. 'Katie's a wife and mother. You're a wife and mother. Aren't they just the same character?' It reveals something interesting about women's identity because that seems to be one of the first things people focus on, which makes a lot of sense — we see Katie care for her family — but we also see her articulate a whole range of personality, from her sexuality to her sense of fashion to her sense of political engagement to her ability to convincingly tell a lie. All of these different things are also who she is."
Indeed, Callies' character, Katie, often blurs lines as you watch her play the wife and mother card in unexpected ways, whether it's to get more information about the enemy or to draw strength from these assumed roles to do unexpected and revolutionary things. And apparently Callies is not so different in that respect.
Once known to her friends as "Norma Rae," Callies finds Katie's story personally meaningful. "[Katie's] doing what I think so many of us want to do, which is to take action. There's a lot of really scary stuff going on in the world today, and I think a lot of us often look around and feel that our hands are tied. But I get to play a woman who is actively engaged in what she really feels like is a solution."
Callies has often embodied characters who take assumptions about women and upends them. Best known as Lori Grimes in AMC's "The Walking Dead," Callies fondly remembers the first season and how, though the cast believed fully in the show, others weren't so sure.
"Back then, Andy [Andrew Lincoln] and I would tour countries together doing press, and the reporters would almost make fun of us in interviews," she says. "'What's this zombie show? Why would I watch that?'"
In "The Walking Dead," Lori is alone, forced to take care of herself and those around her under dire circumstances. But as Callies looks back on filming the show, it was quite the opposite for her, as the strength of the cast and crew proved to be her fuel for success.
"We're always on location, and we've become family for each other," she says. "In Season 1, almost everyone was in every scene, and we were on location in Atlanta. We couldn't go back to the trailer until the day was over because it was so far of a drive, so we got a lot of time to talk to each other. Frank Darabont [the creator of the show] is a genius for many reasons, but the casting was brilliant. Every actor who came on would just raise the bar. It's a culture that started with the question of 'What can I learn from these actors that I'm working with?' I wanted to tell this story that was almost experimental. And when you set that tone, everything that follows becomes really exciting and fun."
For Callies, the experimental trumps the mainstream (for the most part — she does love "Lethal Weapon 4"). This is manifested by her next project, an animated feature that's currently in production, "Elena's Serenade." Adapted from a children's book by Campbell Geeslin of the same name and illustrated by Ana Juan, the story is about Elena, a little girl from Mexico who has dreams of being a glassblower.
Callies wants "Elena's Serenade," for which she wrote the screenplay, to continue the trend of empowering future generations of women. "I'm always digging around and finding little things that for whatever reason are external representations of what is already inside of me — things that are strange, weird, and new. 'Elena's Serenade' felt so pandemic to all of that. This book felt like it filled a little niche in my creative world that I have been looking for for such a long time. When I first wanted to bring it to a wider audience, I wasn't sure if it would work at all, but everyone I've given it to, it has been a revelation."
And the community once again proved to be her fuel, first with much encouragement from friends and family, and then with Kickstarter supporters successfully funding the completion of the film. "There's a nice personal component as well," says Callies. "Really good friends who have been able to guide me technically along the way on how to get it made. I am even at the point in my career where a colleague offered to lend me a talking donkey when I was considering a live action version. A talking donkey!"
Callies' international clout is also apparent, with "Elena's Serenade" helmed by international talent — a director from France, musicians from Mexico, and animators from Canada, just to name a few. And though it's an animated feature by category, Callies feels "Elena's Serenade" will appeal to all audiences.
"When I was growing up, animation was only for children," she says. "Since then, advances in technology make animation a truly worldwide art form. If you look at animation today, they're essentially crossover films, for adults and for children alike."
Meanwhile, it's only full-steam ahead for Callies. "Colony" has its season finale March 17 and has been renewed for a second season. She also stars in the new horror film, "The Other Side of the Door," which released March 4. And be sure to catch Callies in a reprise of her role as Dr. Sara Tancredi in Fox's reboot of "Prison Break," currently in pre-production.
"Colony" season finale airs on USA Network Thursday March 17 10/9c.
PHOTOGRAPHY BY JOHN HONG AND JOSEFHALEY
CREATIVE DIRECTION BY JANE HONG
STYLING BY JORDAN GROSSMAN
MAKE UP BY KATEY DENNO, THE WALL GROUP
HAIR BY CHRISTIAN MARC, FORWARD ARTISTS
BTS VIDEO BY ANDREW HEISER
STORY BY CHRISTINE CHANG
PHOTOGRAPHED AT W HOTEL LOS ANGELES – WEST BEVERLY HILLS
Share your thoughts...