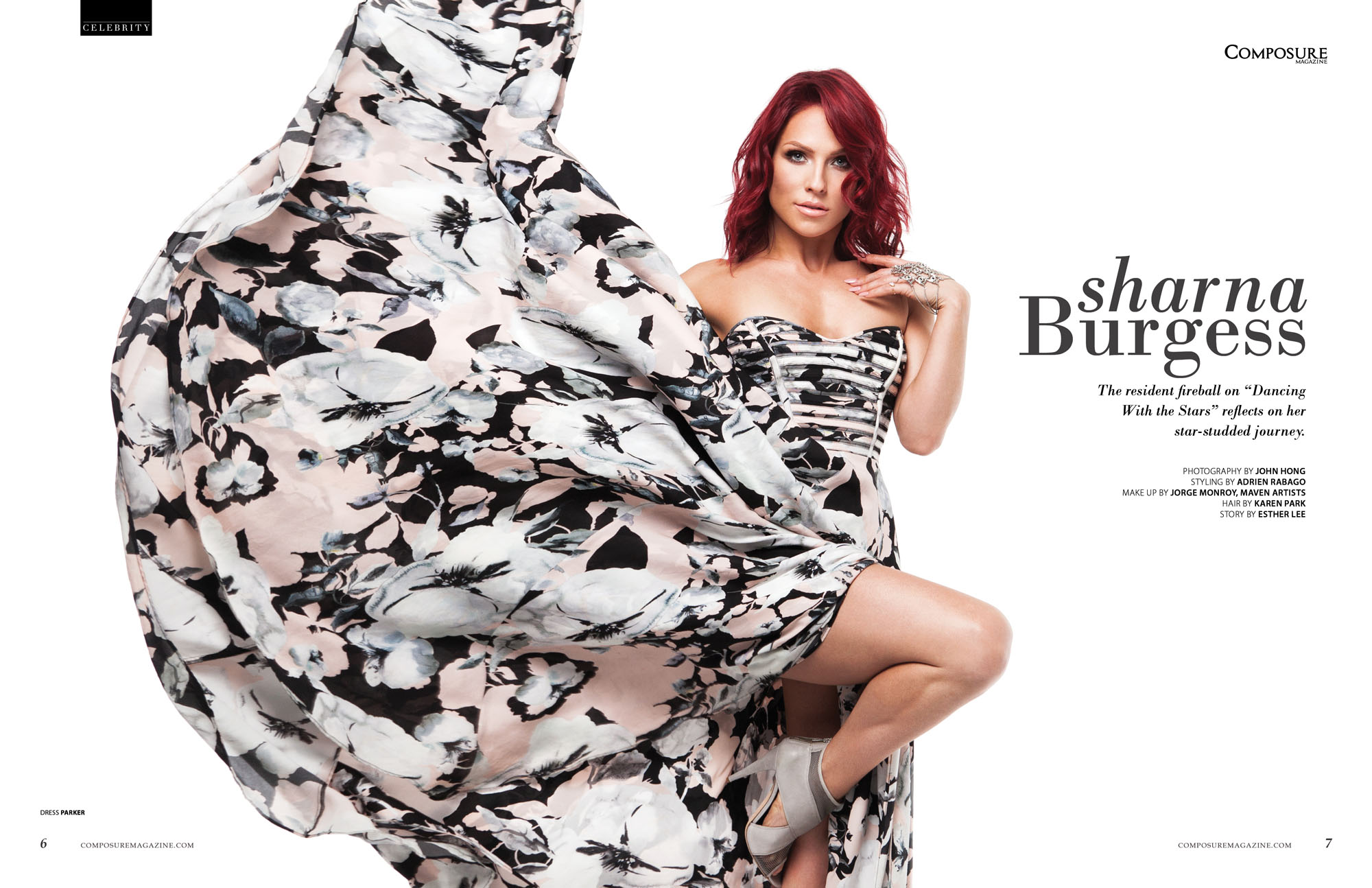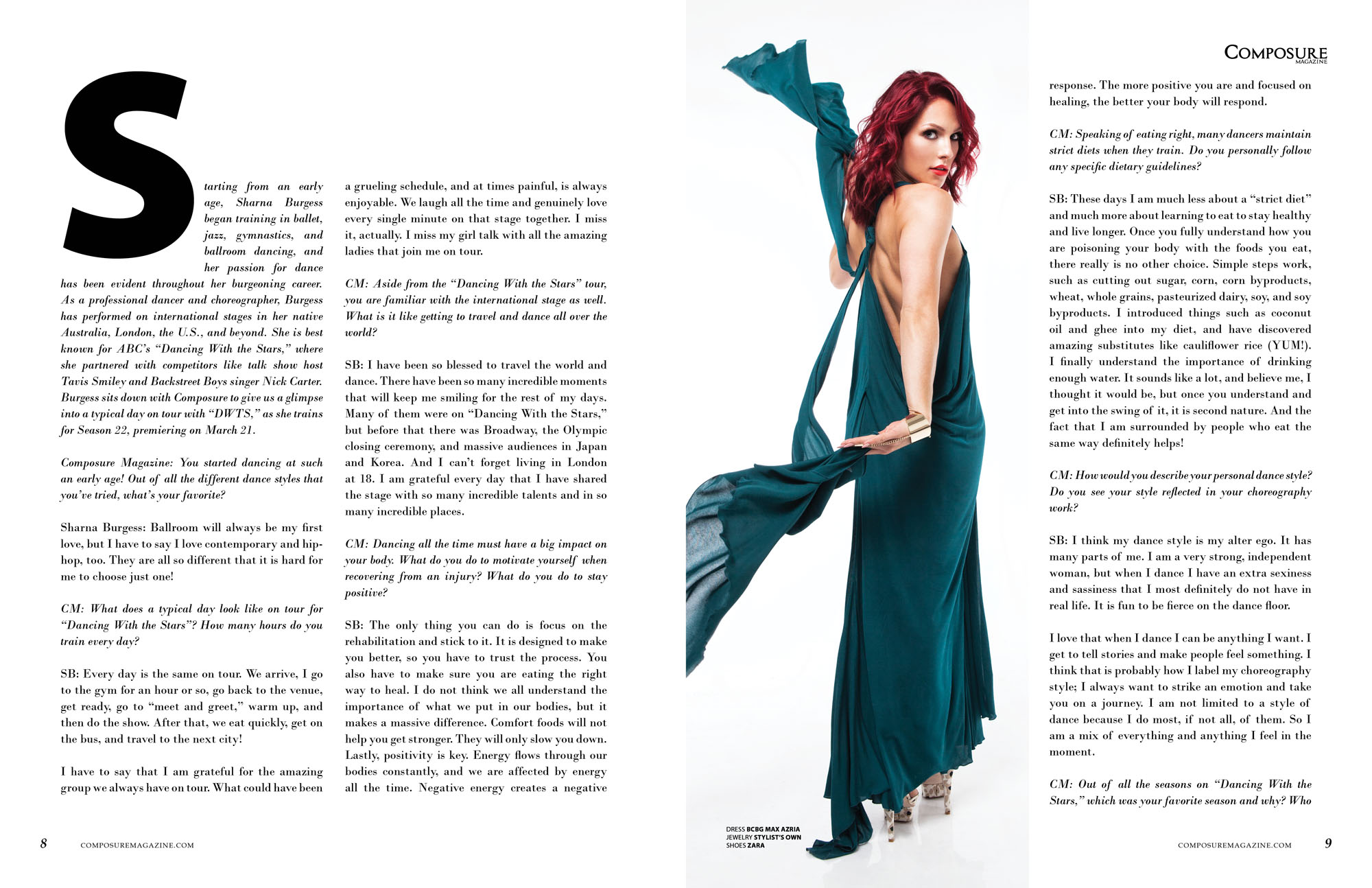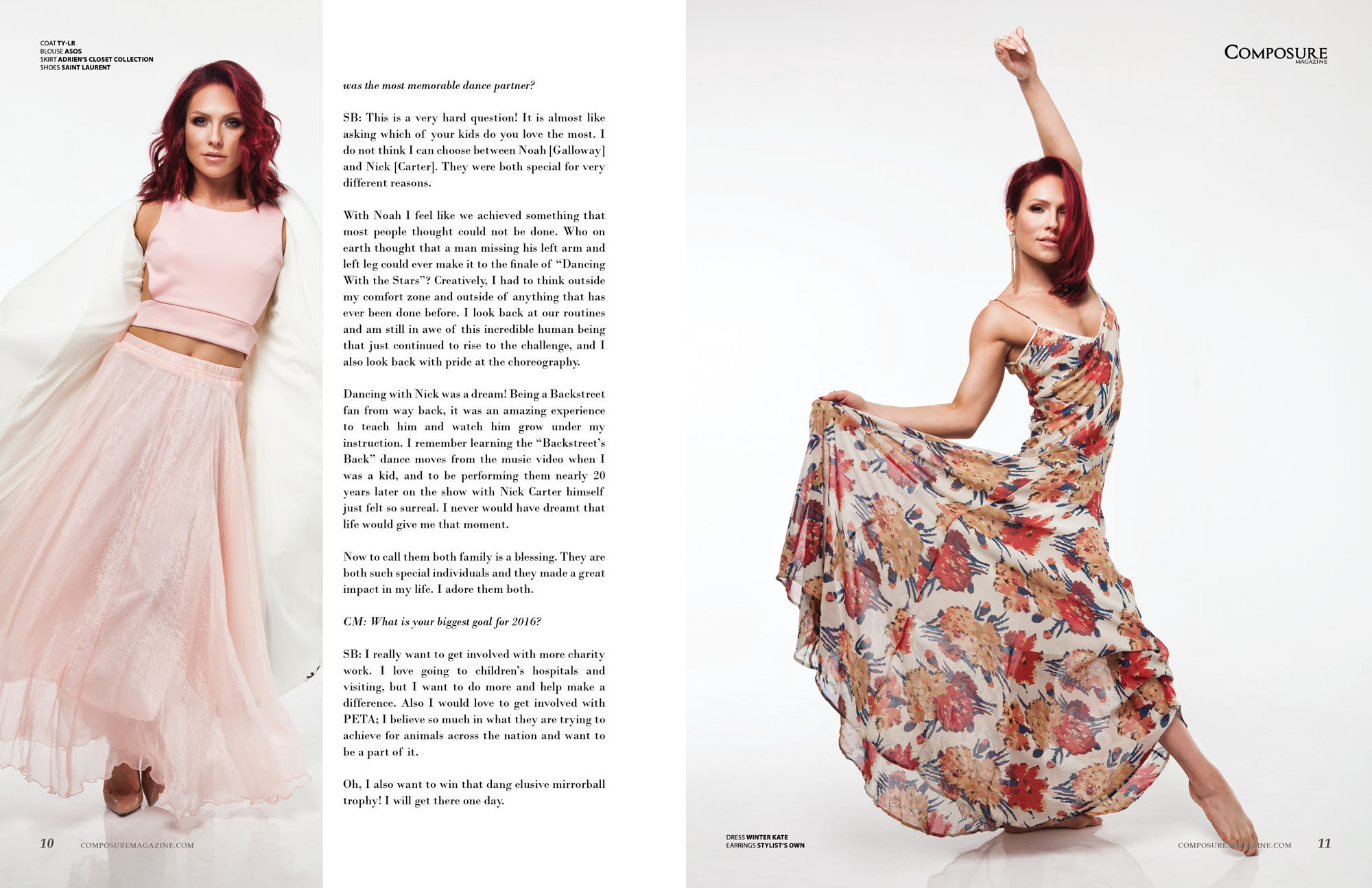 The resident fireball on "Dancing With the Stars" reflects on her star-studded journey.
Starting from an early age, Sharna Burgess began training in ballet, jazz, gymnastics, and ballroom dancing, and her passion for dance has been evident throughout her burgeoning career. As a professional dancer and choreographer, Burgess has performed on international stages in her native Australia, London, the U.S., and beyond. She is best known for ABC's "Dancing With the Stars," where she partnered with competitors like talk show host Tavis Smiley and Backstreet Boys singer Nick Carter. Burgess sits down with Composure to give us a glimpse into a typical day on tour with "DWTS," as she trains for Season 22, premiering on March 21.
Composure Magazine: You started dancing at such an early age! Out of all the different dance styles that you've tried, what's your favorite?
Sharna Burgess: Ballroom will always be my first love, but I have to say I love contemporary and hip-hop, too. They are all so different that it is hard for me to choose just one!
CM: What does a typical day look like on tour for "Dancing With the Stars"? How many hours do you train every day?
SB: Every day is the same on tour. We arrive, I go to the gym for an hour or so, go back to the venue, get ready, go to "meet and greet," warm up, and then do the show. After that, we eat quickly, get on the bus, and travel to the next city!
I have to say that I am grateful for the amazing group we always have on tour. What could have been a grueling schedule, and at times painful, is always enjoyable. We laugh all the time and genuinely love every single minute on that stage together. I miss it, actually. I miss my girl talk with all the amazing ladies that join me on tour.
CM: Aside from the "Dancing With the Stars" tour, you are familiar with the international stage as well. What is it like getting to travel and dance all over the world?
SB: I have been so blessed to travel the world and dance. There have been so many incredible moments that will keep me smiling for the rest of my days. Many of them were on "Dancing With the Stars," but before that there was Broadway, the Olympic closing ceremony, and massive audiences in Japan and Korea. And I can't forget living in London at 18. I am grateful every day that I have shared the stage with so many incredible talents and in so many incredible places.
CM: Dancing all the time must have a big impact on your body. What do you do to motivate yourself when recovering from an injury? What do you do to stay positive?
SB: The only thing you can do is focus on the rehabilitation and stick to it. It is designed to make you better, so you have to trust the process. You also have to make sure you are eating the right way to heal. I do not think we all understand the importance of what we put in our bodies, but it makes a massive difference. Comfort foods will not help you get stronger. They will only slow you down. Lastly, positivity is key. Energy flows through our bodies constantly, and we are affected by energy all the time. Negative energy creates a negative response. The more positive you are and focused on healing, the better your body will respond.
CM: Speaking of eating right, many dancers maintain strict diets when they train. Do you personally follow any specific dietary guidelines?
SB: These days I am much less about a "strict diet" and much more about learning to eat to stay healthy and live longer. Once you fully understand how you are poisoning your body with the foods you eat, there really is no other choice. Simple steps work, such as cutting out sugar, corn, corn byproducts, wheat, whole grains, pasteurized dairy, soy, and soy byproducts. I introduced things such as coconut oil and ghee into my diet, and have discovered amazing substitutes like cauliflower rice (YUM!). I finally understand the importance of drinking enough water. It sounds like a lot, and believe me, I thought it would be, but once you understand and get into the swing of it, it is second nature. And the fact that I am surrounded by people who eat the same way definitely helps!
CM: How would you describe your personal dance style? Do you see your style reflected in your choreography work?
SB: I think my dance style is my alter ego. It has many parts of me. I am a very strong, independent woman, but when I dance I have an extra sexiness and sassiness that I most definitely do not have in real life. It is fun to be fierce on the dance floor.
I love that when I dance I can be anything I want. I get to tell stories and make people feel something. I think that is probably how I label my choreography style; I always want to strike an emotion and take you on a journey. I am not limited to a style of dance because I do most, if not all, of them. So I am a mix of everything and anything I feel in the moment.
CM: Out of all the seasons on "Dancing With the Stars," which was your favorite season and why? Who was the most memorable dance partner?
SB: This is a very hard question! It is almost like asking which of your kids do you love the most. I do not think I can choose between Noah [Galloway] and Nick [Carter]. They were both special for very different reasons.
With Noah I feel like we achieved something that most people thought could not be done. Who on earth thought that a man missing his left arm and left leg could ever make it to the finale of "Dancing With the Stars"? Creatively, I had to think outside my comfort zone and outside of anything that has ever been done before. I look back at our routines and am still in awe of this incredible human being that just continued to rise to the challenge, and I also look back with pride at the choreography.
Dancing with Nick was a dream! Being a Backstreet fan from way back, it was an amazing experience to teach him and watch him grow under my instruction. I remember learning the "Backstreet's Back" dance moves from the music video when I was a kid, and to be performing them nearly 20 years later on the show with Nick Carter himself just felt so surreal. I never would have dreamt that life would give me that moment.
Now to call them both family is a blessing. They are both such special individuals and they made a great impact in my life. I adore them both.
CM: What is your biggest goal for 2016?
SB: I really want to get involved with more charity work. I love going to children's hospitals and visiting, but I want to do more and help make a difference. Also I would love to get involved with PETA; I believe so much in what they are trying to achieve for animals across the nation and want to be a part of it.
Oh, I also want to win that dang elusive mirrorball trophy! I will get there one day.
PHOTOGRAPHY BY JOHN HONG
STYLING BY ADRIEN RABAGO
MAKE UP BY JORGE MONROY, MAVEN ARTISTS
HAIR BY KAREN PARK
STORY BY ESTHER LEE
Share your thoughts...