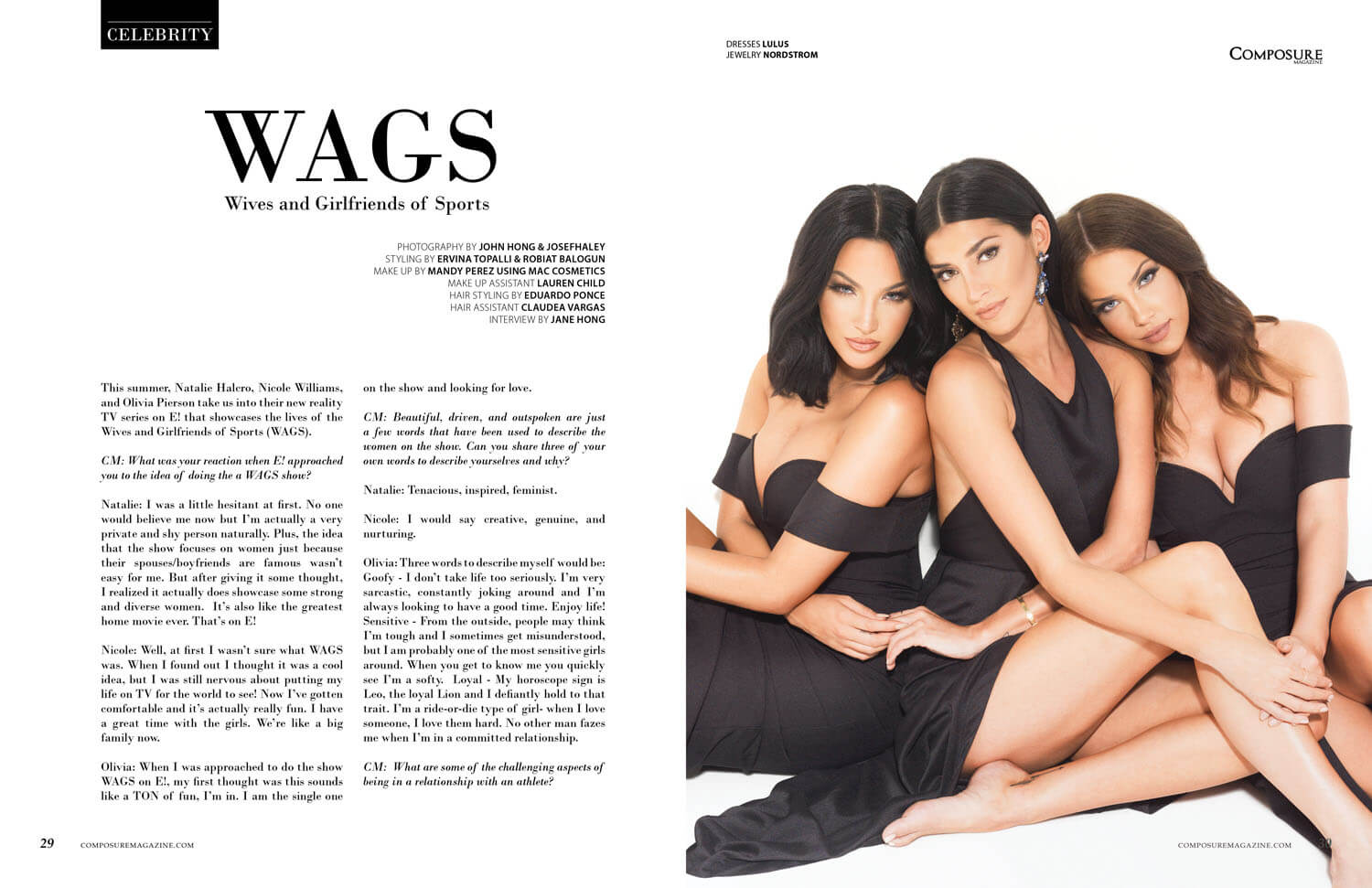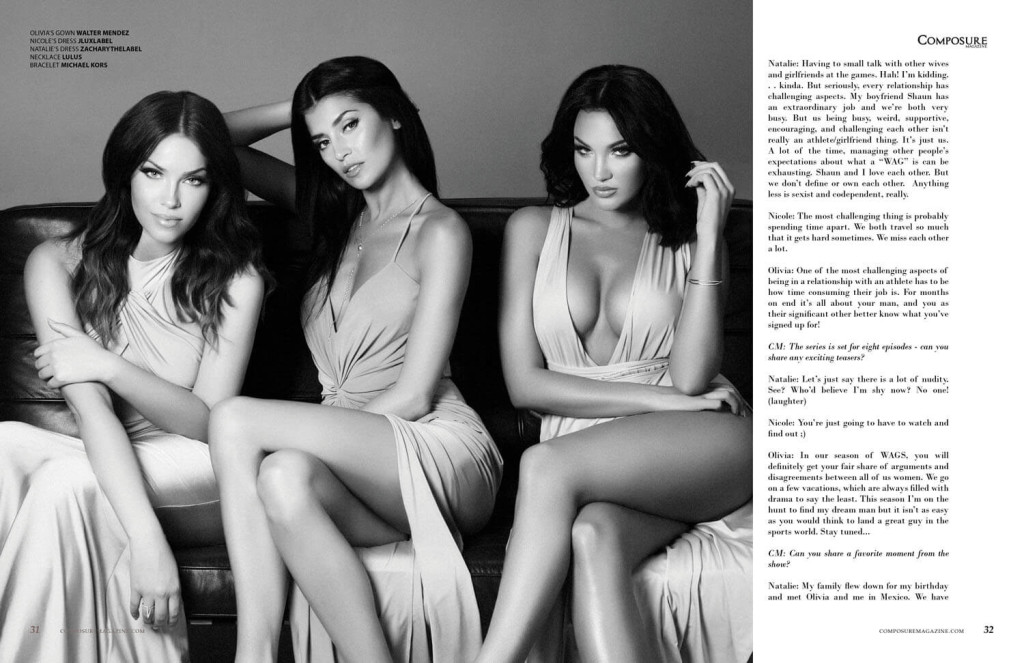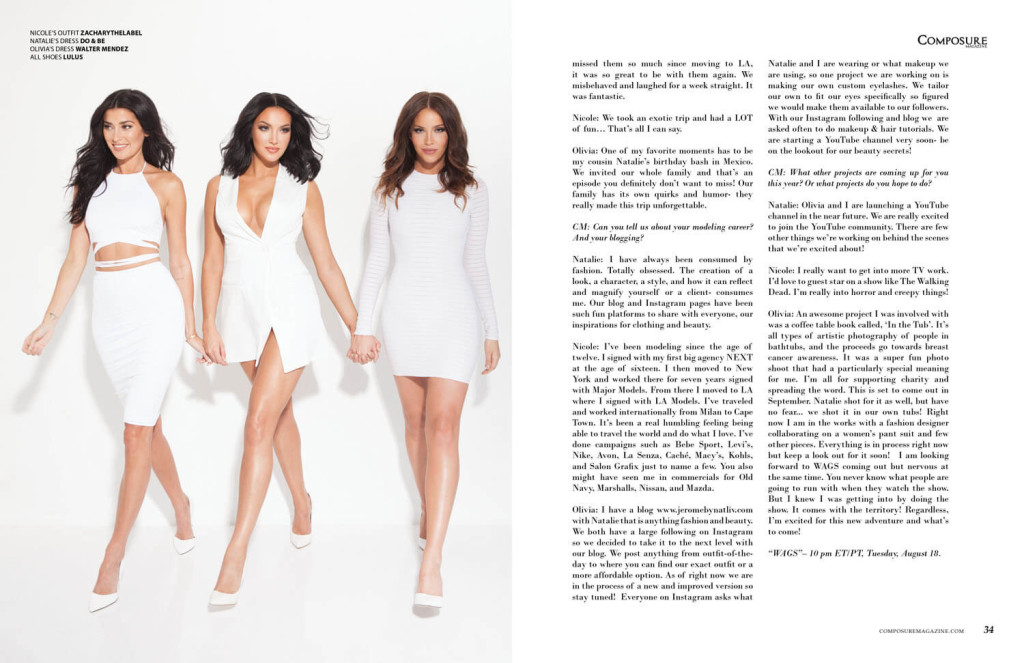 WAGS: Wives And Girlfriends of Sports
This summer, Natalie Halcro, Nicole Williams, and Olivia Pierson take us into their new reality TV series on E! that showcases the lives of the Wives and Girlfriends of Sports (WAGS).
CM: What was your reaction when E! approached you to the idea of doing the a WAGS show?
Natalie Halcro: I was a little hesitant at first. No one would believe me now but I'm actually a very private and shy person naturally. Plus, the idea that the show focuses on women just because their spouses/boyfriends are famous wasn't easy for me. But after giving it some thought, I realized it actually does showcase some strong and diverse women. It's also like the greatest home movie ever. That's on E!
Nicole Williams: Well, at first I wasn't sure what WAGS was. When I found out I thought it was a cool idea, but I was still nervous about putting my life on TV for the world to see! Now I've gotten comfortable and it's actually really fun. I have a great time with the girls. We're like a big family now.
Olivia Pierson: When I was approached to do the show WAGS on E!, my first thought was this sounds like a TON of fun, I'm in. I am the single one on the show and looking for love.
CM: Beautiful, driven, and outspoken are just a few words that have been used to describe the women on the show. Can you share three of your own words to describe yourselves and why?
Natalie Halcro: Tenacious, inspired, feminist.
Nicole Williams: I would say creative, genuine, and nurturing.
Olivia Pierson: Three words to describe myself would be: Goofy – I don't take life too seriously. I'm very sarcastic, constantly joking around and I'm always looking to have a good time. Enjoy life! Sensitive – From the outside, people may think I'm tough and I sometimes get misunderstood, but I am probably one of the most sensitive girls around. When you get to know me you quickly see I'm a softy. Loyal – My horoscope sign is Leo, the loyal Lion and I defiantly hold to that trait. I'm a ride-or-die type of girl- when I love someone, I love them hard. No other man fazes me when I'm in a committed relationship.
CM: What are some of the challenging aspects of being in a relationship with an athlete?
Natalie Halcro: Having to small talk with other wives and girlfriends at the games. Hah! I'm kidding. . . kinda. But seriously, every relationship has challenging aspects. My boyfriend Shaun has an extraordinary job and we're both very busy. But us being busy, weird, supportive, encouraging, and challenging each other isn't really an athlete/girlfriend thing. It's just us. A lot of the time, managing other people's expectations about what a "WAG" is can be exhausting. Shaun and I love each other. But we don't define or own each other. Anything less is sexist and codependent, really.
Nicole Williams: The most challenging thing is probably spending time apart. We both travel so much that it gets hard sometimes. We miss each other a lot.
Olivia Pierson: One of the most challenging aspects of being in a relationship with an athlete has to be how time consuming their job is. For months on end it's all about your man, and you as their significant other better know what you've signed up for!
CM: The series is set for eight episodes – can you share any exciting teasers?
Natalie Halcro: Let's just say there is a lot of nudity. See? Who'd believe I'm shy now? No one! (laughter)
Nicole Williams: You're just going to have to watch and find out 😉
Olivia Pierson: In our season of WAGS, you will definitely get your fair share of arguments and disagreements between all of us women. We go on a few vacations, which are always filled with drama to say the least. This season I'm on the hunt to find my dream man but it isn't as easy as you would think to land a great guy in the sports world. Stay tuned…
CM: Can you share a favorite moment from the show?
Natalie Halcro: My family flew down for my birthday and met Olivia and me in Mexico. We have missed them so much since moving to LA, it was so great to be with them again. We misbehaved and laughed for a week straight. It was fantastic.
Nicole Williams: We took an exotic trip and had a LOT of fun… That's all I can say.
Olivia Pierson: One of my favorite moments has to be my cousin Natalie's birthday bash in Mexico. We invited our whole family and that's an episode you definitely don't want to miss! Our family has its own quirks and humor- they really made this trip unforgettable.
CM: Can you tell us about your modeling career? And your blogging?
Natalie Halcro: I have always been consumed by fashion. Totally obsessed. The creation of a look, a character, a style, and how it can reflect and magnify yourself or a client- consumes me. Our blog and Instagram pages have been such fun platforms to share with everyone, our inspirations for clothing and beauty.
Nicole Williams: I've been modeling since the age of twelve. I signed with my first big agency NEXT at the age of sixteen. I then moved to New York and worked there for seven years signed with Major Models. From there I moved to LA where I signed with LA Models. I've traveled and worked internationally from Milan to Cape Town. It's been a real humbling feeling being able to travel the world and do what I love. I've done campaigns such as Bebe Sport, Levi's, Nike, Avon, La Senza, Caché, Macy's, Kohls, and Salon Grafix just to name a few. You also might have seen me in commercials for Old Navy, Marshalls, Nissan, and Mazda.
Olivia Pierson: I have a blog www.jeromebynatliv.com with Natalie that is anything fashion and beauty. We both have a large following on Instagram so we decided to take it to the next level with our blog. We post anything from outfit-of-the-day to where you can find our exact outfit or a more affordable option. As of right now we are in the process of a new and improved version so stay tuned! Everyone on Instagram asks what Natalie and I are wearing or what makeup we are using, so one project we are working on is making our own custom eyelashes. We tailor our own to fit our eyes specifically so figured we would make them available to our followers. With our Instagram following and blog we are asked often to do makeup & hair tutorials. We are starting a YouTube channel very soon- be on the lookout for our beauty secrets!
CM: What other projects are coming up for you this year? Or what projects do you hope to do?
Natalie Halcro: Olivia and I are launching a YouTube channel in the near future. We are really excited to join the YouTube community. There are few other things we're working on behind the scenes that we're excited about!
Nicole Williams: I really want to get into more TV work. I'd love to guest star on a show like The Walking Dead. I'm really into horror and creepy things!
Olivia Pierson: An awesome project I was involved with was a coffee table book called, 'In the Tub'. It's all types of artistic photography of people in bathtubs, and the proceeds go towards breast cancer awareness. It was a super fun photo shoot that had a particularly special meaning for me. I'm all for supporting charity and spreading the word. This is set to come out in September. Natalie shot for it as well, but have no fear… we shot it in our own tubs! Right now I am in the works with a fashion designer collaborating on a women's pant suit and few other pieces. Everything is in process right now but keep a look out for it soon! I am looking forward to WAGS coming out but nervous at the same time. You never know what people are going to run with when they watch the show. But I knew I was getting into by doing the show. It comes with the territory! Regardless, I'm excited for this new adventure and what's to come!
Watch "WAGS"– 10 pm ET/PT, Tuesday, August 18.
PHOTOGRAPHY BY JOHN HONG & JOSEFHALEY
STYLING BY ERVINA TOPALLI & ROBIAT BALOGUN
MAKE UP BY MANDY PEREZ USING MAC COSMETICS
MAKE UP ASSISTANT LAUREN CHILD
HAIR STYLING BY EDUARDO PONCE
HAIR ASSISTANT CLAUDEA VARGAS
INTERVIEW BY JANE HONG
Share your thoughts...