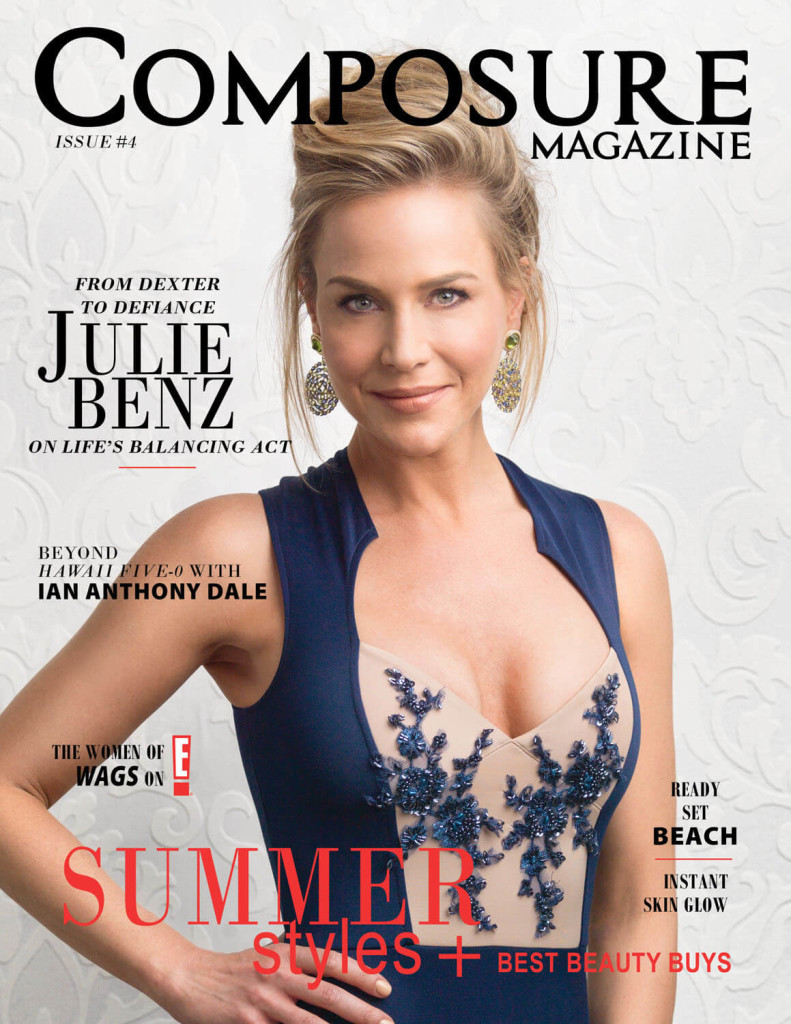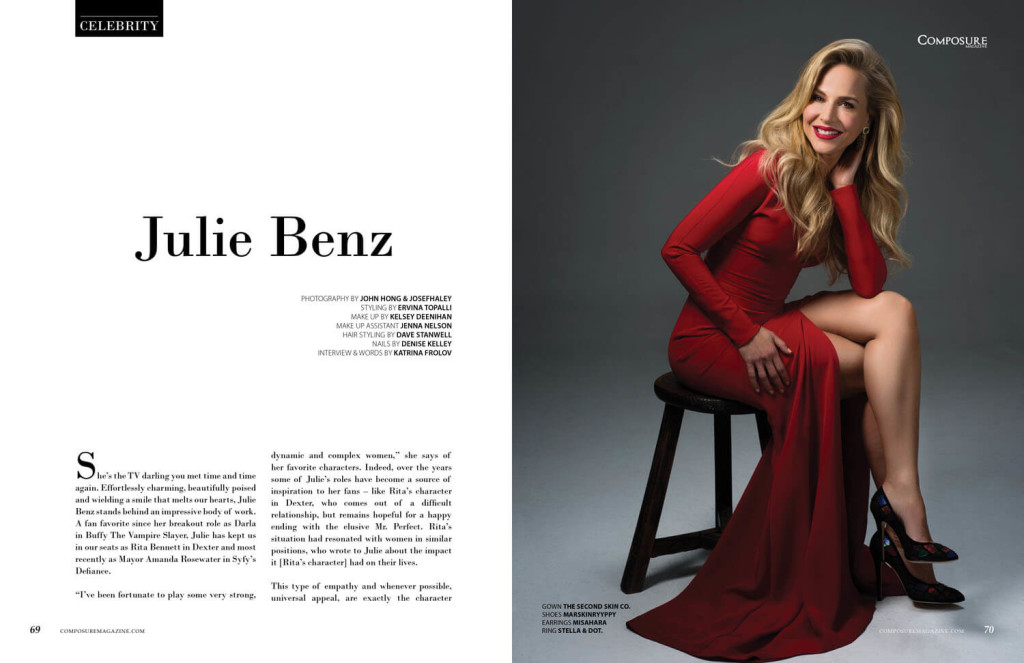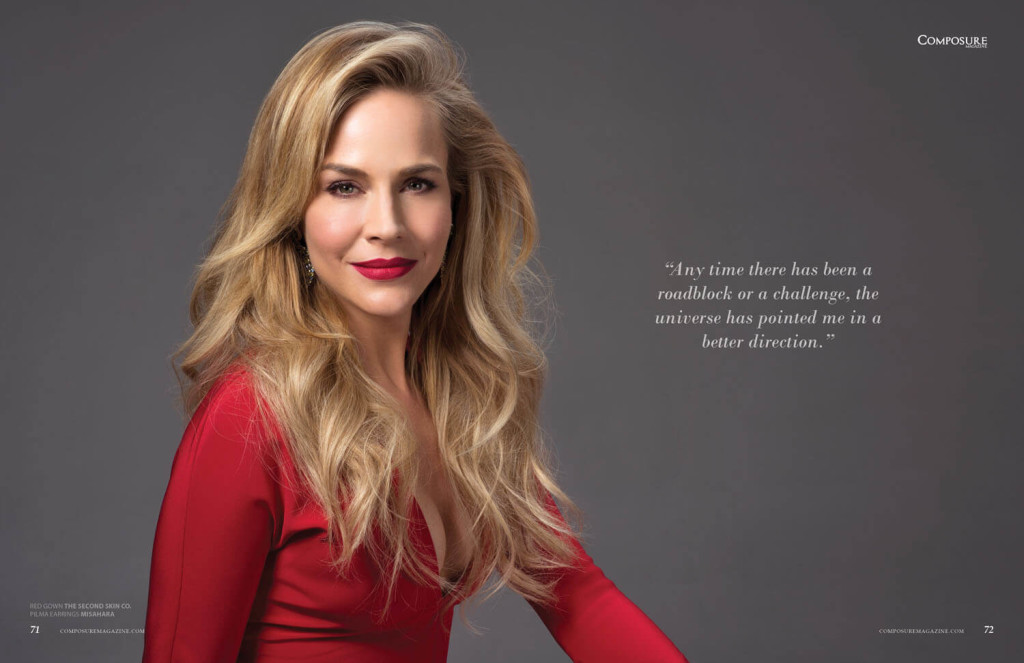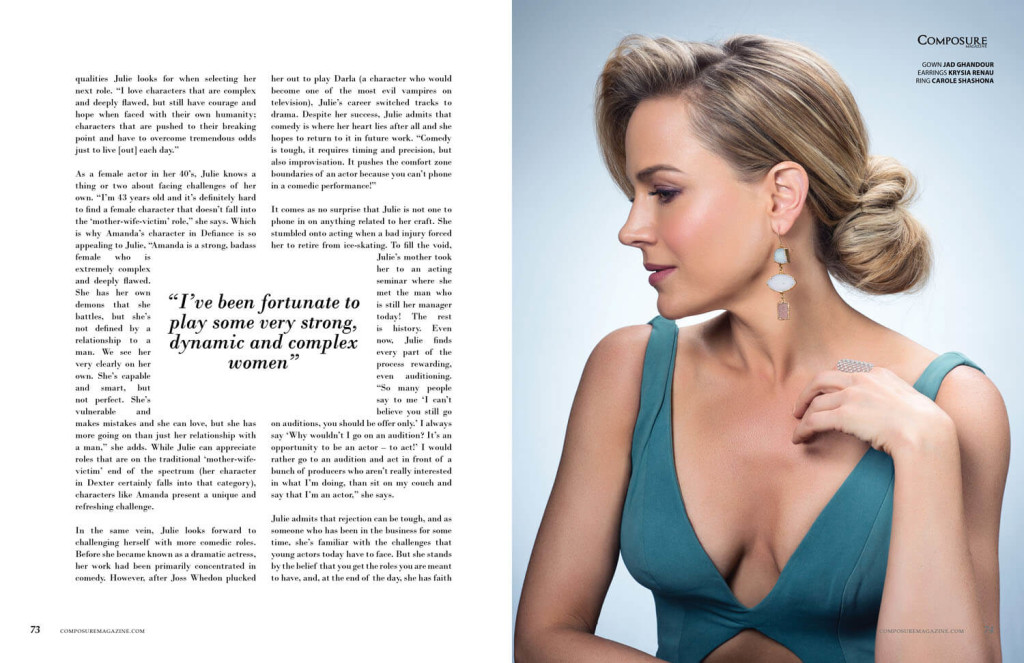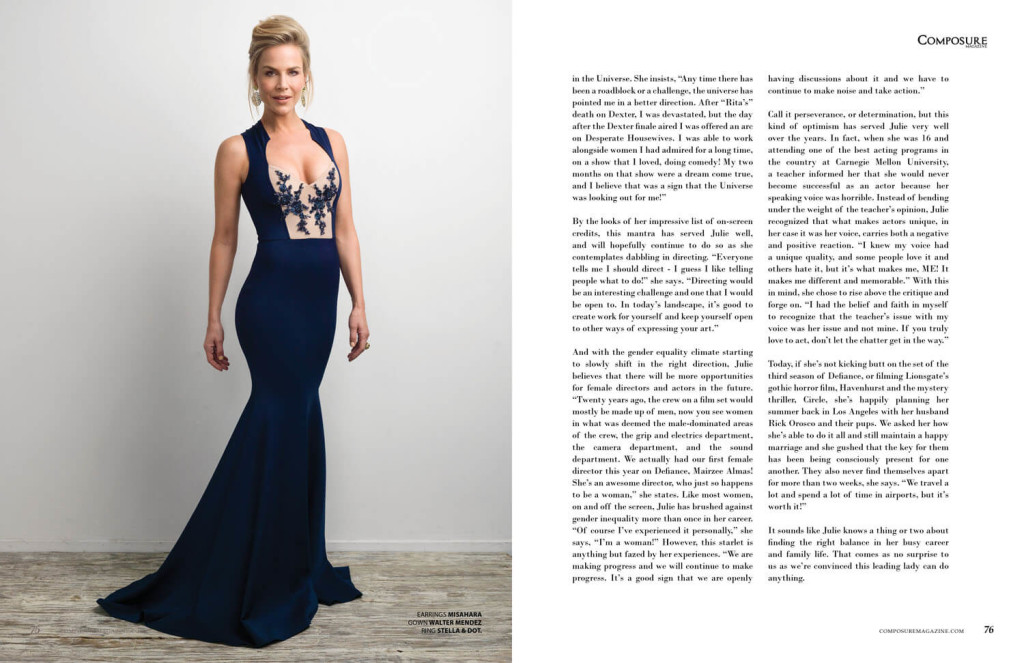 Cover Story: Julie Benz
She's the TV darling you met time and time again. Effortlessly charming, beautifully poised and wielding a smile that melts our hearts, Julie Benz stands behind an impressive body of work. A fan favorite since her breakout role as Darla in Buffy The Vampire Slayer, Julie has kept us in our seats as Rita Bennett in Dexter and most recently as Mayor Amanda Rosewater in Syfy's Defiance.
"I've been fortunate to play some very strong, dynamic and complex women," she says of her favorite characters. Indeed, over the years some of Julie's roles have become a source of inspiration to her fans – like Rita's character in Dexter, who comes out of a difficult relationship, but remains hopeful for a happy ending with the elusive Mr. Perfect. Rita's situation had resonated with women in similar positions, who wrote to Julie about the impact it [Rita's character] had on their lives.
This type of empathy and whenever possible, universal appeal, are exactly the character qualities Julie looks for when selecting her next role. "I love characters that are complex and deeply flawed, but still have courage and hope when faced with their own humanity; characters that are pushed to their breaking point and have to overcome tremendous odds just to live [out] each day."
As a female actor in her 40's, Julie knows a thing or two about facing challenges of her own. "I'm 43 years old and it's definitely hard to find a female character that doesn't fall into the 'mother-wife-victim' role," she says. Which is why Amanda's character in Defiance is so appealing to Julie, "Amanda is a strong, badass female who is extremely complex and deeply flawed. She has her own demons that she battles, but she's not defined by a relationship to a man. We see her very clearly on her own. She's capable and smart, but not perfect. She's vulnerable and makes mistakes and she can love, but she has more going on than just her relationship with a man," she adds. While Julie can appreciate roles that are on the traditional 'mother-wife-victim' end of the spectrum (her character in Dexter certainly falls into that category), characters like Amanda present a unique and refreshing challenge.
In the same vein, Julie looks forward to challenging herself with more comedic roles. Before she became known as a dramatic actress, her work had been primarily concentrated in comedy. However, after Joss Whedon plucked her out to play Darla (a character who would become one of the most evil vampires on television), Julie's career switched tracks to drama. Despite her success, Julie admits that comedy is where her heart lies after all and she hopes to return to it in future work. "Comedy is tough, it requires timing and precision, but also improvisation. It pushes the comfort zone boundaries of an actor because you can't phone in a comedic performance!"
It comes as no surprise that Julie is not one to phone in on anything related to her craft. She stumbled onto acting when a bad injury forced her to retire from ice-skating. To fill the void, Julie's mother took her to an acting seminar where she met the man who is still her manager today! The rest is history. Even now, Julie finds every part of the process rewarding, even auditioning. "So many people say to me 'I can't believe you still go on auditions, you should be offer only.' I always say 'Why wouldn't I go on an audition? It's an opportunity to be an actor – to act!' I would rather go to an audition and act in front of a bunch of producers who aren't really interested in what I'm doing, than sit on my couch and say that I'm an actor," she says.
Julie admits that rejection can be tough, and as someone who has been in the business for some time, she's familiar with the challenges that young actors today have to face. But she stands by the belief that you get the roles you are meant to have, and, at the end of the day, she has faith in the Universe. She insists, "Any time there has been a roadblock or a challenge, the universe has pointed me in a better direction. After "Rita's" death on Dexter, I was devastated, but the day after the Dexter finale aired I was offered an arc on Desperate Housewives. I was able to work alongside women I had admired for a long time, on a show that I loved, doing comedy! My two months on that show were a dream come true, and I believe that was a sign that the Universe was looking out for me!"
By the looks of her impressive list of on-screen credits, this mantra has served Julie well, and will hopefully continue to do so as she contemplates dabbling in directing. "Everyone tells me I should direct – I guess I like telling people what to do!" she says. "Directing would be an interesting challenge and one that I would be open to. In today's landscape, it's good to create work for yourself and keep yourself open to other ways of expressing your art."
And with the gender equality climate starting to slowly shift in the right direction, Julie believes that there will be more opportunities for female directors and actors in the future. "Twenty years ago, the crew on a film set would mostly be made up of men, now you see women in what was deemed the male-dominated areas of the crew, the grip and electrics department, the camera department, and the sound department. We actually had our first female director this year on Defiance, Mairzee Almas! She's an awesome director, who just so happens to be a woman," she states. Like most women, on and off the screen, Julie has brushed against gender inequality more than once in her career. "Of course I've experienced it personally," she says, "I'm a woman!" However, this starlet is anything but fazed by her experiences. "We are making progress and we will continue to make progress. It's a good sign that we are openly having discussions about it and we have to continue to make noise and take action."
Call it perseverance, or determination, but this kind of optimism has served Julie very well over the years. In fact, when she was 16 and attending one of the best acting programs in the country at Carnegie Mellon University, a teacher informed her that she would never become successful as an actor because her speaking voice was horrible. Instead of bending under the weight of the teacher's opinion, Julie recognized that what makes actors unique, in her case it was her voice, carries both a negative and positive reaction. "I knew my voice had a unique quality, and some people love it and others hate it, but it's what makes me, ME! It makes me different and memorable." With this in mind, she chose to rise above the critique and forge on. "I had the belief and faith in myself to recognize that the teacher's issue with my voice was her issue and not mine. If you truly love to act, don't let the chatter get in the way."
Today, if she's not kicking butt on the set of the third season of Defiance, or filming Lionsgate's gothic horror film, Havenhurst and the mystery thriller, Circle, she's happily planning her summer back in Los Angeles with her husband Rick Orosco and their pups. We asked her how she's able to do it all and still maintain a happy marriage and she gushed that the key for them has been being consciously present for one another. They also never find themselves apart for more than two weeks, she says. "We travel a lot and spend a lot of time in airports, but it's worth it!"
It sounds like Julie knows a thing or two about finding the right balance in her busy career and family life. That comes as no surprise to us as we're convinced this leading lady can do anything.
PHOTOGRAPHY BY JOHN HONG & JOSEFHALEY
STYLING BY ERVINA TOPALLI
MAKE UP BY KELSEY DEENIHAN
MAKE UP ASSISTANT JENNA NELSON
HAIR STYLING BY DAVE STANWELL
NAILS BY DENISE KELLEY
INTERVIEW & WORDS BY KATRINA FROLOV
Share your thoughts...