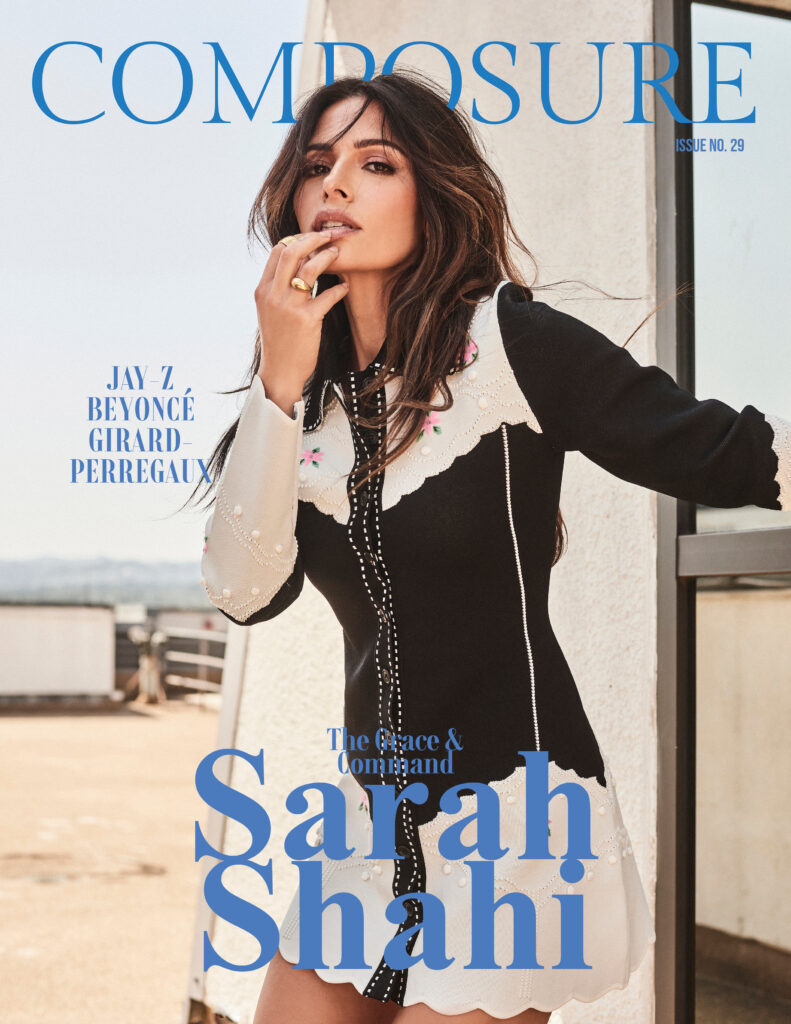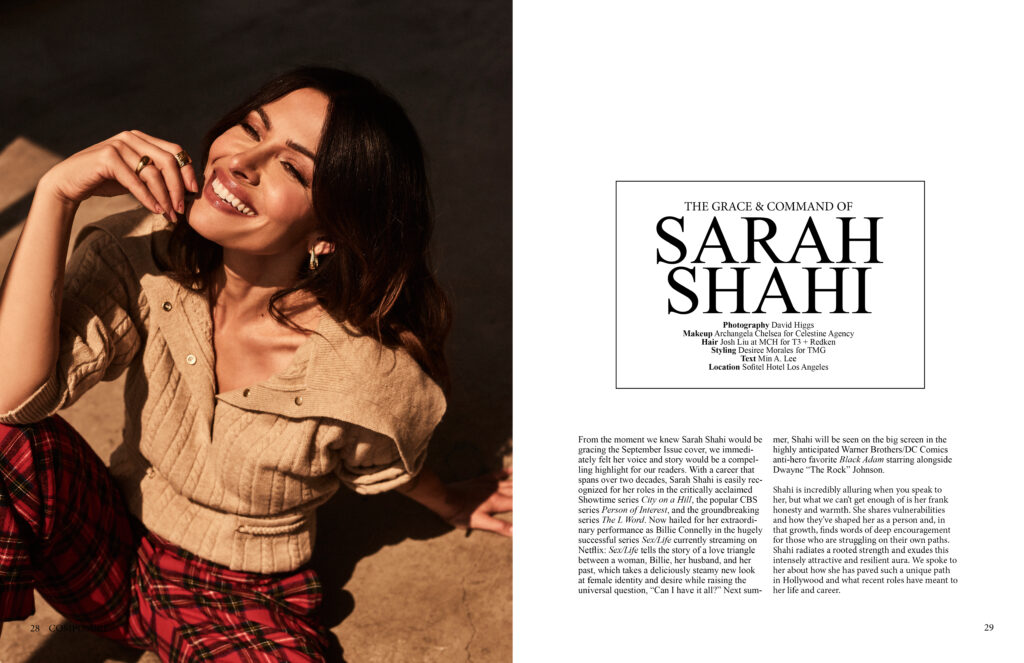 From the moment we knew Sarah Shahi would be gracing the September Issue cover, we immediately felt her voice and story would be a compelling highlight for our readers. With a career that spans over two decades, Sarah Shahi is easily recognized for her roles in the critically acclaimed Showtime series City on a Hill, the popular CBS series Person of Interest, and the groundbreaking series The L Word. Now hailed for her extraordinary performance as Billie Connelly in the hugely successful series Sex/Life currently streaming on Netflix: Sex/Life tells the story of a love triangle between a woman, Billie, her husband, and her past, which takes a deliciously steamy new look at female identity and desire while raising the universal question, "Can I have it all?" Next summer, Shahi will be seen on the big screen in the highly anticipated Warner Brothers/DC Comics anti-hero favorite Black Adam starring alongside Dwayne "The Rock" Johnson.
Shahi is incredibly alluring when you speak to her, but what we can't get enough of is her frank honesty and warmth. She shares vulnerabilities and how they've shaped her as a person and, in that growth, finds words of deep encouragement for those who are struggling on their own paths. Shahi radiates a rooted strength and exudes this intensely attractive and resilient aura. We spoke to her about how she has paved such a unique path in Hollywood and what recent roles have meant to her life and career.
Composure Magazine: Hollywood is trying to go big on diversity right now. As an American of Persian descent, can you share your thoughts on all of this?
Sarah Shahi: I never even realized I was anything other than a hot-blooded Texan until I came out to LA. My mother raised her kids believing that there was really no difference between us and the person next door. If we had a good work ethic and discipline, we could achieve anything. My mother is Persian, and she came over here with nothing, taught herself English, was completely self-made, and she truly believed in the American dream. So as a child, I believed in that too, that it didn't really matter what the color of my skin was or what my background was if I wanted to achieve something, and I worked hard enough that I could make it happen.
It wasn't until I came out to LA and started auditioning for roles and would get notes that would say I'm too ethnic to play the white girl, or I was too white to play the ethnic girl. I still don't quite understand what that means, but that was the first time I experienced the reality that you can work hard and still not get something based on the color of your skin. I still think Hollywood has a long way to go before it truly becomes colorblind.
Composure Magazine: You have spoken before about your upbringing, being bullied, and internal struggles. Can you tell us how you've reached such a point of fortitude?
Sarah Shahi: I still find myself being a student of life, and I feel like every day I'm at the beginning of my education in some way. I've always said I don't claim to know much, but I know more than I did the year before. That was taught to me through Maya Angelou, who is one of my biggest influences in my life.
I've fallen a bunch of times, but that means I've gotten back up a bunch of times too. I think over time, what I realized was that the universe was always working in my favor because even in situations where I fell flat on my face, I look at where I am now, and at 41, I'm just having the time of my life. Growing older is a privilege, and it's a privilege to take the wisdom you've learned with you. I wouldn't trade the spot I'm in now for any part in my twenties or my thirties where I felt lost, and I felt like I was trying things out, and I just didn't quite know who I was. The reason I can speak from such a place of strength and fortitude is because life has proven to me over and over and over again that even if I fall on my face, I will get back up and that I still have the opportunity for grace and forgiveness of myself.
Composure Magazine: This also brings us into your extremely successful role as Billie Connelly in Sex/Life. We loved how you brought her to life. Did you learn anything from her in the process?
Sarah Shahi: I feel as women; we're often told that once we reach a certain age or settle down and have kids, that you can't have it all. Billie is a character who really defies all those expectations put on women by society. She fights against them. I learned from her. In my own life, I had settled into some patterns that weren't necessarily working for me, and I accepted it because it was just easy to. Playing Billie pushed me to get the guts I needed to create the life that I wanted. That's the thing I think some people forget, that your life isn't going to just appear in front of you, you have to go out and get it. You've got to chase the life that you want. There are going to be people who have an opinion about your life, and there will be people who disagree with some of the choices you make, but I think as long as you are confident in who you are and know what you want, you shouldn't listen to those other voices."
Composure Magazine: Given how the past year and a half changed the world, how have you grown during this time?
Sarah Shahi: It was an interesting year for me for a lot of reasons. The forced solitude really helped me be honest with all the things that were working for me and all the things that weren't. I couldn't hide anymore. I couldn't pretend. My bullshit meter was gone. I took that time to take the steps I needed to set my life on the path that I had always wanted. I'm very grateful for the intense amount of family time. I took my kids, and I went down to my mom's house in Texas, and I stayed with her. It was epic to be under the same roof as my mother and my children, and my sister. It was really beautiful, and if the world had not shut down, I don't know if I would have had that opportunity.
Shahi shared so much of her truth throughout our interview, and her honest words will no doubt strike a chord with those who read her story. Her strength in character will always drive a steadfast loyalty from fans, and her career will absolutely continue to flourish for decades to come because of her unwavering resilience. It was truly a pleasure to learn more about her, and we cannot wait to see her shine in Black Adam next summer and hopefully find out what happens next with Billie Connelly.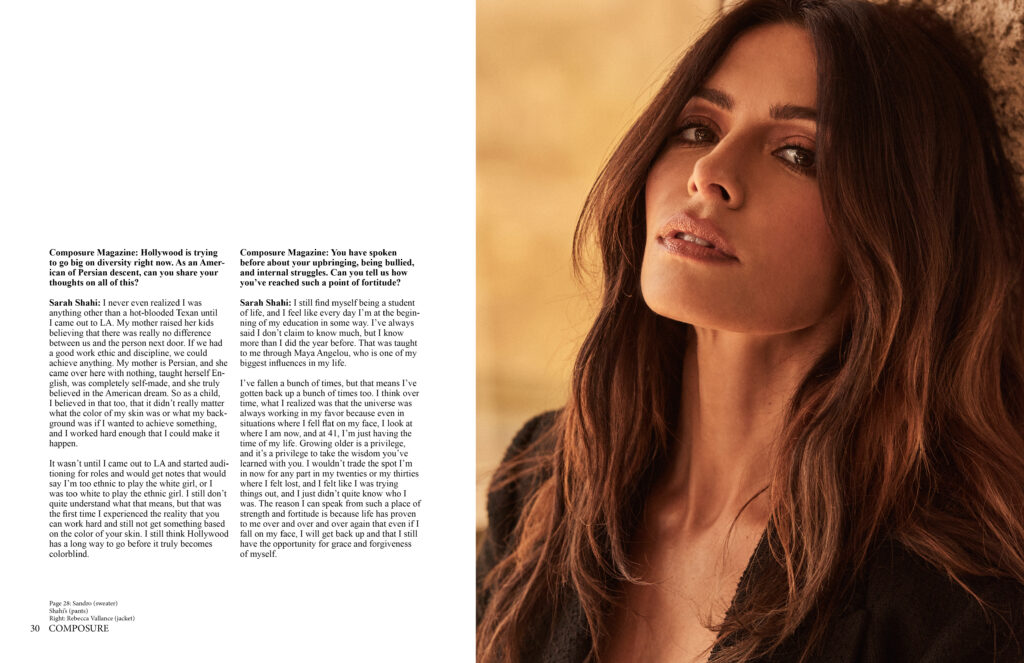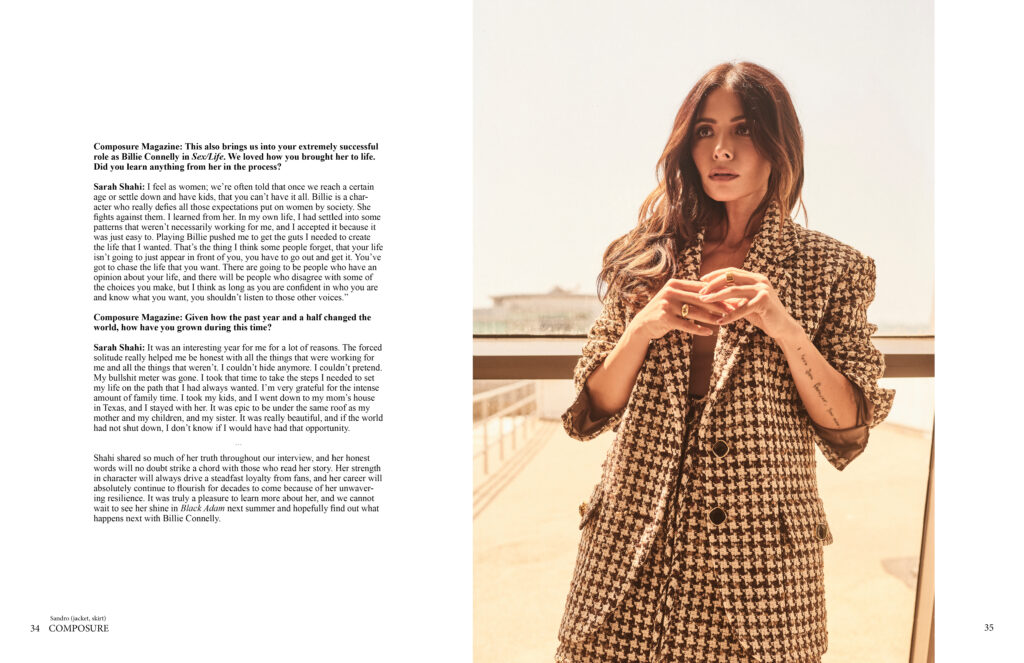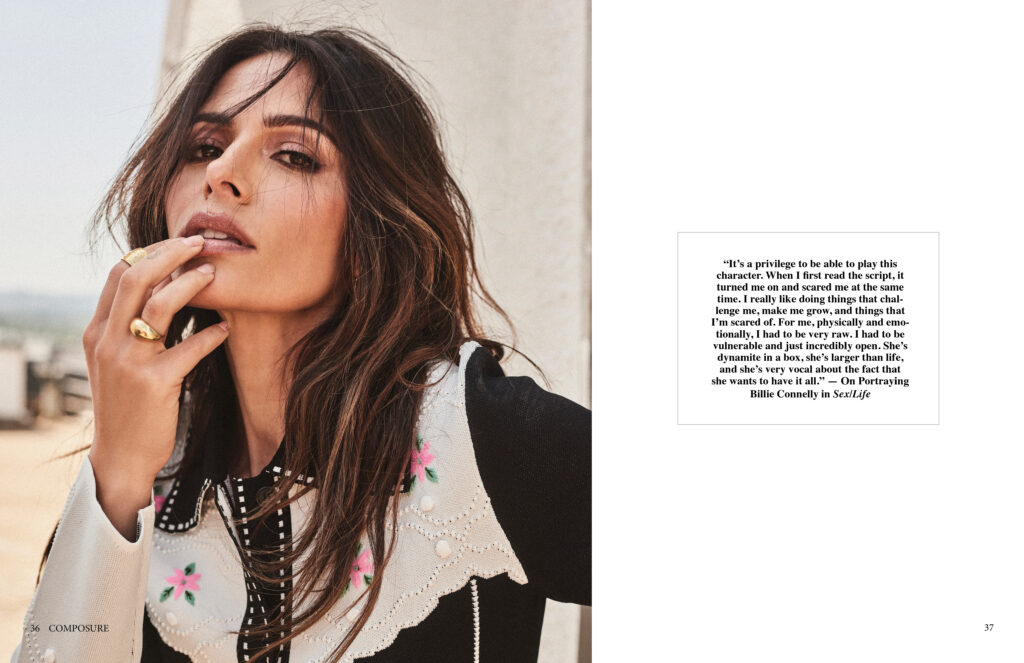 Share your thoughts...