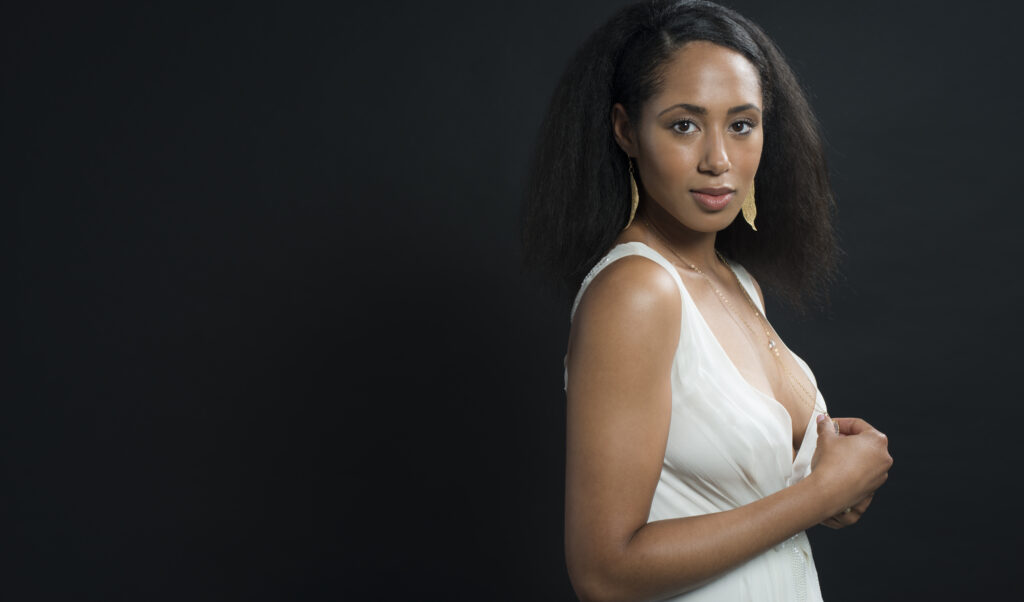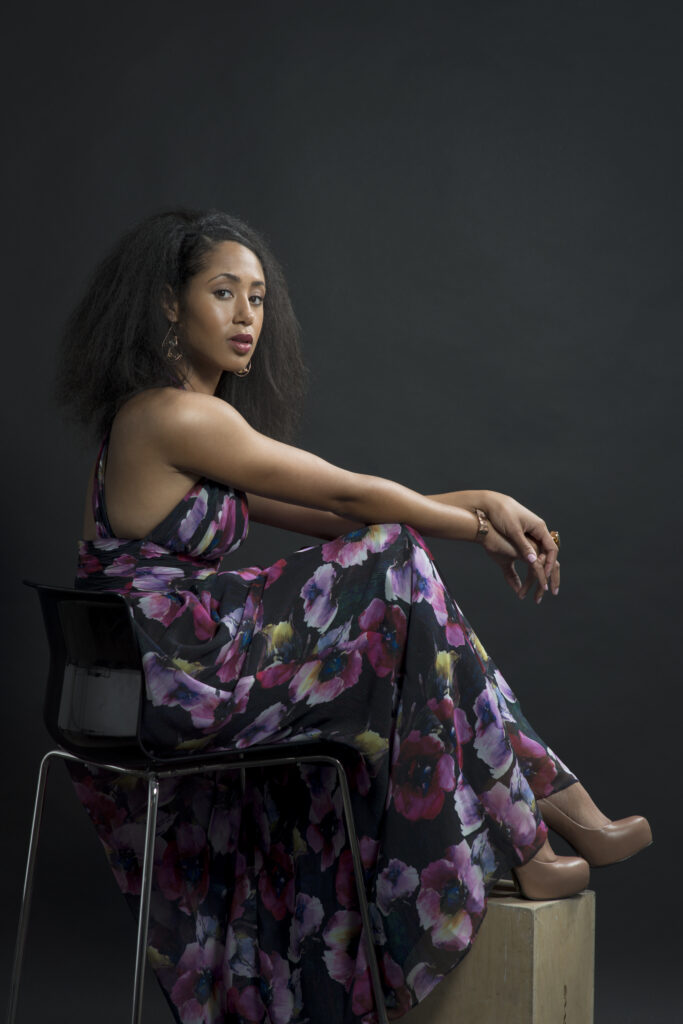 The actress and singer's love for performing has taken her on a journey of the unexpected.
One might call it luck or good timing, but more likely it's actress and singer Margot Bingham's love of performing and her will to work hard for what she wants that led her to HBO's award-winning show, "Boardwalk Empire," where she gained critical acclaim for her star turn as the long-suffering crooner Daughter Maitland. Now you can watch Margot on ABC's newest drama "The Family," the result of another serendipitous audition and further proof that the actress is as captivating onscreen as she is onstage. We talk to Margot about making that first move to New York City, the skill she learned on the set of her latest film, "Barbershop: The Next Cut," and why she'll never give up performing live.
Composure Magazine: Let's first talk about your start on the theatrical stage. What led you to move to New York City and eventually your role in "Rent"?
Margot Bingham: At the time, I had decided to leave school. I was touring a lot with my music, and I wanted to give my career a real chance. So my parents gave me a year — one year to make a name for myself in New York City. For the first five to six months, I hardly made any growth, but by the seventh [month], I started looking into ads. In the newspaper, Playbill Online, I was always looking. That's when I found an ad for "Rent." I went in for their open call; I was number 719 [and] waited outside at the crack of dawn to try my luck. Good thing I went that day!
CM: Does singing come naturally to you? Did you receive vocal training?
MB: I've been studying voice since I was 3 years old. I started in group voice classes as a child and then moved into private [lessons] around 12 or 13. It's definitely something that feels natural to me because it's such a part of me, but it's a muscle just like anything else. You have to exercise it.
CM: What are some of your fondest moments performing at venues like New York City's Rockwood Music Hall? Do you continue to perform?
MB: There's nothing like performing live. You get to take your audience on a journey with you, much like acting, but with performing on stage you get to watch it happen. It's a feeling like no other. I try to get out and perform as much as my schedule permits, but it's definitely something I crave.
CM: It seems that you made a quick transition from the stage to the small screen for your role in the HBO series "Boardwalk Empire." Was it a seamless transition or did it have its challenges?
MB: Ha ha, it didn't seem so quick to me! Unemployment is NO joke! I was unemployed for about eight months before I heard about any other job. When I got the audition for "Boardwalk Empire," I was more than excited to go in for something! I just had no idea it would turn out to be what it was; no one did. But just to be a day player or a featured extra, I was game.
CM: In a few short years, you landed one of the female lead roles in ABC's newest drama "The Family," which premiered in March. Tell us about your role as Sergeant Nina Meyer.
MB: I first found out about Nina during pilot season of 2015. I went in for lord knows how many auditions, read more than 40 scripts, and this one just stood out. Originally, my agents had said they would be looking for a "name" to fill the role of Nina. But they decided to see me nonetheless, and I'm beyond grateful they did. Obviously, I wasn't a name, so my chances weren't that high. But she was so layered and complex, even in the pilot I could see her whole world and how lost she was. And I loved it.
CM: "The Family" is about what happens when a politician's young son, Adam, who was missing for a decade, suddenly shows up. What does Adam's reappearance mean for Nina Meyer, who had thought she had solved the case 10 years earlier? Do we see her more as someone trying to cover up mistakes or determined to find out the truth?
MB: I see [Nina] trying to find out the truth for her own peace of mind. This case gave her life, her name, her badge. With Adam showing up, it questions all of that. This case also has the power to take all of that away. She struggles, as it is, to be proud of the woman she's become. Adam showing up is almost like hitting ground zero.
CM: What has it been like to act alongside Joan Allen and the other cast members?
MB: Joan is unbelievable. A total class act and one of the kindest women you'll ever meet. I always say, as an actor, you either get lucky with the script, the producers and crew, or the cast; never all of them. It's an incredible thing we have going. We truly are a family.
CM: As a bit of a departure from "The Family," you also have a role in the comedy film "Barbershop: The Next Cut," which stars Ice Cube and was released April 15. Tell us a bit about your character Bree.
MB: Well, you can expect an opinion! She doesn't hold many back! Bree has her reasons why she's the strong feminist that she is. She specializes in the natural hair section of the shop. We were all in beauty school for two weeks before starting to film, so individually, all of the barbers really learned how to work on their specialty and perfect it, not just for the camera but for real life. I walked out of that project asking my whole family if they wanted haircuts!
CM: With cast mates like Ice Cube and Nicki Minaj, there must have been a lot of interesting and hilarious moments on set. Can you share some of your favorites?
MB: Well, I was terrified of Cube. I'll put it on record, ha ha! But it seems so silly now. I think [when] you look at him, and he's such a well-respected businessman and has such a strong demeanor, it's easy to be intimidated. But then he says hello to you with the warmest smile and all of that goes away! There were definitely hilarious moments on set, too many to count. But I will say this: I've never done a project where at the end of the day, my face hurt from smiling and laughing so much.
CM: How do you spend your time off set and off the stage?
MB: I like to hang out with friends. I'm very lucky to have the circle of people that surround me, and I've been beyond fortunate to have worked with the actors that I have, all of them lovely. I'm beyond blessed to get to play dress-up for a living. But as an actor, your job is to become someone else every day you go into work. So on the days I don't work, I like to be myself and exercise that freedom.
CM: What's ahead for Margot Bingham?
MB: As of now, there's nothing specific to share. Of course, one could only hope for a second season of "The Family." But as to what's next, I just hope I can continue to work and do work that I'm proud of. That is ideal.
"The Family" airs Sundays 9/8c on ABC.
PHOTOGRAPHY BY JOSEFHALEY
STYLING BY DOMINIQUE AIMEE
MAKE UP BY JUSTIN TYME FOR SOLOARTISTS USING LORAC COSMETICS
HAIR BY KELSEY GUSTOVICH FOR SOLOARTISTS USING ORIBE HAIRCARE
NAILS BY NANCY ANGSUVARN
STORY BY JANE HONG
Share your thoughts...