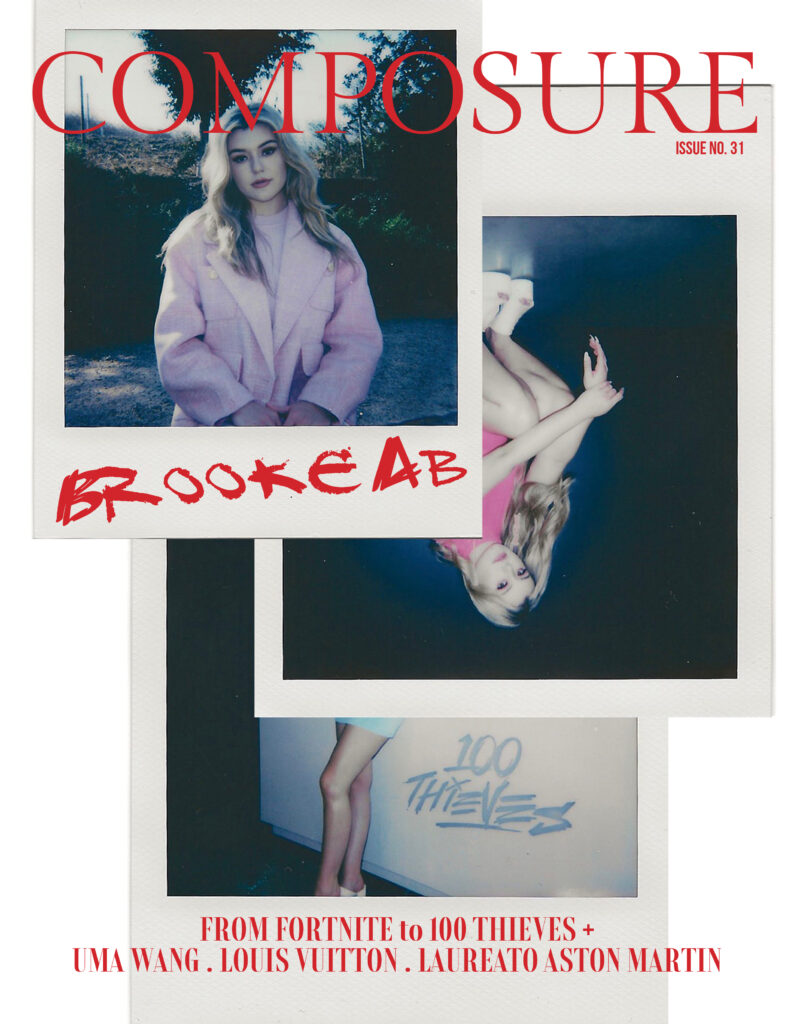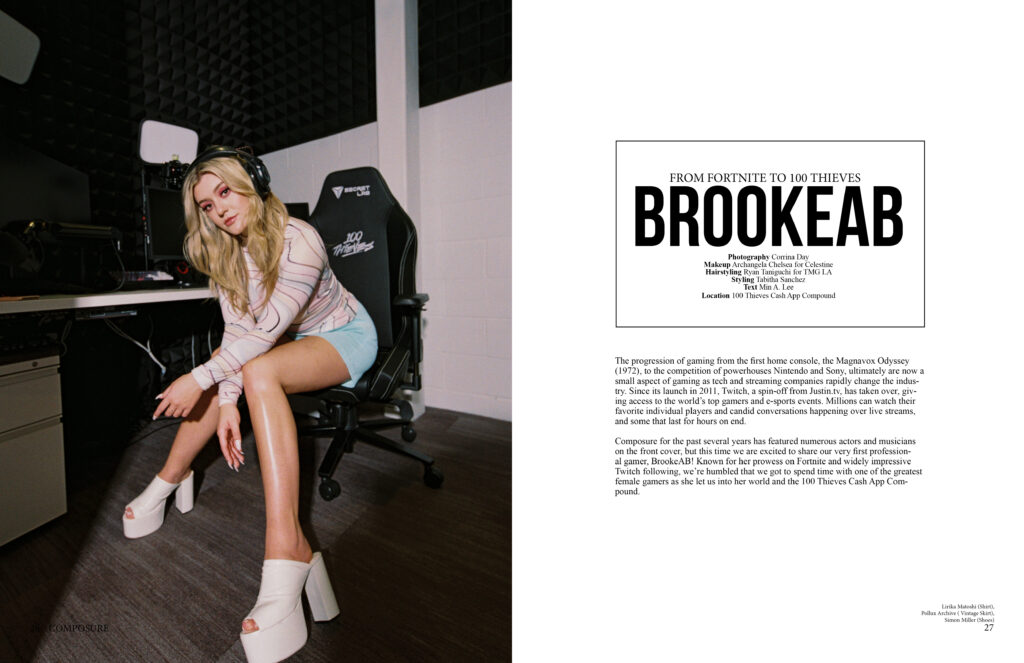 The progression of gaming from the first home console, the Magnavox Odyssey (1972), to the competition of powerhouses Nintendo and Sony, ultimately are now a small aspect of gaming as tech and streaming companies rapidly change the industry. Since its launch in 2011, Twitch, a spin-off from Justin.tv, has taken over, giving access to the world's top gamers and e-sports events. Millions can watch their favorite individual players and candid conversations happening over live streams, and some that last for hours on end.
Composure for the past several years has featured numerous actors and musicians on the front cover, but this time we are excited to share our very first professional gamer, BrookeAB! Known for her prowess on Fortnite and widely impressive Twitch following, we're humbled that we got to spend time with one of the greatest female gamers as she let us into her world and the 100 Thieves Cash App Compound.
We will be the first to admit, our knowledge of the gaming world isn't very extensive. We spent time reading and watching as much as we could before the cover shoot. In a heavily dominated male arena seeing female gamers like BrookeAB pushing up the ranks takes a massive level of determination. Games aren't for leisure or hobby, but long grinds of daily practice to refine skills. Playing professionally may seem glamorous to those looking in from the outside, but this career is unbelievably demanding and mentally taxing for young gamers. It's a mix of passion and endurance.
We talked with BrookeAB about her beginnings. "I've been gaming my entire life," she tells us. "I remember playing or mostly watching my older sister play for hours, whether the games were on the computer, Gamecube, or Playstation 2." The interest that began with family developed into her joining more competitive games with friends as she grew up and "really strengthening [her] love for gaming." She continued to explain how the social aspects of gaming helped her begin to overcome severe anxiety that she suffered from most of her life, and being online gave her a place that "felt comfortable and less anxious." Ultimately, BrookeAB traces everything back to her sister. "It's funny – a question I always get asked by people is, 'how is it entertaining to watch somebody else play the game? Why wouldn't you just play it yourself?' and I never know how to answer. I always wanted to watch my older sister play growing up, and I think that is what really started my passion for video games."
When it comes to Twitch, the statistics say it all. As of this current second, there are over 2.64 million live viewers and 80,349 live channels streaming. As the numbers continue to explode, the popularity of top gamers like BrookeAB also intensifies. We wondered what influenced her to jump onto the platform. "At that time, I barely even understood what streaming was, and I wasn't even aware what Twitch was," she says. "I spent about two months before my first stream researching all the setup equipment I would need and watching streamers to learn how everything worked. I spent a lot of my time watching Valkyrae and Courage, who, funnily enough, ended up being my teammates at 100 Thieves. They were always a huge inspiration to me, so I'm honored that I now get to call them close friends."
As we talk more about the progression of BrookeAB's career, from those first streams in 2018 to a year after signing with 100 Thieves, a gaming organization founded by Matthew "Nadeshot" Haag alongside Dan Gilbert, owner of the Cleveland Cavaliers, to relocating to live in the Los Angeles content house, no one knew the excitement would soon be affected by the pandemic only a month after. "Covid hit, and we were under lockdown," she explains. "Thankfully, my wonderful boyfriend and my roommate's two amazing girlfriends were quarantined with us, and we created a great house here between the six of us, and amazingly enough, everybody still gets along!" We watched the YouTube video when she first joined 100 Thieves and the hilarious prank war that ensued—highly suggest you watch it; we haven't laughed that much in a long time! All joking aside, BrookeAB talked to us about how important it's been for them all to have a common ground and understanding of their careers as it "makes all the difference," while referring to them as "one big family, and I'm so thankful that I have them on this journey with me."
Like all platforms that engage a high number of individuals, there's not much that can stop the cruel nature of those who harass and bully others. We see it every day on Instagram, Twitter, etc., and Twitch is not infallible. BrookeAB opened up to us about her experience battling a stalker for two years who'd come after her daily to the point she could no longer play for a while. "Honestly, it's been a struggle for me," she shares. "I am in a much better place now than I was at this time last year, but I would be lying to myself if I said that it still didn't affect me every day. Last year it got so bad that the authorities had to get involved. I had to remove myself from the internet, and ultimately from what I love doing, for what I felt was the safety of myself and my family." The crippling fear faced by so many, and especially women, can cause them to leave indefinitely. We all want to live and work without having to dread being harassed and mentally knocked down repeatedly. BrookeAB shares that it's not just her, but several women in the gaming community who encounter this, and while she loves that more are entering the industry as players and as fans, all she hopes for is making "it a safe place for everyone to enjoy."
Knowing the severity of the situation she went through, we asked BrookeAB what changes she felt platforms like Twitch, Instagram, Youtube, and so on need to develop to help protect users. "I'm not sure if there is an easy answer to this," she begins. "What I would like to see is an effort to at least try. I've asked multiple times for help from platforms and received the bare minimum in return regarding my safety. The common solution that I'm provided is to just 'block them.'" This blanket statement from such large companies amounts to nothing for anyone, considering how blocking can't prevent people from creating fake profiles to continue their threatening behaviors. "To put it in perspective, I get spammed on Instagram, Tiktok, Twitch, Twitter—every platform from multiple accounts every day," BrookeAB explains. "I block on average 20 accounts a day on just Instagram alone, multiply that by 30 days in a month, and it's 600. Multiply that by the two years that I've been experiencing this during so far, and it comes out to over 14,000 accounts on Instagram alone. Now, if you take that number and multiply it by the four other platforms this is happening on, it's truly awful. Constant harassment every single day for 16+ hours—it's incredibly frightening, and ultimately frustrating, to receive death threats so serious that the FBI has to be involved, to then be told that the answer is just to 'block them.'"
She speaks on VPNs (Virtual Private Networks) and how it's likely not possible to track all the individuals committing these appalling acts, but responsibility and accountability need to start somewhere. Blocking is not a secure solution, and for professional gamers and celebrities on social media sites, the time spent trying to do this doesn't stop their increasing following. With the best of fans comes some of the worst. Learning to overcome and find resilience is something BrookeAB's climbing towards. Her story hits hard, and we are so happy she could come back and continue gaming. At only 23 years old, the incredible amount of strength it must have taken to return is awe-inspiring.
Ending on a more upbeat note, news of the International Olympic Committee showing their support of esports and gaming with organizing an Olympic Virtual Series before the Tokyo games are evidence of how far the industry has come. The brewing excitement and possibility of gaming being part of the Olympics don't seem so farfetched now. "I think that esports and gaming have become so mainstream that people should be taking the time to see how many people, like myself, put in endless hours of training and dedication," BrookeAB expresses. "It involves a lot of training like physical sports to get to the professional level. I know that people will have plenty of arguments as to why it shouldn't be a part of the Olympics, but I think that it would be cool to incorporate a virtual series that showcases a group of dedicated gamers who have been crafting their expertise for many years."
Before we go, we ask BrookeAB where she hopes her career will take her over time. Her multifaceted interests in beauty, fashion, art, and wellness are aspects she hopes to explore more while finding a way to connect them all for her viewers. While gaming is what so many follow her for, she explains to us, "ultimately, my one true goal has been to inspire and help other women like me. I want to continue speaking out about mental health, safety for women, and all the other issues that I'm very passionate about that are important to the gaming world and beyond."
It has been incredible getting to know BrookeAB more and photographing her inside the 100 Thieves Cash App Compound. Hearing about the hardships she faced, we hope companies will read this and find solutions for everyone on these apps to make BrookeAB's dreams of a safe space for all a reality. Wise beyond her years, gamers and fans are very fortunate to have someone like her on their side fighting for bettering the industry every single day.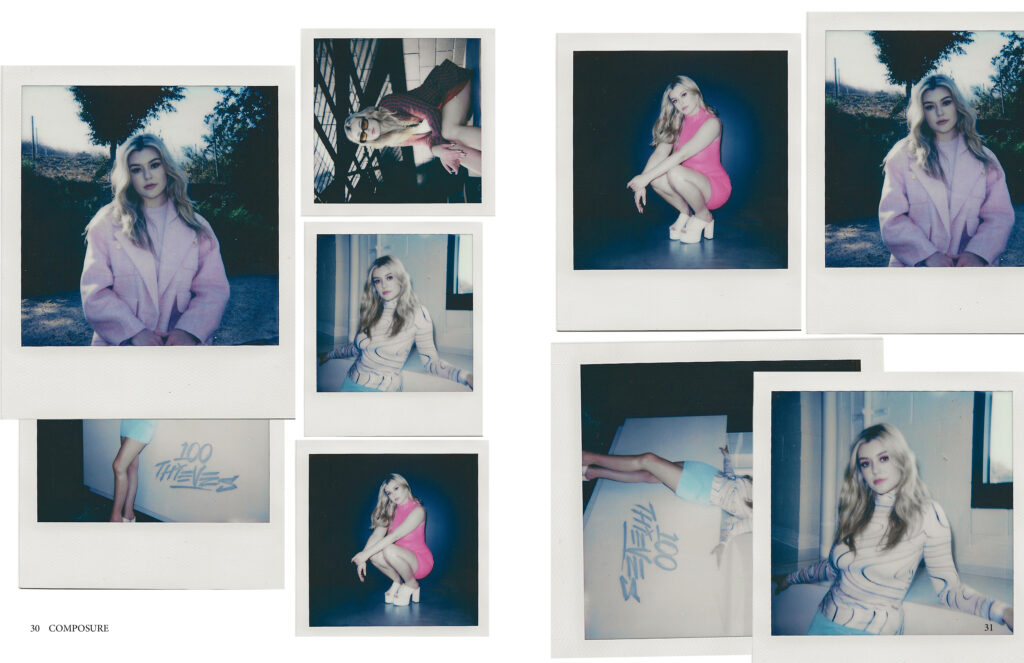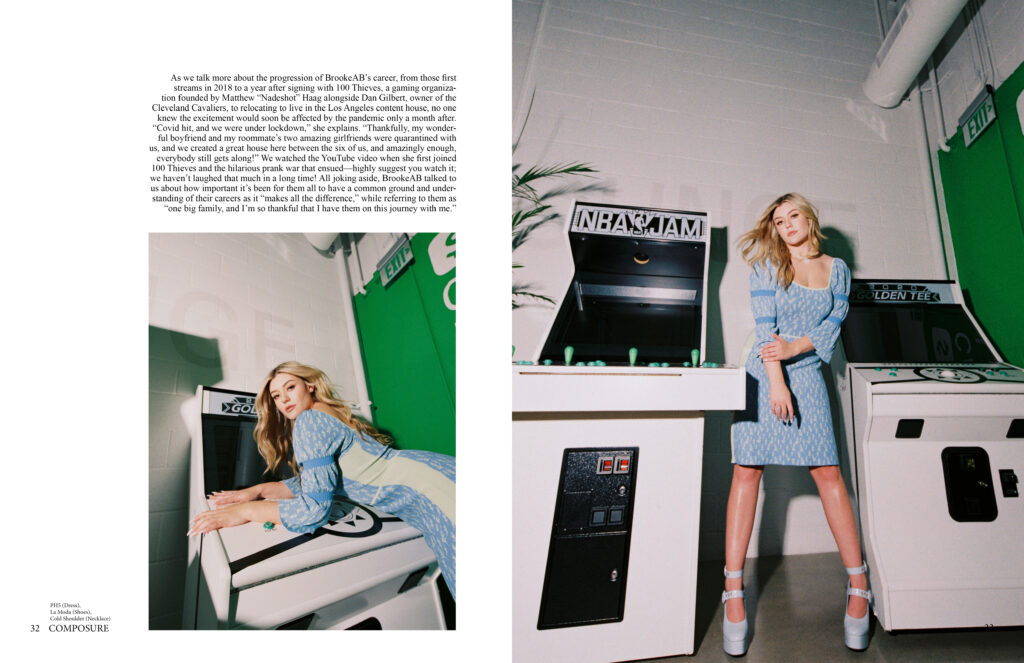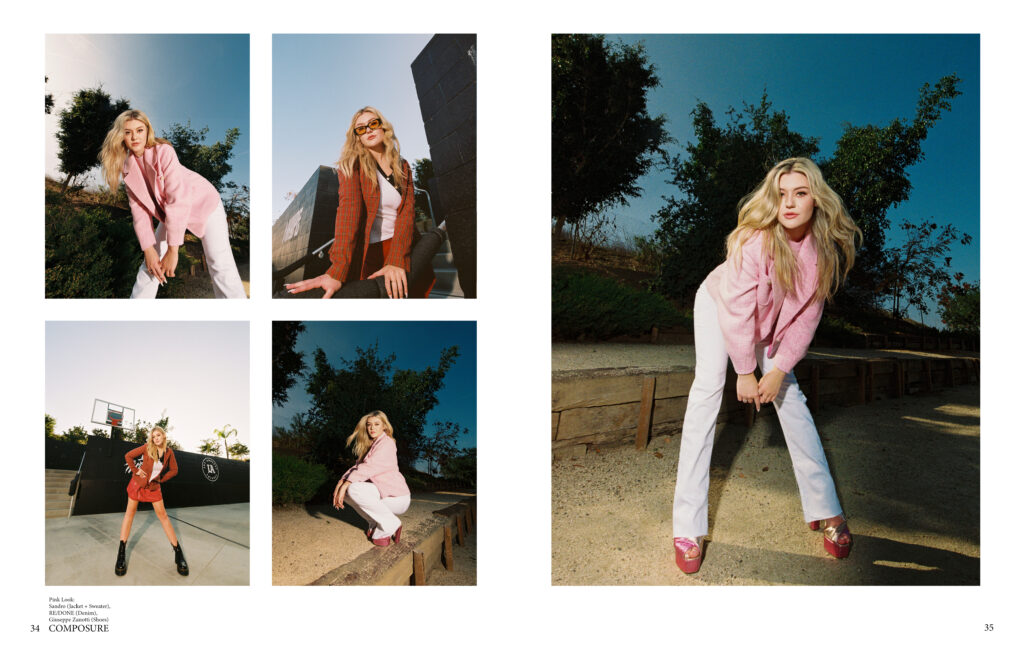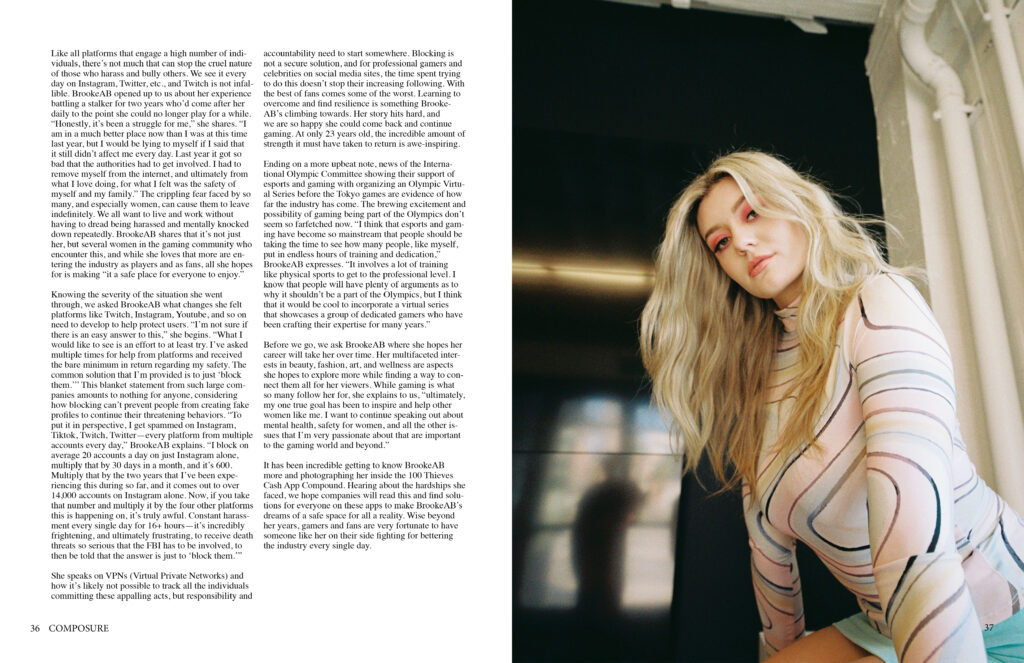 Share your thoughts...