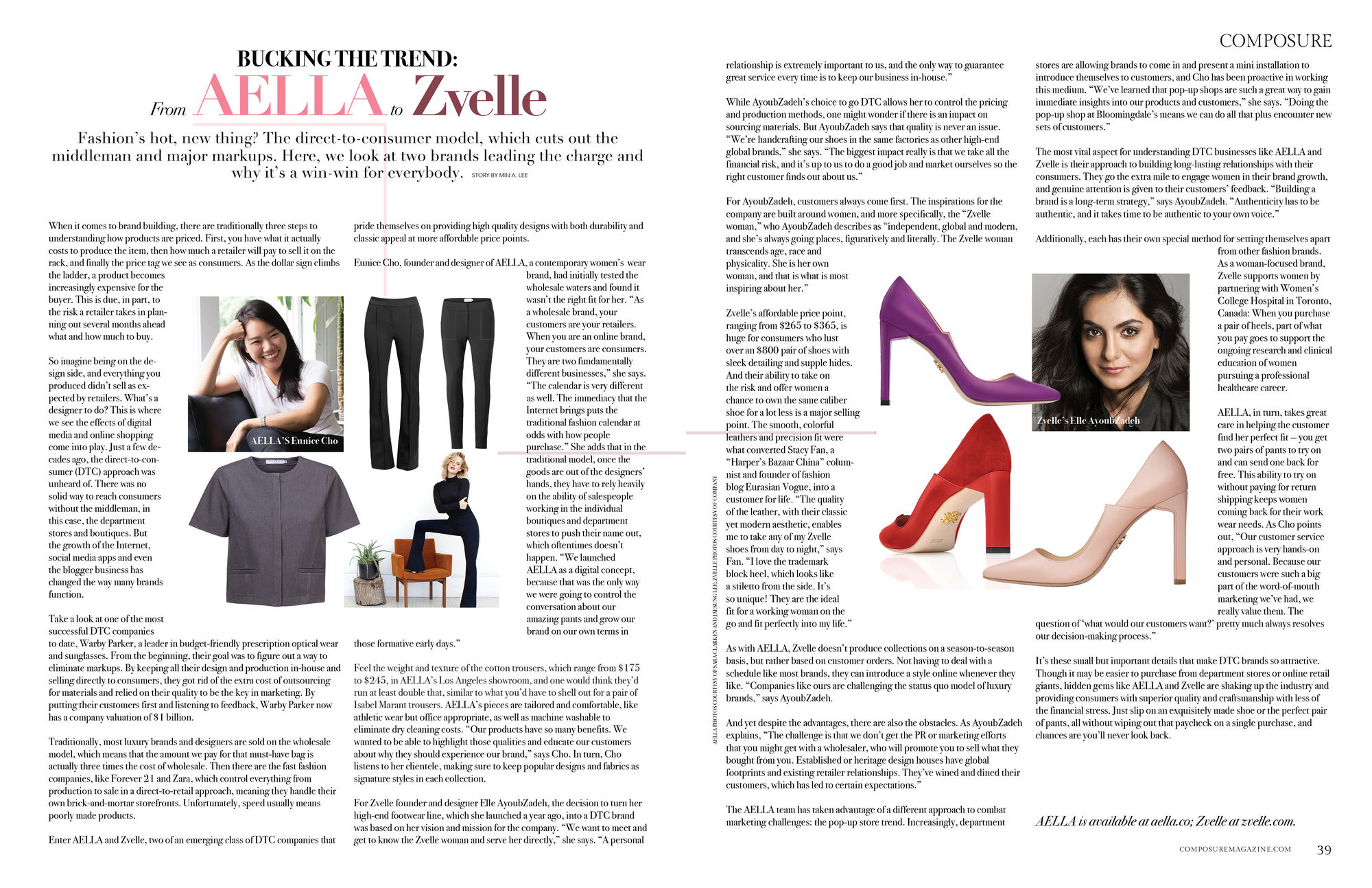 Fashion's hot, new thing? The direct-to-consumer model, which cuts out the middleman and major markups. Here, we look at two brands leading the charge and why it's a win-win for everybody.
Story by Min A. Lee
When it comes to brand building, there are traditionally three steps to understanding how products are priced. First, you have what it actually costs to produce the item, then how much a retailer will pay to sell it on the rack, and finally the price tag we see as consumers. As the dollar sign climbs the ladder, a product becomes increasingly expensive for the buyer. This is due, in part, to the risk a retailer takes in planning out several months ahead what and how much to buy.
So imagine being on the design side, and everything you produced didn't sell as expected by retailers. What's a designer to do? This is where we see the effects of digital media and online shopping come into play. Just a few decades ago, the direct-to-consumer (DTC) approach was unheard of. There was no solid way to reach consumers without the middleman, in this case, the department stores and boutiques. But the growth of the Internet, social media apps and even the blogger business has changed the way many brands function.
Take a look at one of the most successful DTC companies to date, Warby Parker, a leader in budget-friendly prescription optical wear and sunglasses. From the beginning, their goal was to figure out a way to eliminate markups. By keeping all their design and production in-house and selling directly to consumers, they got rid of the extra cost of outsourcing for materials and relied on their quality to be the key in marketing. By putting their customers first and listening to feedback, Warby Parker now has a company valuation of $1 billion.
Traditionally, most luxury brands and designers are sold on the wholesale model, which means that the amount we pay for that must-have bag is actually three times the cost of wholesale. Then there are the fast fashion companies, like Forever 21 and Zara, which control everything from production to sale in a direct-to-retail approach, meaning they handle their own brick-and-mortar storefronts. Unfortunately, speed usually means poorly made products.
Enter AELLA and Zvelle, two of an emerging class of DTC companies that pride themselves on providing high quality designs with both durability and classic appeal at more affordable price points.
Eunice Cho, founder and designer of AELLA, a contemporary women's wear brand, had initially tested the wholesale waters and found it wasn't the right fit for her. "As a wholesale brand, your customers are your retailers. When you are an online brand, your customers are consumers. They are two fundamentally different businesses," she says. "The calendar is very different as well. The immediacy that the Internet brings puts the traditional fashion calendar at odds with how people purchase." She adds that in the traditional model, once the goods are out of the designers' hands, they have to rely heavily on the ability of salespeople working in the individual boutiques and department stores to push their name out, which oftentimes doesn't happen. "We launched AELLA as a digital concept, because that was the only way we were going to control the conversation about our amazing pants and grow our brand on our own terms in those formative early days."
Feel the weight and texture of the cotton trousers, which range from $175 to $245, in AELLA's Los Angeles showroom, and one would think they'd run at least double that, similar to what you'd have to shell out for a pair of Isabel Marant trousers. AELLA's pieces are tailored and comfortable, like athletic wear but office appropriate, as well as machine washable to eliminate dry cleaning costs. "Our products have so many benefits. We wanted to be able to highlight those qualities and educate our customers about why they should experience our brand," says Cho. In turn, Cho listens to her clientele, making sure to keep popular designs and fabrics as signature styles in each collection.
For Zvelle founder and designer Elle AyoubZadeh, the decision to turn her high-end footwear line, which she launched a year ago, into a DTC brand was based on her vision and mission for the company. "We want to meet and get to know the Zvelle woman and serve her directly," she says. "A personal relationship is extremely important to us, and the only way to guarantee great service every time is to keep our business in-house."
While AyoubZadeh's choice to go DTC allows her to control the pricing and production methods, one might wonder if there is an impact on sourcing materials. But AyoubZadeh says that quality is never an issue. "We're handcrafting our shoes in the same factories as other high-end global brands," she says. "The biggest impact really is that we take all the financial risk, and it's up to us to do a good job and market ourselves so the right customer finds out about us."
For AyoubZadeh, customers always come first. The inspirations for the company are built around women, and more specifically, the "Zvelle woman," who AyoubZadeh describes as "independent, global and modern, and she's always going places, figuratively and literally. The Zvelle woman transcends age, race and physicality. She is her own woman, and that is what is most inspiring about her."
Zvelle's affordable price point, ranging from $265 to $365, is huge for consumers who lust over an $800 pair of shoes with sleek detailing and supple hides. And their ability to take on the risk and offer women a chance to own the same caliber shoe for a lot less is a major selling point. The smooth, colorful leathers and precision fit were what converted Stacy Fan, a "Harper's Bazaar China" columnist and founder of fashion blog Eurasian Vogue, into a customer for life. "The quality of the leather, with their classic yet modern aesthetic, enables me to take any of my Zvelle shoes from day to night," says Fan. "I love the trademark block heel, which looks like a stiletto from the side. It's so unique! They are the ideal fit for a working woman on the go and fit perfectly into my life."
As with AELLA, Zvelle doesn't produce collections on a season-to-season basis, but rather based on customer orders. Not having to deal with a schedule like most brands, they can introduce a style online whenever they like. "Companies like ours are challenging the status quo model of luxury brands," says AyoubZadeh.
And yet despite the advantages, there are also the obstacles. As AyoubZadeh explains, "The challenge is that we don't get the PR or marketing efforts that you might get with a wholesaler, who will promote you to sell what they bought from you. Established or heritage design houses have global footprints and existing retailer relationships. They've wined and dined their customers, which has led to certain expectations."
The AELLA team has taken advantage of a different approach to combat marketing challenges: the pop-up store trend. Increasingly, department stores are allowing brands to come in and present a mini installation to introduce themselves to customers, and Cho has been proactive in working this medium. "We've learned that pop-up shops are such a great way to gain immediate insights into our products and customers," she says. "Doing the pop-up shop at Bloomingdale's means we can do all that plus encounter new sets of customers."
The most vital aspect for understanding DTC businesses like AELLA and Zvelle is their approach to building long-lasting relationships with their consumers. They go the extra mile to engage women in their brand growth, and genuine attention is given to their customers' feedback. "Building a brand is a long-term strategy," says AyoubZadeh. "Authenticity has to be authentic, and it takes time to be authentic to your own voice."
Additionally, each has their own special method for setting themselves apart from other fashion brands. As a woman-focused brand, Zvelle supports women by partnering with Women's College Hospital in Toronto, Canada: When you purchase a pair of heels, part of what you pay goes to support the ongoing research and clinical education of women pursuing a professional healthcare career.
AELLA, in turn, takes great care in helping the customer find her perfect fit — you get two pairs of pants to try on and can send one back for free. This ability to try on without paying for return shipping keeps women coming back for their work wear needs. As Cho points out, "Our customer service approach is very hands-on and personal. Because our customers were such a big part of the word-of-mouth marketing we've had, we really value them. The question of 'what would our customers want?' pretty much always resolves our decision-making process."
It's these small but important details that make DTC brands so attractive. Though it may be easier to purchase from department stores or online retail giants, hidden gems like AELLA and Zvelle are shaking up the industry and providing consumers with superior quality and craftsmanship with less of the financial stress. Just slip on an exquisitely made shoe or the perfect pair of pants, all without wiping out that paycheck on a single purchase, and chances are you'll never look back.
AELLA is available at aella.co; Zvelle at zvelle.com
Share your thoughts...