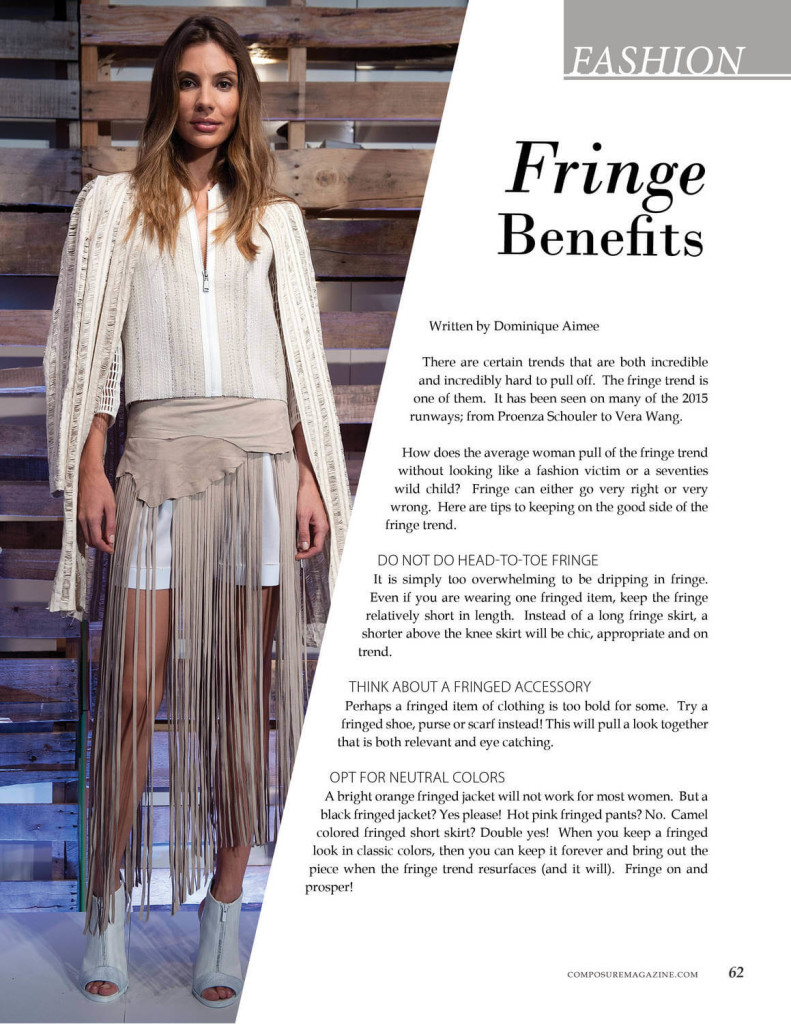 Fashion: Fringe Benefits
Written by Dominique Aimee
There are certain trends that are both incredible and incredibly hard to pull off. The fringe trend is one of them. It has been seen on many of the 2015 runways; from Proenza Schouler to Vera Wang.
How does the average woman pull of the fringe trend without looking like a fashion victim or a seventies wild child? Fringe can either go very right or very wrong. Here are tips to keeping on the good side of the fringe trend.
DO NOT DO HEAD-TO-TOE FRINGE
It is simply too overwhelming to be dripping in fringe. Even if you are wearing one fringed item, keep the fringe relatively short in length. Instead of a long fringe skirt, a shorter above the knee skirt will be chic, appropriate and on trend.
THINK ABOUT A FRINGED ACCESSORY
Perhaps a fringed item of clothing is too bold for some. Try a fringed shoe, purse or scarf instead! This will pull a look together that is both relevant and eye catching.
OPT FOR NEUTRAL COLORS
A bright orange fringed jacket will not work for most women. But a black fringed jacket? Yes please! Hot pink fringed pants? No. Camel colored fringed short skirt? Double yes! When you keep a fringed look in classic colors, then you can keep it forever and bring out the piece when the fringe trend resurfaces (and it will). Fringe on and prosper!
Share your thoughts...