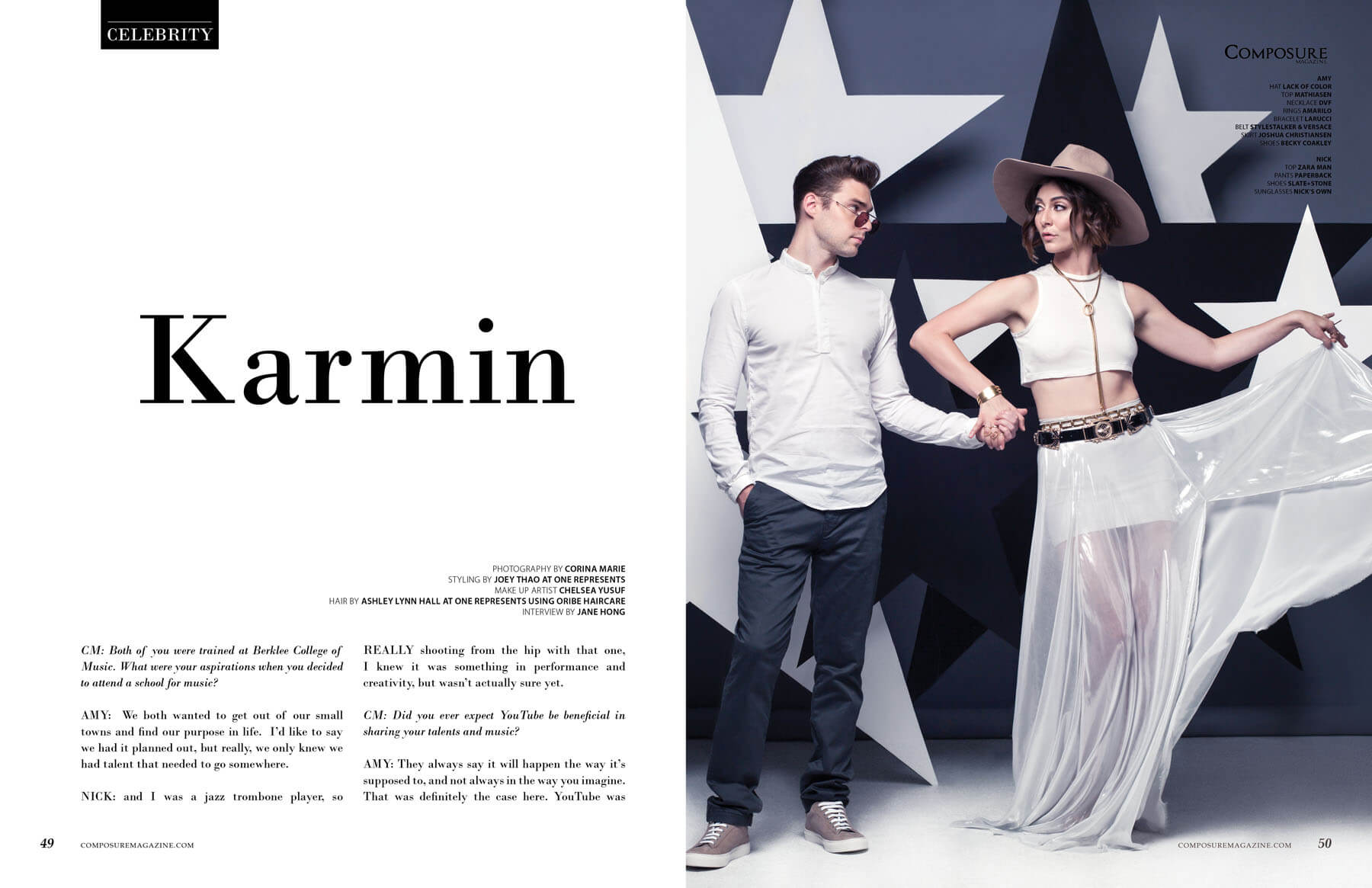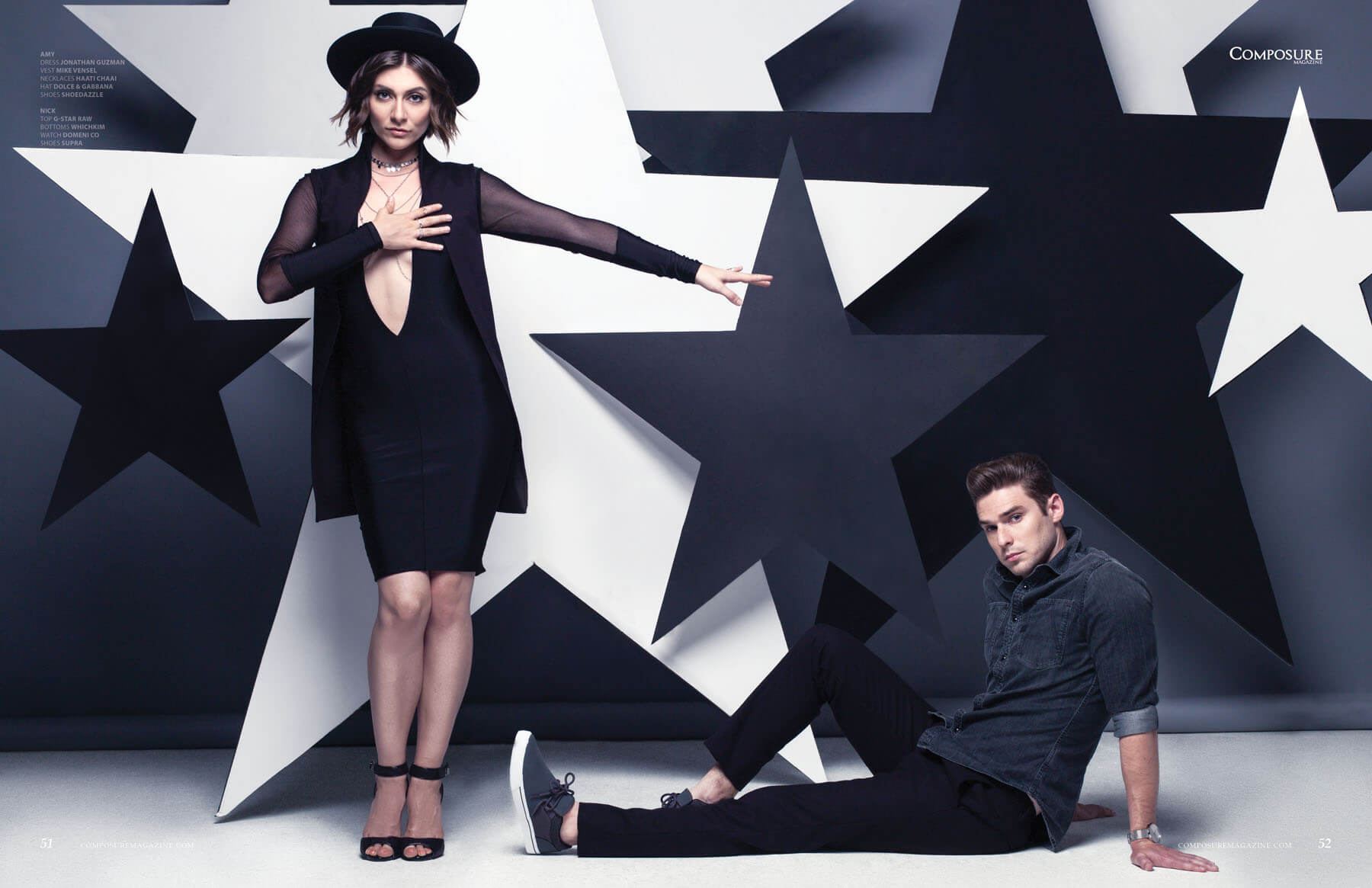 Karmin
CM: Both of you were trained at Berklee College of Music. What were your aspirations when you decided to attend a school for music?
AMY: We both wanted to get out of our small towns and find our purpose in life. I'd like to say we had it planned out, but really, we only knew we had talent that needed to go somewhere.
NICK: and I was a jazz trombone player, so REALLY shooting from the hip with that one, I knew it was something in performance and creativity, but wasn't actually sure yet.
CM: Did you ever expect YouTube be beneficial in sharing your talents and music?
AMY: They always say it will happen the way it's supposed to, and not always in the way you imagine. That was definitely the case here. YouTube was such a new thing at the time and we were just too broke for a tour. YouTube turned out to be the best way to share our music to a large number of people.
NICK: Definitely not for me. YouTube at the time was just videos of funny cats and dogs.
CM: To say you found some success through your covers of songs like "Look at Me Now" and Niki Minaj's "Super Bass" would be an understatement. With YouTube views in upwards of 96 million, will you continue to perform covers along with new and original music?
AMY: You know we never stopped covering songs. The name Karmin actually means song in Latin, so we don't discriminate – a good song is a good song. We feel blessed to write good ones of our own sometimes, some of which have now been covered by other artists on YouTube!
NICK: Yeah we've started to do a few covers again recently and it is actually fun. It's fun to change something that the world already knows as a certain way.
CM: Since signing with Epic a few years ago and now moving on from Epic, how would you describe your current style of music?
AMY: Epic gave us experiences and opportunities we may have never had. LA Reid got us in the room with some of the best producers and writers in the industry. We learned a ton from them and have taken the last 12 months to re-frame that knowledge into our very own music, all of which is 100% written and recorded by Amy and Nick. I can't wait for the world to hear it.
NICK: I would say it's much more organic and raw- we didn't tune any vocals, we just wanted the perfect vibe and energy.
CM: You just released a new single, "Didn't Know You". What is the inspiration behind the album Leo Rising and your story behind it.
AMY: The Leo Rising album is inspired by the 12 signs of the zodiac. Every sign has positive and negative traits and "Didn't Know You" is the Gemini song, which represents the twins. The archetype is brilliant but has a tendency to be two-faced. We had a wild visit with an astrologer that changed our perspective on life. I started reading up on astrology and the ancient art of reading the stars. It's such a beautiful story and so much fun to dig into personality types and situations. It made lyric writing flow with ease, but also gave us a concept album that inspired the Leo Rising film and tour ideas.
NICK: What she said.
CM: What's next?
AMY: We are working on a film that will drop with the Leo Rising album. Currently in the process of finishing the mixing and mastering aspect of the Leo Rising album, in addition to developing a TV show. Something is always happening in the Karmin world! I've also launched a lifestyle blog called Karminology, which is my writing outlet and non-musical interests site, (www.karminology.com).
NICK: Yup, it's all about Leo Rising and we still want to keep creating new work. I'm also getting into Scotch.
CM: Looks like you have a new furry addition to the family, please share!
AMY: Oh, Gary? He's just the best creature that has ever lived. We wanted a dog for so long, but it came down to getting a dog we can bring on the tour bus. He makes us so happy. He's a healthy distraction. He's also very spoiled because I made him an Instagram account (@garykarmin) and now he gets gifts from his fans.
NICK: Cutest. Puppy. Ever. Done. Get. Out.
CM: There seems to be a buzz that you two are married, but that isn't the case. Can you elaborate on the confusion or plans for the future?
AMY: Sorry for the confusion. Things will clear up about this in the near future, so stay tuned on that front. We will have been together 10 years this September, so I don't think there's anything to worry about 🙂
NICK: What she said.
www.karminmusic.com
facebook.com/karminbook
twitter.com/karminmusic
instagram.com/karminmusic
youtube.com/karminvevo
soundcloud.com/karmin
PHOTOGRAPHY BY CORINA MARIE
STYLING BY JOEY THAO AT ONE REPRESENTS
MAKE UP ARTIST CHELSEA YUSUF
HAIR STYLIST ASHLEY LYNN HALL AT ONE REPRESENTS USING ORIBE HAIRCARE
INTERVIEW BY JANE HONG
Share your thoughts...