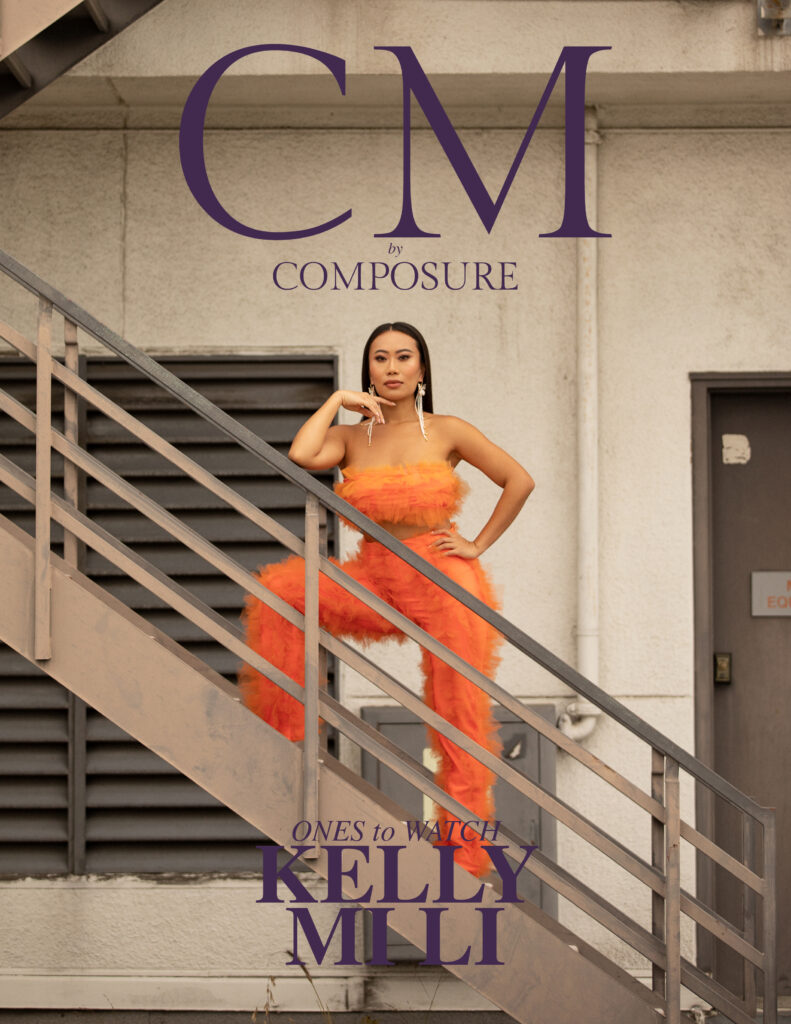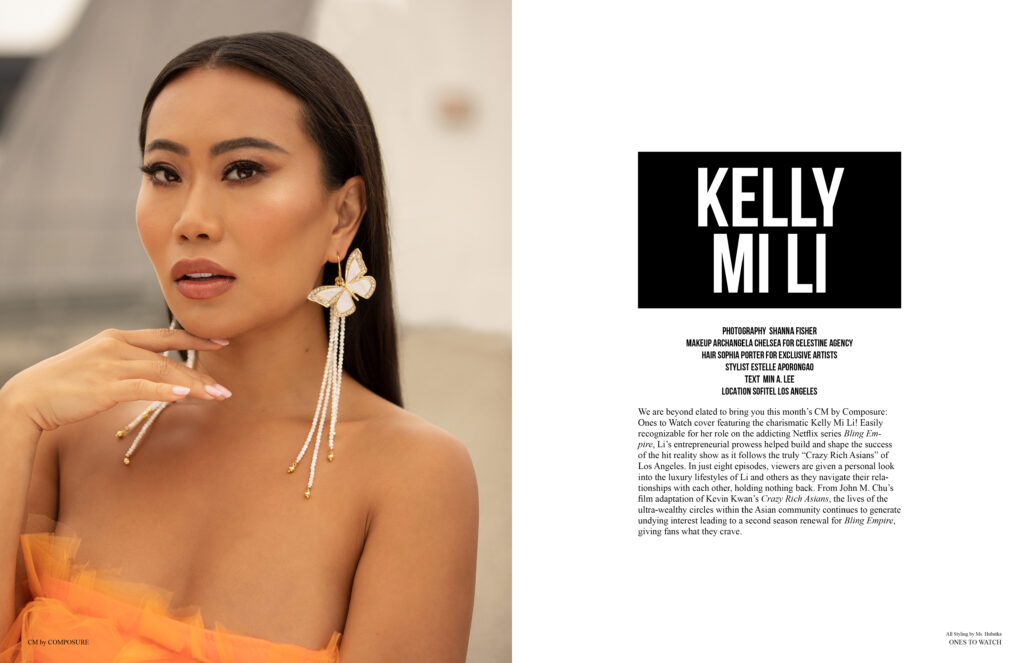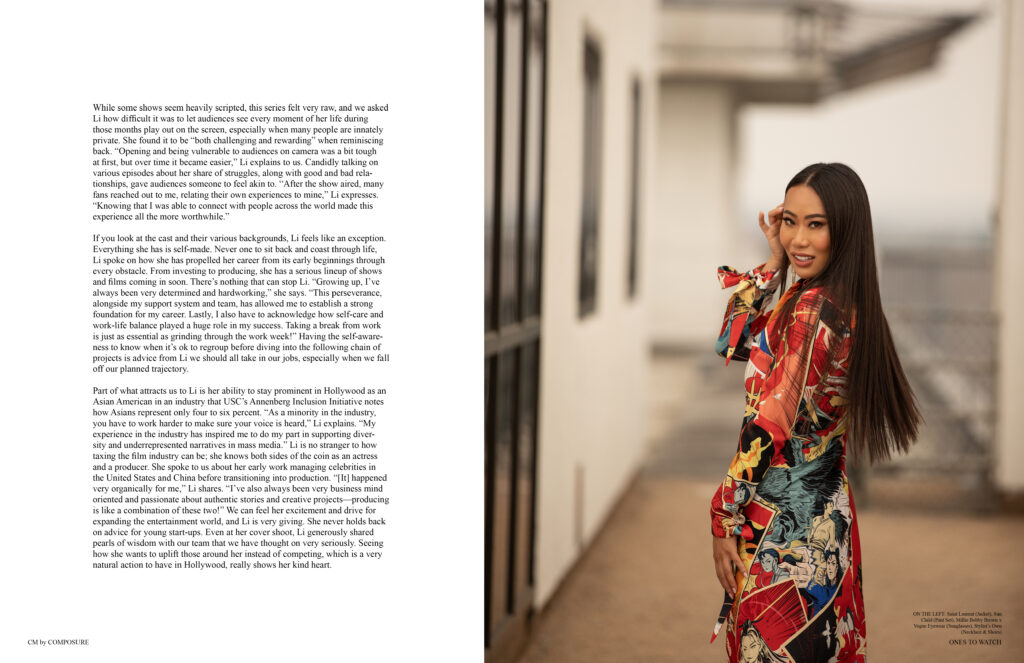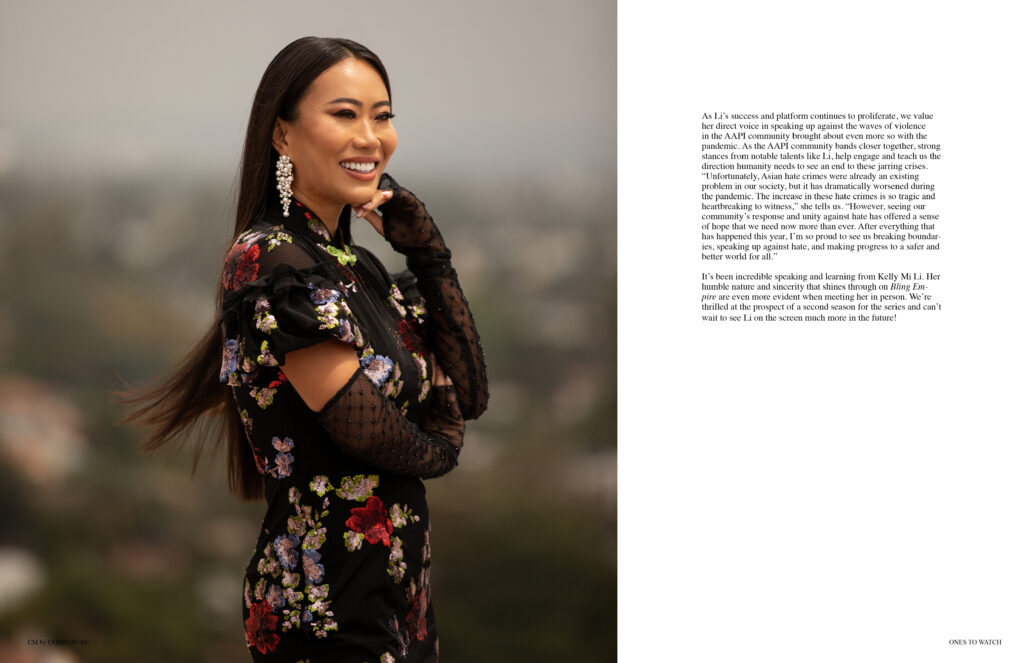 We are beyond elated to bring you this month's CM by Composure: Ones to Watch cover featuring the charismatic Kelly Mi Li! Easily recognizable for her role on the addicting Netflix series Bling Empire, Li's entrepreneurial prowess helped build and shape the success of the hit reality show as it follows the truly "Crazy Rich Asians" of Los Angeles. In just eight episodes, viewers are given a personal look into the luxury lifestyles of Li and others as they navigate their relationships with each other, holding nothing back. From John M. Chu's film adaptation of Kevin Kwan's Crazy Rich Asians, the lives of the ultra-wealthy circles within the Asian community continues to generate undying interest leading to a second season renewal for Bling Empire, giving fans what they crave.
While some shows seem heavily scripted, this series felt very raw, and we asked Li how difficult it was to let audiences see every moment of her life during those months play out on the screen, especially when many people are innately private. She found it to be "both challenging and rewarding" when reminiscing back. "Opening and being vulnerable to audiences on camera was a bit tough at first, but over time it became easier," Li explains to us. Candidly talking on various episodes about her share of struggles, along with good and bad relationships, gave audiences someone to feel akin to. "After the show aired, many fans reached out to me, relating their own experiences to mine," Li expresses. "Knowing that I was able to connect with people across the world made this experience all the more worthwhile."
If you look at the cast and their various backgrounds, Li feels like an exception. Everything she has is self-made. Never one to sit back and coast through life, Li spoke on how she has propelled her career from its early beginnings through every obstacle. From investing to producing, she has a serious lineup of shows and films coming in soon. There's nothing that can stop Li. "Growing up, I've always been very determined and hardworking," she says. "This perseverance, alongside my support system and team, has allowed me to establish a strong foundation for my career. Lastly, I also have to acknowledge how self-care and work-life balance played a huge role in my success. Taking a break from work is just as essential as grinding through the work week!" Having the self-awareness to know when it's ok to regroup before diving into the following chain of projects is advice from Li we should all take in our jobs, especially when we fall off our planned trajectory.
Part of what attracts us to Li is her ability to stay prominent in Hollywood as an Asian American in an industry that USC's Annenberg Inclusion Initiative notes how Asians represent only four to six percent. "As a minority in the industry, you have to work harder to make sure your voice is heard," Li explains. "My experience in the industry has inspired me to do my part in supporting diversity and underrepresented narratives in mass media." Li is no stranger to how taxing the film industry can be; she knows both sides of the coin as an actress and a producer. She spoke to us about her early work managing celebrities in the United States and China before transitioning into production. "[It] happened very organically for me," Li shares. "I've also always been very business mind oriented and passionate about authentic stories and creative projects—producing is like a combination of these two!" We can feel her excitement and drive for expanding the entertainment world, and Li is very giving. She never holds back on advice for young start-ups. Even at her cover shoot, Li generously shared pearls of wisdom with our team that we have thought on very seriously. Seeing how she wants to uplift those around her instead of competing, which is a very natural action to have in Hollywood, really shows her kind heart.
As Li's success and platform continues to proliferate, we value her direct voice in speaking up against the waves of violence in the AAPI community brought about even more so with the pandemic. As the AAPI community bands closer together, strong stances from notable talents like Li, help engage and teach us the direction humanity needs to see an end to these jarring crises. "Unfortunately, Asian hate crimes were already an existing problem in our society, but it has dramatically worsened during the pandemic. The increase in these hate crimes is so tragic and heartbreaking to witness," she tells us. "However, seeing our community's response and unity against hate has offered a sense of hope that we need now more than ever. After everything that has happened this year, I'm so proud to see us breaking boundaries, speaking up against hate, and making progress to a safer and better world for all."
It's been incredible speaking and learning from Kelly Mi Li. Her humble nature and sincerity that shines through on Bling Empire are even more evident when meeting her in person. We're thrilled at the prospect of a second season for the series and can't wait to see Li on the screen much more in the future!
Share your thoughts...