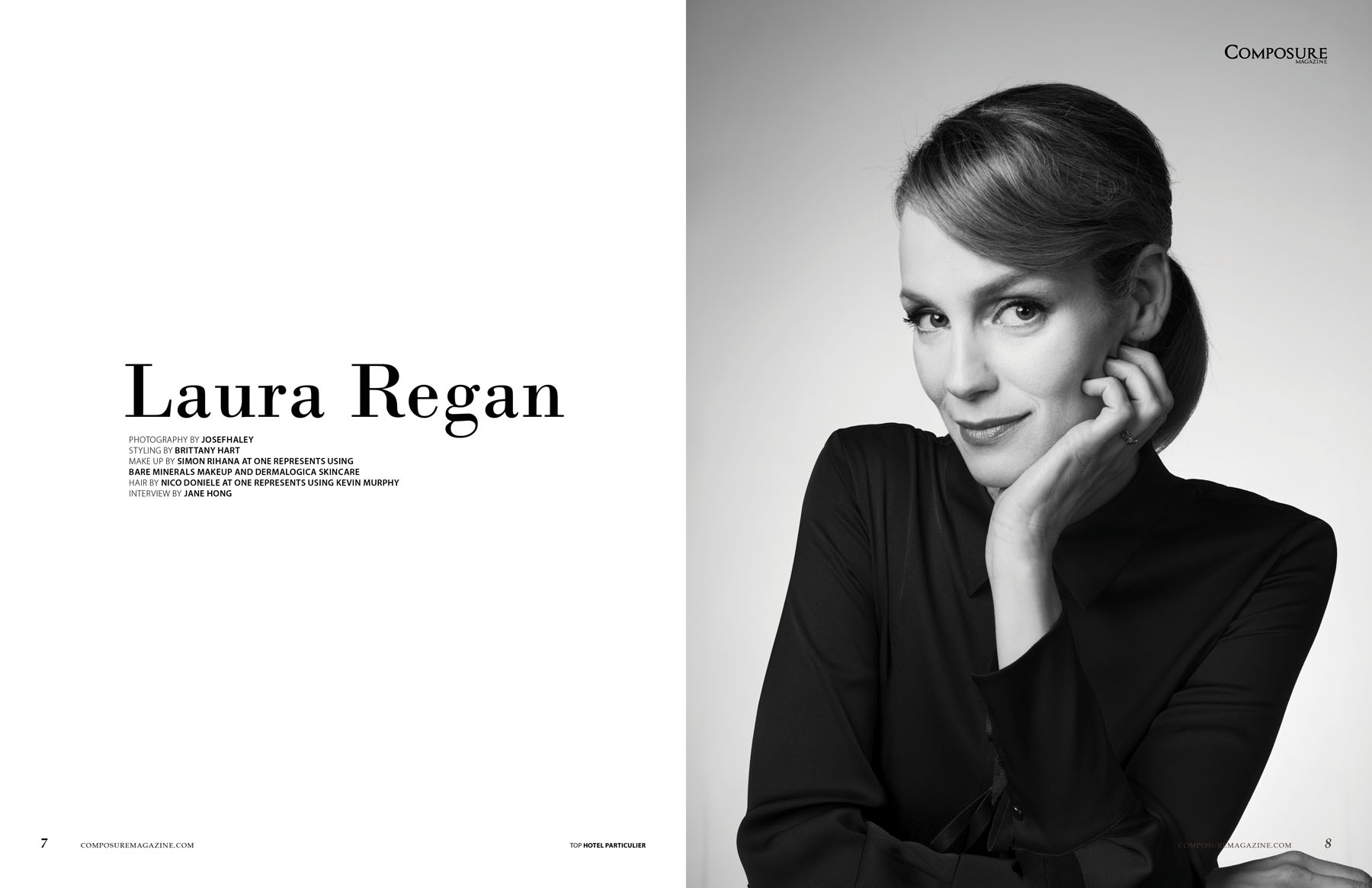 Laura Regan
When Laura Regan photographed with Composure Magazine, she showed us a glimpse of her elegance, grace, and her warmth of a girl-next-door personality. And when Laura spoke of her acting, her fullness of excitement was contagious to us all. Currently playing Agatha in FOX's highly anticipated Minority Report, what we've seen of Laura in both film and TV seems to be just the tip of the iceberg of her career.
CM: What was a one defining moment that inspired you to take on an acting career?
LR: I spent a long time learning to believe in myself as an actor. I was studying acting, learning my craft, but also obsessively watching other actors. I went to every play I could get to. It was when I saw Jennifer Ehle and Stephen Dillane in The Real Thing on Broadway that I knew there was no turning back. The combination of Tom Stoppard's crackling dialogue and Jennifer Ehle's astonishing performance just blew me away. She was so open and real and perfectly "in the moment" – I remember consciously wanting the play to never end. And she made me feel everything, I mean everything! It was a revelation. I knew that I could happily spend my life trying to convey one percent of the real-ness and emotion that she conveyed that night. So that's what I'm doing.
CM: You had roles in some notable projects like Unbreakable, Mad Men, and Murder in the First – what were those experiences like? Is there an unforgettable memory from any of them you can share?
LR: Each of those was a great experience that seemed to happen at just the right time. But the process of getting the role in Unbreakable will always stand out for me because it was my first acting job. I auditioned first in New York, and then got a callback for which I had to go to Philadelphia. I took the train and got to the casting director's office and saw a poster for The Sixth Sense in the waiting room. I had no idea who I would be meeting. In the audition room, I laid down on the floor to do the scene, because the character was upside down in a crashed car. I remember this nice guy standing over me, giving me some direction. Then I went home, thinking, "wow, I was just at a casting office that cast The Sixth Sense!" When I got back to New York, my manager called and asked me how I liked meeting with M. Night Shyamalan, because I just got the job!
CM: You're currently working on the highly anticipated FOX series Minority Report, congrats! What was it like to receive the news that the show was picked up? What was your honest gut feeling prior to confirmation?
LR: My gut feeling was always that it would get picked up, but things got pretty hairy before it was official. Everyone in the know told me it would get picked up early – which meant at the beginning of the week when the networks make their pickup decisions. Monday and Tuesday came, no news. On Wednesday, Fox started ordering series. Thursday, Fox ordered a bunch of dramas, but no news at all about our show. I emailed my cast mates to see if anyone else was going crazy and by Friday the email thread was constant and we were all freaking out. The feeling was, "we know they're going to pick up our show, so why don't they just PICK UP OUR SHOW already?" Stark Sands' wife was due to deliver a baby and I couldn't believe the stress hadn't put her into labor yet. Wilmer Valderrama replied, "I just gave birth to twins!" Finally at 7pm Friday we got the call. It was crazy exciting and also an incredible relief.
CM: Can you tell us about your role as Agatha? How does her character develop throughout the season? What would you say is the most surprising aspect of her character? What do you hope to see for Agatha in the future?
LR: Agatha's ability to see the future and her experience as a Precog has made her into a very confident, determined woman who uses her power to further her agenda. She does not doubt herself at all because she can see events before they unfold. Agatha is precise, strategic, and very careful about what information she shares, and with whom. She will surprise you every episode.
CM: As one of three Precogs, what is the relationship like with the other two, Dash and Arthur?
LR: Dash and Arthur are Agatha's younger twin step brothers, and she definitely feels that she can control them. Of course, they do not totally agree. But because Agatha has the greater power of vision, they do defer to her on some level. Dash and Arthur also could not be more different from each other, so she plays them against each other when she feels she needs to. This is a family with a lot of secrets…
CM: Being that the show is based on Minority Report film directed by Steven Spielberg, what can viewers expect from the show?
LR: Viewers can expect to meet new characters just as compelling as Tom Cruise' John Anderton, each wanting to stop violent crimes for their own reasons. The show will provide a really thoughtful window onto the future, a chance to experience what technology and policing might be in 2065.
CM: What has been your favorite part about filming Minority Report so far?
LR: Making the scenes come alive. I really love the way our writers are developing the characters and it is so much fun taking those words off the page and playing with them.
CM: Are there any other projects that you're involved in? Any that are coming up?
LR: Our filming schedule on Minority Report is quite intense, so my work calendar is filled up with this for the rest of the year. I am also involved with several environmental groups, and personally working toward raising awareness for the UN Climate Change Conference in Paris in November. This is a crucial chance for us to finally have a climate change agreement that is adopted by all countries.
CM: When you're not acting or on set, how do you spend your time?
LR: I love the ocean. Swimming in it, doing cartwheels on its beaches or just dipping my toes in on a walk. And I love my bicycle. When I am riding I feel a kind of bliss. But more than anything I love being with my kids. My job is unpredictable and requires a lot of perseverance and creativity, so it's such pure happiness to just surrender to them. They are everything to me, and being with them is my absolute favorite way to spend my time.
"Minority Report" Premieres Sept 21st on FOX
PHOTOGRAPHY BY JOSEFHALEY
STYLING BY BRITTANY HART
MAKE UP BY SIMON RIHANA AT ONE REPRESENTS USING BARE MINERALS MAKEUP AND DERMALOGICA SKINCARE
HAIR BY NICO DONIELE AT ONE REPRESENTS USING KEVIN MURPHY
INTERVIEW BY JANE HONG
Share your thoughts...