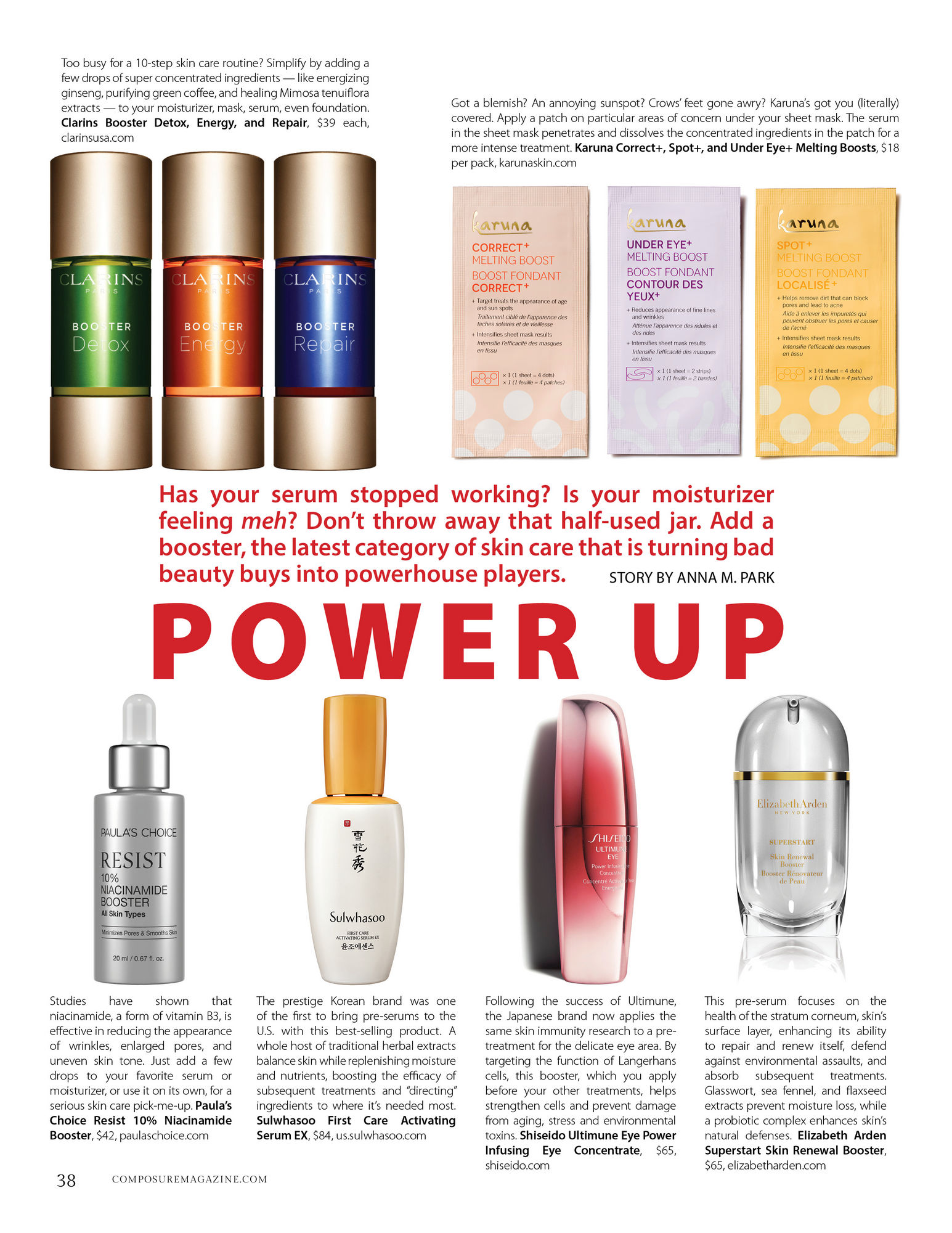 Has your serum stopped working? Is your moisturizer feeling meh? Don't throw away that half-used jar. Add a booster, the latest category of skin care that is turning bad beauty buys into powerhouse players.
Too busy for a 10-step skin care routine? Simplify by adding a few drops of super concentrated ingredients — like energizing ginseng, purifying green coffee, and healing Mimosa tenuiflora extracts — to your moisturizer, mask, serum, even foundation. Clarins Booster Detox, Energy, and Repair, $39 each, clarinsusa.com
Got a blemish? An annoying sunspot? Crows' feet gone awry? Karuna's got you (literally) covered. Apply a patch on particular areas of concern under your sheet mask. The serum in the sheet mask penetrates and dissolves the concentrated ingredients in the patch for a more intense treatment. Karuna Correct+, Spot+, and Under Eye+ Melting Boosts, $18 per pack, karunaskin.com
Studies have shown that niacinamide, a form of vitamin B3, is effective in reducing the appearance of wrinkles, enlarged pores, and uneven skin tone. Just add a few drops to your favorite serum or moisturizer, or use it on its own, for a serious skin care pick-me-up. Paula's Choice Resist 10% Niacinamide Booster, $42, paulaschoice.com
The prestige Korean brand was one of the first to bring pre-serums to the U.S. with this best-selling product. A whole host of traditional herbal extracts balance skin while replenishing moisture and nutrients, boosting the efficacy of subsequent treatments and "directing" ingredients to where it's needed most. Sulwhasoo First Care Activating Serum EX, $84, us.sulwhasoo.com
Following the success of Ultimune, the Japanese brand now applies the same skin immunity research to a pretreatment for the delicate eye area. By targeting the function of Langerhans cells, this booster, which you apply before your other treatments, helps strengthen cells and prevent damage from aging, stress and environmental toxins. Shiseido Ultimune Eye Power Infusing Eye Concentrate, $65, shiseido.com
This pre-serum focuses on the health of the stratum corneum, skin's surface layer, enhancing its ability to repair and renew itself, defend against environmental assaults, and absorb subsequent treatments. Glasswort, sea fennel, and flaxseed extracts prevent moisture loss, while a probiotic complex enhances skin's natural defenses. Elizabeth Arden Superstart Skin Renewal Booster, $65, elizabetharden.com
Share your thoughts...