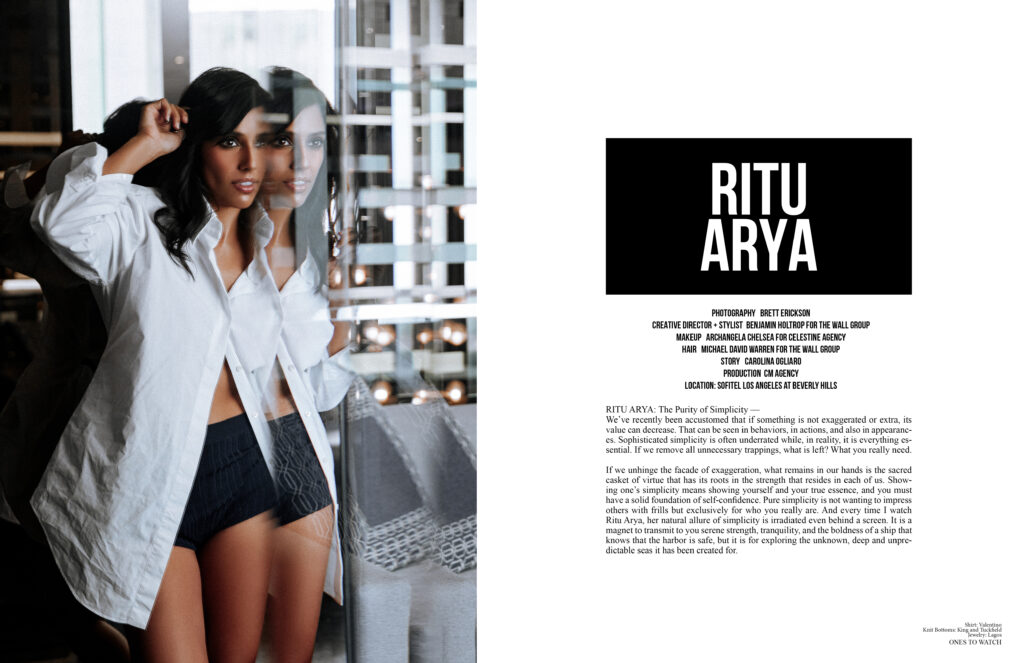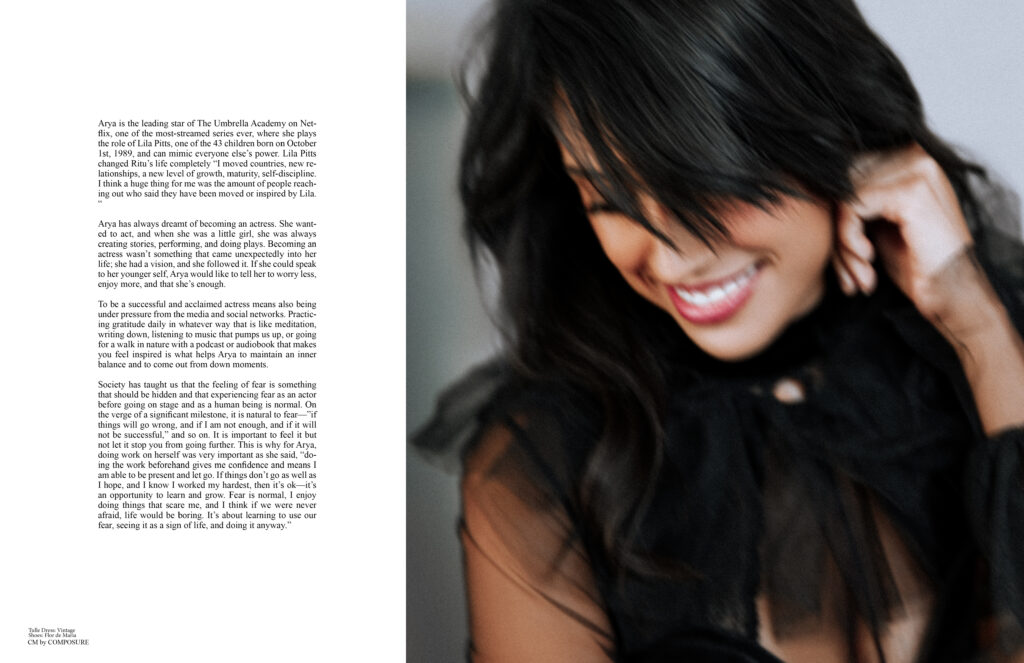 RITU ARYA, The Purity of Simplicity—
We've recently been accustomed that if something is not exaggerated or extra, its value can decrease. That can be seen in behaviors, in actions, and also in appearances. Sophisticated simplicity is often underrated while, in reality, it is everything essential. If we remove all unnecessary trappings, what is left? What you really need.
If we unhinge the facade of exaggeration, what remains in our hands is the sacred casket of virtue that has its roots in the strength that resides in each of us. Showing one's simplicity means showing yourself and your true essence, and you must have a solid foundation of self-confidence. Pure simplicity is not wanting to impress others with frills but exclusively for who you really are. And every time I watch Ritu Arya, her natural allure of simplicity is irradiated even behind a screen. It is a magnet to transmit to you serene strength, tranquility, and the boldness of a ship that knows that the harbor is safe, but it is for exploring the unknown, deep and unpredictable seas it has been created for.
Arya is the leading star of The Umbrella Academy on Netflix, one of the most-streamed series ever, where she plays the role of Lila Pitts, one of the 43 children born on October 1st, 1989, and can mimic everyone else's power. Lila Pitts changed Ritu's life completely "I moved countries, new relationships, a new level of growth, maturity, self-discipline. I think a huge thing for me was the amount of people reaching out who said they have been moved or inspired by Lila. "
Arya has always dreamt of becoming an actress. She wanted to act, and when she was a little girl, she was always creating stories, performing, and doing plays. Becoming an actress wasn't something that came unexpectedly into her life; she had a vision, and she followed it. If she could speak to her younger self, Arya would like to tell her to worry less, enjoy more, and that she's enough.
To be a successful and acclaimed actress means also being under pressure from the media and social networks. Practicing gratitude daily in whatever way that is like meditation, writing down, listening to music that pumps us up, or going for a walk in nature with a podcast or audiobook that makes you feel inspired is what helps Arya to maintain an inner balance and to come out from down moments.
Society has taught us that the feeling of fear is something that should be hidden and that experiencing fear as an actor before going on stage and as a human being is normal. On the verge of a significant milestone, it is natural to fear—"if things will go wrong, and if I am not enough, and if it will not be successful," and so on. It is important to feel it but not let it stop you from going further. This is why for Arya, doing work on herself was very important as she said, "doing the work beforehand gives me confidence and means I am able to be present and let go. If things don't go as well as I hope, and I know I worked my hardest, then it's ok—it's an opportunity to learn and grow. Fear is normal, I enjoy doing things that scare me, and I think if we were never afraid, life would be boring. It's about learning to use our fear, seeing it as a sign of life, and doing it anyway."
Each role Arya has played is vital and profound. Each one has memories that still give her goosebumps and has been accepted, like falling in love with it "at first sight," like it was for Barbie. Next year we will watch Ritu in the most awaited Barbie movie, and while everything is top secret, she reveals that working in such an incredible production "was a dream come true getting to work with Greta and the team. I had so much fun and feel so lucky to be part of such a cool project!"
The past years have been a real worldwide challenge, the world as we knew it completely fell apart and showed us the precariousness of existence and how fragile and unpredictable it is. But those moments taught us a lot, and many people have been allowed to evolve into the best version of themselves or, more, a work in progress toward it. For Arya, it was a challenging moment as well, and today she doesn't know if she is currently the best version of herself; what is sure is that she is working it out just like everyone else. She stated, " I do things, we are constantly evolving whether we realize it or not, and I'm learning to accept and embrace change."
With global recognition and fame, for celebrities like Arya, social networks are a blessing and a curse—poison and cure. Arya has explained the relationship with social platforms as "a great platform for self-expression and a way of connecting with people we wouldn't normally be able to, so I like to keep it. And I recently put a 15 minutes a day limit on Instagram. It's important to take a break from it if you're finding yourself comparing yourself in any negative ways. Please only compare yourself to yourself! You don't know what's going on with someone behind the facade of an Instagram profile."
Ritu Arya is the simplicity we all need in our life. A simplicity made to be embraced in its fragility because, in it, we find the real source of happiness that resides in the truest expression of ourselves.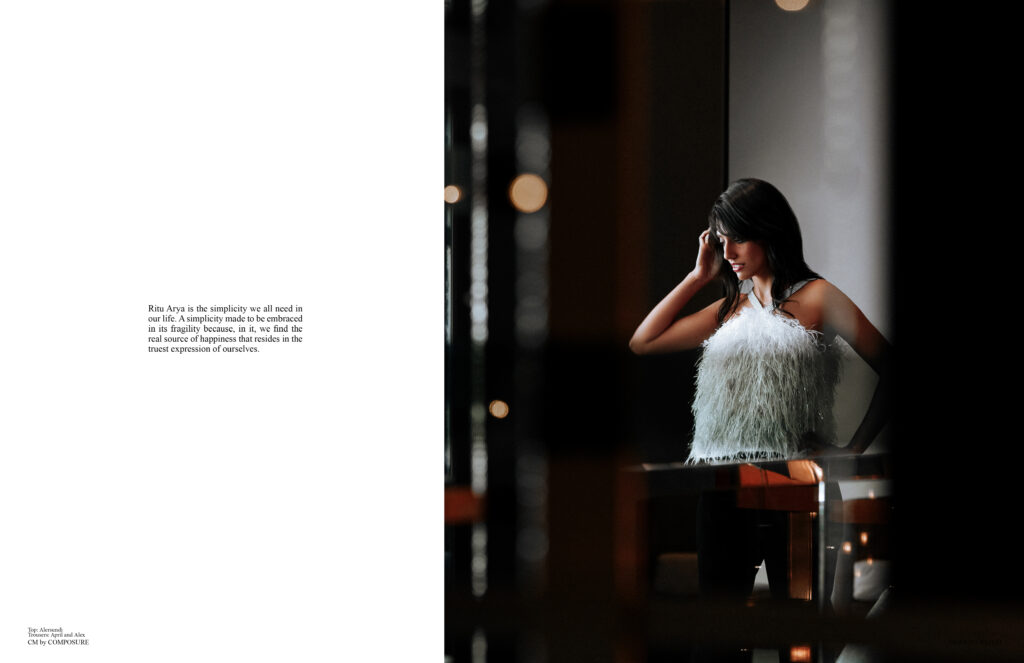 Share your thoughts...