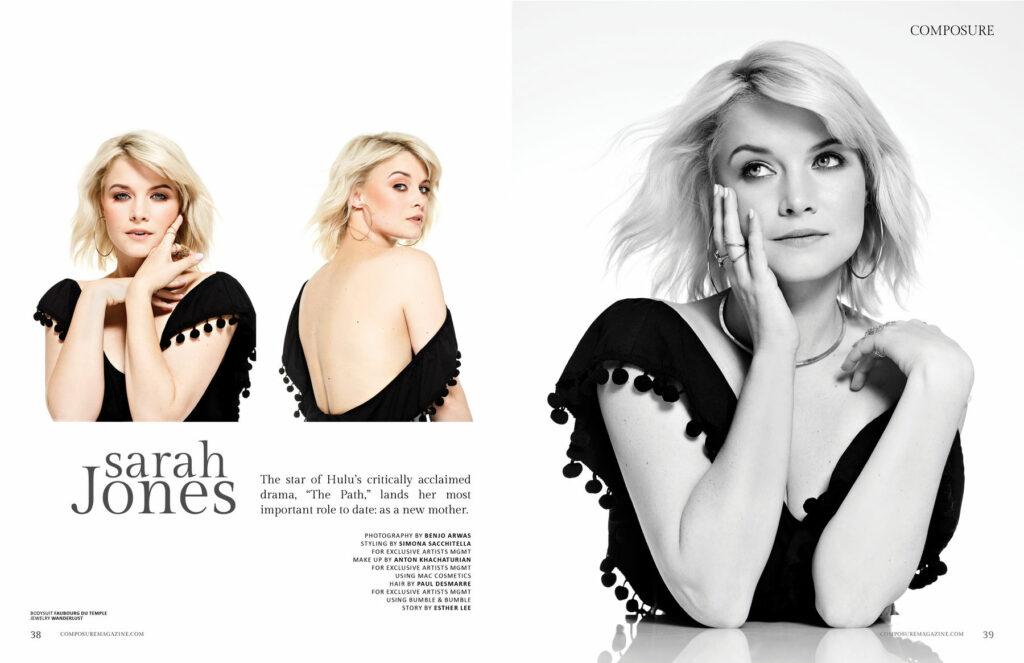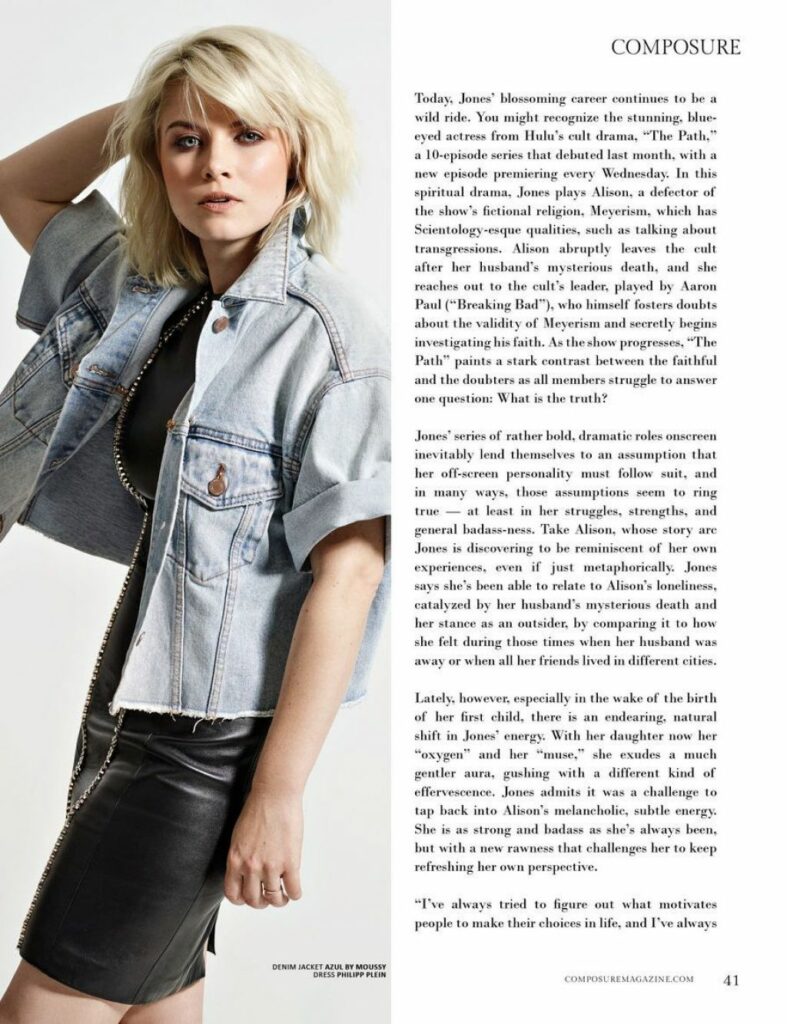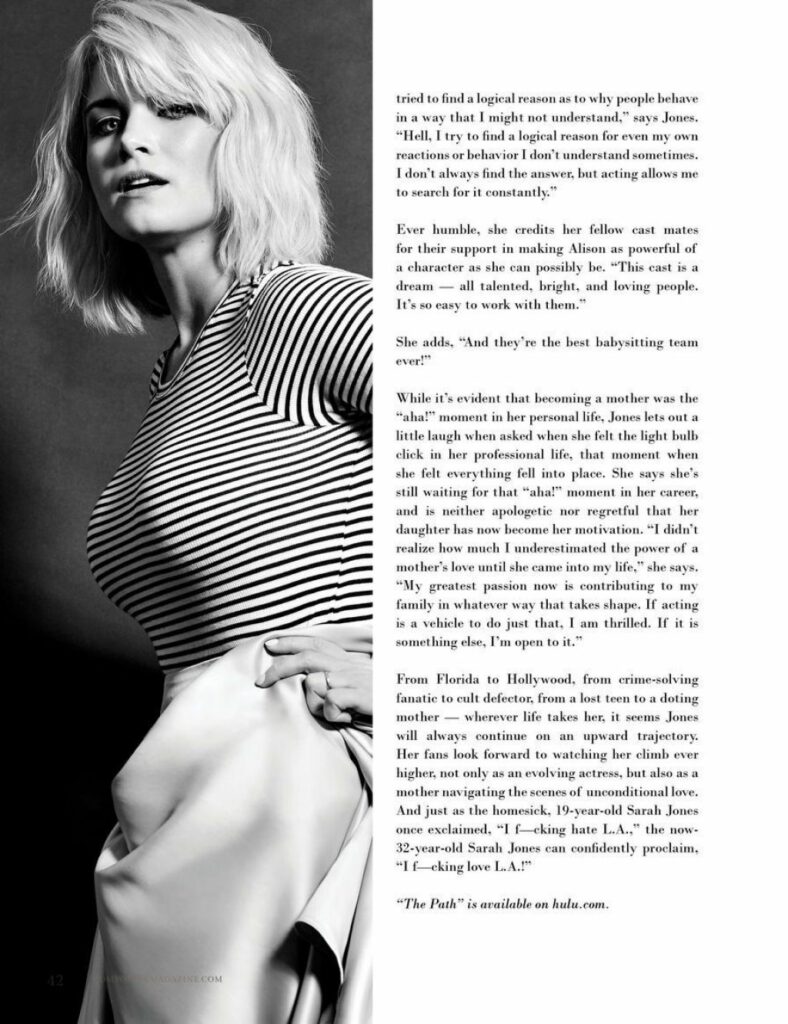 The star of Hulu's critically acclaimed drama, "The Path," lands her most important role to date: as a new mother.
Her first job was a cold splash of Hollywood reality. With a guest starring role on the 2004 NBC show "Medical Investigation," Sarah Jones' opening scene involved kissing in a car with an actor, who, in real life, was her roommate's boyfriend. It was a definite "welcome to Hollywood moment," says Jones.
"A friend of mine who lived in New York said, 'Go to L.A. while you're still young. New York will be here when you're 60.'" Originally from Florida, Jones explains how her move to California was really a series of random, fortuitous events. After taking the advice of aforementioned friend from New York, Jones says, "I gave myself a month, moved out to L.A., and within the first week, I had booked a job dancing for the [Russian music duo] t.A.T.u."
It wasn't until a year later that Jones landed the guest spot on "Medical Investigation," and from there, her onscreen Hollywood journey catapulted, though not without its struggles. Jones openly recalls her daily "I f—cking hate L.A." outbursts during her green years in Hollywood, a refreshing revelation that even a stunning, #lifegoals actress has her rollercoaster moments. Despite her struggles, Jones went on to star in two independent movies, "Still Green" and "The Blue Hour," and a host of television shows, including her star turn as leading lady Rebecca Madsen in Fox's J.J Abrams series, "Alcatraz." Ultimately, Jones reaffirms, "L.A. was the right city for me."
Today, Jones' blossoming career continues to be a wild ride. You might recognize the stunning, blue-eyed actress from Hulu's cult drama, "The Path," a 10-episode series that debuted last month, with a new episode premiering every Wednesday. In this spiritual drama, Jones plays Alison, a defector of the show's fictional religion, Meyerism, which has Scientology-esque qualities, such as talking about transgressions. Alison abruptly leaves the cult after her husband's mysterious death, and she reaches out to the cult's leader, played by Aaron Paul ("Breaking Bad"), who himself fosters doubts about the validity of Meyerism and secretly begins investigating his faith. As the show progresses, "The Path" paints a stark contrast between the faithful and the doubters as all members struggle to answer one question: What is the truth?
Jones' series of rather bold, dramatic roles onscreen inevitably lend themselves to an assumption that her off-screen personality must follow suit, and in many ways, those assumptions seem to ring true — at least in her struggles, strengths, and general badass-ness. Take Alison, whose story arc Jones is discovering to be reminiscent of her own experiences, even if just metaphorically. Jones says she's been able to relate to Alison's loneliness, catalyzed by her husband's mysterious death and her stance as an outsider, by comparing it to how she felt during those times when her husband was away or when all her friends lived in different cities.
Lately, however, especially in the wake of the birth of her first child, there is an endearing, natural shift in Jones' energy. With her daughter now her "oxygen" and her "muse," she exudes a much gentler aura, gushing with a different kind of effervescence. Jones admits it was a challenge to tap back into Alison's melancholic, subtle energy. She is as strong and badass as she's always been, but with a new rawness that challenges her to keep refreshing her own perspective.
"I've always tried to figure out what motivates people to make their choices in life, and I've always tried to find a logical reason as to why people behave in a way that I might not understand," says Jones. "Hell, I try to find a logical reason for even my own reactions or behavior I don't understand sometimes. I don't always find the answer, but acting allows me to search for it constantly."
Ever humble, she credits her fellow cast mates for their support in making Alison as powerful of a character as she can possibly be. "This cast is a dream — all talented, bright, and loving people. It's so easy to work with them."
She adds, "And they're the best babysitting team ever!"
While it's evident that becoming a mother was the "aha!" moment in her personal life, Jones lets out a little laugh when asked when she felt the light bulb click in her professional life, that moment when she felt everything fell into place. She says she's still waiting for that "aha!" moment in her career, and is neither apologetic nor regretful that her daughter has now become her motivation. "I didn't realize how much I underestimated the power of a mother's love until she came into my life," she says. "My greatest passion now is contributing to my family in whatever way that takes shape. If acting is a vehicle to do just that, I am thrilled. If it is something else, I'm open to it."
From Florida to Hollywood, from crime-solving fanatic to cult defector, from a lost teen to a doting mother — wherever life takes her, it seems Jones will always continue on an upward trajectory. Her fans look forward to watching her climb ever higher, not only as an evolving actress, but also as a mother navigating the scenes of unconditional love. And just as the homesick, 19-year-old Sarah Jones once exclaimed, "I f—cking hate L.A.," the now-32-year-old Sarah Jones can confidently proclaim, "I f—cking love L.A.!"
"The Path" is available on hulu.com.
PHOTOGRAPHY BY BENJO ARWAS
STYLING BY SIMONA SACCHITELLA FOR EXCLUSIVE ARTISTS MGMT
MAKE UP BY ANTON KHACHATURIAN FOR EXCLUSIVE ARTISTS MGMT USING MAC COSMETICS
HAIR BY PAUL DESMARRE FOR EXCLUSIVE ARTISTS MGMT USING BUMBLE & BUMBLE
STORY BY ESTHER LEE
Share your thoughts...