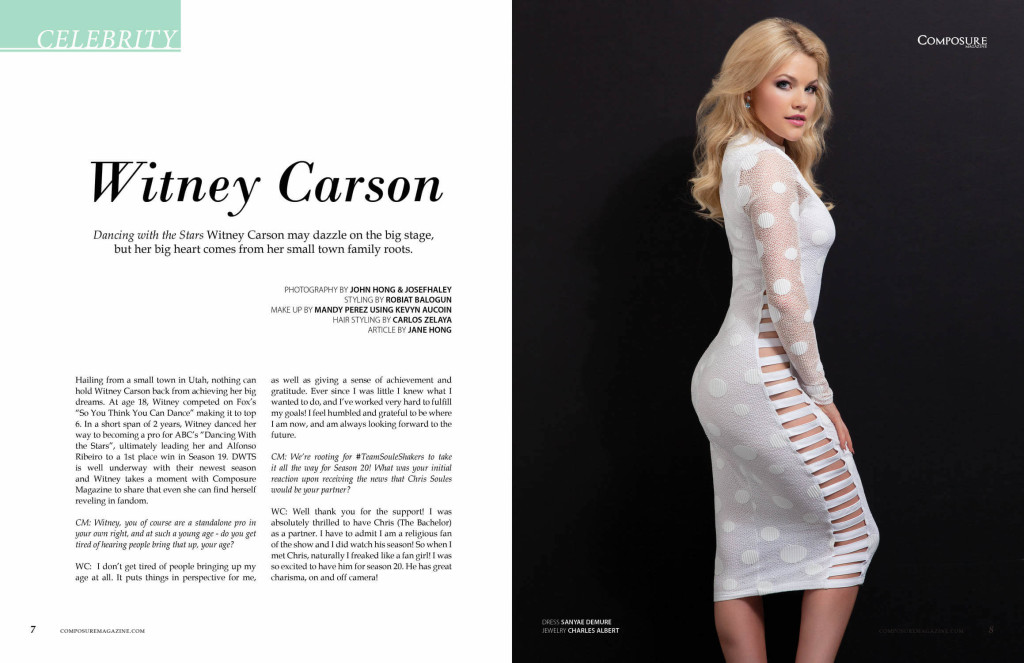 Witney Carson for Composure Magazine:
Dancing with the Stars Witney Carson may dazzle on the big stage, but her big heart comes from her small town family roots.
Hailing from a small town in Utah, nothing can hold Witney Carson back from achieving her big dreams. At age 18, Witney competed on Fox's "So You Think You Can Dance" making it to top 6. In a short span of 2 years, Witney danced her way to becoming a pro for ABC's "Dancing With the Stars", ultimately leading her and Alfonso Ribeiro to a 1st place win in Season 19. DWTS is well underway with their newest season and Witney takes a moment with Composure Magazine to share that even she can find herself reveling in fandom.
CM: Witney, you of course are a standalone pro in your own right, and at such a young age – do you get tired of hearing people bring that up, your age?
WC: I don't get tired of people bringing up my age at all. It puts things in perspective for me, as well as giving a sense of achievement and gratitude. Ever since I was little I knew what I wanted to do, and I've worked very hard to fulfill my goals! I feel humbled and grateful to be where I am now, and am always looking forward to the future.
CM: We're rooting for #TeamSouleShakers to take it all the way for Season 20! What was your initial reaction upon receiving the news that Chris Soules would be your partner?
WC: Well thank you for the support! I was absolutely thrilled to have Chris (The Bachelor) as a partner. I have to admit I am a religious fan of the show and I did watch his season! So when I met Chris, naturally I freaked like a fan girl! I was so excited to have him for season 20. He has great charisma, on and off camera!
CM: Now that you and Chris have had rehearsals and prepping for each round, what goes through your mind the most when you get on that stage with him?
WC: Honestly when I get on stage, I'm in a completely different zone. My only goal is to be there for my partner. It's so incredibly difficult for a non-dancer (like Chris and many others that have been on the show) to perform something they aren't comfortable with in front of millions! It's my job to make sure my partner looks good and feels confident!
CM: It's so incredible to see young talent such as yourself really rise and make strides in your career, and it's obviously something you are pretty passionate about. Did you always just know this is what you were going to do from a young age?
WC: I've always been a go-getter since I was little. I remember watching the show as a young aspiring dancer and knowing that's what I wanted to do when I grew up. That motivation has stuck with me throughout my training as a young adult. I can't believe I'm here now living my dream, it goes to show anyone can fulfill their dreams if they work hard enough for it!
CM: Would you say that there was a significant turning point in your decision to take dancing to a professional level?
WC: I think when I was about 12 or 13 I became really serious and devoted every hour I had after school to dance. I began taking extra ballroom privates from outside choreographers and started competing and performing all over the country! It was a way to express myself; it made me feel strong and confident so I stuck with it!
CM: We know you as a dancer, but who would you say you are…who is Witney Carson and what part of you would you like people to get to know better?
WC: I'm just a normal girl with big dreams and a big heart! Sounds cheesy but it's plain and simple. I come from a small town in Utah with a great family who supports me one hundred percent. They are the most important to me! I know I was gifted with this talent to be an influence for good. I want to inspire young girls, women, and men to believe that they are capable of anything. Be yourself and believe that you are enough.
CM: You have a pinned tweet; it's a beautiful statement about women never forgetting their divine worth. Can you expand on your thoughts behind that statement?
WC: Everyone is unique in their own beautiful way. Women and young girls look at the entertainment world and see unrealistic images of what they think they should look like. It breaks my heart to see young girls not know how special and amazing they are by just being themselves! I hope that I can be a living example by always sticking to what I believe in, and hopefully that will make a difference in some small ways.
PHOTOGRAPHY BY JOHN HONG & JOSEFHALEY
STYLING BY ROBIAT BALOGUN
MAKE UP BY MANDY PEREZ USING KEVYN AUCOIN
HAIR STYLING BY CARLOS ZELAYA
ARTICLE BY JANE HONG
Share your thoughts...