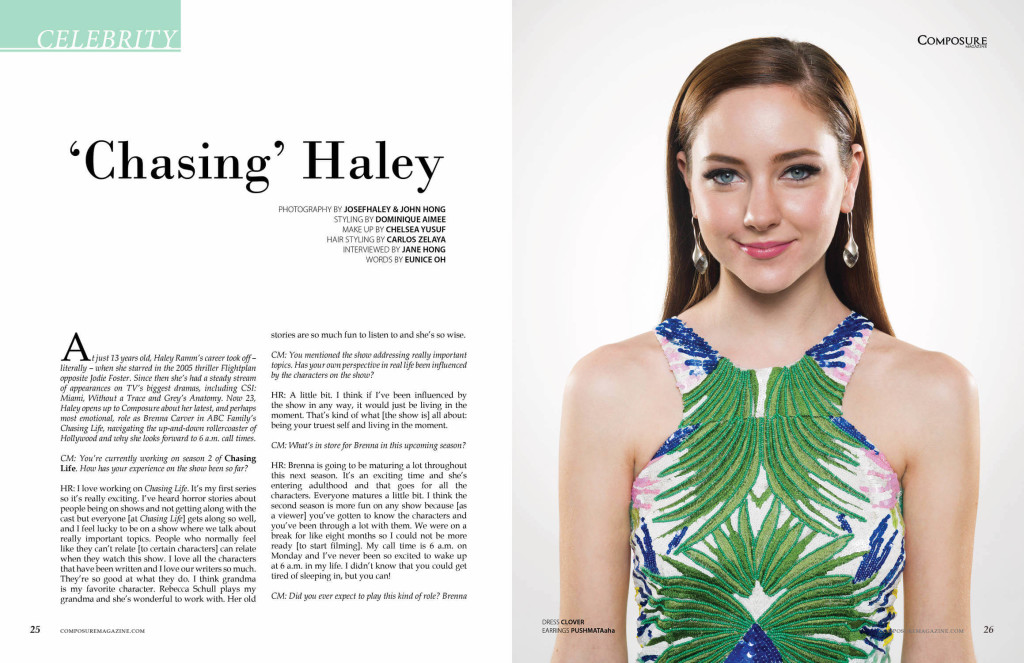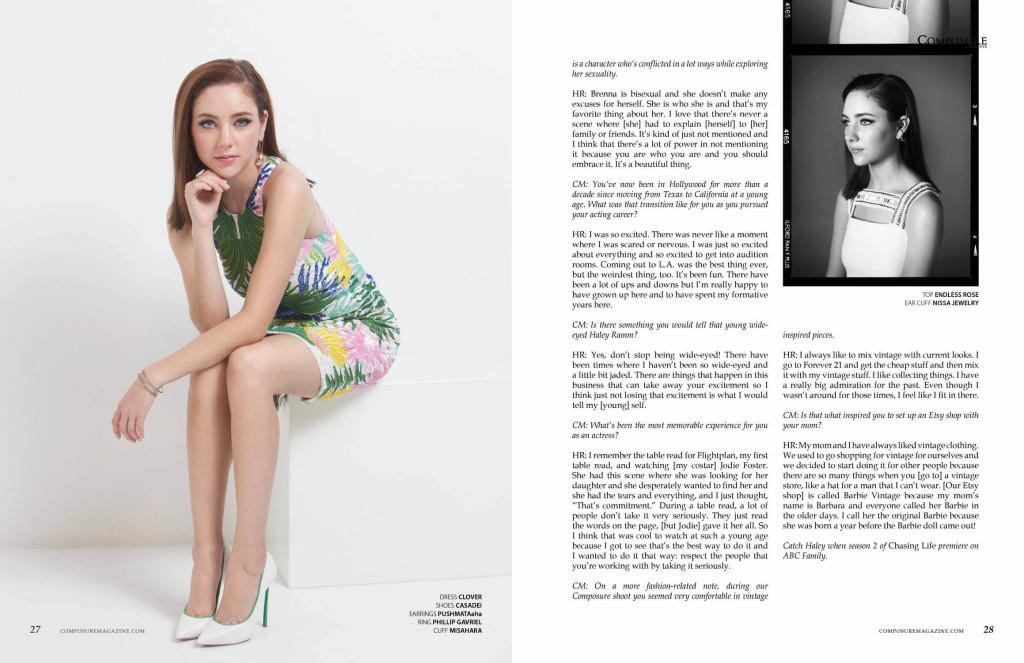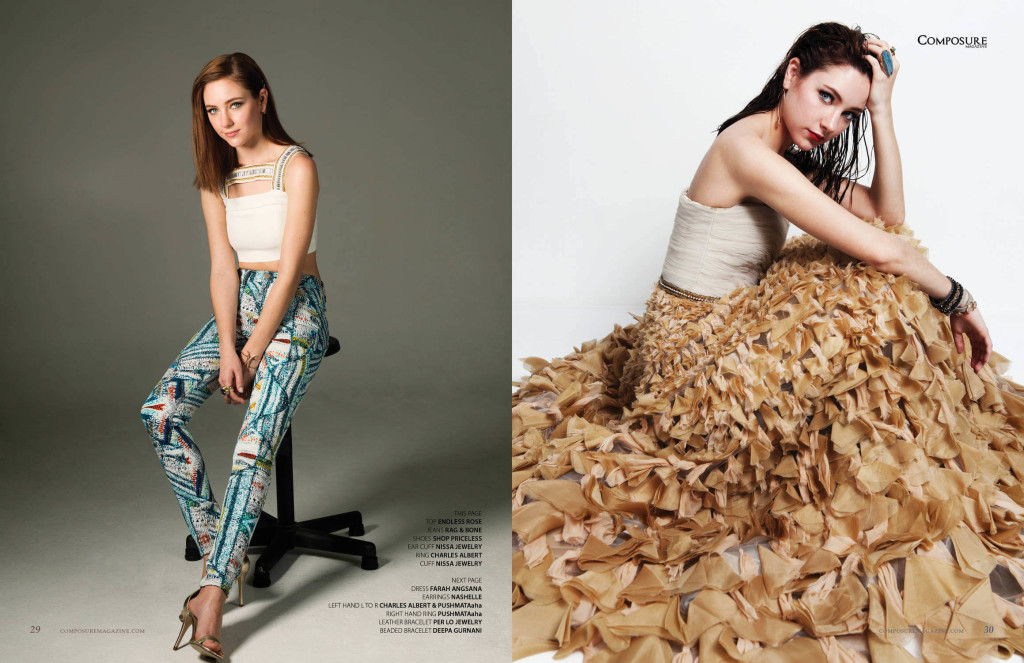 'Chasing' Haley
At just 13 years old, Haley Ramm's career took off – literally – when she starred in the 2005 thriller Flightplan opposite Jodie Foster. Since then she's had a steady stream of appearances on TV's biggest dramas, including CSI: Miami, Without a Trace and Grey's Anatomy. Now 23, Haley opens up to Composure about her latest, and perhaps most emotional, role as Brenna Carver in ABC Family's Chasing Life, navigating the up-and-down rollercoaster of Hollywood and why she looks forward to 6 a.m. call times.
CM: You're currently working on season 2 of Chasing Life. How has your experience on the show been so far?
HR: I love working on Chasing Life. It's my first series so it's really exciting. I've heard horror stories about people being on shows and not getting along with the cast but everyone [at Chasing Life] gets along so well, and I feel lucky to be on a show where we talk about really important topics. People who normally feel like they can't relate [to certain characters] can relate when they watch this show. I love all the characters that have been written and I love our writers so much. They're so good at what they do. I think grandma is my favorite character. Rebecca Schull plays my grandma and she's wonderful to work with. Her old stories are so much fun to listen to and she's so wise.
CM: You mentioned the show addressing really important topics. Has your own perspective in real life been influenced by the characters on the show?
HR: A little bit. I think if I've been influenced by the show in any way, it would just be living in the moment. That's kind of what [the show is] all about: being your truest self and living in the moment.
CM: What's in store for Brenna in this upcoming season?
HR: Brenna is going to be maturing a lot throughout this next season. It's an exciting time and she's entering adulthood and that goes for all the characters. Everyone matures a little bit. I think the second season is more fun on any show because [as a viewer] you've gotten to know the characters and you've been through a lot with them. We were on a break for like eight months so I could not be more ready [to start filming]. My call time is 6 a.m. on Monday and I've never been so excited to wake up at 6 a.m. in my life. I didn't know that you could get tired of sleeping in, but you can!
CM: Did you ever expect to play this kind of role? Brenna is a character who's conflicted in a lot ways while exploring her sexuality.
HR: Brenna is bisexual and she doesn't make any excuses for herself. She is who she is and that's my favorite thing about her. I love that there's never a scene where [she] had to explain [herself] to [her] family or friends. It's kind of just not mentioned and I think that there's a lot of power in not mentioning it because you are who you are and you should embrace it. It's a beautiful thing.
CM: You've now been in Hollywood for more than a decade since moving from Texas to California at a young age. What was that transition like for you as you pursued your acting career?
HR: I was so excited. There was never like a moment where I was scared or nervous. I was just so excited about everything and so excited to get into audition rooms. Coming out to L.A. was the best thing ever, but the weirdest thing, too. It's been fun. There have been a lot of ups and downs but I'm really happy to have grown up here and to have spent my formative years here.
CM: Is there something you would tell that young wide-eyed Haley Ramm?
HR: Yes, don't stop being wide-eyed! There have been times where I haven't been so wide-eyed and a little bit jaded. There are things that happen in this business that can take away your excitement so I think just not losing that excitement is what I would tell my [young] self.
CM: What's been the most memorable experience for you as an actress?
HR: I remember the table read for Flightplan, my first table read, and watching [my costar] Jodie Foster. She had this scene where she was looking for her daughter and she desperately wanted to find her and she had the tears and everything, and I just thought, "That's commitment." During a table read, a lot of people don't take it very seriously. They just read the words on the page, [but Jodie] gave it her all. So I think that was cool to watch at such a young age because I got to see that's the best way to do it and I wanted to do it that way: respect the people that you're working with by taking it seriously.
CM: On a more fashion-related note, during our Composure shoot you seemed very comfortable in vintage inspired pieces.
HR: I always like to mix vintage with current looks. I go to Forever 21 and get the cheap stuff and then mix it with my vintage stuff. I like collecting things. I have a really big admiration for the past. Even though I wasn't around for those times, I feel like I fit in there.
CM: Is that what inspired you to set up an Etsy shop with your mom?
HR: My mom and I have always liked vintage clothing. We used to go shopping for vintage for ourselves and we decided to start doing it for other people because there are so many things when you [go to] a vintage store, like a hat for a man that I can't wear. [Our Etsy shop] is called Barbie Vintage because my mom's name is Barbara and everyone called her Barbie in the older days. I call her the original Barbie because she was born a year before the Barbie doll came out!
Catch Haley when season 2 of Chasing Life premiere on ABC Family.
PHOTOGRAPHY BY JOSEFHALEY & JOHN HONG
STYLING BY DOMINIQUE AIMEE
MAKE UP BY CHELSEA YUSUF
HAIR STYLING BY CARLOS ZELAYA
INTERVIEWED BY JANE HONG
WORDS BY EUNICE OH
Share your thoughts...