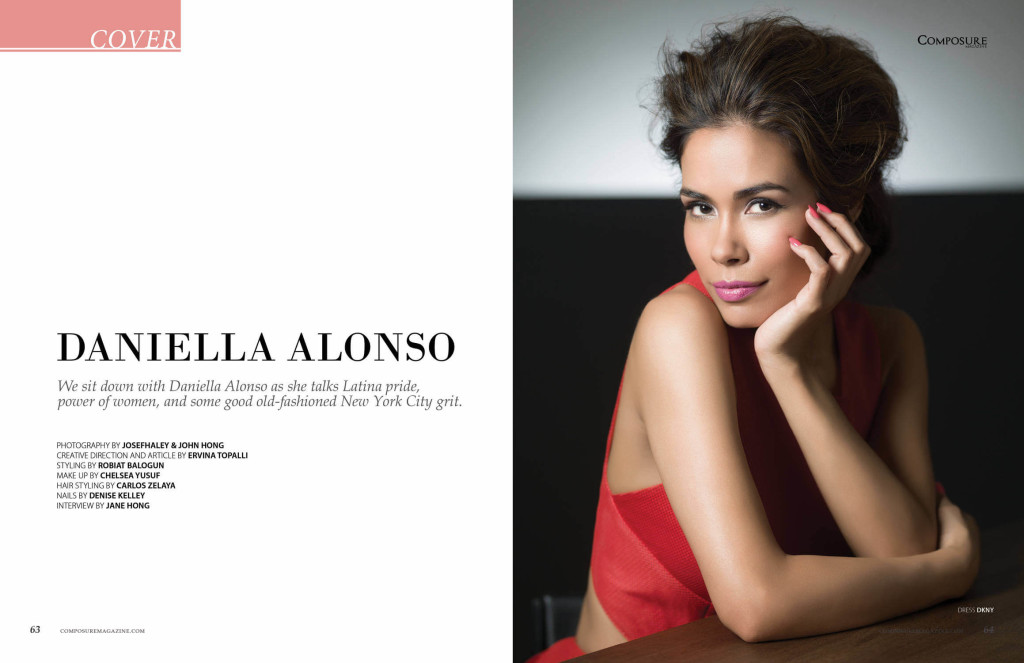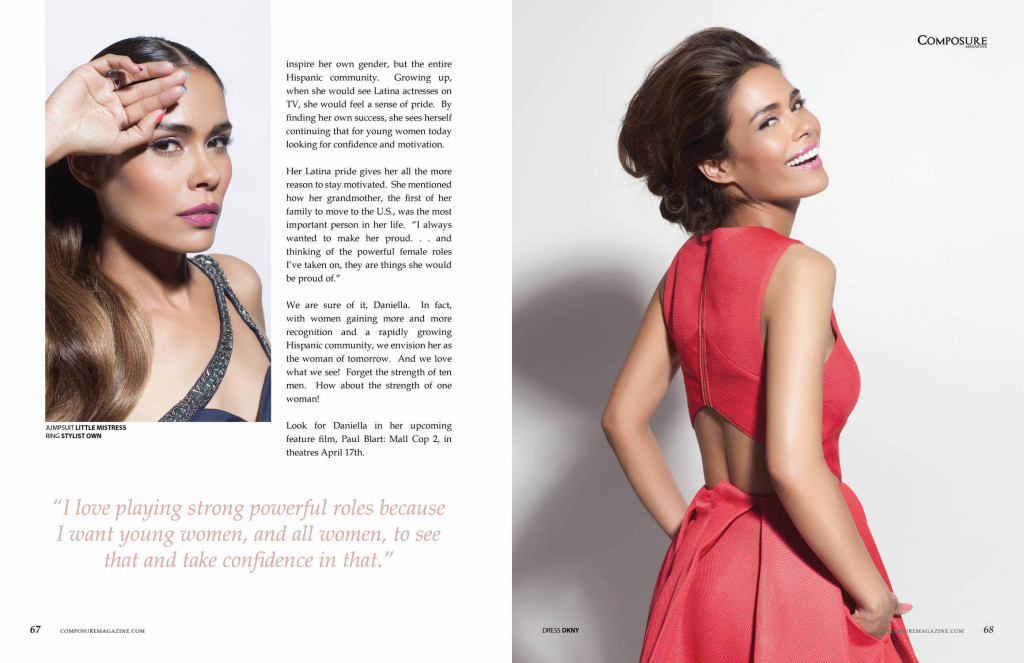 We sit down with Daniella Alonso as she talks Latina pride, power of women, and some good old-fashioned New York City grit.
We all know the saying, "The strength of ten men." Well watch out, trope of the past- the strength of ten women may be the new norm. Add in the hustle and toughness of a New Yorker… and the fiery resolve of a proud Latina, and boy do you have a presence to be reckoned with. We had the privilege of engaging with just that when we sat down with actress Daniella Alonso at the Composure Studio.
The New York City apartment building where Daniella spent her childhood was also home to her mother, her grandmother, her great grandmother, her grandmother's sisters, and all of their daughters. "For every one guy in my family, there were like 15 women," she says. And not just any women. "Strong, independent women who took care of themselves." To Daniella, this was something she saw as lucky. Being surrounded by so many powerful female role models led her to a great sense of self and an unwavering confidence in all that she pursued.
And pursue she did. Though no one in her family was into the arts, they all supported her decision to follow that path. "Living in New York you are constantly surrounded by an artistic vibe. Acting studios and theaters on every block, artists performing on every street corner. I was just really inspired." Daniella jumped at the first chance she had to attend an acting class. Though it wasn't easy at first, her New York hustle gave her an extra boost. When confronted with setbacks or adversity, she stuck to her guns. "No is never a no. It's just a 'try harder, work harder' and eventually that no will become a yes in a different form." The conviction with which she said this to us was downright inspiring. "I'm a New Yorker, and New Yorkers have that mentality," she continued. It sure made us understand why that city can seem like the center of the universe.
As one would imagine, this mentality brought great success for Daniella. And the roles she has landed mirror that strength of character. She often portrays powerful women: a doctor, a lawyer, a cop, a therapist. "I love playing strong powerful roles because I want young women, and all women, to see that and take confidence in that," she said with sincerity. She hopes not only to inspire her own gender, but the entire Hispanic community. Growing up, when she would see Latina actresses on TV, she would feel a sense of pride. By finding her own success, she sees herself continuing that for young women today looking for confidence and motivation.
Her Latina pride gives her all the more reason to stay motivated. She mentioned how her grandmother, the first of her family to move to the U.S., was the most important person in her life. "I always wanted to make her proud. . . and thinking of the powerful female roles I've taken on, they are things she would be proud of."
We are sure of it, Daniella. In fact, with women gaining more and more recognition and a rapidly growing Hispanic community, we envision her as the woman of tomorrow. And we love what we see! Forget the strength of ten men. How about the strength of one woman!
Look for Daniella in her upcoming feature film, Paul Blart: Mall Cop 2, in theatres April 17th.
PHOTOGRAPHY BY JOSEFHALEY & JOHN HONG
CREATIVE DIRECTION AND ARTICLE BY ERVINA TOPALLI
STYLING BY ROBIAT BALOGUN
MAKE UP BY CHELSEA YUSUF
HAIR STYLING BY CARLOS ZELAYA
NAILS BY DENISE KELLEY
INTERVIEW BY JANE HONG
Share your thoughts...