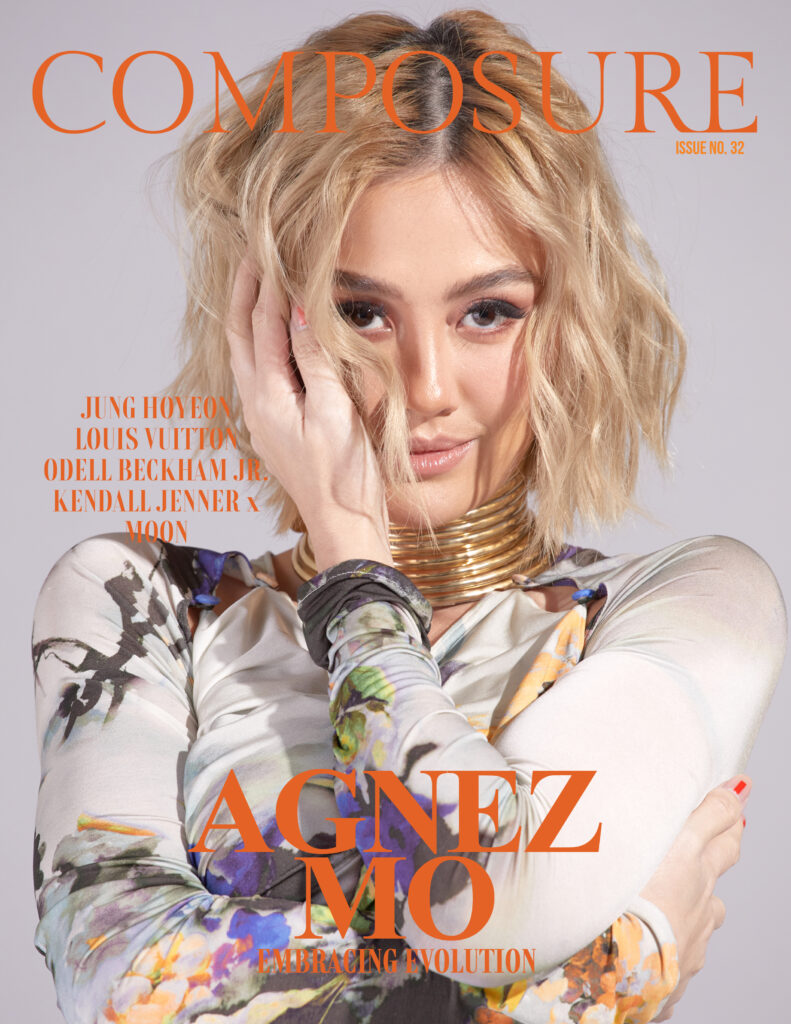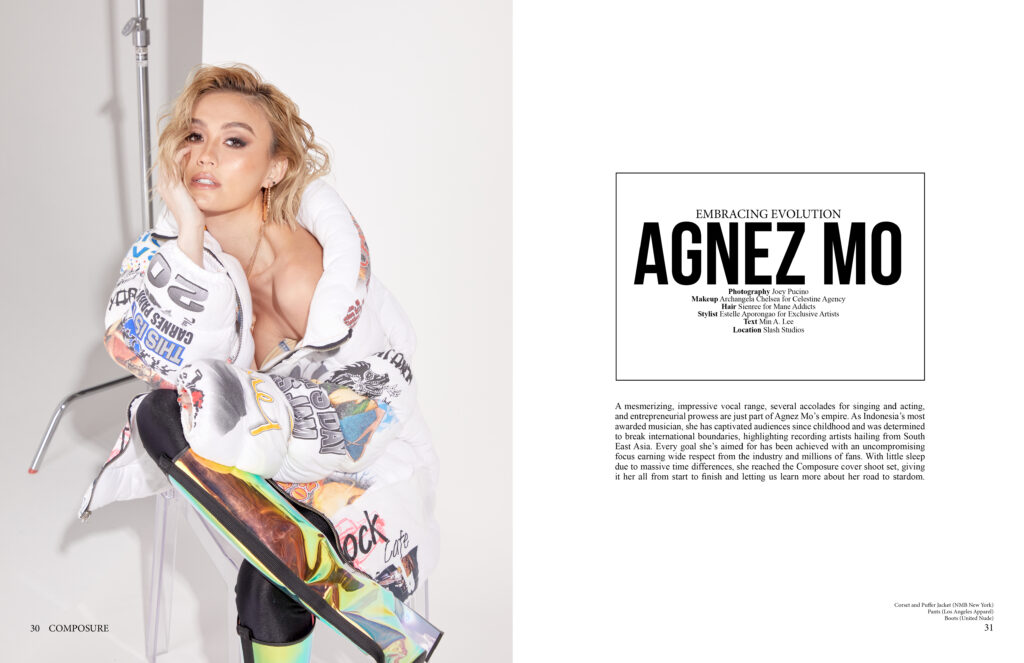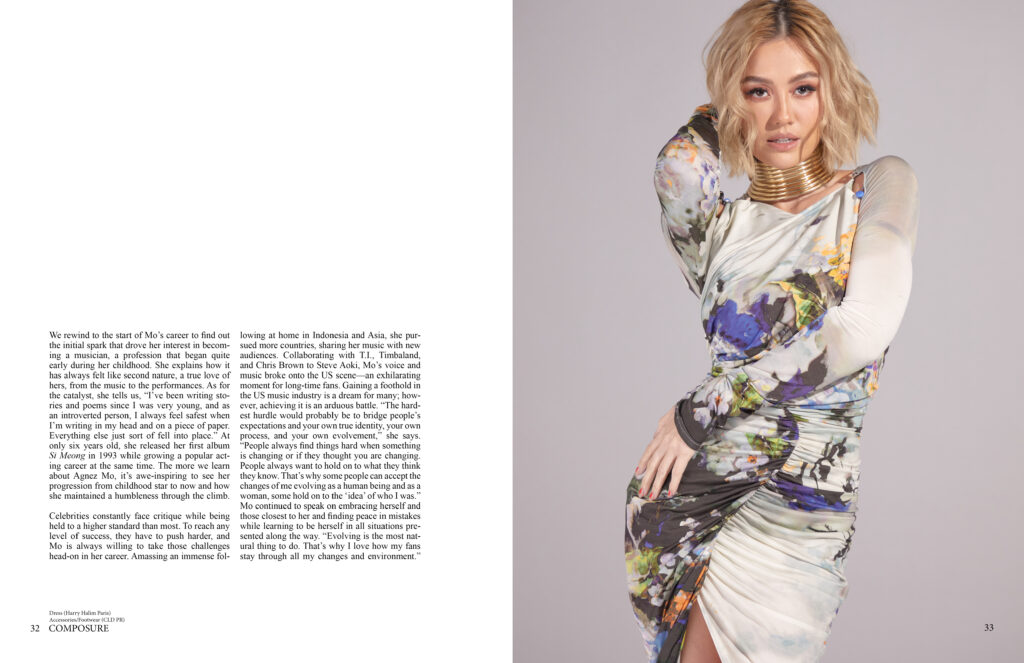 A mesmerizing, impressive vocal range, several accolades for singing and acting, and entrepreneurial prowess are just part of Agnez Mo's empire. As Indonesia's most awarded musician, she has captivated audiences since childhood and was determined to break international boundaries, highlighting recording artists hailing from South East Asia. Every goal she's aimed for has been achieved with an uncompromising focus earning wide respect from the industry and millions of fans. With little sleep due to massive time differences, she reached the Composure cover shoot set, giving it her all from start to finish and letting us learn more about her road to stardom.
We rewind to the start of Mo's career to find out the initial spark that drove her interest in becoming a musician, a profession that began quite early during her childhood. She explains how it has always felt like second nature, a true love of hers, from the music to the performances. As for the catalyst, she tells us, "I've been writing stories and poems since I was very young, and as an introverted person, I always feel safest when I'm writing in my head and on a piece of paper. Everything else just sort of fell into place." At only six years old, she released her first album Si Meong in 1993 while growing a popular acting career at the same time. The more we learn about Agnez Mo, it's awe-inspiring to see her progression from childhood star to now and how she maintained a humbleness through the climb.
Celebrities constantly face critique while being held to a higher standard than most. To reach any level of success, they have to push harder, and Mo is always willing to take those challenges head-on in her career. Amassing an immense following at home in Indonesia and Asia, she pursued more countries, sharing her music with new audiences. Collaborating with T.I., Timbaland, and Chris Brown to Steve Aoki, Mo's voice and music broke onto the US scene—an exhilarating moment for long-time fans. Gaining a foothold in the US music industry is a dream for many; however, achieving it is an arduous battle. "The hardest hurdle would probably be to bridge people's expectations and your own true identity, your own process, and your own evolvement," she says. "People always find things hard when something is changing or if they thought you are changing. People always want to hold on to what they think they know. That's why some people can accept the changes of me evolving as a human being and as a woman, some hold on to the 'idea' of who I was." Mo continued to speak on embracing herself and those closest to her and finding peace in mistakes while learning to be herself in all situations presented along the way. "Evolving is the most natural thing to do. That's why I love how my fans stay through all my changes and environment."
Going through her discography from 1992/1993 and on, we asked her about the songs and if she could pinpoint which ones were the most personally meaningful. "I know my fans will hate me saying this, but honestly, the songs that I'm working on right now are the most me," she shares. "Although all of my songs and albums are like my diary, all of them represent me at different stages and phases of my life." Tossing in the last couple of insane years that threw everyone off, Mo explains that she spent it going through the music she produced during 2020. "All of them haven't been released yet, and it was like a click, an instant light bulb!" she expresses. "I knew then exactly what my sound needs to be. It's like I had the conviction I needed before I put out my songs and EP in 2022." Seeing the enthusiasm flowing from Mo, we can't help but wonder what will be coming out now! It will surely be worth the wait, and as much as we want to ask for sneak peeks, we don't want to ruin the surprise.
If you jump to Instagram alone, you'll see Mo has nearly 27 million followers (combined with others, it's well above 52 million). With such a powerful platform combined with global reach, Mo engages her audience with philanthropic efforts to advocate ending human trafficking and drugs. Appointed as an ambassador to MTV's EXIT (End Exploitation and Trafficking) initiative, Mo has worked for years to raise awareness, keep information flowing, and ask others to join the fight with her. "The best thing to do is to 'teach' by example. I always try not to be preachy because who am I to know everything, right?" she says. "Showing women and kids that they have the right to speak up and they deserve to be listened to shows people that there are other alternatives to self-destruction by showing more compassion and being the example or the change we ourselves need. Constantly reminding people of self-love (not selfish) and that you deserve the best are probably the best practice I could do on my platforms." Mo fully understands and acknowledges the impact of social media, a responsibility she takes very seriously at all times. "I've heard so many stories from my fans about how they turned their lives around because of what I say or what I do on social media," she explains. "It's crazy. You may not realize how much influence you give people around you just by being your positive self. You could change people's lives. I know I'm so far from perfect, but I can at least try. The most important thing for me is my legacy. What's a better legacy than being the light?"
Mo is a true modern-day Renaissance Woman. It doesn't stop at music and acting; her proficiency in multiple industries sets her apart from others. In just the last few months, she's launched her instantly sold-out gold flake-infused sparkling wine brand A MO, The Love Potion, and was made a National Ambassador for Patriotism by the Indonesian Ministry of Defense. Having multiple successful ventures in the fashion and digital arenas over the years proves that Mo can do anything and everything. "How do I balance it all?" she laughs. "Honestly, I don't know. I still ask the same question. There are times when I'm doing a great job at balancing, but there are a lot of times when I don't know how to balance them all, especially when I'm on a project. When I'm focused on my sh*t, I'm like 1000 percent focused, making it harder for me to balance it." What we appreciate the most is her stance on life in general and how "it's really not a competition." Everything she aims to create comes from a passionate place within herself, and sometimes it does leave her near the brink of over-exhaustion, but she says, "I remember what my mom used to say to me and will still text me to this day—be happy. She could text me out of nowhere and say, 'don't forget to be happy.' It might sound weird to have that reminder, but I think everybody needs that every once in a while. Life is a marathon. I'm just enjoying my journey."
As the interview ends, Mo leaves us with the perfect statement: "I promise you, I'm taking you on my life journey on every note, melody, and lyrics." Her drive to maintain such versatile enterprises and advocacy deserves profound respect. Thinking back over everything we've heard, her words are sound advice for anyone. Though easier said than done, our paths don't have to be pervaded with competition, and Agnez Mo proves that happiness and success can go gracefully hand-in-hand.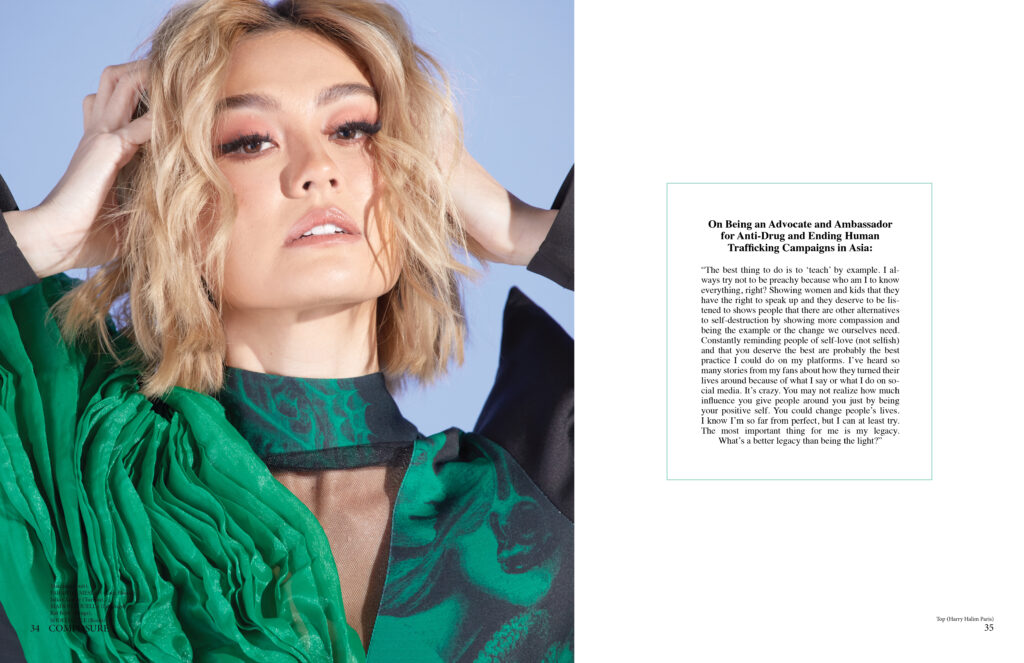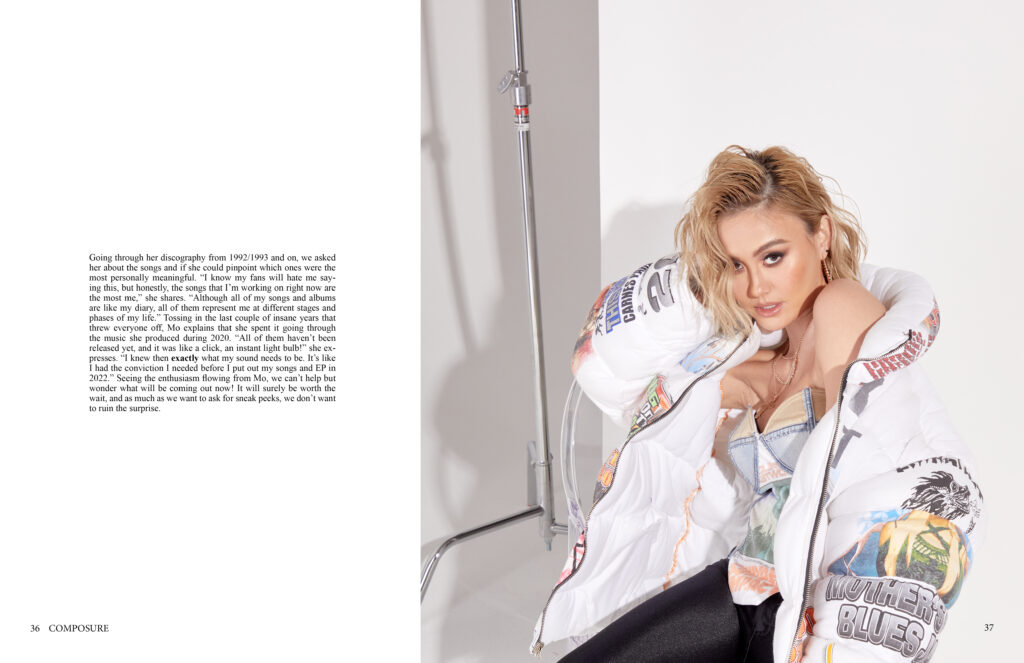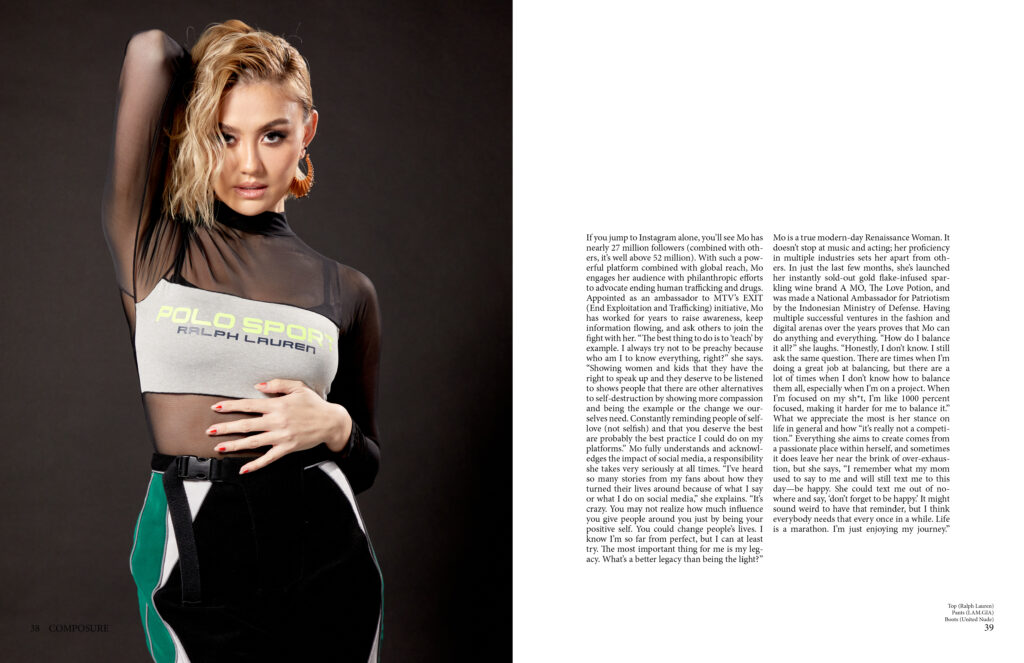 Share your thoughts...