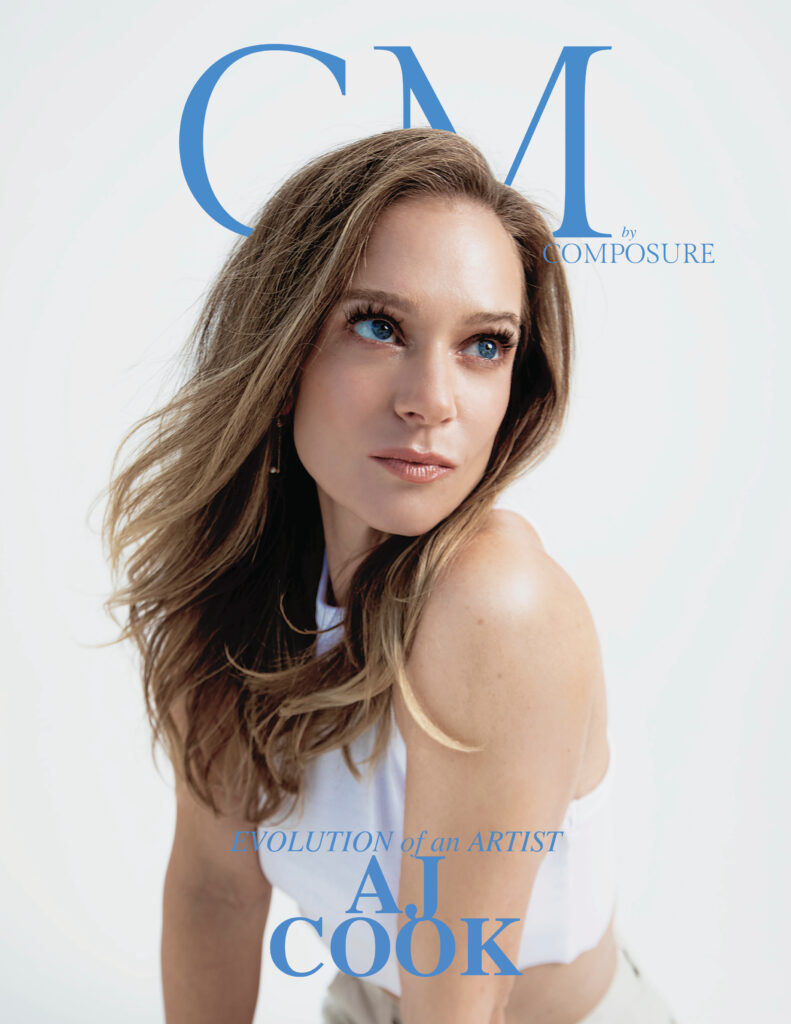 AJ COOK: The Evolution of an Artist
Devoting yourself to art is like showing your naked soul and offering to other people a way of escape, a way of salvation, a way of healing. Every form of art is free therapy. You can view your personal situation, identify yourself, find the solution, and see a way out.
Each artist fragments themself into many small parts, showing all their facets like a prism, and offers them outside, unaware if their real message will be understood and accepted. But after all, art is not made to be understood 100%; art is made to be felt across your soul from side to side. Art is an Epiphany, a flash of lightning in which, after, you will never be the same again.
AJ Cook, the unparalleled Canadian, has made acting the narrative of her life. With charisma and determination, she moves with effortless ease from roles in productions that have conquered millions of fans worldwide to independent films that have consecrated her undisputed talent.
Did you ever dream of becoming an actress, or did it come unexpectedly into your life? If you could speak to your younger self, is there anything you would like to tell her?
AJ: Performance Art has always been incredibly cathartic for me. When I was four, I started ballet and fell in love. I was a quiet, shy kid, so dance gave me a safe space to express myself in a way I normally wouldn't. From there, acting just sort of presented itself to me. I loved the idea of getting to step into someone else's shoes—to see things through a totally new perspective. It was fascinating to me, and once again, I fell in love. I found my home. If I could tell my younger self one thing, it would be to stop making yourself so small. You deserve to take up space and to be heard. Fearing what people might think of you is a waste of time and energy.
You are under pressure from the media and social networks as a famous and successful actress. What helps you to maintain an inner balance and to come out from your down moments?
AJ: I guess I don't really look at myself as a famous actress who is under pressure from the media. I am lucky enough to get to do what I love for a living, and with that comes a responsibility to pay it forward. I put myself out there knowing you can't please everyone all of the time. But I also know what's real in my life, what's truly important. It's different for everyone, but for me, it's family, loved ones, and just being a decent human being. At the end of the day, it's those things that keep me grounded, balanced and happy.
Do you have a special memory related to a role you played that you would like to share? Maybe a memory that still today is giving you goosebumps?
AJ: Oh wow, I have so many: getting to work with Sofia Coppola on The Virgin Suicides! I'm a massive fan of her work. She's a visionary. Another goosebumps moment was getting to act with and direct my own children (Mekhai Andersen, who plays Henry, and Phoenix Andersen, who plays Michael) in episode 8 of this season of Criminal Minds: Evolution. It was so special to have that experience! Oh, and seeing our Criminal Minds: Evolution billboard in the middle of Time Square! I still can't believe that happened. I was the size of a building!
Jennifer "JJ" Jareau is your role in one of the most beloved series of all time, Criminal Minds; how does this role impact your own life?
AJ: I grew up on this show! I had two babies while on this show! At a certain point, aspects of AJ's and JJ's lives started to mirror one another. Art imitates life, and life imitates art. There have been a lot of things from my life that we have given JJ. Good and bad because that's life! Finding out my husband had cancer wasn't something I chose, but it happened! So we decided to honor him and all who have been through a similar battle by attempting to tell our story through JJ and Will. And vice versa, I can't tell you how many times I've had to channel JJ's strength and grit in my own life!
The reboot Criminal Minds: Evolution has been a real success. How was getting back into the role of JJ?
AJ: It was a real pleasure and honor to get to step back into her shoes again. Like catching up with an old girlfriend, you haven't seen in a long time. It was interesting to figure out how JJ was handling the pandemic and juggling home and work life. It was important to me that she was a more stripped-down and realistic version of JJ. Little to no makeup. Hair barely done. She's exhausted, and her priorities have changed. She has evolved.
In Criminal Minds: Evolution, one clearly felt the difficulty for the agents in finding a balance between their professional and personal lives. How do you manage to balance them?
AJ: I have become really good at compartmentalization. A skill I had to pick up very early on because I didn't want to bring any of the dark stuff I'd learned from the show home with me. So I just leave it all at work where it belongs.
You played roles in Tru Calling, The Virgin Suicides, Ripper, Final Destination 2, and Out Cold, to name a few. Do you accept a role by falling in love with it at first sight, or do you prefer to take time before deciding?
AJ: In my experience, time isn't something you get a lot of in the casting process. Either there's a deadline attached to the offer, or you're putting yourself on tape for something that's due the next day. If I don't feel a connection to it in some way, then I won't move forward with it. I have also fallen in love with many roles that I didn't get. Those are always hard!
In life, you have to take a certain amount of risk to reach high levels. However, many people are blocked by fear of failure, not reaching the goal, and fear of too many "what if it goes wrong?" and they don't take the next step. Life is fragile and unpredictable, and living in the dark side of fear can preclude reaching the light. What advice would you give to those who find themselves in the balance between "I want to try" and "I'm afraid it will go wrong"?
AJ: Some would question if living in the dark side of fear is really living at all. Perfectionism is something that I've struggled with my whole life. If I thought I wasn't going to be good at it, I wouldn't even try. If I did actually work up the courage to try something new and failed miserably, then it only confirmed that I shouldn't have tried in the first place, and the vicious cycle would continue. My husband helped me to look at this in a new way. Failure just means you're one step closer to figuring it out. It's all about trial and error. You just go about it differently next time, and eventually, you'll get there.
How important was it for your career to step out of your comfort zone to achieve your dreams?
AJ: I had no choice but to step outside of my comfort zone! Acting is vulnerability. Period. You have to put yourself out there for the world to see. You have no control over how it will be received. That's terrifying! Art is also very subjective, though, and once I accepted that you couldn't make everyone happy, it really freed me up. I would have never tried directing for the first time if I didn't step outside of my comfort zone either. Thank god I did because I completely fell in love with it! No risk, no reward.
Can you reveal to us any future projects? Maybe just some little juicy spoiler?
AJ: I hope to get back to my independent film roots. We just wrapped the show, so we're looking at what's next for me right now. Criminal Minds: Evolution definitely ends the season with a major cliffhanger. It's going to be so good, and the fans are going to lose it! I can promise you!
And we know that once again, AJ will tenderly illuminate the world around us with her unique art.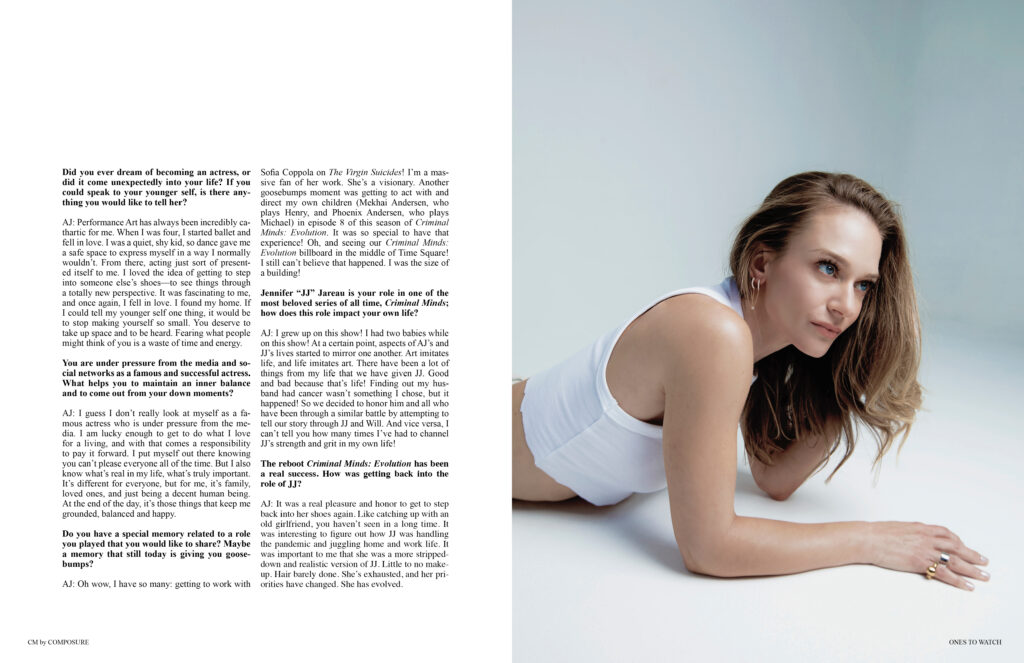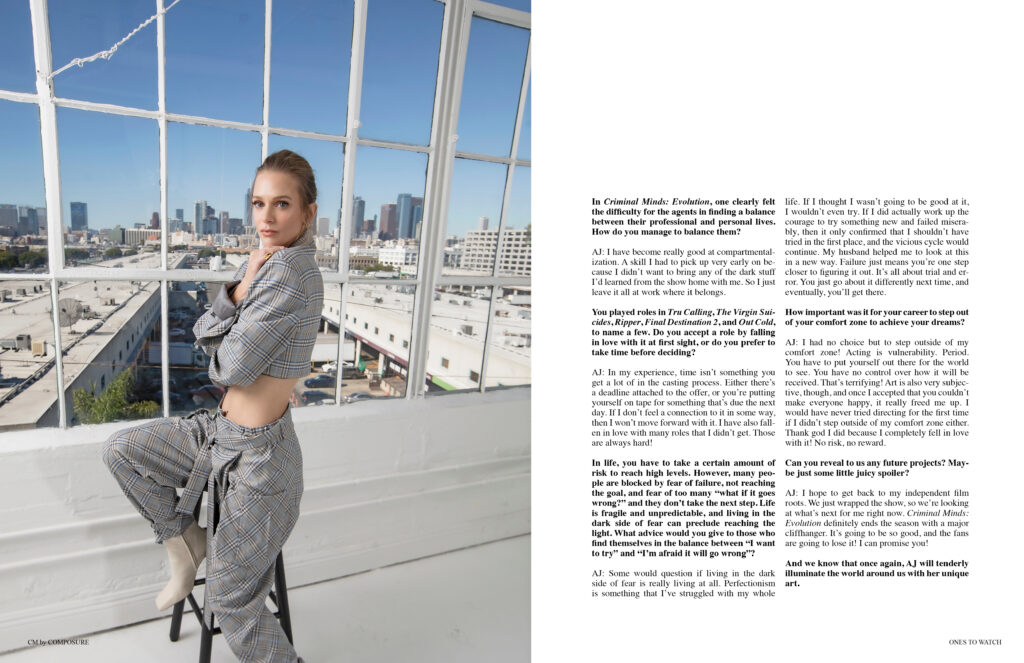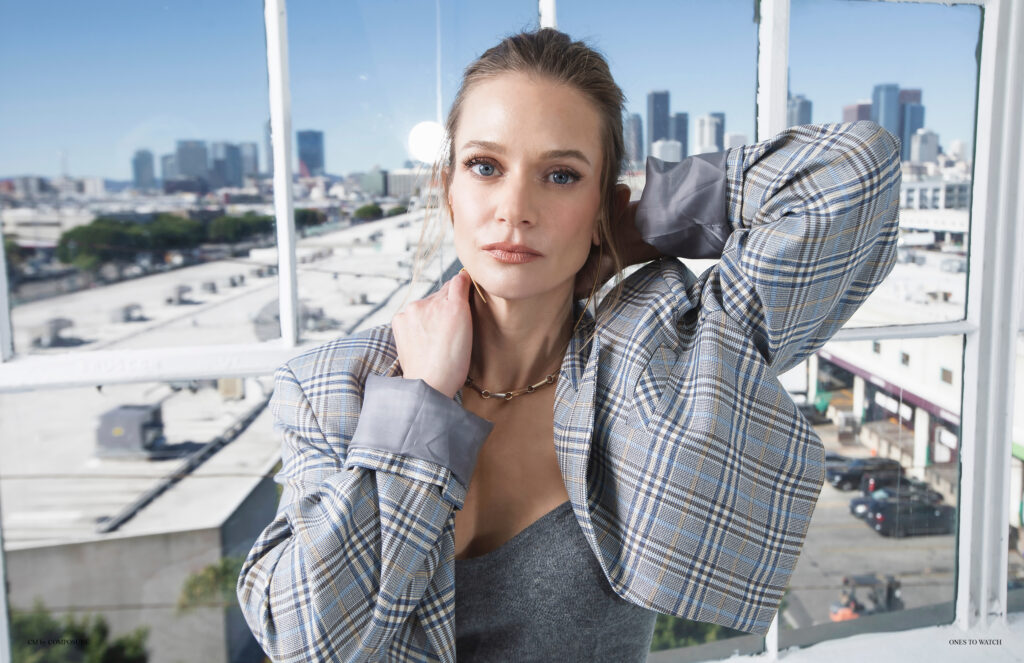 Share your thoughts...