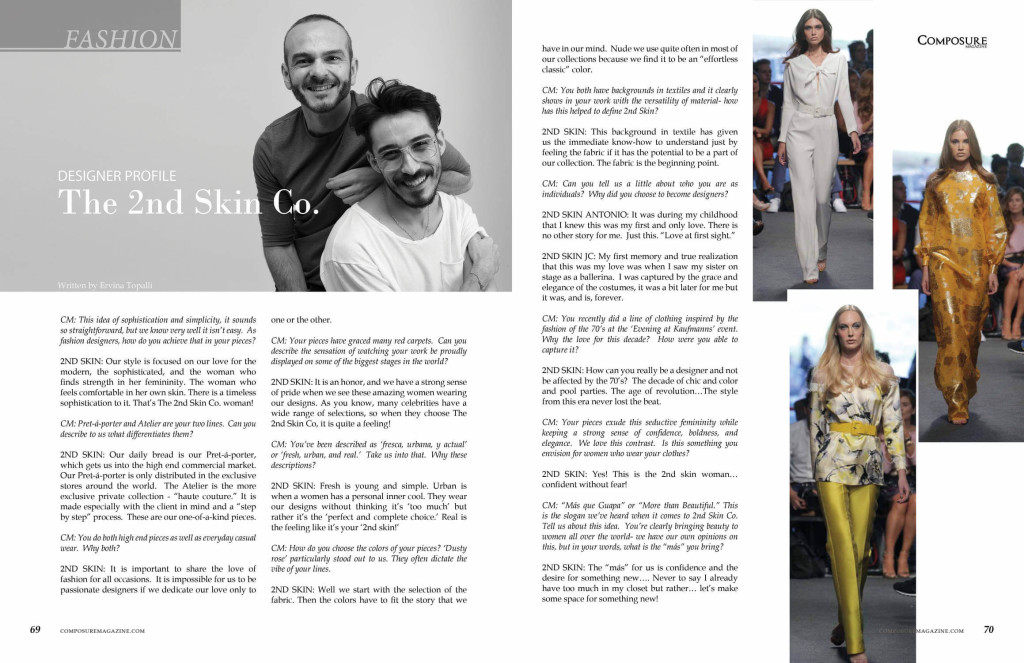 Fashion Designer Profile: The 2nd Skin Co.
Written by Ervina Topalli
CM: This idea of sophistication and simplicity, it sounds so straightforward, but we know very well it isn't easy. As fashion designers, how do you achieve that in your pieces?
2ND SKIN: Our style is focused on our love for the modern, the sophisticated, and the woman who finds strength in her femininity. The woman who feels comfortable in her own skin. There is a timeless sophistication to it. That's The 2nd Skin Co. woman!
CM: Pret-á-porter and Atelier are your two lines. Can you describe to us what differentiates them?
2ND SKIN: Our daily bread is our Pret-á-porter, which gets us into the high end commercial market. Our Pret-á-porter is only distributed in the exclusive stores around the world. The Atelier is the more exclusive private collection – "haute couture." It is made especially with the client in mind and a "step by step" process. These are our one-of-a-kind pieces.
CM: You do both high end pieces as well as everyday casual wear. Why both?
2ND SKIN: It is important to share the love of fashion for all occasions. It is impossible for us to be passionate designers if we dedicate our love only to one or the other.
CM: Your pieces have graced many red carpets. Can you describe the sensation of watching your work be proudly displayed on some of the biggest stages in the world?
2ND SKIN: It is an honor, and we have a strong sense of pride when we see these amazing women wearing our designs. As you know, many celebrities have a wide range of selections, so when they choose The 2nd Skin Co, it is quite a feeling!
CM: You've been described as 'fresca, urbana, y actual' or 'fresh, urban, and real.' Take us into that. Why these descriptions?
2ND SKIN: Fresh is young and simple. Urban is when a women has a personal inner cool. They wear our designs without thinking it's 'too much' but rather it's the 'perfect and complete choice.' Real is the feeling like it's your '2nd skin!'
CM: How do you choose the colors of your pieces? 'Dusty rose' particularly stood out to us. They often dictate the vibe of your lines.
2ND SKIN: Well we start with the selection of the fabric. Then the colors have to fit the story that we have in our mind. Nude we use quite often in most of our collections because we find it to be an "effortless classic" color.
CM: You both have backgrounds in textiles and it clearly shows in your work with the versatility of material- how has this helped to define 2nd Skin?
2ND SKIN: This background in textile has given us the immediate know-how to understand just by feeling the fabric if it has the potential to be a part of our collection. The fabric is the beginning point.
CM: Can you tell us a little about who you are as individuals? Why did you choose to become designers?
2ND SKIN ANTONIO: It was during my childhood that I knew this was my first and only love. There is no other story for me. Just this. "Love at first sight."
2ND SKIN JC: My first memory and true realization that this was my love was when I saw my sister on stage as a ballerina. I was captured by the grace and elegance of the costumes, it was a bit later for me but it was, and is, forever.
CM: You recently did a line of clothing inspired by the fashion of the 70's at the 'Evening at Kaufmanns' event. Why the love for this decade? How were you able to capture it?
2ND SKIN: How can you really be a designer and not be affected by the 70's? The decade of chic and color and pool parties. The age of revolution…The style from this era never lost the beat.
CM: Your pieces exude this seductive femininity while keeping a strong sense of confidence, boldness, and elegance. We love this contrast. Is this something you envision for women who wear your clothes?
2ND SKIN: Yes! This is the 2nd skin woman… confident without fear!
CM: "Más que Guapa" or "More than Beautiful." This is the slogan we've heard when it comes to 2nd Skin Co. Tell us about this idea. You're clearly bringing beauty to women all over the world- we have our own opinions on this, but in your words, what is the "más" you bring?
2ND SKIN: The "más" for us is confidence and the desire for something new…. Never to say I already have too much in my closet but rather… let's make some space for something new!
Share your thoughts...