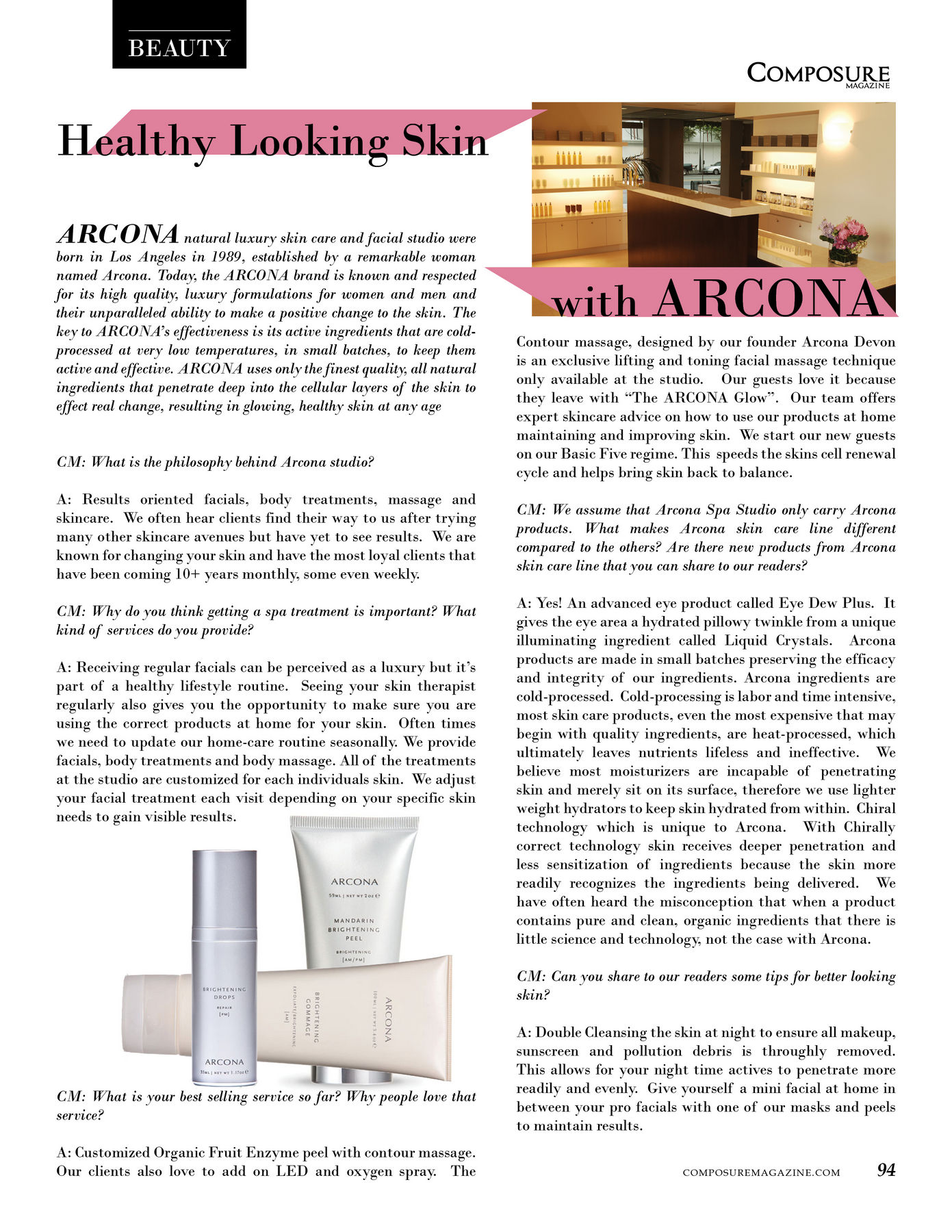 Healthy Looking Skin with ARCONA
ARCONA natural luxury skin care and facial studio were born in Los Angeles in 1989, established by a remarkable woman named Arcona. Today, the ARCONA brand is known and respected for its high quality, luxury formulations for women and men and their unparalleled ability to make a positive change to the skin. The key to ARCONA's effectiveness is its active ingredients that are cold-processed at very low temperatures, in small batches, to keep them active and effective. ARCONA uses only the finest quality, all natural ingredients that penetrate deep into the cellular layers of the skin to effect real change, resulting in glowing, healthy skin at any age.
Composure: What is the philosophy behind Arcona studio?
Arcona: Results oriented facials, body treatments, massage and skincare. We often hear clients find their way to us after trying many other skincare avenues but have yet to see results. We are known for changing your skin and have the most loyal clients that have been coming 10+ years monthly, some even weekly.
Composure: Why do you think getting a spa treatment is important? What kind of services do you provide?
Arcona: Receiving regular facials can be perceived as a luxury but it's part of a healthy lifestyle routine. Seeing your skin therapist regularly also gives you the opportunity to make sure you are using the correct products at home for your skin. Often times we need to update our home-care routine seasonally. We provide facials, body treatments and body massage. All of the treatments at the studio are customized for each individuals skin. We adjust your facial treatment each visit depending on your specific skin needs to gain visible results.
Composure: What is your best selling service so far? Why people love that service?
Arcona: Customized Organic Fruit Enzyme peel with contour massage. Our clients also love to add on LED and oxygen spray. The Contour massage, designed by our founder Arcona Devon is an exclusive lifting and toning facial massage technique only available at the studio. Our guests love it because they leave with "The ARCONA Glow". Our team offers expert skincare advice on how to use our products at home maintaining and improving skin. We start our new guests on our Basic Five regime. This speeds the skins cell renewal cycle and helps bring skin back to balance.
Composure: We assume that Arcona Spa Studio only carry Arcona products. What makes Arcona skin care line different compared to the others? Are there new products from Arcona skin care line that you can share to our readers?
Arcona: Yes! An advanced eye product called Eye Dew Plus. It gives the eye area a hydrated pillowy twinkle from a unique illuminating ingredient called Liquid Crystals. Arcona products are made in small batches preserving the efficacy and integrity of our ingredients. Arcona ingredients are cold-processed. Cold-processing is labor and time intensive, most skin care products, even the most expensive that may begin with quality ingredients, are heat-processed, which ultimately leaves nutrients lifeless and ineffective. We believe most moisturizers are incapable of penetrating skin and merely sit on its surface, therefore we use lighter weight hydrators to keep skin hydrated from within. Chiral technology which is unique to Arcona. With Chirally correct technology skin receives deeper penetration and less sensitization of ingredients because the skin more readily recognizes the ingredients being delivered. We have often heard the misconception that when a product contains pure and clean, organic ingredients that there is little science and technology, not the case with Arcona.
Composure: Can you share to our readers some tips for better looking skin?
Arcona: Double Cleansing the skin at night to ensure all makeup, sunscreen and pollution debris is throughly removed. This allows for your night time actives to penetrate more readily and evenly. Give yourself a mini facial at home in between your pro facials with one of our masks and peels to maintain results.
Share your thoughts...