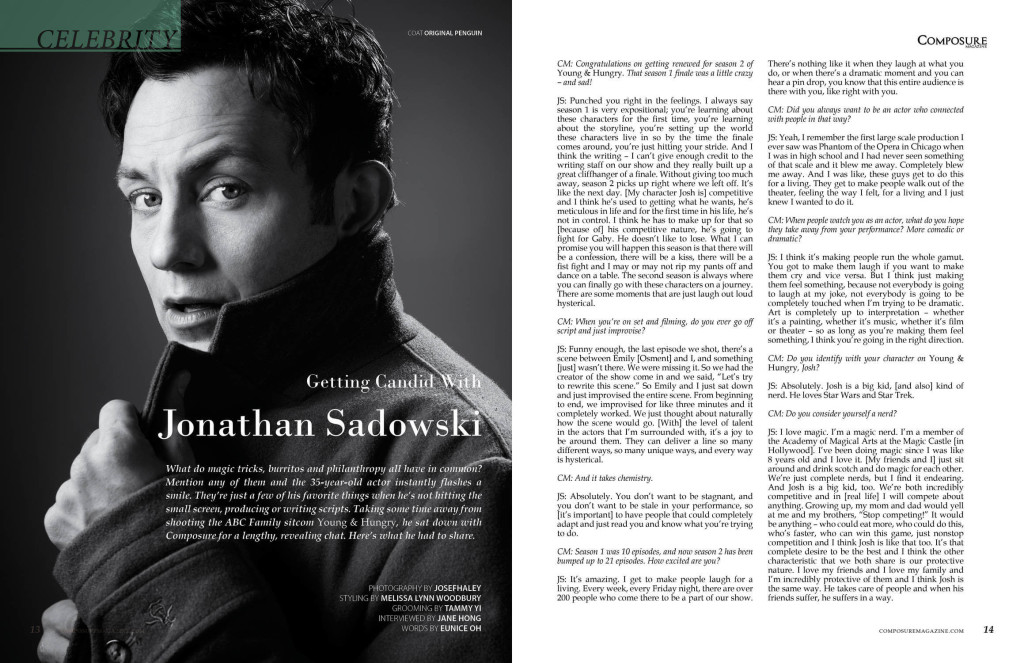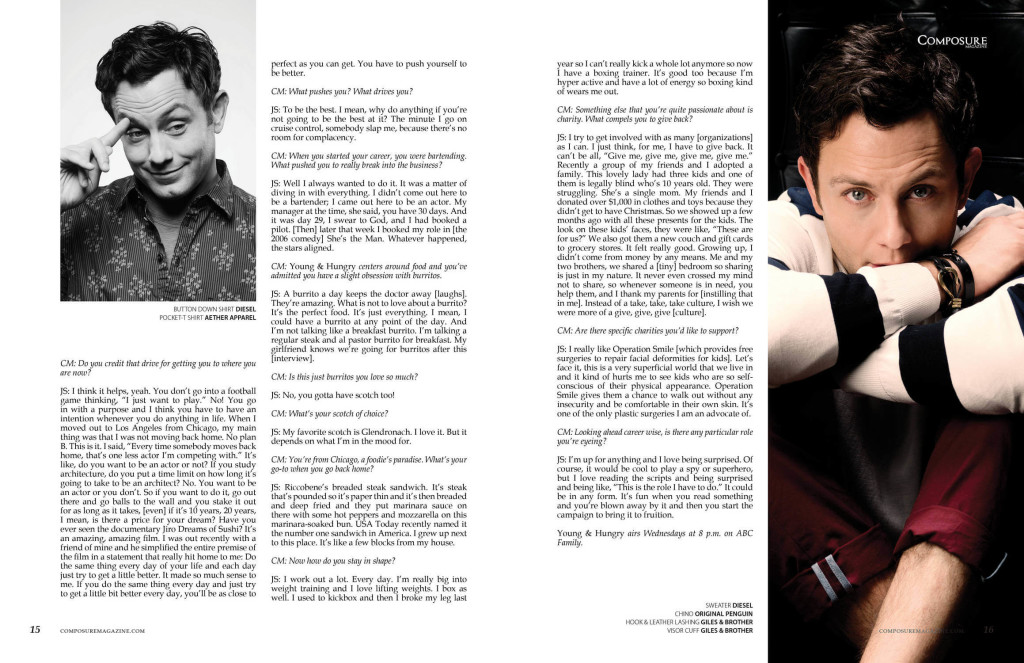 Getting Candid With Jonathan Sadowski:
What do magic tricks, burritos and philanthropy all have in common? Mention any of them and the 35-year-old actor instantly flashes a smile. They're just a few of his favorite things when he's not hitting the small screen, producing or writing scripts. Taking some time away from shooting the ABC Family sitcom Young & Hungry, he sat down with Composure for a lengthy, revealing chat. Here's what he had to share.
CM: Congratulations on getting renewed for season 2 of Young & Hungry. That season 1 finale was a little crazy – and sad!
JS: Punched you right in the feelings. I always say season 1 is very expositional; you're learning about these characters for the first time, you're learning about the storyline, you're setting up the world these characters live in so by the time the finale comes around, you're just hitting your stride. And I think the writing – I can't give enough credit to the writing staff on our show and they really built up a great cliffhanger of a finale. Without giving too much away, season 2 picks up right where we left off. It's like the next day. [My character Josh is] competitive and I think he's used to getting what he wants, he's meticulous in life and for the first time in his life, he's not in control. I think he has to make up for that so [because of] his competitive nature, he's going to fight for Gaby. He doesn't like to lose. What I can promise you will happen this season is that there will be a confession, there will be a kiss, there will be a fist fight and I may or may not rip my pants off and dance on a table. The second season is always where you can finally go with these characters on a journey. There are some moments that are just laugh out loud hysterical.
CM: When you're on set and filming, do you ever go off script and just improvise?
JS: Funny enough, the last episode we shot, there's a scene between Emily [Osment] and I, and something [just] wasn't there. We were missing it. So we had the creator of the show come in and we said, "Let's try to rewrite this scene." So Emily and I just sat down and just improvised the entire scene. From beginning to end, we improvised for like three minutes and it completely worked. We just thought about naturally how the scene would go. [With] the level of talent in the actors that I'm surrounded with, it's a joy to be around them. They can deliver a line so many different ways, so many unique ways, and every way is hysterical.
CM: And it takes chemistry.
JS: Absolutely. You don't want to be stagnant, and you don't want to be stale in your performance, so [it's important] to have people that could completely adapt and just read you and know what you're trying to do.
CM: Season 1 was 10 episodes, and now season 2 has been bumped up to 21 episodes. How excited are you?
JS: It's amazing. I get to make people laugh for a living. Every week, every Friday night, there are over 200 people who come there to be a part of our show. There's nothing like it when they laugh at what you do, or when there's a dramatic moment and you can hear a pin drop, you know that this entire audience is there with you, like right with you.
CM: Did you always want to be an actor who connected with people in that way?
JS: Yeah, I remember the first large scale production I ever saw was Phantom of the Opera in Chicago when I was in high school and I had never seen something of that scale and it blew me away. Completely blew me away. And I was like, these guys get to do this for a living. They get to make people walk out of the theater, feeling the way I felt, for a living and I just knew I wanted to do it.
CM: When people watch you as an actor, what do you hope they take away from your performance? More comedic or dramatic?
JS: I think it's making people run the whole gamut. You got to make them laugh if you want to make them cry and vice versa. But I think just making them feel something, because not everybody is going to laugh at my joke, not everybody is going to be completely touched when I'm trying to be dramatic. Art is completely up to interpretation – whether it's a painting, whether it's music, whether it's film or theater – so as long as you're making them feel something, I think you're going in the right direction.
CM: Do you identify with your character on Young & Hungry, Josh?
JS: Absolutely. Josh is a big kid, [and also] kind of nerd. He loves Star Wars and Star Trek.
CM: Do you consider yourself a nerd?
JS: I love magic. I'm a magic nerd. I'm a member of the Academy of Magical Arts at the Magic Castle [in Hollywood]. I've been doing magic since I was like 8 years old and I love it. [My friends and I] just sit around and drink scotch and do magic for each other. We're just complete nerds, but I find it endearing. And Josh is a big kid, too. We're both incredibly competitive and in [real life] I will compete about anything. Growing up, my mom and dad would yell at me and my brothers, "Stop competing!" It would be anything – who could eat more, who could do this, who's faster, who can win this game, just nonstop competition and I think Josh is like that too. It's that complete desire to be the best and I think the other characteristic that we both share is our protective nature. I love my friends and I love my family and I'm incredibly protective of them and I think Josh is the same way. He takes care of people and when his friends suffer, he suffers in a way.
CM: Do you credit that drive for getting you to where you are now?
JS: I think it helps, yeah. You don't go into a football game thinking, "I just want to play." No! You go in with a purpose and I think you have to have an intention whenever you do anything in life. When I moved out to Los Angeles from Chicago, my main thing was that I was not moving back home. No plan B. This is it. I said, "Every time somebody moves back home, that's one less actor I'm competing with." It's like, do you want to be an actor or not? If you study architecture, do you put a time limit on how long it's going to take to be an architect? No. You want to be an actor or you don't. So if you want to do it, go out there and go balls to the wall and you stake it out for as long as it takes, [even] if it's 10 years, 20 years, I mean, is there a price for your dream? Have you ever seen the documentary Jiro Dreams of Sushi? It's an amazing, amazing film. I was out recently with a friend of mine and he simplified the entire premise of the film in a statement that really hit home to me: Do the same thing every day of your life and each day just try to get a little better. It made so much sense to me. If you do the same thing every day and just try to get a little bit better every day, you'll be as close to perfect as you can get. You have to push yourself to be better.
CM: What pushes you? What drives you?
JS: To be the best. I mean, why do anything if you're not going to be the best at it? The minute I go on cruise control, somebody slap me, because there's no room for complacency.
CM: When you started your career, you were bartending. What pushed you to really break into the business?
JS: Well I always wanted to do it. It was a matter of diving in with everything. I didn't come out here to be a bartender; I came out here to be an actor. My manager at the time, she said, you have 30 days. And it was day 29, I swear to God, and I had booked a pilot. [Then] later that week I booked my role in [the 2006 comedy] She's the Man. Whatever happened, the stars aligned.
CM: Young & Hungry centers around food and you've admitted you have a slight obsession with burritos.
JS: A burrito a day keeps the doctor away [laughs]. They're amazing. What is not to love about a burrito? It's the perfect food. It's just everything. I mean, I could have a burrito at any point of the day. And I'm not talking like a breakfast burrito. I'm talking a regular steak and al pastor burrito for breakfast. My girlfriend knows we're going for burritos after this [interview].
CM: Is this just burritos you love so much?
JS: No, you gotta have scotch too!
CM: What's your scotch of choice?
JS: My favorite scotch is Glendronach. I love it. But it depends on what I'm in the mood for.
CM: You're from Chicago, a foodie's paradise. What's your go-to when you go back home?
JS: Riccobene's breaded steak sandwich. It's steak that's pounded so it's paper thin and it's then breaded and deep fried and they put marinara sauce on there with some hot peppers and mozzarella on this marinara-soaked bun. USA Today recently named it the number one sandwich in America. I grew up next to this place. It's like a few blocks from my house.
CM: Now how do you stay in shape?
JS: I work out a lot. Every day. I'm really big into weight training and I love lifting weights. I box as well. I used to kickbox and then I broke my leg last year so I can't really kick a whole lot anymore so now I have a boxing trainer. It's good too because I'm hyper active and have a lot of energy so boxing kind of wears me out.
CM: Something else that you're quite passionate about is charity. What compels you to give back?
JS: I try to get involved with as many [organizations] as I can. I just think, for me, I have to give back. It can't be all, "Give me, give me, give me, give me." Recently a group of my friends and I adopted a family. This lovely lady had three kids and one of them is legally blind who's 10 years old. They were struggling. She's a single mom. My friends and I donated over $1,000 in clothes and toys because they didn't get to have Christmas. So we showed up a few months ago with all these presents for the kids. The look on these kids' faces, they were like, "These are for us?" We also got them a new couch and gift cards to grocery stores. It felt really good. Growing up, I didn't come from money by any means. Me and my two brothers, we shared a [tiny] bedroom so sharing is just in my nature. It never even crossed my mind not to share, so whenever someone is in need, you help them, and I thank my parents for [instilling that in me]. Instead of a take, take, take culture, I wish we were more of a give, give, give [culture].
CM: Are there specific charities you'd like to support?
JS: I really like Operation Smile [which provides free surgeries to repair facial deformities for kids]. Let's face it, this is a very superficial world that we live in and it kind of hurts me to see kids who are so self-conscious of their physical appearance. Operation Smile gives them a chance to walk out without any insecurity and be comfortable in their own skin. It's one of the only plastic surgeries I am an advocate of.
CM: Looking ahead career wise, is there any particular role you're eyeing?
JS: I'm up for anything and I love being surprised. Of course, it would be cool to play a spy or superhero, but I love reading the scripts and being surprised and being like, "This is the role I have to do." It could be in any form. It's fun when you read something and you're blown away by it and then you start the campaign to bring it to fruition.
Young & Hungry airs Wednesdays at 8 p.m. on ABC Family.
PHOTOGRAPHY BY JOSEFHALEY
STYLING BY MELISSA LYNN WOODBURY
GROOMING BY TAMMY YI
INTERVIEWED BY JANE HONG
WORDS BY EUNICE OH
Share your thoughts...