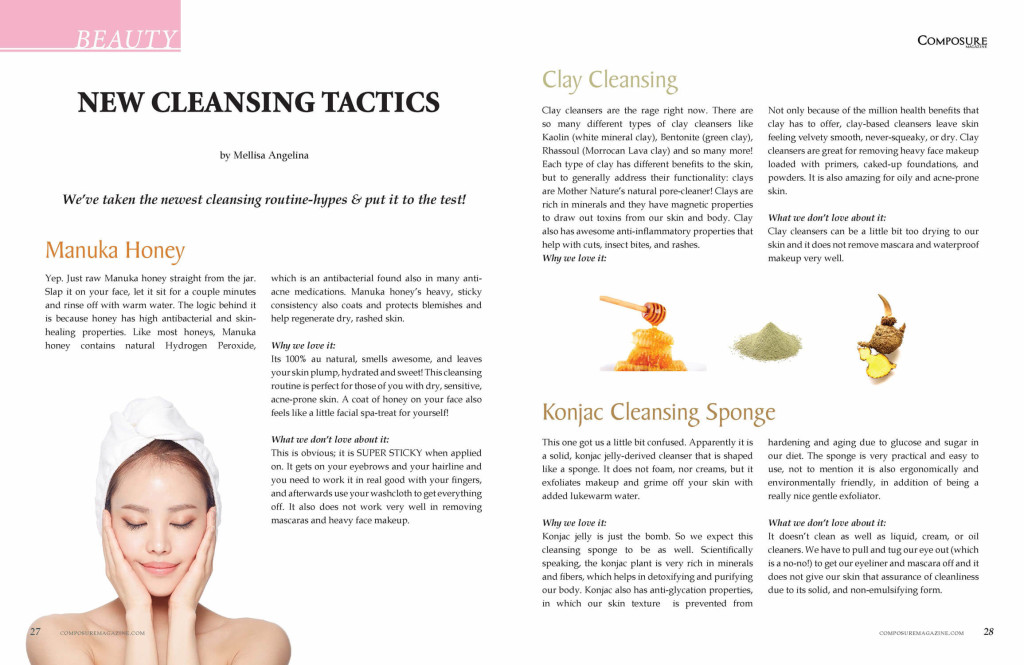 We've taken the newest cleansing routine-hypes & put it to the test!
by Mellisa Angelina
Manuka Honey
Yep. Just raw Manuka honey straight from the jar. Slap it on your face, let it sit for a couple minutes and rinse off with warm water. The logic behind it is because honey has high antibacterial and skin-healing properties. Like most honeys, Manuka honey contains natural Hydrogen Peroxide, which is an antibacterial found also in many anti-acne medications. Manuka honey's heavy, sticky consistency also coats and protects blemishes and help regenerate dry, rashed skin.
Why we love it:
Its 100% au natural, smells awesome, and leaves your skin plump, hydrated and sweet! This cleansing routine is perfect for those of you with dry, sensitive, acne-prone skin. A coat of honey on your face also feels like a little facial spa-treat for yourself!
What we don't love about it:
This is obvious; it is SUPER STICKY when applied on. It gets on your eyebrows and your hairline and you need to work it in real good with your fingers, and afterwards use your washcloth to get everything off. It also does not work very well in removing mascaras and heavy face makeup.
Clay Cleansing
Clay cleansers are the rage right now. There are so many different types of clay cleansers like Kaolin (white mineral clay), Bentonite (green clay), Rhassoul (Morrocan Lava clay) and so many more! Each type of clay has different benefits to the skin, but to generally address their functionality: clays are Mother Nature's natural pore-cleaner! Clays are rich in minerals and they have magnetic properties to draw out toxins from our skin and body. Clay also has awesome anti-inflammatory properties that help with cuts, insect bites, and rashes.
Why we love it:
Not only because of the million health benefits that clay has to offer, clay-based cleansers leave skin feeling velvety smooth, never-squeaky, or dry. Clay cleansers are great for removing heavy face makeup loaded with primers, caked-up foundations, and powders. It is also amazing for oily and acne-prone skin.
What we don't love about it:
Clay cleansers can be a little bit too drying to our skin and it does not remove mascara and waterproof makeup very well.
Konjac Cleansing Sponge
This one got us a little bit confused. Apparently it is a solid, konjac jelly-derived cleanser that is shaped like a sponge. It does not foam, nor creams, but it exfoliates makeup and grime off your skin with added lukewarm water.
Why we love it:
Konjac jelly is just the bomb. So we expect this cleansing sponge to be as well. Scientifically speaking, the konjac plant is very rich in minerals and fibers, which helps in detoxifying and purifying our body. Konjac also has anti-glycation properties, in which our skin texture is prevented from hardening and aging due to glucose and sugar in our diet. The sponge is very practical and easy to use, not to mention it is also ergonomically and environmentally friendly, in addition of being a really nice gentle exfoliator.
What we don't love about it:
It doesn't clean as well as liquid, cream, or oil cleaners. We have to pull and tug our eye out (which is a no-no!) to get our eyeliner and mascara off and it does not give our skin that assurance of cleanliness due to its solid, and non-emulsifying form.
Share your thoughts...