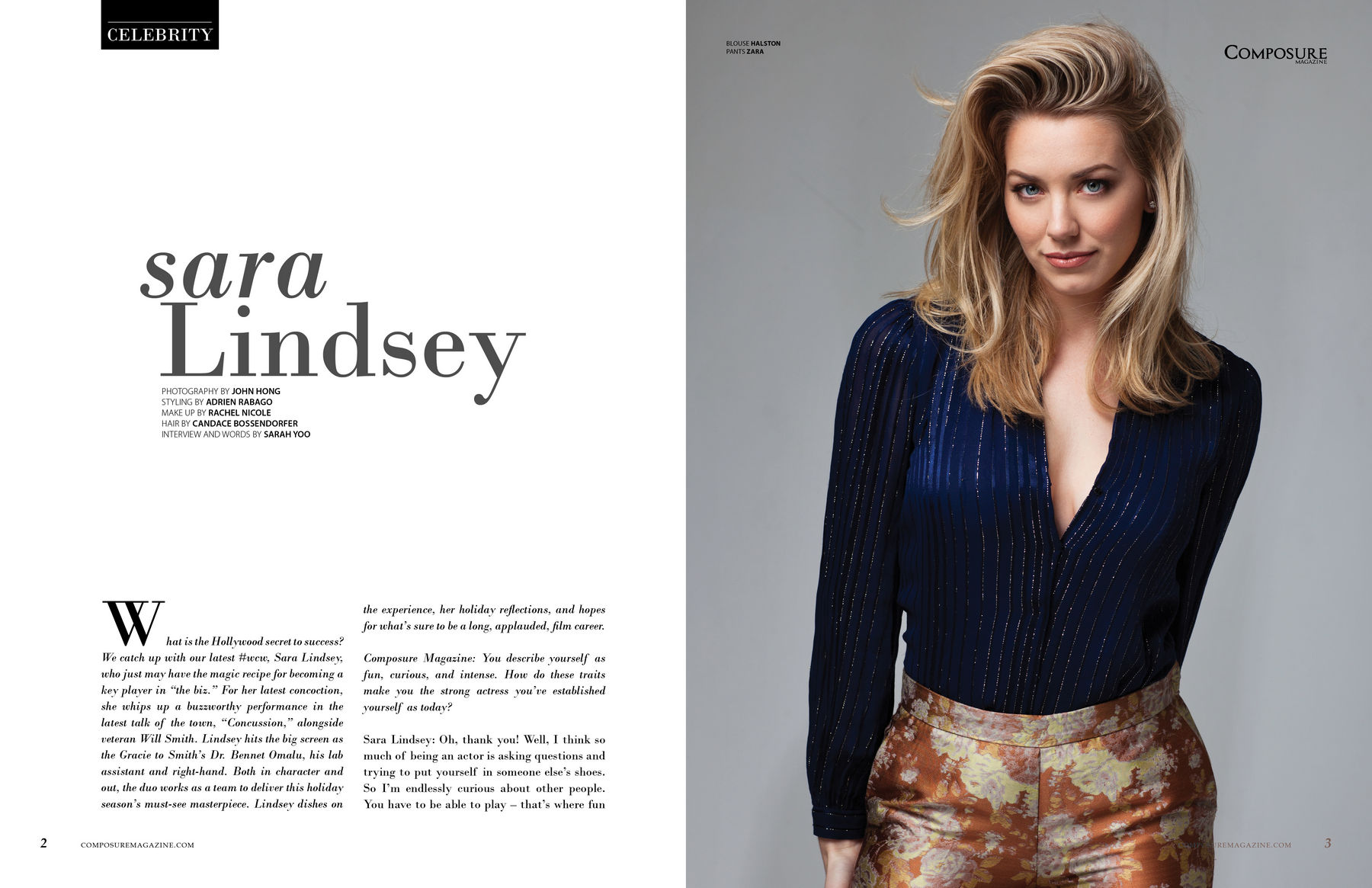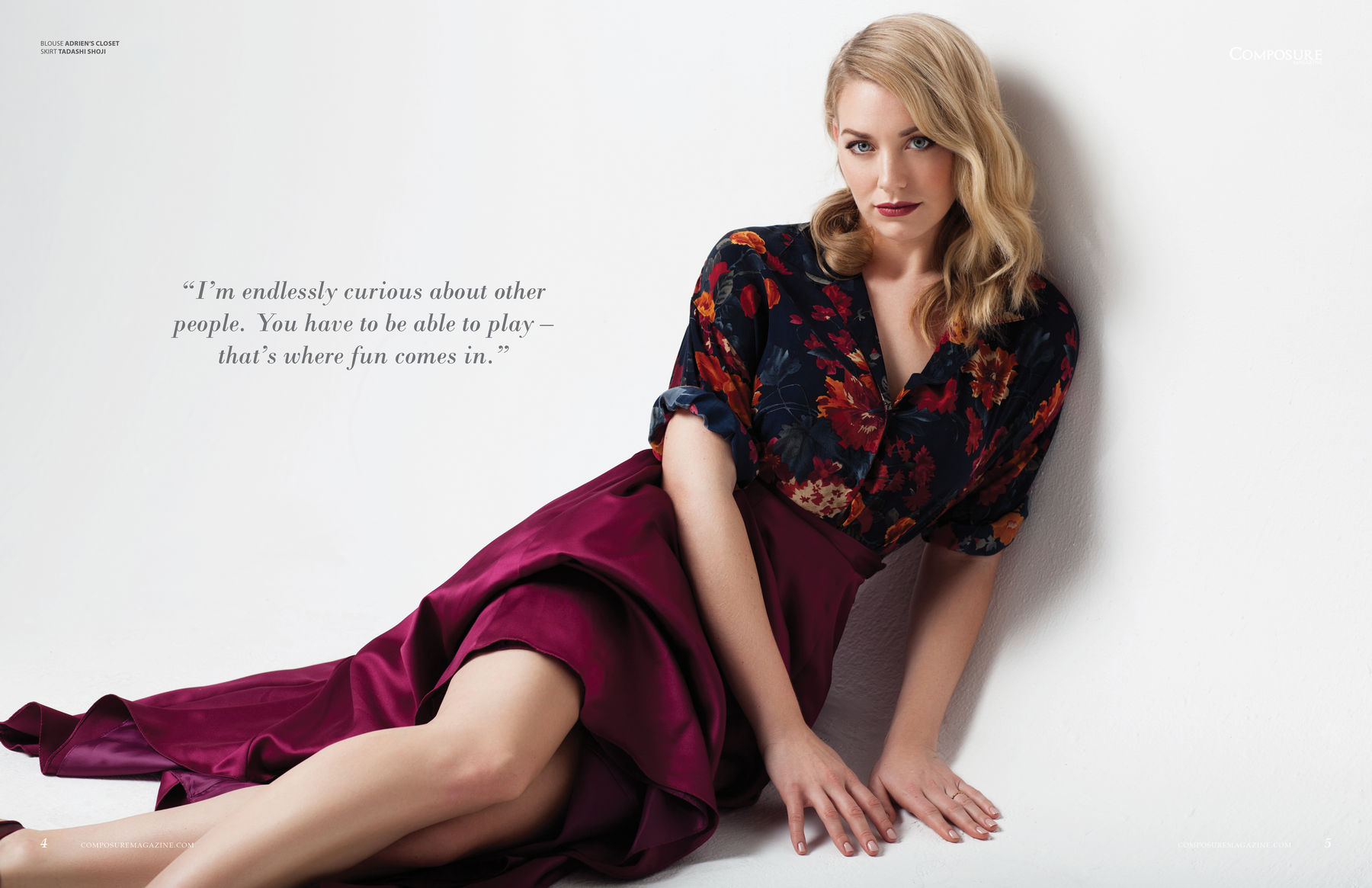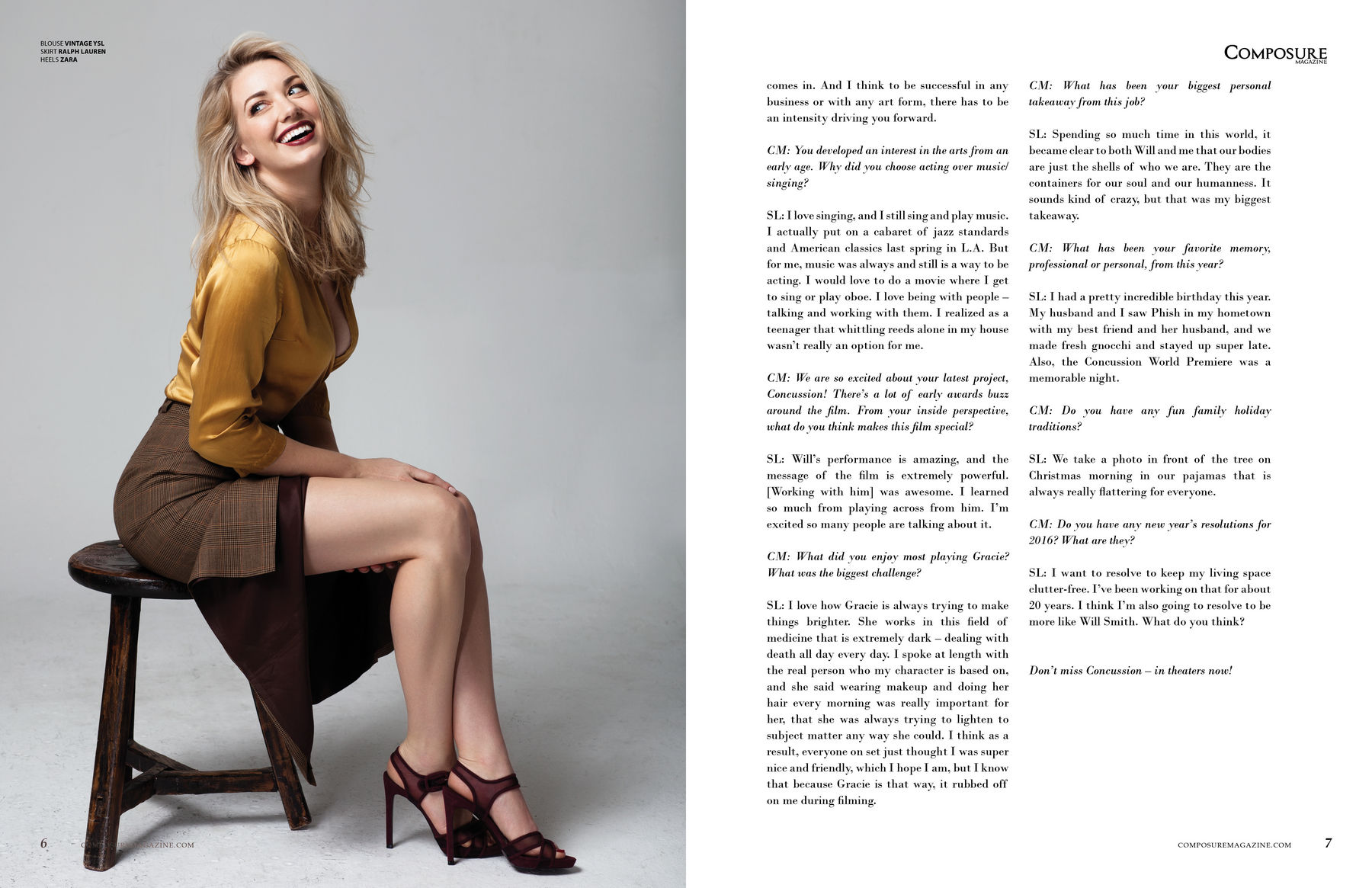 Sara Lindsey
What is the Hollywood secret to success? We catch up with our latest #wcw, Sara Lindsey, who just may have the magic recipe for becoming a key player in "the biz." For her latest concoction, she whips up a buzzworthy performance in the latest talk of the town, "Concussion," alongside veteran Will Smith. Lindsey hits the big screen as the Gracie to Smith's Dr. Bennet Omalu, his lab assistant and right-hand. Both in character and out, the duo works as a team to deliver this holiday season's must-see masterpiece. Lindsey dishes on the experience, her holiday reflections, and hopes for what's sure to be a long, applauded, film career.
Composure Magazine: You describe yourself as fun, curious, and intense. How do these traits make you the strong actress you've established yourself as today?
Sara Lindsey: Oh, thank you! Well, I think so much of being an actor is asking questions and trying to put yourself in someone else's shoes. So I'm endlessly curious about other people. You have to be able to play – that's where fun comes in. And I think to be successful in any business or with any art form, there has to be an intensity driving you forward.
CM: You developed an interest in the arts from an early age. Why did you choose acting over music/singing?
SL: I love singing, and I still sing and play music. I actually put on a cabaret of jazz standards and American classics last spring in L.A. But for me, music was always and still is a way to be acting. I would love to do a movie where I get to sing or play oboe. I love being with people – talking and working with them. I realized as a teenager that whittling reeds alone in my house wasn't really an option for me.
CM: We are so excited about your latest project, Concussion! There's a lot of early awards buzz around the film. From your inside perspective, what do you think makes this film special?
SL: Will's performance is amazing, and the message of the film is extremely powerful. [Working with him] was awesome. I learned so much from playing across from him. I'm excited so many people are talking about it.
CM: What did you enjoy most playing Gracie? What was the biggest challenge?
SL: I love how Gracie is always trying to make things brighter. She works in this field of medicine that is extremely dark – dealing with death all day every day. I spoke at length with the real person who my character is based on, and she said wearing makeup and doing her hair every morning was really important for her, that she was always trying to lighten to subject matter any way she could. I think as a result, everyone on set just thought I was super nice and friendly, which I hope I am, but I know that because Gracie is that way, it rubbed off on me during filming.
CM: What has been your biggest personal takeaway from this job?
SL: Spending so much time in this world, it became clear to both Will and me that our bodies are just the shells of who we are. They are the containers for our soul and our humanness. It sounds kind of crazy, but that was my biggest takeaway.
CM: What has been your favorite memory, professional or personal, from this year?
SL: I had a pretty incredible birthday this year. My husband and I saw Phish in my hometown with my best friend and her husband, and we made fresh gnocchi and stayed up super late. Also, the Concussion World Premiere was a memorable night.
CM: Do you have any fun family holiday traditions?
SL: We take a photo in front of the tree on Christmas morning in our pajamas that is always really flattering for everyone.
CM: Do you have any new year's resolutions for 2016? What are they?
SL: I want to resolve to keep my living space clutter-free. I've been working on that for about 20 years. I think I'm also going to resolve to be more like Will Smith. What do you think?
Don't miss Concussion – in theaters now!
PHOTOGRAPHY BY JOHN HONG
STYLING BY ADRIEN RABAGO
MAKE UP BY RACHEL NICOLE
HAIR BY CANDACE BOSSENDORFER
INTERVIEW AND WORDS BY SARAH YOO
Share your thoughts...