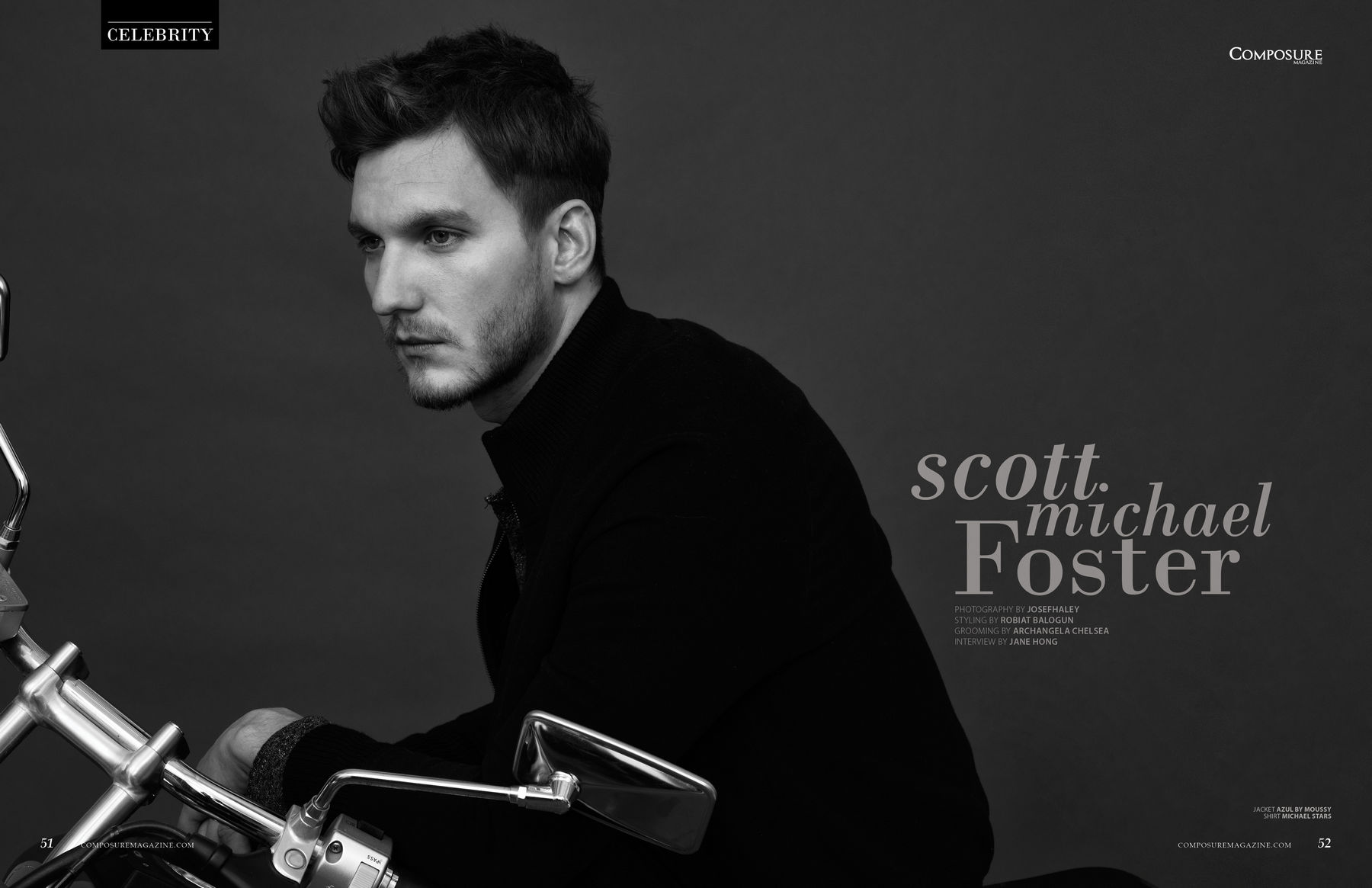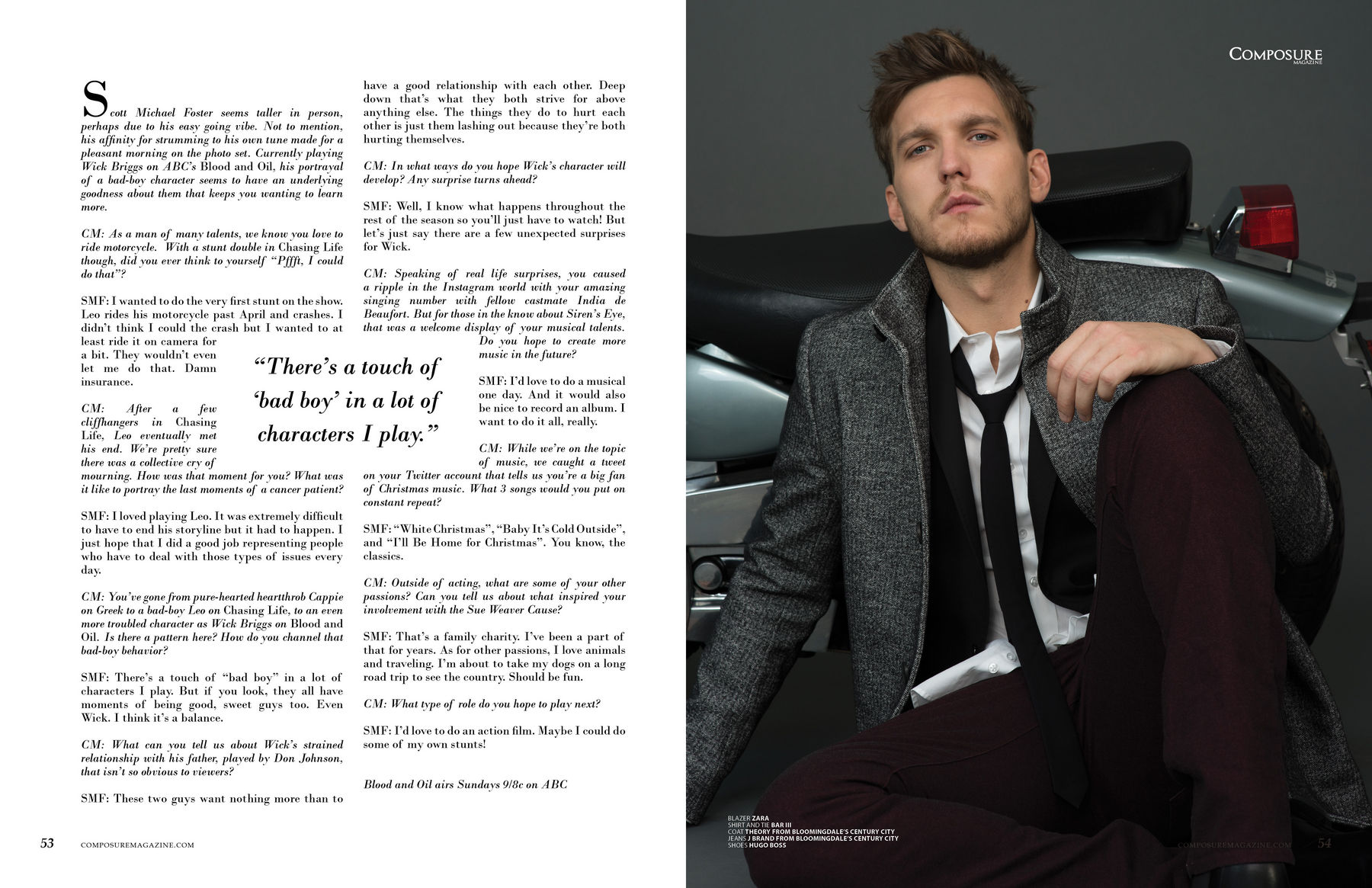 Scott Michael Foster
Scott Michael Foster seems taller in person, perhaps due to his easy going vibe. Not to mention, his affinity for strumming to his own tune made for a pleasant morning on the photo set. Currently playing Wick Briggs on ABC's Blood and Oil, his portrayal of a bad-boy character seems to have an underlying goodness about them that keeps you wanting to learn more.
CM: As a man of many talents, we know you love to ride motorcycle. With a stunt double in Chasing Life though, did you ever think to yourself "Pffft, I could do that"?
SMF: I wanted to do the very first stunt on the show. Leo rides his motorcycle past April and crashes. I didn't think I could the crash but I wanted to at least ride it on camera for a bit. They wouldn't even let me do that. Damn insurance.
CM: After a few cliffhangers in Chasing Life, Leo eventually met his end. We're pretty sure there was a collective cry of mourning. How was that moment for you? What was it like to portray the last moments of a cancer patient?
SMF: I loved playing Leo. It was extremely difficult to have to end his storyline but it had to happen. I just hope that I did a good job representing people who have to deal with those types of issues every day.
CM: You've gone from pure-hearted heartthrob Cappie on Greek to a bad-boy Leo on Chasing Life, to an even more troubled character as Wick Briggs on Blood and Oil. Is there a pattern here? How do you channel that bad-boy behavior?
SMF: There's a touch of "bad boy" in a lot of characters I play. But if you look, they all have moments of being good, sweet guys too. Even Wick. I think it's a balance.
CM: What can you tell us about Wick's strained relationship with his father, played by Don Johnson, that isn't so obvious to viewers?
SMF: These two guys want nothing more than to have a good relationship with each other. Deep down that's what they both strive for above anything else. The things they do to hurt each other is just them lashing out because they're both hurting themselves.
CM: In what ways do you hope Wick's character will develop? Any surprise turns ahead?
SMF: Well, I know what happens throughout the rest of the season so you'll just have to watch! But let's just say there are a few unexpected surprises for Wick.
CM: Speaking of real life surprises, you caused a ripple in the Instagram world with your amazing singing number with fellow castmate India de Beaufort. But for those in the know about Siren's Eye, that was a welcome display of your musical talents. Do you hope to create more music in the future?
SMF: I'd love to do a musical one day. And it would also be nice to record an album. I want to do it all, really.
CM: While we're on the topic of music, we caught a tweet on your Twitter account that tells us you're a big fan of Christmas music. What 3 songs would you put on constant repeat?
SMF: "White Christmas", "Baby It's Cold Outside", and "I'll Be Home for Christmas". You know, the classics.
CM: Outside of acting, what are some of your other passions? Can you tell us about what inspired your involvement with the Sue Weaver Cause?
SMF: That's a family charity. I've been a part of that for years. As for other passions, I love animals and traveling. I'm about to take my dogs on a long road trip to see the country. Should be fun.
CM: What type of role do you hope to play next?
SMF: I'd love to do an action film. Maybe I could do some of my own stunts!
Blood and Oil airs Sundays 9/8c on ABC
PHOTOGRAPHY BY JOSEFHALEY
STYLING BY ROBIAT BALOGUN
GROOMING BY ARCHANGELA CHELSEA
INTERVIEW BY JANE HONG
Share your thoughts...